Studio: NakedSword Originals
Directed by: mr. Pam
Year of Production / Release: 2020
Country of Production: U.S.A.

CAST:
Calvin Banks
Ricky Larkin
Cade Maddox
Josh Moore
Dakota Payne
INFORMATION FROM NAKEDSWORD:
Two high-maintenance, big city hunks, British Falcon Exclusive Superstar Josh Moore, and East Coast fan favorite Calvin Banks, leave behind the comforts of their glamorous porn star lives and head off to rural America for a taste of 'The Gay Simple Life.' Given little information other than to "be prepared for an adventure" by acclaimed director mr. Pam, Josh and Calvin are dropped smack dab in the middle of America… Tulsa, Oklahoma! Upon arriving they learn that they must share a room with bunk beds and will be tested each day through a series of "challenges" by local gay Tulsa residents and visiting guest porn stars Ricky Larkin, Cade Maddox and Dakota Payne. As Josh tries to master "The Big Rig Truck Driving Challenge," Calvin sneaks off into the back of the semi to ride Ricky Larkin raw. When Cade Maddox takes Josh and Calvin on a down-home "Fishing Challenge," Calvin bails and Josh takes Cade's thick pole bareback right next to the fishing hole. When the boys are tasked with a "Cupcake Baking Challenge" by Dakota Payne, Josh and Dakota sneak off to get their fill of each other's raw batter instead. Finally, the "Tulsa Drag Bar Challenge" pushes the boys out of their comfort zones and results in a standing ovation performance that has to be seen to be believed! Watch now to find out if these city slickers head for the (Beverly) hills or if they rise to the challenges and embrace 'The Gay Simple Life.'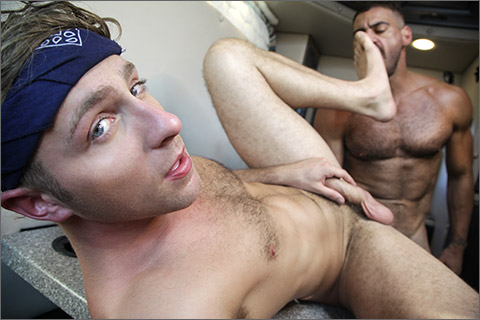 SCENE 1 – DAY 1: BIG RIG DRIVING CHALLENGE: Ricky Larkin fucks Calvin Banks
Josh Moore and Calvin Banks are sound asleep in their shared country bedroom when the camera crew and sexy, nearly naked, porn star Ricky Larkin wake them for the first day's task, the Big Rig Driving Challenge! The boys 'gay-up' the drab overalls they were given and hit the road to a red-neck nudist campground in Sparks, Oklahoma. The owner Robert, his mutt, and truck driver Cowboy Clay show the guys the lay of the land. After some heavy petting with the donkeys and a not-so-friendly emu, they come face-to-face with an 18-wheeler big-rig truck. Calvin, having the worst driving record in the history of porn, and Josh, being from the UK where they drive on the opposite side of the road, accept the challenge! While Josh is taking his stab at the wheel, Calvin cozies up to guest star Ricky and demands cocktails. Josh and cowboy Clay head out of the cab on the search for margaritas while Calvin seduces Ricky into pounding his hot, ass bareback in the sleeper cabin. Fully aware of Ricky's foot fetish, Calvin offers up his size 13 feet for some licking and toe sucking which makes Ricky's cock rock hard. Calvin goes down on Ricky then surrenders his hot hole. Finding every way possible to drill his huge cock into Calvin's eager hole in the confined space, Ricky bangs Calvin raw until they're both glistening with sweat. Ricky sprays a hefty load onto Calvin's back before fucking the jizz back in is butt, until Calvin can't hold back any longer and unleashes a cum bath from his massive dick all over Ricky's face. Driving a big rig might be scary as fuck, but taking Ricky's big cock and hot load… not a problem at all for Calvin! Day 1 is complete and somehow everyone is still alive, wondering what will be the challenge for day 2?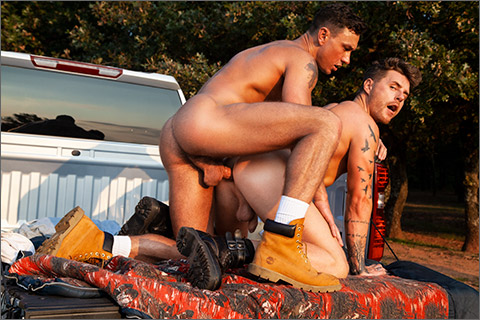 SCENE 2: DAY 2 – GONE FISHIN' CHALLENGE – Cade Maddox fucks Josh Moore
It's time to rise and shine for Day 2 of 'The Gay Simple Life!' Josh Moore and Calvin Banks are coaxed out of bed up by muscular Cade Maddox and told to dress in their country finest but be ready to get dirty. Calvin and Josh decide today calls for a splash of pink and their mini Chihuahuas, Molly and Poop. The glitzy city boys appear on the front porch ready for the Fishing Challenge. Cade pulls up in a shiny silver king-cab truck and they head out, driving across the open Tulsa planes on the way to their next challenge location: Sparks America Campground. After stopping for bait, they follow Robert and his pack of mutts down to the fishin' hole. While Calvin explores his fashion opportunities, Josh and Cade cuddle up to the tub of worms and cast their lines. Josh excitedly catches a fish, but the excitement wears off, and Calvin takes off in a golf cart to hunt down a margarita. Finally left alone, Josh sits up on the back of the truck, feet dangling staring dreamily into Cade's eyes. Cade takes the bait and kisses Josh gently. The kisses quickly become steamier, more aggressive, clothes go flying off exposing ripped bodies, and Josh falls down on his knees to swallow Cade's massive cock. After Josh had has his mouth full of cock, he gets on all fours in the back of the pickup truck to get his ass eaten before Cade slides his humongous, raw dick into Josh's tight, hungry hole. Cade starts out gentle with Josh bent over the tailgate, but then flips him over on his back, and drills away until his cum juices fly. Cade pulls out lubes up with Josh's load and then unleashes a hefty spray on Josh's balls as the sun sets over the Oklahoma plains. Right as they finish, Calvin returns ready to leave, but Josh insists on taking a moment to kick-back on the tailgate, appreciate life and honor the sunset on a glorious day after dropping his load. Maybe the Gay Simple Life ain't that bad?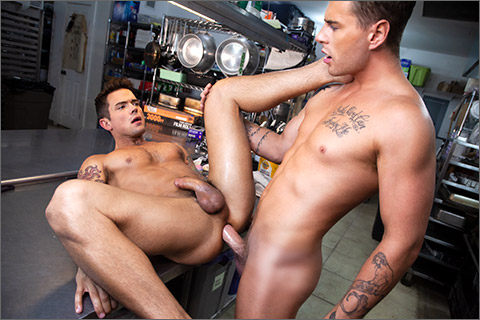 SCENE 3: CUPCAKE BAKING CHALLENGE – Josh Moore fucks Dakota Payne
Day 3 of 'The Gay Simple Life' begins when sexy guest star Dakota Payne, dressed in tighty-whities, sneaks into the boys' room with the pups to wake them up. Although groggy and apprehensive of what's in store for them today, Josh and Calvin snap out of their morning funk when they see their sparkling white chef outfits. They immediately begin embellishing the starched white smocks, turning them into 'kitchen couture.' The superstars emerge from the house with their matching Chihuahuas and embark on their next adventure: the cupcake baking challenge. At a local catering company Josh, Calvin, Molly and Poop are greeted by Jonathan who shows them around the kitchen. Dakota and Josh lock eyes and decide "fuck these cupcakes," they want each other instead! They find themselves alone in the kitchen,so Josh and Dakota take the opportunity to work on their own batter. Dakota hops up on the counter to make out with Josh as both studs strip off clothes as they passionately kiss. Dakota lays back on the counter and hangs his head over the edge to take a throat fucking from Josh. They switch it up with Josh slurping on Dakota's dick before Josh lifts him up for an impressive standing 69, spread-eagle complete with an intense rim job on Dakota. Josh's spit lubes Dakota's tasty hole, as Josh lies him back on the stainless-steel counter and slides his huge uncut dick deep inside, fucking him raw. After they both spray cum all over each other and gobble up every drop, they sneak off to find Calvin and the pups. Jonathan, done catching up on work orders for the holiday season, comes back to find ass prints on his counter and evidence of a whole lot of bareback, ball-draining fun.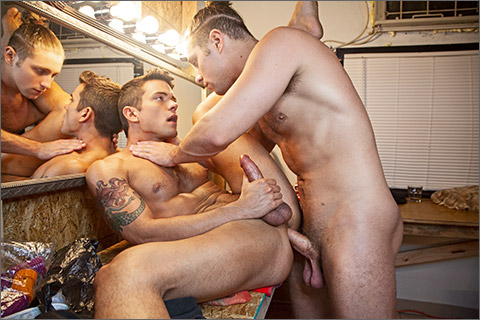 SCENE 4: TULSA DRAG BAR CHALLENGE – Calvin Banks fucks Dakota Payne
Thinking they have the day off, Josh Moore & Calvin Banks are snuggled on the couch in their PJ's enjoying a lazy afternoon – but there is no rest for these city boys in 'The Gay Simple Life.' Dakota Payne shows up with an ad for a meet and greet that night at LaRue's, the local gay Bar. Dakota leads them to the living room where they're met by a display of wigs, costumes, makeup and Tulsa's local Diva, Fanny McCraken, aka David, who announces the Tulsa Drag Bar Challenge! Yep, the boys will be doing DRAG for the first time their lives. In Tulsa. Oklahoma. Josh is shook, describing it as his "biggest fear ever!" but the crew wastes no time beginning the transformation of these hot, masculine porn stars into beautiful queens. Fanny jumps in to give them a crash course, as seasoned drag queens and professional make-up artists Dakota Payne and NakedSword cameraman Leo Forte transform our superstars. Five hours later, the boys are painted to perfection, ready to face their biggest challenge of all! Calvin Banks aka "Paris Perfect" and Josh Moore "Nicole Bitchy" sashay into LaRue's where the owner Dominique, Fanny, and the local girls are more than excited to welcome these virgin queens into the night's lineup. After a few shots of liquid courage, it's showtime! Paris & Nicole (Calvin & Josh) blow the crowd away with their drag debut performance and bask in the glow of a standing ovation! With good times and shots flowing, Calvin and Dakota sneak back to the dressing room for a little 'meat' and greet of their own. With Calvin out of drag and hot as ever, Dakota wastes no time diving into his big untucked cock. Dakota slurps down Calvin's dick, then bends over the dressing room table to have his ass eaten, fingered and teased with the head of Calvin's big dick. With Dakota's ass primed and eager, Calvin slams his monster all the way in to his big low-hanging balls. For maximum bareback drilling, Dakota sits up on the makeup table and lifts his leg in the air to let Calvin get even further inside his hot ass. Calvin's hitting all of Dakota's spots, causing him to erupt a geyser of cum and setting off a chain reaction with Calvin almost immediately pulling out and painting Dakota's balls and hole with a huge load. Calvin thinks a hot quickie in the dressing room following the best night ever is the icing on the cake for this fabulous Tulsa adventure just as Josh barges in with the Chihuahuas in hand. "Omfg Calvin, our flight is in 2 hours… let's go!" As the superstars emerge out of the now-empty bar, the sun has come up, and their adventure has come to an end.

WATCH THIS AND A HOST OF OTHER FILMS AT:
NAKEDSWORD
On-Line Presentation, exclusive to NAKEDSWORD
Members can watch this with a host of other films in the NakedSword Library.