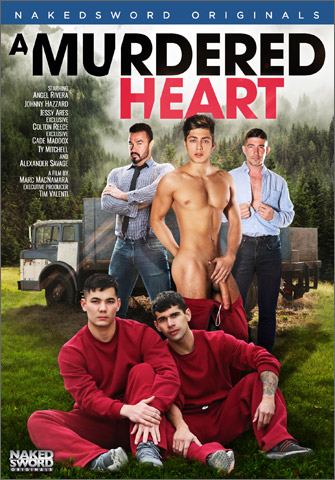 Studio: NakedSword Originals
Directed by: Marc MacNamara
Year of Production / Release: 2020
Country of Production: U.S.A.

CAST:
Jessy Ares
Johnny Hazzard
Cade Maddox
Ty Mitchell
Colton Reece
Angel Rivera
Alexander Savage
INFORMATION FROM NAKEDSWORD:
Award-winning director Marc MacNamara delivers a masterful drama that follows the stories of three young men who are sent to conversion therapy camp, ultimately proving that love and human desire conquer all in 'A MURDERED HEART.' As they battle with manipulative techniques used to control people into changing their sexuality, these handsome studs find solace in the connections and bonds they have with the others like them in the camp. While there, they navigate the tortures of being condemned, but a rebellion is on the rise as they find escape through their steamy connections with each other. On the first night at the camp, Joseph (Angel Rivera) has a nightmare about the night his father caught him and his boyfriend, Alexander Savage, fucking and cumming on each other's faces in the dark. When Phillip (Ty Mitchell) and Charlie (Colton Reece) devise a plan to escape the camp, they stop off at an abandoned truck for some cock sucking and hole-pounding action that end in facials. When the Pastor's assistant, Cade Maddox, is on duty to watch Joseph (Angel Rivera) in isolation, Cade learns he can't deny his urges and pounds Joseph hard before nutting all over his face. In a wicked twist, Joseph's father's, Johnny Hazzard, deepest secrets are revealed, and major discoveries come to light with a special mystery appearance by Jessy Ares. If you have waited your entire life to touch another man, what would you do when you were finally set free? Find out in 'A MURDERED HEART' from NakedSword Originals.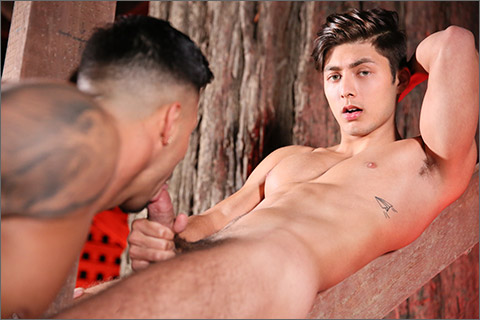 SCENE 1: Alexander Savage fucks Angel Rivera
Joseph (Angel Rivera) has been sent to conversion therapy camp by his father. His mother knew he was gay, but having a gay son wasn't in her plans – and she wasn't changing her plans, so she left him and his father. On the first night in conversion therapy camp, Joseph lays in bed unable to sleep. His blank face hides his emotion. The night monitor is going room to room with a flashlight checking on the boys. Joseph turns his body toward the door and the flashlight's beam strikes him right in the eyes, making Joseph flash back to the night his father caught him having sex with his boyfriend, Alexander Savage. Outside and out of sight in the middle of the night, Joseph bends over to let Alexander eat out his smooth hole. Holding onto a grounded post, Joseph gives into every lick and probe Alexander's tongue can deliver. When Joseph is ready for more, he climbs on the post as Alexander slides his thick cock deep inside him. From doggy-style, to upside down cock sucking, the sneaky studs do it all until Joseph falls to his knees and gets hit with a thick load to his face. Just before getting caught, Joseph returns the favor, coating Ty's face with his warm load.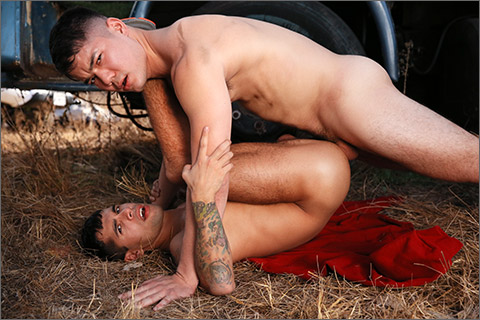 SCENE 2: Colton Reece fucks Ty Mitchell
The boys at the conversion camp hear a loud alarm go off, which means there is an emergency sermon, so they rush into the lecture hall. The pastor is up front with Phillip (Ty Mitchell); he is sitting in a chair facing the crowd of hesitant boys. In order to not lose himself in conversion therapy, Philip had written a description of his first man-on-man sex in his phone, and the pastor is forcing him to read it aloud in front of the others and his father. As he describes the kiss, the taste of his skin, the throbbing of the dick in this mouth, the feeling the first time his body was entered… His father finally begs him to stop and he hits the boy – striking him to the ground. This was the last straw; Charlie (Colton Reece) and Philip devise a plan to escape and finally be together. Once they ditch the camp, they find an abandoned truck and Phillip wastes no time getting Charlie's fat cock down his throat. After feeding Phillip his cock, Charlie hits his knees and returns the favor with a sopping wet hummer before bending laying him back on the ground and pushing his cock deep inside the stud. Switching it up, Phillip holds onto the side of the truck so Charlie can continue his prostate drilling. When Charlie can't hold back any longer, Phillip gets on his knees and gets a load all over his face. Charlie gets down to receive Phillip's load on his face and tongue right after. After they're done, you'll never guess who they catch alone in the backseat of a truck.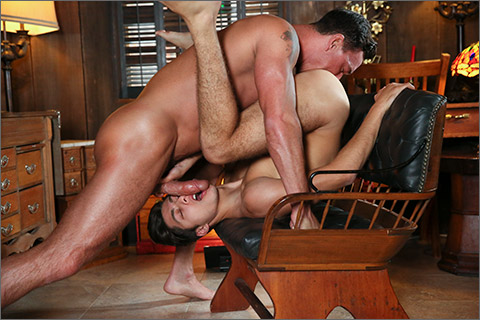 SCENE 3: Cade Maddox fucks Angel Rivera
The pastor's assistant is frantically looking for Charlie (Colton Reece) and Phillip (Ty Mitchell) – he realizes they have escaped, and he starts blowing his whistle. The pastor rushes out to the field. Joseph (Angel Rivera) assures everyone that they haven't gone missing. They've gone home. The pastor grabs Joseph by his shirt collar and throws him to the ground. He demands his assistant (Cade Maddox) to put Joseph in isolation. Cade tosses Joseph into the cold room and starts to discipline him. After a barrage of accusation from Cade, Joseph leans forward and kisses him. Cade pushes Joseph back, and he hits the wall hard. "Keep pushing it away. You can run forever but, in the end, there you will be. At least I'm brave enough to stand up and admit it. If God makes no mistakes, then stop trying to correct him." The assistant lunges forward and kisses Joseph. In no time, Cade has Joseph upside down and eats his ass. That's all it takes for Joseph to hop on top of Cade and ride his fat cock down to the balls. After having his hole reamed, the two 69 in an old chair before Joseph gets bent over and plowed doggy style in it. After a deep hole drilling from Cade, Joseph kneels to take Cade's load all over his face. Disgusted with what he just did, Cade quickly gets dressed and rushes out to his car.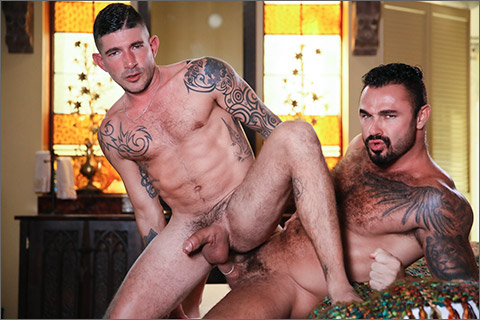 SCENE 4: Jessy Ares fucks Johnny Hazzard
Joseph's father, Johnny Hazzard, has arrived at the camp – he's sitting in his parked car, thinking back on the day his wife left. Nothing is as it seems when the surprising truth is revealed. He flashes back to explore the secrets he hid that brought him to this point. In his memory, he comes home to makes sure his wife and son aren't there, and he signals for an unexpected guest to sneak in. When the coast is clear, Jessy Ares makes his way in, and the two waste no time ripping each other's clothes off. Johnny is the first to sink to the floor and get Jessy's massive member down his throat. Jessy wants a taste too, so Johnny gets on top to 69 as Jessy rims his hairy hole. Eager for more, Johnny offers up his hole and Jessy delivers, sliding his girthy meat deep inside Johnny. After taking it on his back, Johnny rolls over to take the full power of Jessy's cock before riding on it one last time to completion. With Jessy's pole planted firmly up his ass, Johnny strokes out a thick load that lands all over the floor. Married man Johnny gets down on his knees once more to get his face covered in the hairy man's load. Just as they finish up, Johnny's wife walks in and catches them in the act.

WATCH THIS AND A HOST OF OTHER FILMS AT:
NAKEDSWORD
On-Line Presentation, exclusive to NAKEDSWORD
Members can watch this with a host of other films in the NakedSword Library.