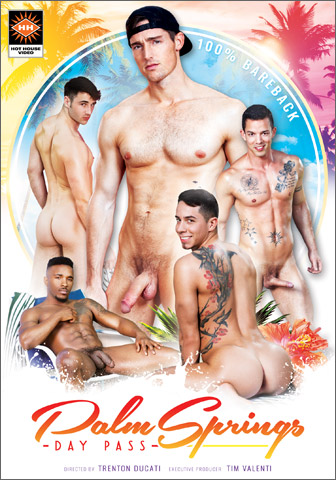 Studio: Hot House Entertainment
Directed by: Trenton Ducati
Year of Production / Release: 2019
Country of Production: U.S.A.

CAST:
Zak Bishop
Michael Boston
Phoenix Fellington
Devin Franco
Ian Frost
Jack Kross
Steven Lee
Vincent O'Reilly
Pierce Paris
Nic Sahara
INFORMATION FROM HOT HOUSE:
Get ready for your 'PALM SPRINGS DAY PASS', to the world-renowned CCBC Resort where director Trenton Ducati and his 10 horny muscle studs crank up the heat with raw, uninhibited bareback fucking. Join in on the fun in this sex-filled playground where the sun is shining, and the studs are always hot. When Devin Franco and Ian Frost can keep their hands off each other after checking in, the two exchange blowjobs before flip-fucking in an intense, raw fuck-fest until both studs are covered with jizz. Pierce Paris is cruising the back alleys of Palm Springs where he finds horny hunk Jack Kross doing the same. Pierce gives the stud what he wants when his slams his bare, massive monster deep into Jack's hole until he fucks the cum out of the panting stud and dumps his own load down Jack's greedy throat. After eyeing Vincent O'Reilly at the pool, Nic Sahara pulls out his cock to face fuck the handsome stranger before sliding into Vincent's waiting hole. Phoenix Fellington spots Zak Bishop through an open door of the resort with his ass in the air and accepts that as his invitation to get balls deep in the lucky stud. Steven Lee and Michael Boston swap blowjobs after cruising each other before Michael gets on all fours to take Steven's thick pole deep inside his hole. The next time you need to get off, book a 'PALM SPRINGS DAY PASS' where you'll find all the fun in the sun you need.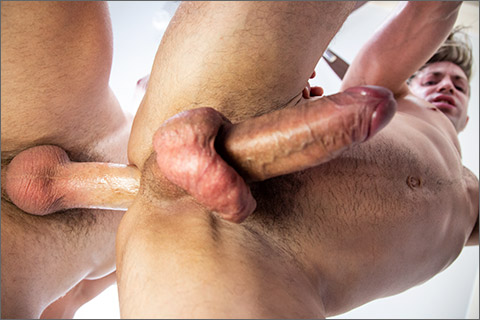 SCENE 1: Devin Franco & Ian Frost flip-fuck
Devin Franco and Ian Frost have just checked into their room at the infamous CCBC resort in Palms Springs, and they already can't keep their hands off each other. As soon as they get in the room they hit the bed and start making out and groping each other wildly. Their clothes quickly hit the floor and Ian can't get Devin's dick between his lips fast enough. Devin's eyes roll back with the feeling of Ian's warm mouth around his cock, and Devin face fucks the stud with his hard cock before turning him around to eat his tight ass. Devin is ready to feel Ian from the inside and quickly works his bare cock into Ian's waiting hole. After taking a nice pounding, Ian is ready to do the fucking and the two switch positions where Ian takes his place in front of Devin's hungry hole. He fucks the Devin's bubble butt bareback, until Devin is ready to take control again. Devin takes a seat on top to ride Ian's cock as Ian's balls slap against Devin's stretched ass while Ian continues to jerk Devin's ready-to-explode cock. With Ian still deep inside of him, Devin can't hold off any longer and shoots his load all over Ian's heaving chest. The intense feeling of Devin's ass throbbing while he cums pushes Ian over the edge and he dumps his jizz the minute his cock pops out of the spent hunk's ass. So far, Devin and Ian can definitely give their trip to the Palm Springs resort a five-star rating!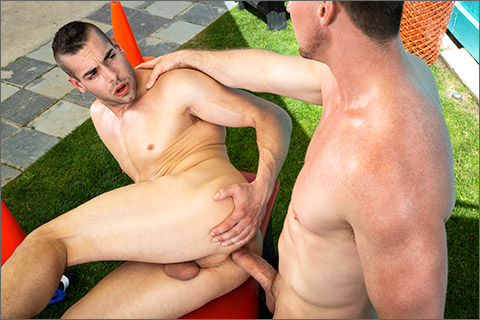 SCENE 2: Pierce Paris fucks Jack Kross
Pierce Paris is cruising the back alleys of Palm Springs when he finds horny hunk Jack Kross playing with himself, waiting for a someone to pass by and join him. Pierce walks over to Jack, and Jack quickly gets on his hands and knees to start worshiping Pierce's massive cock. Pierce fucks the back-alley hunk's mouth, making the horny stud gag with each thrust from his ripped torso. Pierce wants more and reaches down to finger Jack's tight hole as he continues plowing the stud's face. After doing all the work, it's Jack's turn to get sucked. Pierce takes Jack's hard cock into his mouth and starts sucking, making Jack moan with each slurp from Pierce's experienced mouth. Pierce wants a taste of Jack's ass and runs his tongue down to open up his awaiting crack. Now, Jack wants Pierce's huge, raw meat inside of him and gets on all-fours begging for Pierce to pierce his ass with his thick cock. Happy to accommodate, Pierce slams his cock deep inside as he picks up the pace and gives Jack the bareback fucking he begged for. Pierce keeps up the relentless pounding until he fucks the cum out of Jack. When Pierce sees Jack's mess, he's more than ready to blow his own load. Pierce pulls out of Jack's used-up hole and face fucks the lucky hunk's mouth one last time until he shoots his massive load down Jack's hungry throat.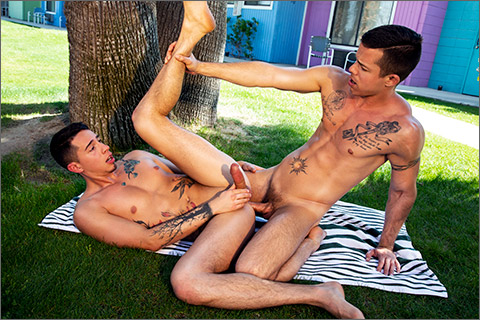 SCENE 3: Nic Sahara fucks Vincent O'Reilly
Nic Sahara is checking out the scene at the pool of the resort when he comes across horny stud, Vincent O'Reilly. Nic wastes no time as he walks over to Vincent to feed the waiting stranger his hard cock. Nic works fast and straddles a lounge chair to face fuck Vincent hard, gagging his mouth with his big uncut cock. Nic can't get enough of the ripped hunk deepthroating his rod and bends Vincent over to inspect his hole. He slips his fingers into Vincent's ready ass, teasing the stud until he's ready to give Vincent something more. Vincent braces himself on a palm tree as Nic slides his thick, bare hard-on deep into Vincent's slick hole. Nic starts out slow, then picks up the pace as Vincent moans from the intense bareback pounding that Nic is delivering. Vincent loves every inch of Nic inside him and moves to sit on Nic's hard cock. Vincent rides, keeping both of them on the brink until neither hunk can hold off any longer. Both hung studs let loose and shoot their loads all over each other's panting, hard bodies. Nic isn't quite done yet and scoops up their cum to lube his still-hard cock before shoving it back into Vincent's ass to feel the inside of his hole one last time.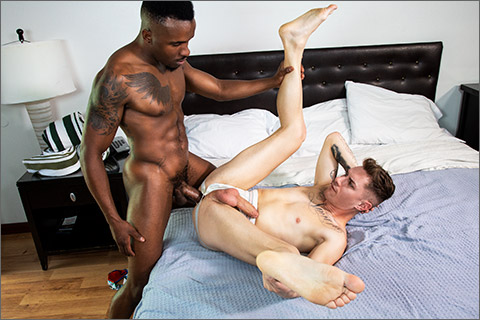 SCENE 4: Phoenix Fellington fucks Zak Bishop
It's a beautiful sunny day and Phoenix Fellington is relaxing on the grass when he decides to go for a walk. Along the way, he spots an open door with Zak Bishop lying in bed, naked with his ass in the air. Phoenix can't resist such a sweet ass just begging to be fucked, and quickly gets to work rimming the horny hunk. The taste of Zak's ass makes Phoenix rock hard and ready to plow. Phoenix slides his raw monster deep into the panting Zak and goes balls deep bareback making Zak moan as he takes every thick Phoenix has to offer. Phoenix wants to see Zak's face as he gets fucked and flips Zak onto his back to plow him even deeper. Overcome with pleasure, Zak jerks his cock while getting fucked, and shoots his load all over his stomach. Phoenix continues to fuck Zak until he can no longer hold off and pulls out to shoot his pent-up load all over Zak's muscled-up body. Phoenix loves the sight of Zak covered in jizz and finishes off by scooping up their cum and ramming it into Zak's freshly fucked hole with his still-stiff cock.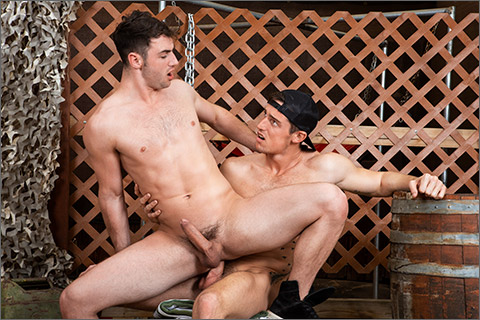 SCENE 5: Steven Lee fucks Michael Boston
Steven Lee is cruising the all-male resort when he finds Michael Boston rubbing his cock, waiting for someone to give him what he craves. Steven walks over to the horny stud, who promptly gets on his knees to get Steven's hard cock down his throat. Steven is happy to oblige and face fucks Michael's warm mouth with his massive pole until he's ready to do some sucking of his own. Steven takes Michael's hard cock into his mouth and works it like it's the last dick he'll ever get to taste. This gets Michael ready for more and soon he's on all fours, ready to take Steven's giant, raw dick up his ass. Michael begs to have his hole fucked, and Steven is happy to help the stranger out by slamming his raw cock deep into Michael's hole. Steven keeps up the pace, using Michael's ass to fulfill his every need. As Steven's cock is pounding in and out of him bareback, Michael gets the cum fucked out of his throbbing dick. When Steven sees all the jizz spewing from Michael's pole, he pulls out and goes ass-to-mouth to fuck Michael's face until he shoots his giant load down Michael's hungry throat.

WATCH IT NOW / MORE INFO AT:
HOT HOUSE ENTERTAINMENT
Hot House Backroom Members can see this film anytime online.
With extensive additional photography from every scene.
Members can download their favorite Hot House scenes.