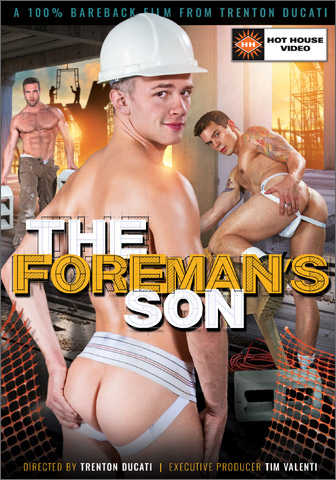 Studio: Hot House Entertainment
Directed by: Trenton Ducati
Year of Production / Release: 2019
Country of Production: U.S.A.

CAST:
Logan Cross
Devin Franco
Ian Frost
Alex Mecum
Dakota Payne
Taylor Reign
Zario Travezz
Arad Winwin
INFORMATION FROM HOT HOUSE:
Nails aren't the only things getting hammered hard in 'The Foreman's Son'. Head down to the construction site, where award-winning model-turned-director Trenton Ducati captures 10 ripped, hard-laboring studs in steamy, raw action. These workers are hot, their bodies are sweaty, and they're all horny for bareback sex with each other! After Arad Winwin shows Dakota Payne the projects he wants done, the two try to stay on task, but their raging hard-ons get the better of them when Arad drops his pants and stuffs Dakota's open ass with his fat cock. Alex Mecum and Devin Franco are setting up a paint project, but when Alex notices his sexy co-worker, he quickly drops his tools, and his pants to flip-fuck each other's tight holes until they both cum hard. Dakota Payne and Logan Cross put together scaffolding on a hot and sweaty afternoon when they decide to strip down and make themselves more comfortable. Dakota runs his hands up and down Logan's sweat-drenched body as Dakota's raw cock thrusts into his buddy's open hole, pumping him hard until he gets the job done with a steamy load for Logan. When Arad Winwin accidentally drips paint onto Ian Frost, the two rip off their clothes and fuck on the scaffolding, until both horny studs are covered in jizz. Zario Travezz and Taylor Reign pick up where Arad and Ian left off, but still no luck on finishing the assigned task. Instead, the horny construction men shove their stiff cocks into each other's tight asses until painting themselves white with cum. You won't be able to say much about the jobs they did on the site, but these sexy construction workers are worth every penny as they drill and screw hot and horny manholes in 'The Foreman's Son'.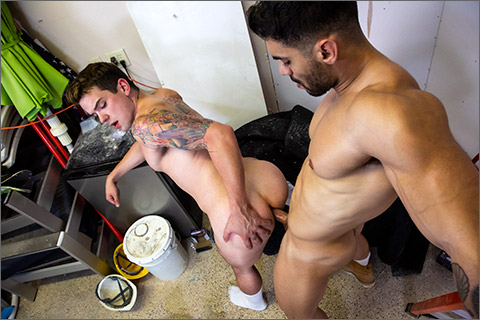 SCENE 1: Arad Winwin fucks Dakota Payne
Arad Winwin and Dakota Payne are on the job site getting things ready for the day, but their raging hard-ons have other plans in mind. It isn't long until they're stripping each other down and Dakota is on his knees begging for Arad's hard and uncut cum-filled cock to stuff his mouth. Arad chokes Dakota with his cock as he struggles to take down all his manhood. Arad works his hands down Dakota's body while Dakota pleasures him and finds his asshole just waiting to be opened up. Arad runs his tongue up and down his crack before he pushes his cock head in, splitting Dakota's ass nice and wide. He fucks Dakota with his bare cock, enjoying the warm wetness of his ass. Dakota loves the feeling of Arad's thick, raw dick plunging in and out of his hole and finally gives himself permission to blow. As Arad continues the relentless bareback pounding, Dakota sprays his load all over himself. Dakota's well-trained hole continues to grip tightly and massage Arad's cock as he furiously builds to the final crescendo and sprays his load all over Dakota's gaping asshole. Arad takes his cock and uses it to push his freshly shot load back into Dakota's ass. Will Dakota's hole ever be the same?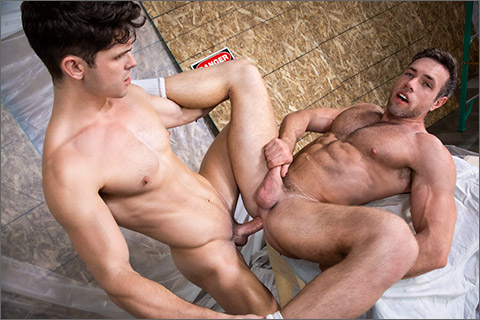 SCENE 2: Alex Mecum & Devin Franco flip-fuck
Devin Franco can't keep his eyes off Alex Mecum's chiseled, hairy body. He drops his power tools and gets down on his knees to worship Alex's rock-hard dick. Alex looks down with approval as Devin skillfully sucks on his co-worker's massively large cock. The two rub each other as Devin feels Alex's hard pecs and hairy chest. Alex drops to his knees and starts sucking on Devin's cock. The horny studs' testosterone continues to rage as Alex turns Devin around to get a good look at his perfect inviting ass. Devin's tight hole is ready to be fucked bareback, but first Alex tongue-fucks his hole, getting it nice and lubed up before he shoves his massive tool deep inside. Devin's face is overcome with ecstasy as he feels his co-worker's bare cock begin to fuck him wildly. Now, it's Devin's turn to return the favor as he starts fucking Alex as hard as he can, fully enjoying Alex's tight warm hole wrapped around his raw cock. Devin cums while fucking Alex, and Alex soon explodes all over himself while riding Devin's cock.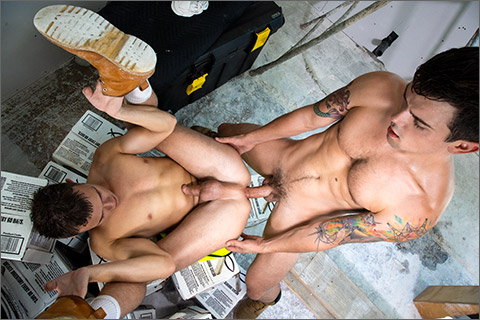 SCENE 3: Dakota Payne fucks Logan Cross
It's a hot afternoon, and Dakota Payne and Logan Cross are sweaty from setting up the scaffolding for their painting project. They decide to strip off their clothes to get more comfortable and instantly their hands are rubbing all over each other's hot, muscled bodies. Sweat drips from their ripped physiques as Dakota sinks down to his knees and gives Logan's smooth ass the rim job it deserves. With Dakota's face buried deep in his crack, Logan moans out in pleasure as Dakota massages his hole with his probing fingers. With Logan's hole lubed with spit, Dakota slips his bare cock into Logan and is soon balls deep, bareback fucking his tight hole. Dakota slams his raw cock in hard, punishing Logan's horny hole, making him moan out from each powerful thrust. Logan is loving every minute of the reaming he's receiving and gets on his back to let Dakota have full access to his prostate. Dakota rams Logan on his back, legs spread way out, and his hole gaping from Dakota's fat dick stretching his raw hole. Dakota keeps pounding until he pulls out and covers Logan's hole with his thick load before shoving it back in. Switching it up one last time, Logan hops on top and rides Dakota while he jerks his throbbing cock until he shoots his hot load all over the floor below.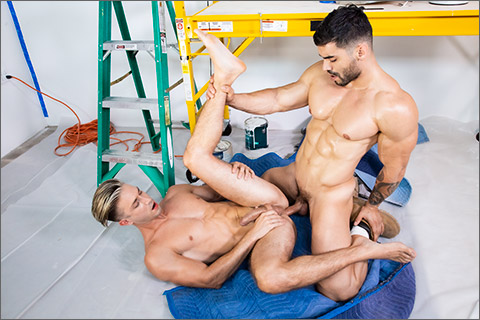 SCENE 4: Arad Winwin fucks Ian Frost
Arad Winwin and Ian Frost are up on the scaffolding painting an accent wall. When Arad accidentally splashes paint onto Ian's clothes, the painters quickly strip down and caress each other's sweaty, hard bodies. Ian is in awe of Arad's chiseled physique as he takes Arad's hard cock into his eager mouth. Arad grabs Ian's head and begins furiously face-fucking Ian's mouth. Ian tries to take as much as he can of the uncut member as he gags and drools all over Arad's thick, uncut dick. Arad reaches over and smacks Ian's tight little ass a few times as Ian's yelps are muffled by Arad's invading cock. Arad turns Ian around and lines up his manhood with Ian's quivering hole before pushing his raw cock in balls deep. Arad fucks Ian bareback on the scaffolding, pounding his tight hole with no mercy. Despite the moans and squeals coming out of Ian's mouth, Ian begs for more ass pounding. Arad is more than happy to oblige his willing hole's horny requests as he picks up the pace. Ian's cock throbs as he empties his load all over his stomach. As Ian's twitching hole grips Arad's unsheathed cock, he pulls out and shoots his cum to finish off the hot and sweaty fuck session.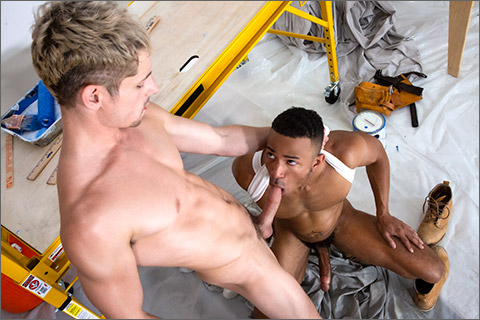 SCENE 5: Zario Travezz & Taylor Reign flip-fuck
Zario Travezz and Taylor Reign are on a scaffolding painting a wall, but they get distracted by their attraction for each other. Zario runs his fingers along Taylor's firm, tight ass as Taylor tries to take all of Zario's big cock in his mouth. As Taylor works Zario's hard shaft, Zario slips a couple fingers into Taylor's ass, stretching out his tight hole preparing it for his bare cock. Zario chokes Taylor with his dick, grabbing his head and forcing him down to take his full length down his throat. Taylor's face is lit up as he tries desperately to please Zario's eager cock. Zario works his tongue up and down Taylor's sweet ass, enjoying the taste of his smooth hole. He lines his cock up with Taylor's raw hole and pushes his cock in, inch by inch. Taylor moans out loud as his body opens up to Zario's bare, thick cock. Taylor gives in fully to Zario's needs and rides Zario's cock as he fucks every which way he can. Taylor is ready to blow and pulls out as they both start jacking their cocks to cover each other's faces in sticky, hot cum.

WATCH IT NOW / MORE INFO AT:
HOT HOUSE ENTERTAINMENT
Hot House Backroom Members can see this film anytime online.
With extensive additional photography from every scene.
Members can download their favorite Hot House scenes.