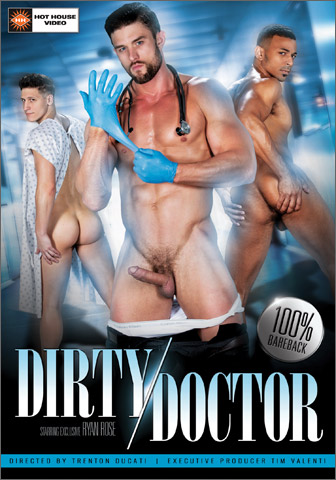 Studio: Hot House Entertainment
Directed by: Trenton Ducati
Year of Production / Release: 2020
Country of Production: U.S.A.

CAST:
Beaux Banks
Devin Franco
Adrian Hart
Steven Lee
Cade Maddox
Dalton Riley
Ryan Rose
Zario Travezz
INFORMATION FROM HOT HOUSE:
The 'DIRTY DOCTOR' is here to examine hungry holes and treat all ailments with a pair of drained balls. If you're sick or injured, you might want to find a different clinic! Join model-turned-director Trenton Ducati as he delivers a classic Hot House tale of horny patients and their slutty practitioners in 100% bareback action. When Devin Franco stops in to get treatment for his stomach pains, he finds out his hole is deeper than he knew, and Dr. Ryan Rose tests his limits. Zario Travezz hurts himself on the job, and Cade Maddox takes him to the clinic. Bored in the waiting room, they decide to kill time fucking on the RN's desk. Beaux Banks is an extremely sexually active patient, and when he explains it all to Dr. Ryan Rose, the doctor wants finds out just how naughty Beaux is with an intense bareback fuck. Adrian Hart is disappointed his usual doctor isn't available, but Dr. Steven Lee shows the horny patient that he's more than qualified to satisfy him with a raw fuck. Dalton Riley needs a testicular exam but Dr. Ryan Rose decides to examine the inside of Dalton's ass with his thick cock until Dalton is covered in cum. Next time you need your hole examined, or your balls medically drained, come see the insatiable RN's and the 'DIRTY DOCTOR' to make sure you get the proper treatment.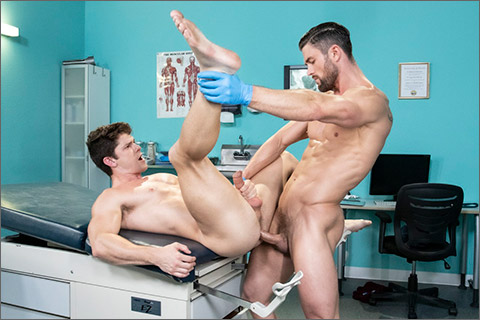 SCENE 1: Ryan Rose fucks Devin Franco
At the doctor's office, Devin Franco is asked to change into a hospital gown by the RN and wait for the doc to see him. When Dr. Ryan Rose finally makes his way in, Devin explains that he's having stomach pains. Ryan begins his examination by placing pressure on different parts of Devin's body before asking him to lay back so he can take a closer look. With Devin's legs hoisted in the air, Ryan examines Devin's ass. When Ryan finds a blockage, he investigates and finds multiple toys lodged in Devin's tight ass. One by one, the doctor begins to pull out the toys stuck in Devin's ass. To confirm his insides are clear of any foreign bodies, Devin pushes out his rosebud to show the doc. It doesn't take long for Ryan to shed his scrubs and slide his raw cock fully into Devin's deep ass. The hunky patient lays back on the exam table and takes every powerful thrust that Ryan delivers. Going ass to mouth, Devin gets on all fours and sucks the sweaty doctors throbbing meat. Ryan makes sure Devin's hole doesn't get a break as he finger-fucks his patient while feeding him his rod. Devin makes Ryan's pole disappear down his throat before bending over and taking a bareback pounding from behind. In the heat of the moment, Devin gets on his back to take Ryan's powerful thrusts until the doc coats Devin's sore hole with his warm seed. Dr. Rose shoves his cock back in and tells Devin "cum for daddy" causing Devin to erupt with a thick blast of cum that lands all over his abs.

SCENE 2: Cade Maddox fucks Zario Travezz
Construction worker Cade Maddox takes his injured co-worker, Zario Travezz, over to the clinic to get some help. Once they're all checked in, Cade and Zario can hear loud moans from inside one of the patient's room. While sitting in the waiting room, Zario and Cade decide to have some fun of their own. Zario pulls out Cade's thick cock from his pants and sinks to his knees to wrap his lips around the veiny pole. Zario works his lips up and down Cade's shaft before standing up and letting Cade return the favor with a sopping-wet hummer. After deepthroating Zario's cock, Cade bends his buddy over a desk and opens up his hairy hole with his probing tongue. With Zario's hole slick with spit, Cade keeps him bent over and slides his massive cock deep into Zario's crack. Zario bears down and braces himself on the desk to take all of Cade's big raw dick opening him up. They move back to the seating area where Zario hops on top and rides Cade's dick bareback to deeper depths. When Cade wants control over his co-worker again, he lays him back on the desk to continue pounding his tight ass until Zario shoots his pent-up load all over his gleaming abs. After Zario busts his nut, Cade keeps pounding until he can't hold back any longer and he paints Zario's hole with his fresh load. Making sure it doesn't go to waste, Cade scoops it up with the tip of his cock and slides it back into Zario's hole. Just as they finish, they get busted by the RN!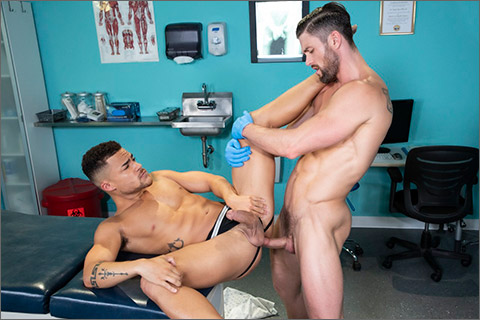 SCENE 3: Ryan Rose fucks Beaux Banks
Super sexually active patient Beaux Banks is at Dr. Ryan Rose's office for a consultation. After changing into his hospital gown, the Doctor comes in to chat with Beaux about his sexual history. When Beaux reveals he still has multiple loads in him from the night before, Ryan instructs him to bend over so he can take a look. Just as Dr. Rose spreads Beaux's cheeks, Beaux pushes out a thick load from his ass that narrowly misses the Doctor. Extremely turned on by the cum that just shot out of Beaux's butthole, Ryan dives right in with his tongue and rims out Beaux's experienced backside. After licking his patient's ass, Ryan gives Beaux what he really wants when he slides his hard, raw dick deep into Beaux's hungry hole. With his gloved hands, Dr. Rose holds Beaux by the hips while he rapidly works his cock into the stud's ass. Ryan wants another warm hole around his cock, so Beaux gets on his knees and deepthroats the big dick that was just up his ass. After feeding his patient his meat, Ryan lays back on the exam table to let Beaux ride him bareback as hard as he wants. Beaux bouncing up and down on the doc's powerful cock before hopping off to 69 with the Dirty Doctor. Ryan takes control once more when he fucks Beaux on his back until he shoots thick ropes all over Beaux's cock and hole. To get Beaux over the finish line, Ryan shoves his cock back in sending Beaux over the edge and covering his abs with his cum.

SCENE 4: Steven Lee fucks Adrian Hart
When Adrian Hart stops in for an exam, the RN asks him to change into a gown but Adrian declines. To Adrian's surprise, Dr. Steven Lee is filling in for his usual doctor that day. Dr. Lee assures his patient he's more than qualified for the job so Adrian bends over to give the Doc a closer look at his hole. When Adrian loses his shorts, Steven starts to work a few different toys and instruments into Adrian's ass to warm him up for the deeper examination to come. With each probe that Steven presents, Adrian's hungry hole swallows them all eagerly. Sensing he wants something bigger in his crack, Steven licks Adrian's hole to prepare it for his raw cock. Before the Doctor gets deep inside his patient, Adrian turns around to feed Steven his uncut meat. Now that Steven is rock-hard, he lays Adrian back on the table and slams his big dick deep into the willing stud. After some bareback, hole-stretching pumps from the Doc's cock, Adrian wants Steven's meat down his throat one more time. Adrian slurps up the horny doctor's pole before getting bent over and fucked over the exam table. When neither can hold back any longer, Adrian switches to his back to jack out his load that erupt from his cock in thick ropes landing on his heaving abs. Seeing Adrian covered in cum sends Steven into a frenzy, and he adds his load to the mix, busting all over Adrian's abs.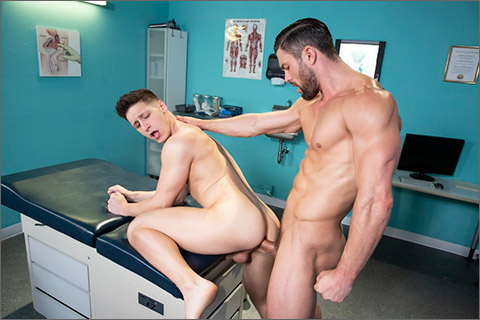 SCENE 5: Ryan Rose fucks Dalton Riley
Dalton Riley makes a visit to the clinic as a precautionary checkup for testicular cancer. Since Dalton doesn't really know how to check for himself, he needs Dr. Ryan Rose's assistance. Dalton stands up and Ryan lifts his patients gown to begin the exam. When hot doctor Ryan is examining Dalton's balls, Dalton can't help but to pop a throbbing boner. Seeing how excited Dalton has become, Ryan drops to his knees and gets to work servicing his patient's massive cock. When Ryan has had his fill of cock down his throat, he turns Dalton around and aggressively eats out his ass. Dalton puts one leg up on the exam table to give the Doc full access to his smooth hole. Dr. Rose takes turns probing Dalton's ass with his tongue and fingers before gradually sliding his raw, big dick deep into Dalton's hole. After taking it bareback and doggy-style for a while, Dalton gets on his knees to taste the dick that was just buried inside of him. When Ryan wants back inside of Dalton's ass, he drills his cock deep until he can't hold back and longer and covers Dalton's hole with his thick load. When Dalton' looks down and sees his balls covered in Ryan's cum he lets off his own wad, shooting onto his rock-hard abs.

WATCH IT NOW / MORE INFO AT:
HOT HOUSE ENTERTAINMENT
Hot House Backroom Members can see this film anytime online.
With extensive additional photography from every scene.
Members can download their favorite Hot House scenes.