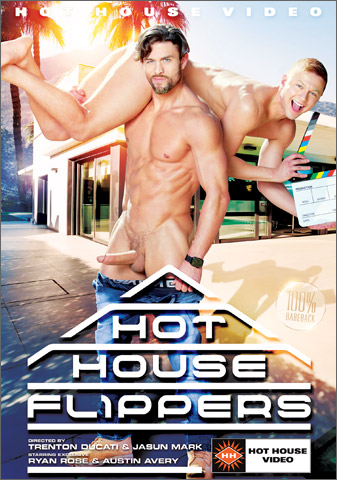 Studio: Hot House Entertainment
Directed by: Trenton Ducati & Jasun Mark
Year of Production / Release: 2020
Country of Production: U.S.A.

CAST:
Austin Avery
Beaux Banks
Vincent O'Reilly
Dalton Riley
Ryan Rose
Wess Russel
Nic Sahara
Dan Saxon
Colby Tucker
INFORMATION FROM HOT HOUSE:
You've seen home makeover shows before, but you've never seen anything like the hottest new binge-worthy show on the air, 'HOT HOUSE FLIPPERS', co-directors Jasun Mark and Trenton Ducati's sex-crazed send-up of the genre featuring a crowd of nine well-endowed Hot House superstars, in a jobsite bareback marathon. Hosts Ryan Rose and Austin Avery greet homeowner Wess Russell as they discuss renovating his new Palm Springs property into a vacation rental as their cameras capture a kick ass crew of kinky contractors. Foreman Dalton Riley checks out his key landscaper Vincent O'Reilly to make sure they both have the right tools of the trade and fucks the daylights out of him on a break. Later Dalton Riley checks in on his drywall guy Nic Sahara, and since they're ahead of schedule, they inspect each other's equipment in a steamy blowjob swap and ass eating until Dalton drills the uncut stud with his thick meat, then Nic returns the favor. In the kitchen, the well-hung plumber Dan Saxon gives his assistant Beaux Banks a pipe fitting of his own with Dan's uncut, raw cock pounding his tight hole that leaves Beaux literally cross-eyed. Once construction is complete, host Austin Avery has designs on interior designer Colby Tucker and after the two fill the house with new furniture and modern decor, they fill each other's mouths with their hard dicks, and Austin tops Colby, giving new meaning to "loveseat." Finally hosts Ryan Rose and Austin Avery welcome Wess Russell into his new vacation dreamhouse and christen the renovated space in a three way flip-fuck that leaves them all breathless and covered in cum. When you have a hot property that needs a pro touch to get the job done, no one renovates or fucks like the horny hunks of 'HOT HOUSE FLIPPERS'.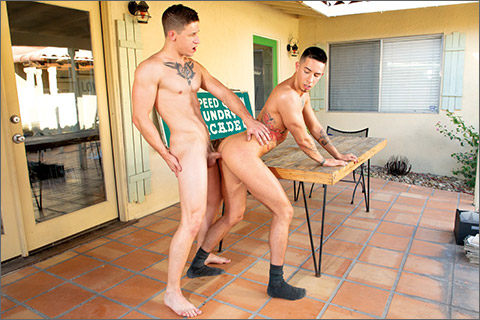 SCENE 1: Dalton Riley fucks Vincent O'Reilly
On the premiere episode of 'Hot House Flippers', co-hosts Austin Avery and Ryan Rose meet homeowner Wess Russel, a sexy Utah boy who wants to beat the cold in his new vacation house in Palm Springs, but it needs a lot of work. The kick-ass construction crew includes sexy contractor Dalton Riley and his stunning head landscaper Vincent O'Reilly. As the cameras roll and the hosts watch remotely, Dalton and Vincent take a break from the desert heat for a raw fuck on the back patio. Vincent delivers a spit-soaked deepthroat blowjob as Dalton fucks his face with giant foreman cock until he wants a taste of Vincent's fat dong. Turning him around, Dalton licks and teases Vincent's hairless hole to get him ready for some serious demolition. Dalton nails Vincent's tight ass bareback and drills him hard till they are spraying jizz on the jobsite and each other.

SCENE 2: Dalton Riley & Nic Sahara flip-fuck
In a brief recap, the second episode of 'Hot House Flippers' catches up viewers on buyer Wess Russel's vacation home makeover as he and host Ryan Rose watch the crew on camera. Construction foreman Dalton Riley checks in on his drywall guy Nic Sahara, who is looking for studs. Slightly ahead of schedule, they take a break for hot blowjobs and a bareback flip-fuck, as Dalton whips out his thick, hard cock and Nic reveals his uncut monster meat. Dripping with sweat in the Palm Springs heat, Dalton sucks Nic's dick and rims his tasty hole, then fucks him raw and hard. Nic switches it up, and nails the boss and pounds his butt till they both spill their seed on the bossman's balls and abs.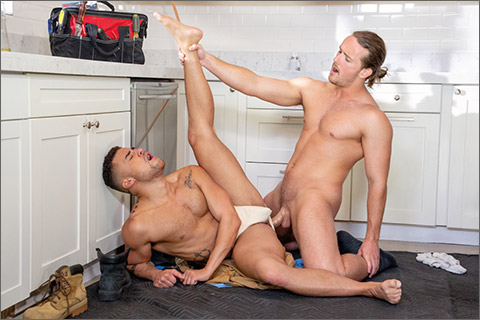 SCENE 3: Dan Saxon fucks Beaux Banks
The third episode of 'Hot House Flippers' sees the remodel of Wess Russel's vacation house well underway, as he and host Austin Avery watch the crew on camera. In the kitchen, plumber Dan Saxon and his assistant Beaux Banks are laying pipe under the sink till it's time for a much-needed boner break. Sexy Brit, Dan hauls out his thick uncut cock as he strips Beaux down to just his jockstrap and rims his bubble-butt. Beaux backs into Dan and rides his tongue till he is begging Dan to fuck him raw. The plumber replies with a hardcore, bareback deep dicking that leaves Beaux literally cross-eyed and Dan shoots his load all over in a huge cum-splattering ejaculation.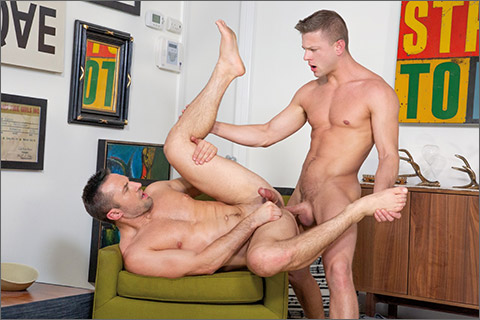 SCENE 4: Austin Avery fucks Colby Tucker
Episode 4 of 'Hot House Flippers' continues its home-makeover show with host Austin Avery welcoming his favorite interior designer, Colby Tucker. In the newly renovated vacation rental, the two team up to stage the space with furniture and colorful decor. With everything in place, the two get naked and nasty as the reality cameras catch it all. Austin whips out his whopper of a cock and feeds it to Colby, getting his big dick hard as a rock. The two suck each other on matching loveseats till Austin bends Colby over and rims him good. Slick with spit, the hairy hole beckons as Colby pleads for Austin to fuck him raw. Austin complies with a relentless, bareback pounding that redecorates Colby's interior and makes the designer shoot his load which Austin scoops up and uses as lube for his final thrusts, which send him over the edge blasting his seed on Colby.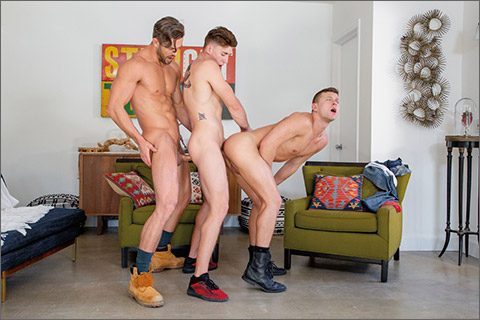 SCENE 5: Ryan Rose fucks Wess Russel fucks Austin Avery
In the final episode of 'Hot House Flippers', co-hosts Ryan Rose and Austin Avery are doing "The Big Reveal" for buyer Wess Russel, as he sees the finished remodel of his new Palm Springs vacation rental. "So, what's the first thing you'd like to get into in your new space?" asks Austin. "Well," says Wess, "I mean, everybody's been fucking here. So, I mean, maybe we could fuck?" In what's sure boost their ratings, and double the market value, the three get down and dirty as the cameras roll. Ryan takes the lead as he and Austin tag-team Wess, first rimming, sucking and face-fucking the happy homeowner, then spinning him around for a raw piledrive with each of their giant fuck-poles. Wess has a huge dick too, and he and Austin take turns in the middle of a threeway train, pumping cum in a flip-fuck that shows the true meaning of being a house flipper.

WATCH IT NOW / MORE INFO AT:
HOT HOUSE ENTERTAINMENT
Hot House Backroom Members can see this film anytime online.
With extensive additional photography from every scene.
Members can download their favorite Hot House scenes.