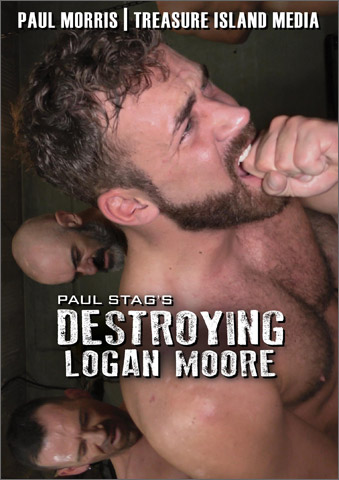 Studio: Treasure Island Media
Directed by: Paul Stag
Year of Production / Release: 2018
Country of Production: U.S.A. / EU

CAST:
AJ Adams
AJ Alexander
Marso Amor
Hans Berlin
Demi Brutal
Ben Cooper
Korar Darver
Ronnie English
Seb Evans
Jonas Jackson
Issac Jones
Dominique Kenique
Justin King
Dave London
Logan Moore
Sergio Moreno
Dmitry Osten
Jay Red
Felix Strike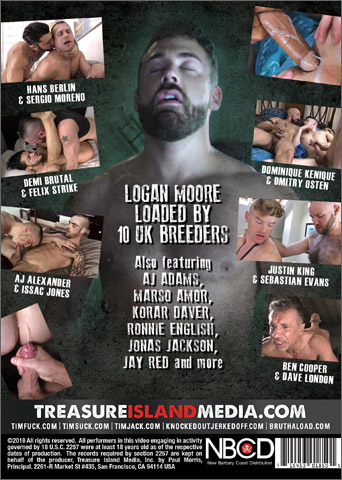 INFORMATION FROM TREASURE ISLAND MEDIA:
DESTROYING LOGAN MOORE is all about our biggest obsession here at TIM: men breeding each other into fuck-all oblivion, lust-possessed topmen hole-wrecking their willing prey. Of course, we're especially proud of the crazy final scene in which LOGAN MOORE offers up his perfect, hungry ass. He told us he could take anything TIM had to offer, no problemo! But by god, we surprised him by getting together a group of studs with a total length of four fuckin' meters (yeah, that's four yards!) of raw veiny cum-drippin' cockmeat. When he arrived at our London dungeon, LOGAN was sure of himself at first, and thought he could handle all that dick until — well, you'll wanna see this for yourself. Featuring six lurid fuck-scenes with trashy horny men from all over Europe — if you dig sexy accents you'll be in fucking heaven. We turned the subs' asses into cummy United Nations for human DNA. Featuring a who's who of European Porn — most of 'em fucking bareback for the first time — including Hans Berlin, Dmitry Osten, Dominique Kenique, Issac Jones, Justin King, Korar Darver, Sergeant Jonas Jackson, Felix Strike, Sergio Moreno, and 10″ top Ronnie English, plus many more breeders. — Paul Stag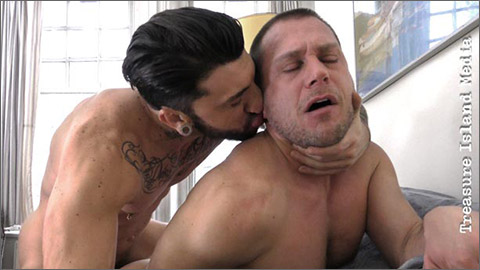 SCENE 1: Sergio Moreno fucks Hans Berlin
What happens when a mega-hung Spanish superstar breeds a greedy German whore-hole? That eternal question is answered right here! SERGIO MORENO is a fucking arrogant top — with good reason! — and he plays HANS BERLIN's holes like a virtuoso. Plus, SERGIO keeps inviting the crew to get involved by whipping their dicks out and stuffing HANS' slack-jawed cum-hungry mouth. HANS is a man possessed by cum-lust and he'll say yes to anyone!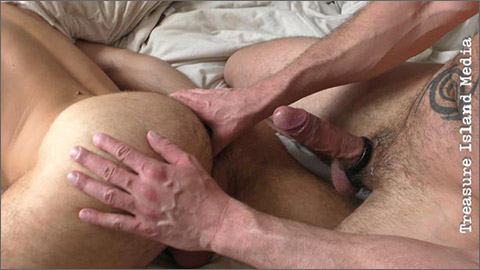 SCENE 2: Felix Strike fucks Dimi Brutal
The rough and ready tattooed and pierced FELIX STRIKE is an Aussie top and man's man with bogan-style pit-stench to boot. And he can't say no to breeding a muscled rump. You will recognize him as one of the cameramen from Scene 1 where he ended up with a serious case of blue balls, so we had to get him a hole. We got him a great looking newbie from Bulgaria named DIMI BRUTAL. FELIX takes him from bed to chair and back again in a series of fuck positions that FELIX perfected down under. NOTE: Don't come to TIM saying you can take anything. Case in point: this scene was so aggressive that BRUTAL's first film was also his last, career destruction by uncut cock. Moral of this story? If you tell us you're ready for the big leagues, you'd better be ready for real.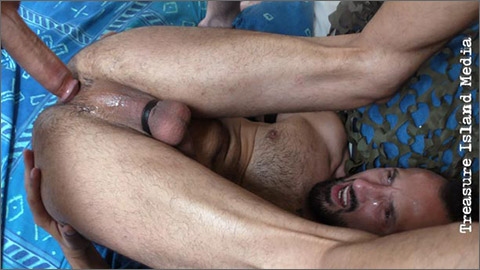 SCENE 3: Dominique Kenique & Dmitry Osten flip-fuck
If you're going to be a gay porn star in Russia these days, you'd better have balls the size of Red Square. And since DMITRI OSTEN is Russia's number one gay porn star we thought we'd show him real respect and let this ?????????? ??????? ("Russian stallion") choose the fuckhole of his choice. There was zero hesitation: DMITRI has always wanted to mount the fine furry ass of Spaniard DOMINIQUE KENIQUE. So we flew 'em both out and got out of their way! The result? Wild, passionate cocksucking, ass eating and aggro fucking. Russo-Spanish relations have never been this good!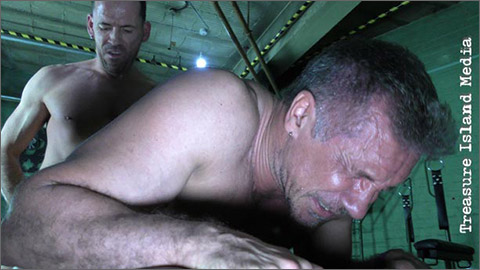 SCENE 4: Dave London fucks Ben Cooper
Two of England's best-known studs take over a sleazy dungeon and fuck like animals. This is some serious manfucking here. Topper DAVE LONDON rams his thick meat into BEN COOPER's arse to stretch open his homo-hole, then uses a baseball bat as a dildo — 'cause they're sportin' lads, duh. After a lavish brutal fucking, both men spurt major jig-wads of spunk everywhere. Done deal, let's grab a pint!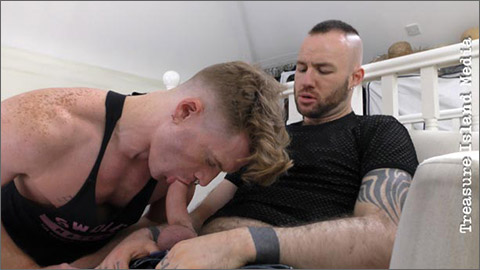 SCENE 5: Justin King fucks Sebastian Evans
SEBASTIAN EVANS aims to be the nastiest ginger-dude in the world. His running joke is that he wants you to pickle his ginger — peter-piper-pecker deep. So he was ripe 'n' ready for a Treasure Island close encounter of the 10-inch kind. And it just so happened that 10-incher JUSTIN KING (yeah, the famous online stroker dude) was antsy to fuck a slutty ginger-boy. Win-win! JUSTIN uses SEBASTIAN's rusty-furred hole like a jerk-off fucksleeve and spunks his cosmic nut waythefuck up SEBASTIAN's guts as deep as a ruttin' nuttin' stallion.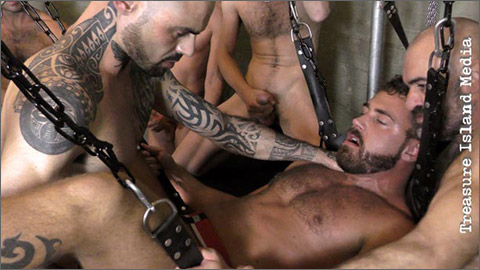 SCENE 6: AJ Adams, Marso Amor, Korar Darver, Ronnie English, Jonas Jackson, Issac Jones, Dave London and Jay Red Gang-Bang Logan Moore
Oh my fuckin' god…If this manly gangbang doesn't fuck you up, nothin' will! Featuring AJ ADAMS, MARSO AMOR, KORAR DARVER, RONNIE ENGLISH, JONAS JACKSON, ISSAC JONES, DAVE LONDON, and JAY RED. Dutch mainstream manwhore LOGAN MOORE has always been a secret fan of TIM. While liquored up late one night, he let slip that his dream was to be the sub in a classic TIM gangbang. Always eager to please, we set it up. But once LOGAN was all lubed and ready, the studs just kept showing up. More than we planned — and a lot more than Logan was expecting! Oh fuck, man! LOGAN got exactly what he'd dreamed of: he was treated like a piece of meat, his hole was pounded and stretched until it was pooched, red, and throbbing. Then the tops ramped the fucking up, and well, the result is pretty damn close to brutal man-rape. The next day LOGAN literally limped onto the plane to go home. If you want to watch a no-mercy group man-rape then this is for you. You sick bastard, you.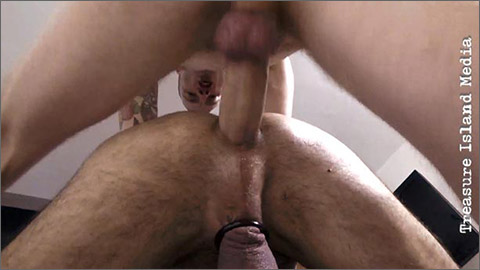 DVD BONUS – SCENE 7: AJ Alexander fucks Issac Jones
(Paul Stag's first TIM directorial gig. Originally featured on TIMFUCK.com) AJ ALEXANDER, a donkey-dicked Scottish skinhead top in sports gear, enters the room to find a perfect tattooed ass. AJ taps the fuck out of it and spews his Braveheart Gaelic seed all over and deep inside the hot French hole of ISSAC JONES (Best Bottom 2017 – European Porn Awards). Secretly filmed in Liam Cole's bedroom whilst he was out, we couldn't resist including my directorial first-go as a bonus for all you sleazy TIM men world-wide. If you think you are tougher and sleazier than the holes featured here and that you can be the one that finally beats the TIM breeding team, please step forward (apply here) as the next in line for total raw bunghole destruction. I'll be waiting, dick in hand, to hear from you! — Paul Stag

WATCH THE SCENES BUY THE DVD AT:
TREASURE ISLAND MEMBER'S SITE & STORE
Members at TREASURE ISLAND'S MEMBERS SITE can watch these scenes and download extensive Photo Content from this production and get discounted pricing on all DVD and Print purchases.
ENDLESS STREAMING MEMBERSHIP: TREASURE ISLAND MEDIA @ NAKEDSWORD
DVDs & ON-DEMAND: TREASURE ISLAND MEDIA @ TLA VIDEO