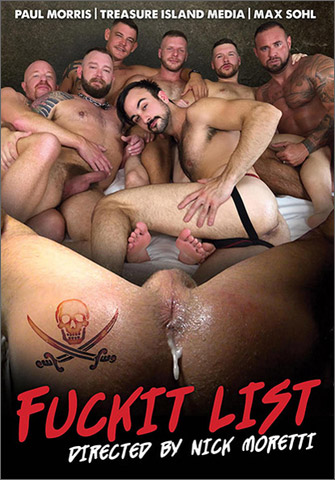 Studio: Treasure Island Media
Directed by: Paul Stag
Year of Production / Release: 2020
Country of Production: U.S.A.

CAST:
Ryan Anthony
Alejandro Avila
Brian Bonds
Jace Chambers
Nick Cross
Deviant Otter
Dexx
Jay Donahue
Milan Gamiani
Ginger Dad
Liam Griffin
Sean Harding
Luke Harrington
Blake Houston
Mason Lear
Riley Mitchel
Tyler Roberts
Michael Roman
Chandler Scott
Drew Sebastian
Jaxx Thanatos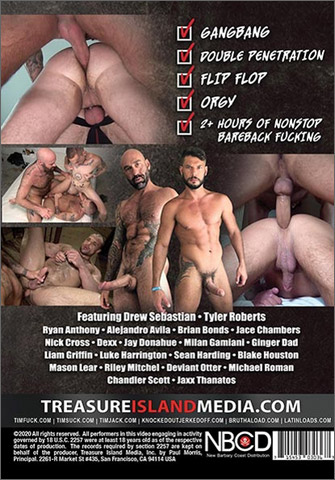 INFORMATION FROM TREASURE ISLAND MEDIA:
NICK MORETTI brings a full movie worth of hardcore sucking, fucking and breeding in FUCKIT LIST. Gangbangs? Check. Double penetration? Check. Group breeding? Check. Hot men fucking and cumming in each other's asses? Check. We haven't seen top-tops DREW SEBASTIAN and TY ROBERTS in a while and both do not disappoint in their power fuck scenes with BLAKE HOUSTON and MICHAEL ROMAN that will leave your hole twitching. Michael Roman and JAXX THANATOS fuck in a bar. DEXX and LUKE HARRINGTON annihilate SEAN HARDING in a garage. ALEJANDRO AVILA takes a steady stream of cumloads in a Disney Days gang breeding. MASON LEAR gets gangbanged and loaded from a room full of tops. Also featuring BRIAN BONDS, JACE CHAMBERS, NICK CROSS, RILEY MITCHEL, CHANDLER SCOTT, everybody's favorite DEVIANT OTTER and many more.
Who and what is on your FUCKIT LIST?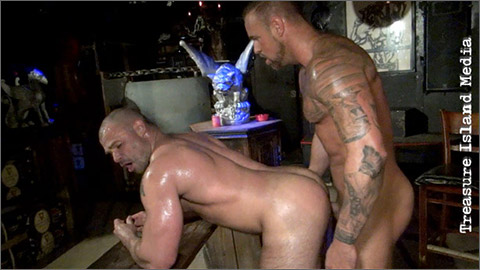 SCENE 1: Michael Roman & Jaxx Thanatos flip-fuck
MICHAEL ROMAN walks into a bar. JAXX THANATOS is waiting. "Hey." Which one of these guys is going to breed the other one first? The two muscle pups are soon naked and all over each other. Kissing, sucking each other's dicks, spitting in each other's mouths, licking up armpits, rimming each other's holes, doing poppers. Jaxx bends Michael over the bar and shoves his cock in his ass and power pounds him. Michael then gets Jaxx legs up on the bar table until he breeds him. Jaxx hasn't cum yet and there is only one place he plans on putting his man-seed. Deep in Michael's guts, leaving a thick glob of cum dripping out the man's hole.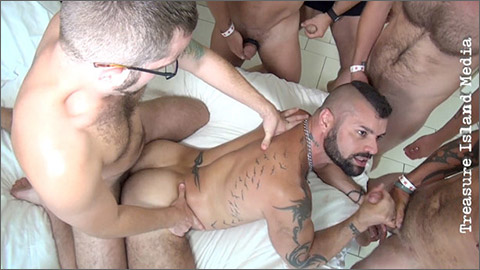 SCENE 2: Alejandro Avila Gang Breeding – Nick Cross, Jace Chambers, Jay Donahue, Milan Gamiani, Riley Mitchel, Chandler Scott and Deviant Otter
It is a small world after all when ALEJANDRO AVILA signs up for a gang breeding. Alejandro is ass up face down as this group of boned up otters cum by to bust their nuts and use each other's cum for lube. One after the other: MILAN GAMIANI, RILEY MITCHEL, NICK CROSS, DEVIANT OTTER, JAY DONAHUE, JACE CHAMBERS and CHANDLER SCOTT step up and have a go at this loose pussy cumslut. Alejandro takes several loads on all fours, but finishes up on his back and is left begging for more cum.

SCENE 3: Jace Chambers fucks Mason Lear
This is just a warm up for MASON LEAR who practices his dick taking skills with JACE CHAMBERS before his next day all out gangbang. Jace kicks back and really uses Mason's mouth and throat, letting Mason get to thoroughly know the cock that is going to fuck him. Jace has the bottom get up and straddle his dick so he can get it in as deep as possible. Then that moment always happens where a top goes from fucking around to wanting to cum. Jace tosses Mason on his back and drives his dick in, then tosses him down on his belly so he can enjoy the intense fucking and breeding. Mason shrieks in delight at the massive load Jace gives him.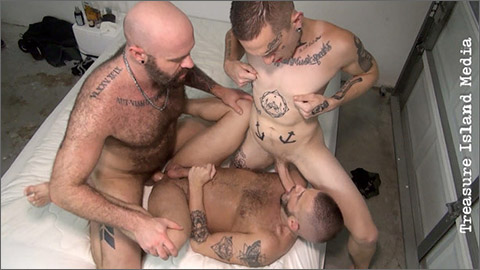 SCENE 4: Dexx & Luke Harrington fuck Sean Harding
SEAN HARDING came to get fucked. It's been a minute since we have seen the beautifully tatted DEXX who starts things off by smoking a joint while Sean services hairy daddy LUKE HARRINGTON. The men switch off with Luke rimming Sean's ass while he throats Dexx and his massive stunning cock. Luke slides in the hole and opens it up, pile driving the bottom man into the mattress. Dexx – now nice and high on poppers and pot has a turn fucking Sean (and we love watching him fuck in his long solid strokes).
   Dexx and Luke double fuck Sean – who sits on Luke's meat so Dexx can slide in from behind. Luke breeds Sean, and watching that gets Dexx so excited he unleashes a spectacular load all over Sean's face and in his mouth. That's just the first of Dexx's cumshots, since this horny stoned fucker insists on fucking a second load of jizz directly up Sean's butt.

SCENE 5: Drew Sebastian fucks Blake Houston
DREW SEBASTIAN. IS. BACK. Drew is full on Zaddy mode with a capital Z. And that superior schlong has never looked thicker, harder or – well – fucking huge! BLAKE HOUSTON is the lucky bitch to take our Drew on, and we think Mr. Sebastian gives the bottom a run for his life – judging from all the squealing the kid is doing from the rough fuck Drew gives him. "That is a fun dick", says Blake after he has Drew's babies up his gut and he is cleaning the man-meat off with his mouth. We agree Blake!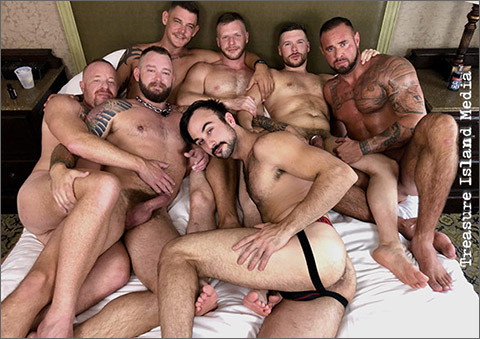 SCENE 6: Mason Lear Gangbang – Ryan Anthony, Brian Bonds, Jace Chambers, Ginger Dad, Liam Griffin and Michael Roman
Nick Moretti's gangbangs are legendary and this one lives up to the reputation. 45 seconds in and BRIAN BONDS is lubing up MASON LEAR with fresh milk for the other guys to use to fuck. GINGER DAD, MICHAEL ROMAN, JACE CHAMBERS, LIAM GRIFFIN and RYAN ANTHONY each take turns fucking Mason's well-used cunt. Jace and Ginger Dad double fuck Mason and the tension of another cock sliding up against his in a tight ass makes Jace cum right on the spot.
   It is an all out breeding session after that. Mason is positioned for cum – alternating between all 4s and exposing his gaping slit on his back and one by one – the horndawgs step up to dump their loads.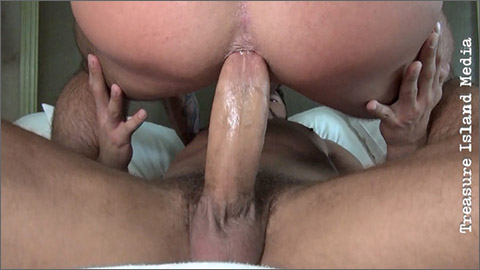 SCENE 7: Tyler Roberts fucks Michael Roman
TY ROBERTS. IS. BACK. Ty – now going by the full name TYLER ROBERTS – is one of Treasure Island's all time favorite top men. This 6" 5" stud fucks like a man in heat, never losing his Southern charm as he beats a bottom into submission with his cock. The first time we met Ty, he was 23 years old – 7 years later, he has matured into a perfect specimen of pure breeding bliss.
   Tyler has MICHAEL ROMAN worship his cock before he goes for the hole. Fucking it on all 4s and then making him ride his cock and squeeze the head of his dick with his cunt and demonstrate just how lucky he is to get fucked by that fat meat. Ty gets Michael on his stomach and really fucks the hell out of him. Michael is then put on the edge of the bed and Tyler – once again being the gentlemen that he is – fucks a load out of the bottom before depositing his own cum deep where it belongs.

WATCH THE SCENES BUY THE DVD AT:
TREASURE ISLAND MEMBER'S SITE & STORE
Members at TREASURE ISLAND'S MEMBERS SITE can watch these scenes and download extensive Photo Content from this production and get discounted pricing on all DVD and Print purchases.
ENDLESS STREAMING MEMBERSHIP: TREASURE ISLAND MEDIA @ NAKEDSWORD
DVDs & ON-DEMAND: TREASURE ISLAND MEDIA @ TLA VIDEO