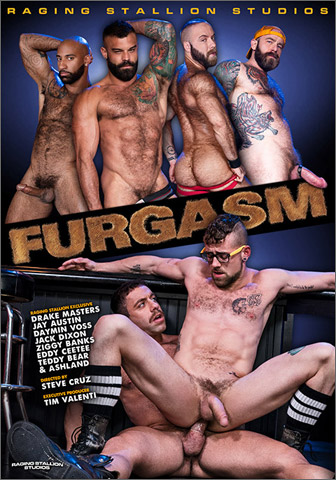 Studio: Raging Stallion
Directed by: Steve Cruz
Year of Production / Release: 2018
Country of Production: U.S.A.

CAST:
Ashland
Jay Austin
Ziggy Banks
Teddy Bear
Eddy Ceetee
Jack Dixon
Drake Masters
Daymin Voss
INFORMATION FROM RAGING STALLION:
Hairy chests, fuzzy crotches, and furry holes dominate the eight hung studs, hunks and daddies of 'Furgasm'. These guys don't want just any man – they want 'em dirty, rough, and covered in fur! Daymin Voss makes the first move on tatted bartender Drake Masters, to suck his dick before the two studs flip-fuck in front of the bar. After getting their hairy holes destroyed, Daymin gets a load of cum on his giant sack and Drake gets his beard painted white. Muscle daddy Jack Dixon is jacking his thick, hairy cock and huffing on a random used jockstrap when hunky Jay Austin finds him and drops to his knees. The two swap blowjobs until Jack dumps his load on Jay's face while Jay polishes the floor with his own creamy load. Ziggy Banks and Ashland take turns sucking cock and eating ass until Ziggy wants it up the butt. The two hairy hunks flip-fuck until Ziggy unloads on Ashland's freshly fucked ass and Ashland slathers Ziggy's face with cum. Eddy Ceetee finds jay Austin rubbing his crotch at the bar and makes his move. After swapping blowjobs, Eddy rams Jay's furry ass with his fat cock and fucks him until both toned studs let loose all over Jay's hairy stomach, cock and balls. Teddy Bear bends over for Jack Dixon to eat his hairy ass. When he's nice and opened up, Jack rams his extra thick cock deep into Teddy's hole until both Teddy and Jack erupt on Teddy's furry crotch and balls. When you see this group of hairy hunks sucking, fucking, and eating ass, you'll be sure to join them in cumming with the 'Furgasm' of your life.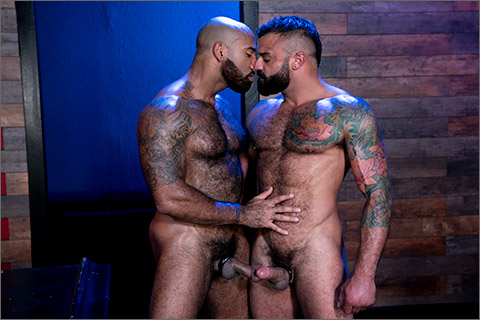 SCENE 1: Daymin Voss & Drake Masters flip-fuck
Bartender Drake Masters is slinging drinks when Daymin Voss enters without words. Daymin can't resist touching Drake's rock-hard, hairy body and Drake responds by reaching down to grope Daymin's massive bulge. That's Daymin's cue to get on his knees to take Drake's thick hairy cock down his throat. He services Drake with an urgency, getting the rough and tumble muscle hunk hard as a rock. Daymin needs a taste of Drake's hairy asshole and bends the stud over to spread his cheeks. When both furry hunks are worked up and sweaty, Drake is ready for dick so Daymin slides his throbbing cock deep into Drake's hole. He pumps away and enjoys the feeling of Drake's warm hole surrounding his big dick. It's Drake's turn to feel Daymin from the inside and bends the stud over to plunge deep into his hole. Drake keeps pounding in and out until Daymin's furry hole makes him ready to blow. Drake pulls out and dumps a load of creamy cum all over Daymin's big sack and hairy taint. Drake isn't quite done yet. He wants a taste of Daymin's load and gets in front of the stud to get what he deserves. Daymin drains his balls all over Drake's beard and face to finish off the furry fun at the bar.

SCENE 2: Jay Austin and Jack Dixon (all oral)
Jack Dixon is alone in a dimly lit hallway jacking his thick, hairy cock and huffing a random used jockstrap. Jay Austin stumbles upon Jack and decides to lend a helping mouth. Jay drops to his knees to take the big dick between his lips and works it until Jack's veins are popping on his bulging shaft. Jack wants to taste Jay's ass and throws the young stud against the wall. Jack plants his tongue deep into Jay's hole and works it with his mouth, fingers, and beard until Jack wants some of Jay's hairy cock. Jack flips Jay around and gets to work sucking the hunk, taking his dick in and out of his mouth and savoring every inch of the hung stud. Jack wants to prolong the fun a bit longer and stands up to kiss Jay as they jack their big dicks together. Jay is on the edge now and needs more of Jack's dick. He gets back in front of the hairy daddy and sucks his cock one last time, gagging and coughing as Jack face fucks his new favorite stranger. Jay's talented mouth feels amazing and finally Jack can't hold off any longer. He sprays Jay's face with a thick coat of creamy white jizz that leaves his beard soaked in cum. The taste of Jack's load is enough for Jay to finish up and he dumps his pent-up load all over the floor.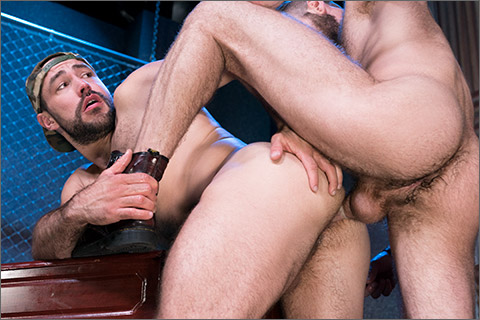 SCENE 3: Ziggy Banks & Ashland flip-fuck
Ziggy banks and Ashland are shoving their tongues down each other's throats as they grope their dicks through their jockstraps. Ziggy is revved up and hungry for cock when he opens wide to take Ashland, balls deep down his throat. He gags on the big hairy cock until he's ready to eat some furry ass. Ziggy bends Ashland over and spreads his perfect bubble butt to get in deep and eat his hairy hole. Ziggy munches ass like it's the last one he'll ever get to eat and makes sure Ashland is opened up wide and wet with spit. It's Ashland's turn to showcase his oral talents and gets his throat reamed and ass munched until Ziggy can't wait another minute. Ziggy lies back and spreads his legs to take Ashland's hard dick up his ass. Ashland plows away pumping almost to the point of no return when he decides to let Ziggy pound his hole. Ashland pulls out and bends over the table to take every inch of Ziggy's big, hairy cock. Ziggy fucks Ashland just the way he likes it until he pulls out and blasts his giant load all over Ashland's freshly pounded butt. When Ashland feels Ziggy's warm load hit his ass, he knows he needs to blow. The furry hunk stands up over Ziggy and dumps his load all over the hairy stud's face.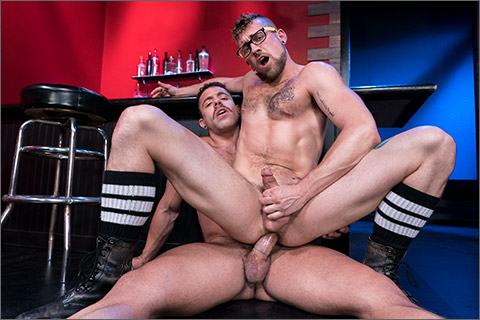 SCENE 4: Eddy Ceetee fucks Jay Austin
Eddy Ceetee rounds a corner at the bar to find Jay Austin rubbing his crotch, waiting for a horny hunk to help get him off. Eddy walks up to Jay and grabs his head to start making out as Jay's cock bulges out from under his jockstrap. Eddy likes what he sees and opens his mouth to gobble up Jay's hard meat. He works the shaft and head as Jay moans out with each flick of Eddy's experienced tongue. It's not long before Eddy wants a taste of Jay's insatiable ass. Eddy opens the toned stud up and then lies back to let Jay sit on his hole-stretching cock. Jay bounces up and down, riding the monster deep until he tells Eddy to fuck him on the bar. Jay lies back and spreads his legs to let Eddy plant his dick deep into Jay's fuzzy hole. Jay keeps pounding as the two studs groan and grunt with each thrust from Eddy's hard cock. Eddy's thick pole feels so good ramming Jay's hole in and out that Jay lets loose and sprays his hairy stomach as Eddy continues to fuck his hole. After Jay empties his balls, Eddy pulls out and adds to the sticky mix by dropping his creamy load all over Jay's spent cock and balls.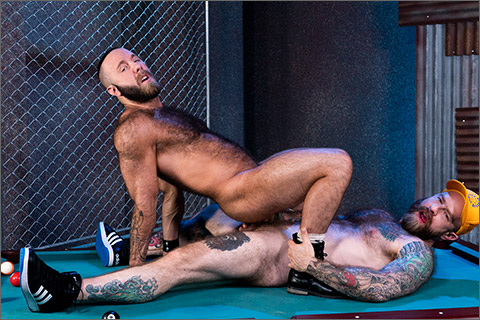 SCENE 5: Jack Dixon fucks Teddy Bear
Teddy Bear and Jack Dixon make out by the pool table and rub crotches until Teddy tells Jack to eat his hairy ass. Jack does as he's told and rubs his lips and beard all over Teddy's tight hole. Teddy is eager to get fucked and after getting nice and opened up, he announces that he's ready for Jack's dick. Jack stands up and gives the hairy stud what he wants by burying his extra thick shaft deep into Teddy. Jack goes balls deep into Teddy, stretching him out and making him beg for more. Teddy is ready to sit on the daddy's hard cock and Jack lies back to let Teddy do the work. Teddy bounces up and down letting Jack's dick stretch him out even more with each powerful thrust. Jack loves watching Teddy ride him, but it's time to take control one last time. Jack flips Teddy onto his back and rams his dick into the furry hole one last time. Jack pounds away until he's ready to blast a load then pulls out and covers Teddy's hairy balls with a milky load of cum. Teddy loves the feeling of Jack's cum running down his sack and sticking in his fur so much that it makes him blast his own load of sticky white jizz.

WATCH THE SCENES AT:
RAGING STALLION'S MEMBERS SITE
Members at RAGING STALLION"S MEMBERS SITE can watch these scenes and download extensive Photo Content from this production and get discounted pricing on all DVD and Print purchases.