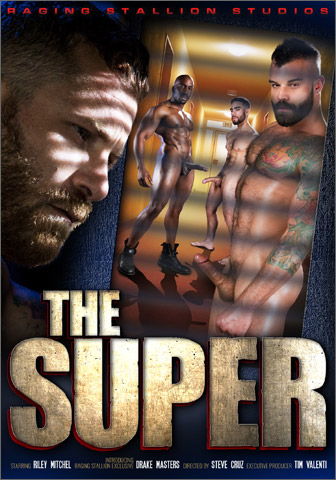 Studio: Raging Stallion
Directed by: Steve Cruz
Year of Production / Release: 2018
Country of Production: U.S.A.

CAST:
Teddy Bear
Bruno Bernal
Brian Bonds
Mario Cruz
Blake Hunter
Max Konnor
Carlos Lindo
Drake Masters
Riley Mitchel
Papi Suave
INFORMATION FROM RAGING STALLION:
Beefed-up hunk Riley Mitchel is the superintendent of a luxury residential property. Oblivious to the tenants that inhabit the building, 'THE SUPER' is secretly filming the vulnerable men during their most private moments. With hot and horny studs in every nook around the place, it's a haven for filming all the fucking and sucking that goes on. Will Riley get caught, and what will happen to him if he does? Hairy man Teddy Bear shows up at Brian Bonds' place for a casual hook-up where the two get down and dirty by swallowing each other's cocks. Teddy works Brian's asshole to open him up before the two hunks flip-fuck and end their session by eating each other's hot loads. When tatted tenant Drake Masters finds Riley Mitchel naked in his office, Drake takes full advantage of the situation. The two hunks take turns plowing each other until Riley fucks the cum out of Drake and then rewards him by slathering his face and beard with a massive load of jizz. Blake Hunter is extra hungry for cock and gets between Carlos Lindo's legs to get his cock down his throat. Carlos loves the attention and returns the favor by sucking on Blake's stiff meat. It's a cock-eating frenzy as the two swap sucking until both of them are left with a face full of cum. Ryan Cruz is doing laundry when he finds a box of dirty magazines. Carlos Lindo catches Ryan rubbing one out and offers a helping hand that leads to Carlos getting his hole stretched. Bruno Bernal sucks super-hung studs Papi Suave and Max Konnor before offering up his ass to let the muscle hunks inside. Papi and Max tag team Bruno until all three drop their loads all over a sweaty, panting Bruno, leaving him a wet, sticky mess. Brian Bonds and Blake Hunter confront 'THE SUPER' Riley Mitchel, about filming people having sex in the building. Riley gets punished by having a fat dick shoved in his mouth, and one up his ass before he gets a face and beard full of cum. Watch out the next time you fuck that hot neighbor in your building. Your Super may just be lurking around the corner with a camera filming you with a cock up your ass!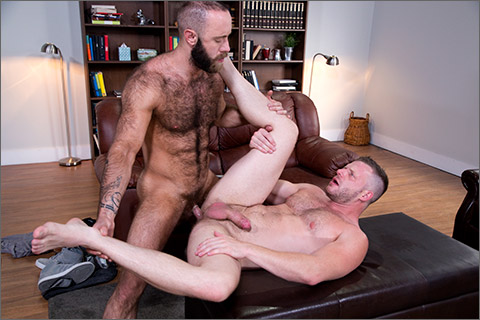 SCENE 1: Brian Bonds & Teddy Bear flip-fuck
Riley Mitchel takes a break from his busy day as the building Super to unwind by spying on Brian Bonds and Teddy Bear on a hidden camera. Riley drops his pants and starts tugging on his thick dick as he secretly watches the two hunks hook up. Brian and Teddy get hot and heavy as they take turns burying their faces in each other's ripe, hairy pits. That does the trick for both of them and soon they're rock hard. Teddy whips out his dick and cock-hungry Brian can't wait to taste his meat. He gets the nice long shaft down his throat and sucks just long enough for Teddy to want to return the favor. The furry hunk laps up Brian's oozing precum and slowly works his way down Brian's balls to his asshole. Teddy eats him out getting Brian nice and opened up before Brian begs for Teddy's cock. Teddy does as he's told and slides his raging hard-on deep into Brian's fuzzy crack. He pounds away until Brian decides it's his turn to bury his bone. Teddy takes a seat on Brian's big, hard cock and bounces up and down working Brian's rod with his tight hole. Brian pounds his g-spot, and when Teddy can't hold off any longer, he blasts his load all over Brian's hairy stomach. Brian loves what he sees and takes a taste before he stands up and covers Teddy's face and beard with a giant creamy load of jizz.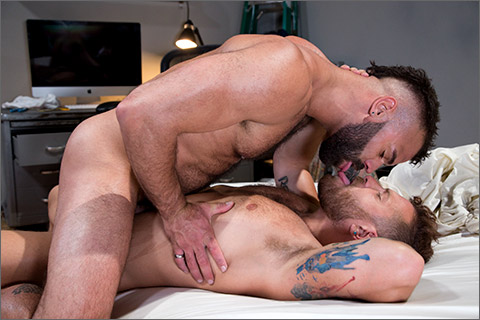 SCENE 2: Riley Mitchel & Drake Masters flip-fuck
Riley Mitchel is at his desk beating off to the tenants of his building when Drake Masters knocks on his office door. Riley answers without his pants and Drake doesn't waste one second by taking advantage of the half-naked Super standing before him. All it takes is Drake's hand on Riley's ass for the two to hit it off. Riley drops to his knees and sucks Drake's massive dick. When Drake is completely hard, Riley decides it's time to switch it up. Riley takes his turn face fucking the eager hunk until neither of them can grow another inch. Riley is ready to take it to the next level and bends Drake over to eat his hairy bubble butt. The taste of Drake's ass gets Riley in the mood to take dick himself and he bends over to invite Drake inside. Drake shoves his massive cock deep into Riley's smooth hole and picks up the pace as he grunts and moans with each thrust of his cock. Drake wants a piece of Riley now and squats down over Riley to take his dick deep up his hairy ass. Riley does the work as he plows on Drake's open hole until he fucks the cum out of Drake's throbbing pole. Drake still needs Riley's load and with his mouth wide open, gets exactly what he wants when Riley drains his balls all over Drake's face and beard.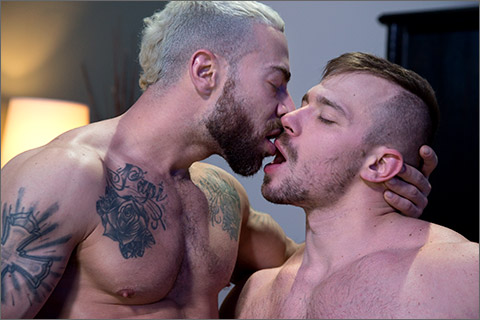 SCENE 3: Carlos Lindo & Blake Hunter (all oral)
'The Super', Riley Mitchel is working on the vents in his building when he stumbles on Carlos Lindo and Blake Hunter naked in bed. Riley watches them through the vent as he pulls out his dick with one hand and hits record on his phone with the other. Blake is hungry for cock and gets down between Carlos' open legs to take him all the way down his throat. Carlos is happy with the reception his cock is getting but wants more control. Carlos gets on his knees with Blake still in front of him and face fucks the hungry cocksucker. Blake is revved up from the throbbing dick in his throat when he tells Carlos to take his turn sucking his dick. Carlos is happy to get in front of the hard hunk and gets to work polishing his pole. It's a cock-sucking frenzy as the two studs keep swapping warm mouths on hard dicks. Blake is up at bat with Carlos planted deep down his throat when Carlos decides to let loose and give Blake what he wants. Blake chokes down the entire load cum Carlos has to offer and then stands up to return the favor. Carlos gets on his knees in front of the ready-to-burst stud and waits for the load he's about to receive. Blake busts a nut all over Carlos' chest and beard, leaving both hunky studs satisfied and drenched in cum.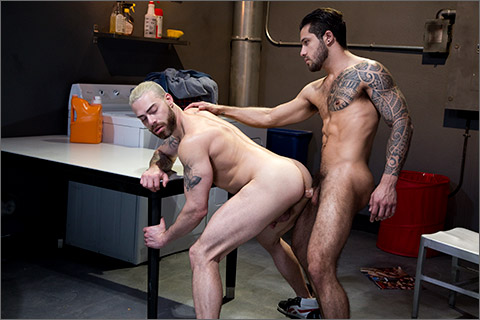 SCENE 4: Ryan Cruz fucks Carlos Lindo
Ryan Cruz is doing laundry in his apartment building when he stumbles across a box of dirty magazines. When the coast is clear, Ryan whips out his fat dick and starts jacking off to the pictures of naked men. When Ryan is heavy into it, Carlos Lindo catches him with his dick in his hand. It's the best thing Carlos has found in the laundry room in years and he offers to give Ryan a helping hand. Carlos sinks straight to his knees and gets Ryan's hairy dick in his mouth. He works it until he's hard and ready for Ryan to do the same. Ryan happily gets down in front of Carlos and opens his mouth wide to service the fit stud. After sucking Carlos' cock, Ryan wants a taste of his firm ass. He courses his tongue from hole to taint until Ryan can sense that Carlos is ready to have his asshole cracked open. Ryan pounds Carlos, getting faster and deeper with each thrust from his fit, tight body until the studs switch it up one last time so Ryan can look Carlos in the eye. Carlos gets fucked on his side as the hunks stare each other down with each pump. That's all it takes to push Ryan over the edge. He pulls out and blasts Carlos' face with thick ropes of warm cum. With Ryan's cock still in his mouth and left a sticky mess, Carlos lets loose and covers the floor with his own giant load of cum.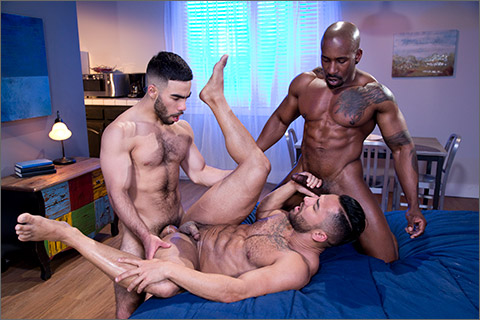 SCENE 5: Papi Suave & Max Konnor fuck Bruno Bernal
Bruno Bernal, Papi Suave, & Max Konnor are all naked and making out rubbing rock hard bodies together when Bruno decides to service the other two studs' cocks with his mouth. It's no easy feat, since both dicks are massive, but Bruno makes them fit all the way down his throat. The guys even cram both thick dicks in Bruno's face at the same time. Bruno is already in complete ecstasy but knows he wants their cocks deep up his ass. When the studs switch it up, Max gets on his back to let Papi suck him off while Bruno sits on Max's face to get his asshole lubed and opened up. Bruno is ready to have Max's uncut monster destroy his eager ass and he hops on to ride every inch that Max can slam into his tight hole. Papi joins in on the action and takes his turn pounding Bruno's talented backside. He slides in deep and fast, hitting Bruno in all the right spots. Max wants one last turn on Bruno and slips inside again to fuck the cum out of the tatted stud. When Max sees all the thick, white jizz covering Bruno's stomach, he pulls out and shoots his own thick load on Bruno. Papi is the last to add to the mix and shoots a massive load, leaving Bruno a wet, sticky mess.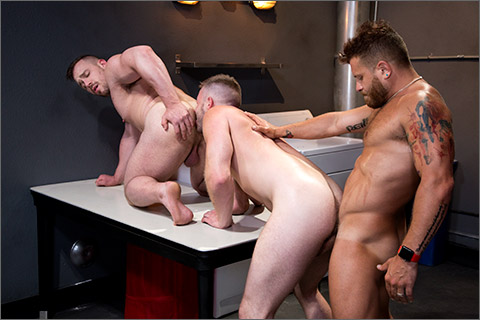 SCENE 6: Brian Bonds, Riley Mitchel & Blake Hunter all fuck
Blake Hunter discovers that guys in his building are being filmed without their consent. He enlists the help of Brian Bonds, and the two go to 'The Super' of the building, Riley Mitchel, to find some answers. Brian and Blake quickly discover that Riley is behind the whole secret perverted operation. To show how upset they are, the duo pins Riley down and pull off his clothes. Brian gets deep in Riley's ass to probe it with his tongue as Blake continues to hold the crooked Super down. Blake wants a taste of Riley's sweet ass and takes his rightful place behind him. With Blake's tongue buried deep in his hole, Brian opens his pants and sticks his cock in Riley's mouth. Brian can see that Riley is ready for his ass to be filled with cock and lines up behind the stud. With Blake's cock down Riley's throat, Brian slides his shaft deep into Riley's crack to spit-roast the tatted hunk. Blake pulls out his phone to record the threeway and then takes his turn plowing Riley. Now, Riley wants to get his dick wet and shoves his cock into Brian's hungry ass to fuck him hard. The stud pounds away until he blasts a load all over Brian's fuzzy ass. After seeing all that cum, Brian and Blake are ready for release and stand above Riley to cover his face and beard with their thick, creamy loads.

WATCH THE SCENES AT:
RAGING STALLION'S MEMBERS SITE
Members at RAGING STALLION"S MEMBERS SITE can watch these scenes and download extensive Photo Content from this production and get discounted pricing on all DVD and Print purchases.