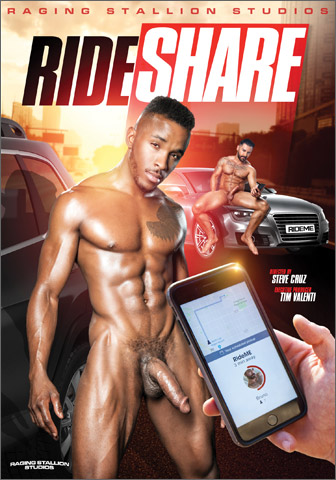 Studio: Raging Stallion
Directed by: Steve Cruz
Year of Production / Release: 2018
Country of Production: U.S.A.

CAST:
Jay Austin
Bruno Bernal
Phoenix Fellington
Max Konnor
Jay Landford
Sean Maygers
Alex Mecum
Riley Mitchel
Seth Santoro
Austin Wolf
Kurtis Wolfe
INFORMATION FROM RAGING STALLION:
Hunks all over use, 'RIDESHARE' to get them to and from where they need to be. Award-winning director Steve Cruz mans the camera and examines the endless possibilities of random hook-ups with eager passengers and horny drivers in hardcore, sucking and fucking action. When Alex Mecum and Jay Austin end up in a car together, they start making out in the back seat. Jay gets out at Alex's stop and the studs end up fucking in Alex's kitchen, leaving Jay a sticky mess from head to balls. Seth Santoro calls his regular hook-up Sean Maygers, over for some fun. When Sean arrives, the two take turns sucking each other's cock before Sean slams Seth's hairy ass and fills his mouth with a fresh load. Jay Landford catches his employee, Bruno Bernal, driving for 'RIDESHARE' while on company time. When Jay threatens to fire Bruno, the hunk quickly gets on his knees to service his boss in hopes of saving his job. Jay fucks the cum out of Bruno's hard cock twice, and then pulls out to cover the muscle stud with jizz. Max Konnor accidentally sends his 'RIDESHARE' driver, Riley Mitchel, his dick pic. Riley is upset and knocks on Max's door but when Max answers in a towel, Riley has a change of heart and bends over to get his asshole stretched by the ripped hunk. When 'RIDESHARE' driver Austin Wolf sees Pheonix Fellington and Kurtis Wolfe sucking each other off in the mirror, Austin pulls over to climb in the backseat with them. The three studs alternate sucking cock and fucking ass until each of them ends up with a load on their chiseled bodies. The next time you use 'RIDESHARE', be prepared for a different kind of ride that will leave you sore and drained!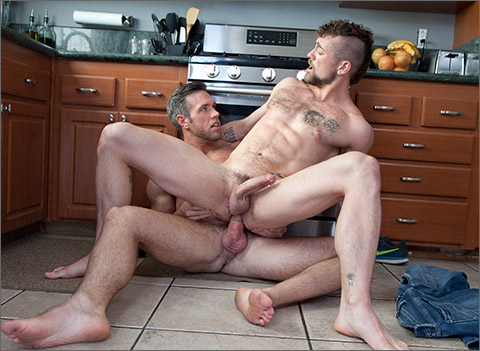 SCENE 1: Alex Mecum fucks Jay Austin
Alex Mecum is in the back of a 'RIDESHARE' when Jay Austin joins the ride and hops in the car with his bags. The two are crammed in on top of each other and after a tiny bit of small talk, the two hunks end up making out in the back seat. Jay decides to get out at Alex's stop and follows him inside. The studs get out of their clothes and Jay is the first to sink to his knees once he feels the meat Alex is packing between his legs. He takes it down his throat with ease before Alex wants a taste of Jay's ass. Alex bends the hairy hunk over in the kitchen and opens Jay up with a rim job. Alex's tongue feels amazing up Jay's asshole but he's ready to take something a lot bigger and much deeper in his crack. He bends over to let Alex slide his big, thick dick deep into his hairy hole. Alex pumps hard, drilling Jay as he moans out begging for more. Jay wants to ride Alex's big pole and sits down for the ride of his life. He bounces up and down in complete control of the depth of Alex's throbbing cock. With Alex buried deep up his ass, Jay lets the cum flow with a river that covers his abs and pubes. Alex can't believe his eyes when he sees how much cum there is and pulls out to slather Jay's begging face with more cum.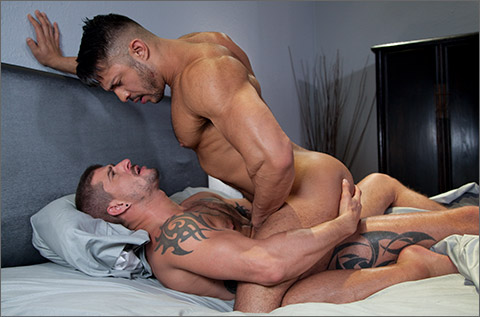 SCENE 2: Sean Maygers fucks Seth Santoro
Seth Santoro invites his hook-up Sean Maygers, over for some casual fun. When Sean arrives, the two skip the small talk as Sean peels off his pants and hops into bed with Seth. Seth can't wait to get Sean's big cock in his mouth and opens wide to let Sean face fuck him balls deep. Seth gobbles it up, taking it deep down his throat until it's Sean's turn to return the favor. The two take turns sucking dick until Seth is ready for his ass to be stretched. Seth hops on Sean's giant cock and rides it relentlessly, grinding on Sean until he takes over and flips Seth around to fuck him on his back. Sean pounds Seth's prostate, getting himself close until he pulls out and dumps a load in Seth's eager mouth. After tasting Sean's load, Seth is the next to blow and shoots a geyser of cum all over his hairy crotch and abs. All the fucking has made Sean tired and when he falls asleep, Seth calls his fuck buddy a 'RIDESHARE' to send him on his way.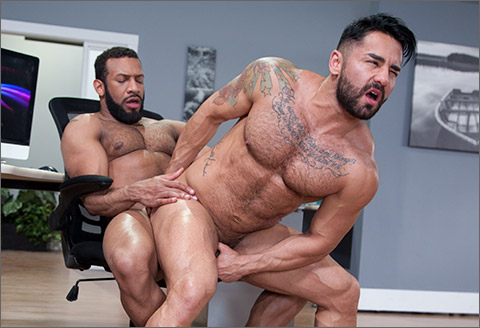 SCENE 3: Jay Landford fucks Bruno Bernal
Jay Landford catches his employee, Bruno Bernal, driving for 'RIDESHARE' on company time and threatens to fire Bruno. Eager to save his job, the guilty hunk drops down to suck his boss's giant, uncut cock. It's a tight fit but Bruno manages to get the whole thing down his throat. As Bruno sucks away, Jay gets the stud out of his clothes and bends him over to eat his tight ass. Jay gets in deep with his probing tongue to open Bruno up. When Jay senses that Bruno is ready to take on his massive cock, Jay stands up and sticks his monster deep into his employee's asshole. Jay fucks him hard, making Bruno moan out as Jay stretches Bruno's hole to the max. Bruno wants it deeper so Jay sits back in the office chair to let Bruno ride his pole. "Fuck me all the way to the sack!" Bruno yells out as Jay slips deeper into Bruno's gaping hole. Bruno is on a mission to blast his load and keeps riding Jay until his cum spills out of the tip of his cock and onto the floor. "Keep fucking me!" Bruno commands! Jay continues to pound his ass so hard, Bruno shoots another load at the same time Jay pulls out to cover Bruno with jizz. Looks like Bruno gets to keep his job after all!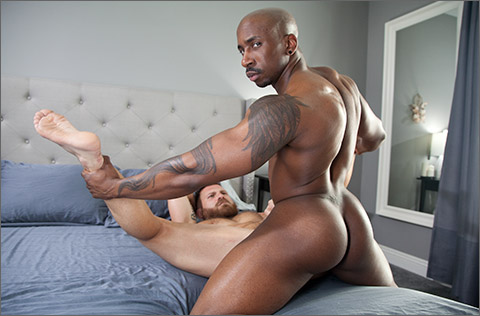 SCENE 4: Max Konnor fucks Riley Mitchel
Max Konnor called a 'RIDESHARE' that's still a few minutes away. He's in his towel taking a dick pic to send to a buddy when he accidentally sends it to his driver, Riley Mitchel. Riley gets upset and pounds on his passenger's door but when Max shows up in his towel, Riley decides to get on his knees and suck on Max's monster cock. Riley is up to the challenge of taking the whole thing down his throat and chokes and gags as he whips out his own hard dick to jack. Max wants to see if Riley is able to take it in his ass and bends the driver over to eat his hairy hole. That's all it takes for Riley to admit that he needs Max inside of him and he bends over even further to let Max stuff his ass. Riley is filled completely with cock as Max pounds his driver relentlessly. Max wants to switch it up so Riley can get the full experience and throws Riley onto his back to stuff his hole even deeper. Riley grabs the sheets in ecstasy as Max works up a sweat filling up Riley's stretched-out ass. Feeling Max's giant dick ramming his insides is what tips Riley over the edge and he blasts a load up over his head and onto his own face and chest. When Max sees Riley's massive release, he pulls out and feeds Riley his cum by blasting into his mouth.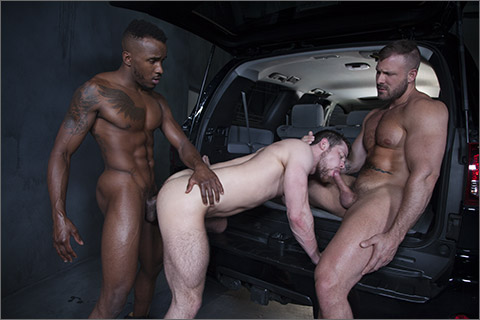 SCENE 5: Kurtis Wolfe & Pheonix Fellington get fucked with Austin Wolf
Kurtis Wolfe and Pheonix Fellington start getting dirty in the back seat of Austin Wolf's, 'RIDESHARE'. Kurtis goes down on Pheonix as Austin drives and watches them in the rear-view mirror. Pheonix wants to return the favor, and sucks Kurtis' thick hard-on. Austin wants in on the action and takes the guys to his garage where he unbuckles his belt and offers up his thick dick. That makes Pheonix hungry for more cock so he gets to work servicing both hung studs, alternating cocks down his throat. Kurtis is so turned on that he needs a dick in his ass. He bends over to let Austin penetrate him as he sucks on Pheonix' giant cock. After getting throbbing hard, it's time for Pheonix to have his turn using Kurtis' hole. He switches spots with Austin and takes his place behind Kurtis, stretching him like he's never been stretched before. Pheonix wants it all and soon he's riding Austin's big dick as Kurtis sits on the driver's face. The three studs switch it up one last time to give Kurtis some ass time as he slips inside Pheonix to pound his hole hard. Pheonix' tight ass works Kurtis to a frenzy and the hairy stud pulls out to shoot his load all over Pheonix' smooth back. When Pheonix feels the warm cum on his skin, he turns around and feeds Kurtis a load, who opens wide to catch it on his beard and tongue. When Austin sees all of the cum flying, he pumps the jizz from his dick as his hunky passengers lick his body and help him finish up.

WATCH THE SCENES AT:
RAGING STALLION'S MEMBERS SITE
Members at RAGING STALLION"S MEMBERS SITE can watch these scenes and download extensive Photo Content from this production and get discounted pricing on all DVD and Print purchases.