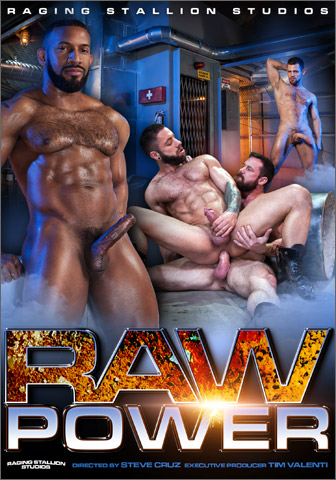 Studio: Raging Stallion
Directed by: Steve Cruz
Year of Production / Release: 2018
Country of Production: U.S.A.

CAST:
Teddy Bear
Eddy Ceetee
Jay Landford
Sergeant Miles
Kurtis Wolfe
INFORMATION FROM RAGING STALLION:
The 'RAW POWER' of a massive cock unleashed and unsheathed is truly an awesome thing to behold. Award-winning director, Steve Cruz, brings five hard and hairy studs together in an industrial setting to fuck each other with no boundaries and no barriers as they sweat, grunt and squirt their giant loads into desecrated assholes. Sweaty studs Kurtis Wolfe and Eddy Ceetee meet up in their jock straps to explore each other's bodies. When both are rock-hard, they flip-fuck relentlessly until Kurtis fills Eddy's hole with a warm load. Eddy takes a proper reaming when he bends over to let Sergeant Miles deep inside his ass. The big dick pounds hard on his prostate and makes Eddy unload on the floor before Sergeant slathers Eddy's hole and licks it clean. Jay Landford is hungry for Kurtis Wolfe's hairy ass and after getting Kurtis nice and opened up with his fingers and tongue, Jay slides his monster uncut and uncovered cock deep into the muscle stud. Kurtis gets his hole filled with cum and Jay ends up with a cream-covered beard that the studs make disappear with a kiss. After getting his throat destroyed by Sergeant Miles' thick cock, Teddy Bear bends over to get his hairy hole stretched. Sergeant pounds away on the furry stud until he fills his hole with a massive load of nut that he licks out and spits into Teddy's hungry mouth. There's nothing like the power of an unsheathed dick pounding a nice warm hole. That's why the studs of unleash their 'RAW POWER' as they fill every hole in sight.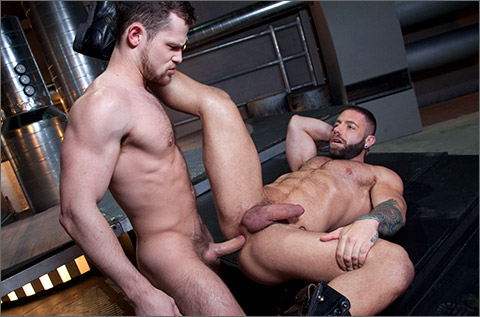 SCENE 1: Kurtis Wolfe & Eddy Ceetee flip-fuck
When sweaty studs Kurtis Wolfe and Eddy Ceetee meet up in their jock straps, they take their time getting each other hard with a nice long tongue bath. Eddy loves the taste of Kurtis and works his way down to his dripping cock. Eddy licks the precum off before taking it down his throat to satisfy his primal cravings. Eddy begs for Kurtis to slide his unsheathed cock in his ass but Kurtis has something else in mind. Instead, Kurtis bends Eddy over and tongue fucks Eddy's hole until he's wide open and ready for dick. Just when Eddy thinks he's getting fucked, Kurtis surprises Eddy by bending over to take Eddy's dick instead. Eddy loves the surprise and slides his pole deep into the stud's tight ass. He pumps away until he's ready to get fucked himself. Eddy lies back with his legs open and invites Kurtis inside. Kurtis happily sticks his dick inside the hole in front of him and rams him hard until Eddy explodes all over his own hairy crotch. The sight of Eddy erupting gives Kurtis the final push he needs to finish the job. He pulls out and sprays Eddy's asshole with pure white cum before he fucks it back into the used up stud.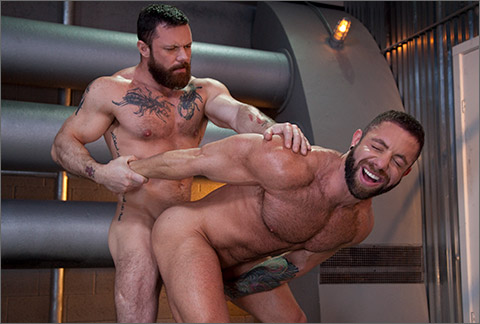 SCENE 2: Sergeant Miles fucks Eddy Ceetee
Eddy Ceetee cuts right to the chase and gets in front of Sergeant Miles to suck his thick cock. Sergeant gets harder with each slurp from the eager stud's talented mouth. Not an inch of cock goes unserviced as Eddy keeps Sergeant's cock at the back of his throat. When Sergeant is at full mast, he decides he wants a taste of what Eddy has between his legs. Sergeant gets on his knees and gags as he takes Eddy's big dick all the way down to his balls. Eddy wants to get fucked bad and bends over to let Sergeant open him up with his tongue. Sergeant happily eats Eddy's hairy ass and gets him ready for more. With Eddy ready for cock, Sergeant shoves his swollen dick deep into Eddy's hole with no boundaries and no barriers. He pumps away making Eddy scream out with every plunge from his massive dick. Eddy wants Sergeant even deeper in his ass and has Sergeant sit on the floor so that Eddy can ride his dick. It feels amazing plunging in and out of him and pounds just the right spot inside his ass that it makes him blast his load all over the floor. When Sergeant sees the mess that Eddy has made, he bends the stud over, blows on his sore hole, and licks it clean before kissing Eddy to give him a taste of jizz.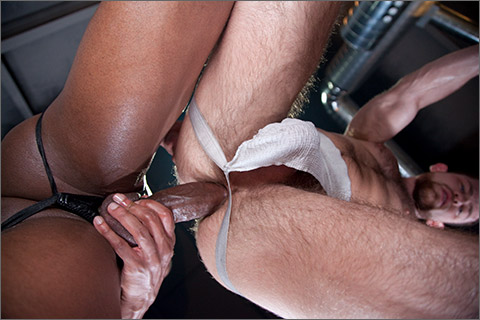 SCENE 3: Jay Landford fucks Kurtis Wolfe
Jay Landford and Kurtis Wolfe make out in their jock straps until Kurtis drops to his knees to service Jay's massive uncut cock. Kurtis knows what he's doing when it comes to sucking cock and when he senses that Jay is ready to fuck him, he bends over to offer up his willing, hairy ass. Jay takes his time and licks Kurtis' hole, going deep with his fingers and tongue until Kurtis can no longer take the anticipation of having his ass crammed with unleashed and unsheathed cock. Jay gives Kurtis exactly what he wants when he shoves his monster cock all the way into the stud's fuzzy ass. Kurtis loves the pounding and grunts with each thrust from Jay as he goes balls deep into Kurtis. Jay wants to see Kurtis' face as he destroys his hole and has him lie on his back. Kurtis' ass is stretched to the limit as Jay re-enters the stud's backside to continue his reaming. Kurtis' hole feels amazing and Jay can no longer hold off the inevitable. He pulls out of Kurtis and blasts his load all over the muscle stud's asshole. When every last drop is squeezed from his dick, Jay shoves it back inside Kurtis to fuck the cum as deep inside of him as it will go. All that cum pumped into his ass makes Kurtis ready to shoot his own load and he stands over Jay to blast his beard with jizz. After admiring his work, Kurtis bends down and the studs kiss the cum away.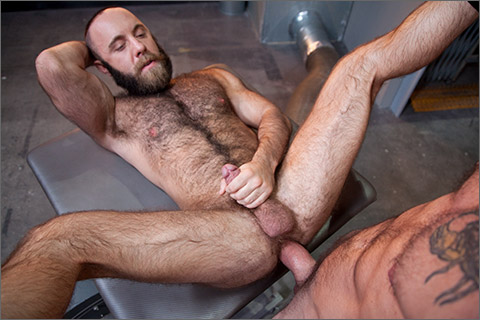 SCENE 4: Sergeant Miles fucks Teddy Bear
Sergeant Miles is watching Teddy Bear stroke his big hairy cock when he decides to approach the hunk. Teddy is happy to have the company and Sergeant immediately gets on his knees in front of the horny stud. Sergeant gags on the thick dick and takes it all the way down to Teddy's big furry bush. Teddy doesn't want to be left out of the cock sucking action and takes his place in front of Sergeant so that he can choke and slobber on his massive cock. After getting his throat destroyed, Teddy begs for Sergeant to shove it up his ass and bends over to get his hole stretched with 'RAW POWER'. Sergeant pounds him hard from behind as Teddy takes every last inch that Sergeant has to offer. After getting nice and loosened up, Teddy is ready to try another position and lies on his back with his legs in the air. It's the home stretch and Sergeant is eager to dump his load in Teddy's fuzzy hole. He pumps away as both studs grunt and groan until he makes Teddy erupt all over his own furry body. After giving Teddy all the pleasure, it's time for Sergeant to think of himself. He pulls out and sprays Teddy's hole with cum before he gets down and licks it out. As a final treat for Teddy, Sergeant spits his cum into Teddy's mouth.

WATCH THE SCENES AT:
RAGING STALLION'S MEMBERS SITE
Members at RAGING STALLION"S MEMBERS SITE can watch these scenes and download extensive Photo Content from this production and get discounted pricing on all DVD and Print purchases.