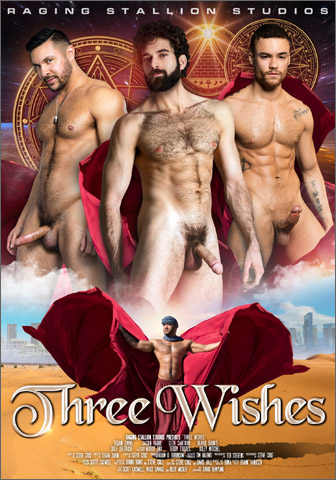 Studio: Raging Stallion
Directed by: Steve Cruz
Year of Production / Release: 2018
Country of Production: U.S.A.

CAST:
Beaux Banks
Dolf Dietrich
Woody Fox
Riley Mitchel
Seth Santoro
Teddy Torres
Jason Vario
Tegan Zayne
INFORMATION FROM RAGING STALLION:
If you had 'THREE WISHES' what would you wish for? Tegan Zayne stars in this erotic tale of desire and lust that he co-wrote with director, Steve Cruz featuring an all-star, stud-filled cast. Tegan Zayne and his friend Beaux Banks are desperate, homeless and ready to try anything to turn their lives around. Tegan turns to Seth Santoro for help with a magical spell to make his wishes come true. After giving Tegan a special potion, Seth slides his dick into Tegan's fuzzy ass to help complete the ritual that leaves Tegan covered in cum. The sex ritual summons a Djinn, Jason Vario, who finds a worn-down Tegan in the desert after a bad experience with Seth's potion. Jason rescues him and takes him home where Tegan shows his appreciation by sucking on Jason's big uncut meat. Jason offers to help both Tegan and Beaux for the price of Tegan's monogamy, but Beaux soon discovers that he's been sold off to a slimy talent agent, Dolf Dietrich. Dolf asserts his newly gained authority by getting Beaux into the sling and opening up his asshole with Dolf's massively thick cock. Meanwhile, Tegan is bored at home and decides to hit the sex club where he hooks up with Aussie-hunk Woody Fox, tatted-star Teddy Torres, and newcomer Riley Mitchell. The three strangers take turns plowing Tegan's mouth and ass until they leave him a dripping, sticky mess covered in the jizz of four hung studs. If, and only if, Jason never finds out what Tegan has done, this deed will go unpunished. Seth Santoro needs to feel Jason's big cock inside his ass. After Seth chokes on it and gets his ass opened with a rim job, Jason slides his dick deep into the tight hole. As the two finish up while Tegan watches from behind a door, Tegan soon finds out that there are consequences to every action. Find out for yourself if Tegan's 'THREE WISHES' are a blessing or a curse.

SCENE 1: Seth Santoro fucks Tegan Zayne
Tegan Zayne is trapped in a life that is going nowhere and he's wishing for a way to make it better. He meets up with Seth Santoro, who offers a magical spell to turn Tegan's life around. Without a second thought, Tegan takes a drink of a potion as Seth performs some rituals including submitting to his giant cock. The two hung studs take turns sucking dick until they're both throbbing hard and ready for more magic. To satisfy his hunger, Tegan gets down and spreads Seth's ass cheeks and rims him until Tegan is ready to get fucked. Seth is happy to give the young stud what he wants and lies back on the bed as Tegan hops on to ride Seth's giant rod. Tegan bounces up and down, taking it deep until Seth is ready to fuck Tegan his way. He bends Tegan over the bed and slides his throbbing cock deep into the hunk's hairy hole and slams away until he's ready to blow. Tegan needs Seth's load and turns around to take every last drop on his beard and lips. With his face dripping in cum, Tegan gives himself permission to let go and blasts his load all over the sheets. Will this be enough for the spell to work, or will this be the beginning of something much more sinister?

SCENE 2: Tegan Zayne blows Jason Vario
Tegan Zayne is running from a bad experience with Seth Santoro's spell gone wrong. He's about ready to do something drastic on the edge of a cliff when he's saved by hunky stud Jason Vario, who appeared magically in the desert. Jason brings Tegan back to his luxurious home. The minute they get in the door, grateful Tegan makes it known that he wants to suck his rescuer's big, hard cock and opens his mouth wide to take the massive uncut meat down his throat. Tegan eagerly slobbers and gags as Jason tames Tegan's jaw. The big cock tastes so good that Tegan pulls out his own to jack it as he continues eating every inch that Jason can slam in his face. After getting his cock sucked hard, Jason is ready to reward Tegan for his hard work with a giant creamy load to his face. Jason explodes all over Tegan's beard, and once he's covered in cum, Tegan can no longer hold off. He jacks his rod until he sprays the floor with his own freshly pumped jizz. Will Tegan take Jason's offer of a better life simply in return for sexual monogamy? Will Tegan be able to stay loyal if he accepts the offer?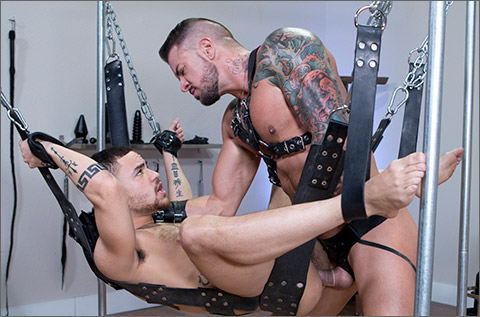 SCENE 3: Dolf Dietrich fucks Beaux Banks
Tegan Zayne and his buddy Beaux Banks go see model agent Dolf Dietrich with the hope of getting off the streets and into a better lifestyle. Tegan signs a contract without realizing that Beaux has been given to Dolf Dietrich to do with as he pleases. To make it clear that he now owns Beaux, Dolf puts him in a sling and gets down on the floor to eat Beaux's asshole in a nice long rim session that leaves the young stud begging for more. Dolf can see that his new toy is hungry for cock, so Dolf gives him what he craves and slides his massively thick cock into Beaux's tight hole. The tatted daddy pumps away on Beaux, stretching him to the limits with each thrust from his giant cock as Beaux moans out. Dolf wants to stretch Beaux's throat a bit before finishing off his ass. Beaux gags and pants as Dolf stuffs his face with all the cock that Beaux can swallow. Dolf can't wait to get back into the young stud's hole and bends him over to fuck him one last time. It's almost more than Beaux can handle as Dolf pummels the tight ass in front of him. It feels so amazing that Dolf can no longer hold off. He can barely get his dick out of Beaux's ass before it erupts all over the young stud's ass cheeks. The feel of Dolf's warm load hitting his back is exactly what he wants, and Beaux rolls over to drain his own balls all over his tight, ripped stomach.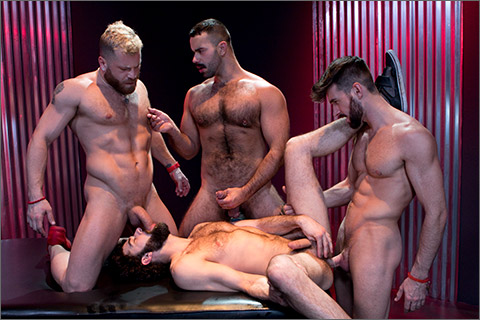 SCENE 4: Woody Fox & Teddy Torres & Riley Mitchell fuck Tegan Zayne; Riley Mitchell fucks Teddy Torres
Tegan Zayne finds himself home alone and decides to hit the sex club. He's barely gets in the door when he runs into Woody Fox standing by the lockers with his uncut dick in his hand. The two exchange glances and soon Tegan is on his knees servicing the hung stud's big cock and balls. As Tegan continues sucking on Woody's dick, they can hear another couple having sex nearby. They decide to explore the club and come across Teddy Torres getting railed by Riley Mitchell. Woody and Tegan find a spot near the new couple and as Riley pounds away on Teddy's ass, Woody gets behind Tegan to fuck him deep. Teddy and Riley don't wait for an invitation to join the fun and soon Riley and Teddy have their dicks down Tegan's throat as Woody continues to fuck him. Tegan loves being the hole to be used by every other dick in the room as the guys all take turns on his face and asshole, pounding away to get their own satisfaction. All the hot action surrounding him makes Woody the first to blow. He dumps his load all over Tegan's face and as Riley laps it up; he's the next to go. Watching Tegan get his face doused in cum is all it takes for Teddy to let loose. He covers Tegan's hairy patch of pubes with creamy white ropes before Tegan is the last to blow. Tegan is left as a sloppy, sticky mess covered in the loads of four extra-hung studs.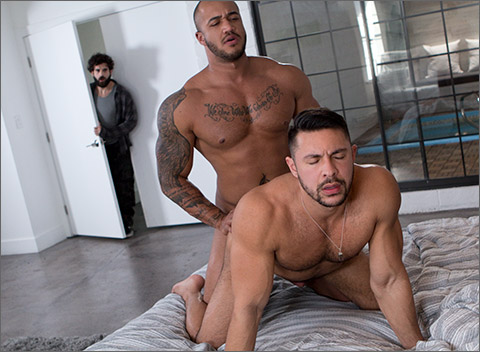 SCENE 5: Jason Vario fucks Seth Santoro
Seth Santoro and Jason Vario are kissing on the bed getting their cocks extra firm as they explore each other's hard bodies. Seth is the first to cave and get on all fours to suck on Jason's big, fat cock. Jason wants to return the favor and gets Seth onto his back so the studs can 69. After filling up Seth's throat with cock, Jason takes a taste of Seth's hairy hole. He knows that he's going to have to get it nice and loosened up before he can cram his extra large dick into such a tight space. Meanwhile, Tegan Zayne comes in the front door and hears the sounds of sex down the hall. When Jason is convinced that Seth is ready to take him on, he gets behind the beefy stud and slowly slides his dick into Seth. He goes slowly at first, making sure to let Seth have time to get used to his big pole. As Seth gets used to Jason's girth, Jason picks up the pace and pounds harder giving Seth exactly what he wants and needs, as shocked Tegan spies on them from the doorway. Seth's hole feels amazing and after a nice long fuck session, Jason pulls out to cover Seth's hairy crotch with jizz. Seth follows along and shoots his own load just as Jason acknowledges that Tegan has been watching. Tegan has been a bad boy. What will be the consequences of Tegan's broken promises and sexual indiscretions?

WATCH THE SCENES AT:
RAGING STALLION'S MEMBERS SITE
Members at RAGING STALLION"S MEMBERS SITE can watch these scenes and download extensive Photo Content from this production and get discounted pricing on all DVD and Print purchases.