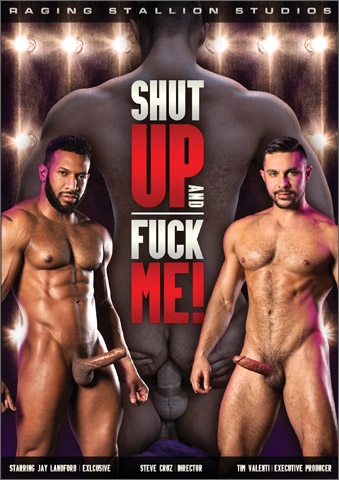 Studio: Raging Stallion
Directed by: Steve Cruz
Year of Production / Release: 2018
Country of Production: U.S.A.

CAST:
Ziggy Banks
Hans Berlin
Sean Knight
Jay Landford
Sergeant Miles
Seth Santoro
Adam Thicke
Giovanni Valentino
Spencer Whitman
Kurtis Wolfe
Tegan Zayne
INFORMATION FROM RAGING STALLION:
Sometimes it's nice to cut to the chase. Fuck conversation. Fuck getting to know each other. You just want to satisfy your carnal itch and get the fuck out. Don't start talking to me. I don't want your conversation. I don't want to hear your voice. Just 'SHUT UP & FUCK ME'. Kurtis Wolfe cuts right to the chase and gets on his knees to service Sergeant Miles' giant cock. Sergeant wants more than head and bends Kurtis over to pump his ass until both sweaty studs get their beards painted white with cum. Seth Santoro and Jay Landford are throbbing hard as they explore each other's bodies. Jay slides his monster dick deep into Seth and pounds his tight hole until both of their cocks erupt with jizz. Tegan Zayne is hungry for meaty cock and after getting his dick sucked by Spencer Whitman, shows his own cock sucking skills. Tegan slobbers all over Spencer's pole until they exchange facials and swap cum with a kiss. Adam Thicke is hungry for some ass and bends Ziggy Banks over the couch to slide his cock deep inside. Ziggy begs for Adam to go deeper until Adam fucks the cum out of the hairy stud. Tatted hunk Giovanni Valentino face fucks hairy stud Tegan Zayne until Tegan begs to get his ass pounded. Giovanni pumps Tegan full of monster cock until he pulls out and erupts all over Tegan's bushy beard. Hans Berlin and Spencer Whitman take turns fucking Sean Knight's face and ass until Hans wants a go at getting his own hole stretched. Sean fucks the daddy's face as Spencer takes it up the rear until all three blast their loads leaving Hans a sticky, panting mess. The next time you think you need a conversation or a nice cuddle to make yourself feel good…don't! Just 'SHUT UP & FUCK ME'.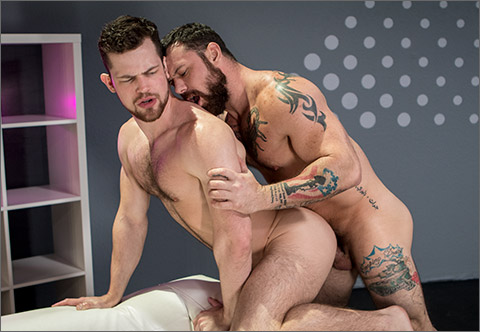 SCENE 1: Sergeant Miles fucks Kurtis Wolfe
Kurtis Wolfe and Sergeant Miles are making out as their hard, hairy dicks throb and rub against each other. "You're so hot," Kurtis says, to which Sergeant replies "Just shut up!" That's Kurtis' cue to get on his knees and service Sergeant who barks out the commands to suck his balls and swallow his dick. Kurtis does as he's told until he offers up his hairy hole for Sergeant to open up with his tongue. Sergeant takes his time, savoring the flavor and getting it nice and lubed and ready for something much bigger. When Kurtis can no longer take the anticipation, Sergeant stands up and shoves his thick cock deep into Kurtis' eager backside. He pumps away, going balls deep as Kurtis enjoys every thrust with a smirk on his face. Sergeant wants Kurtis to do some of the heavy lifting and lies back to let the stud hop on his cock. Kurtis rides it deep until Sergeant is ready to blow his load. Kurtis eagerly takes his place in front of the muscle daddy until Sergeant sprays Kurtis' beard and open mouth with all the jizz his big full balls can deliver. With the taste of Sergeant still fresh on his tongue, Kurtis returns the favor and unloads his massive cock, giving Sergeant a creamy facial. When Kurtis sees his handiwork, he bends down and the two kiss the cum away.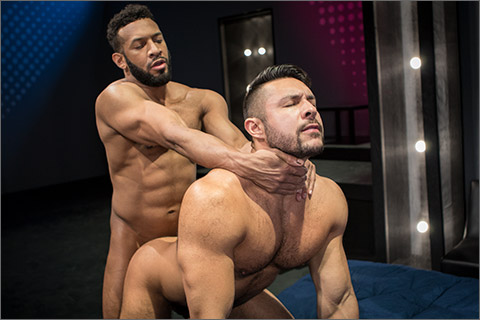 SCENE 2: Jay Landford fucks Seth Santoro
Seth Santoro and Jay Landford are horny as hell as they explore each other's hard and hairy bodies. Jay's hand works its way around to Seth's ass as his probing fingers find their mark when they enter Seth's tight hole. The feeling of Jay inside him makes Seth even more revved up and he bends over to take Jay's giant uncut cock in his mouth. The taste of the massive hard-on down his throat is all it takes for Seth to bend over and offer up his hungry hole. Jay takes the bait and gets on his knees to stick his tongue as far inside Seth's ass as it will go. When Jay is convinced that Seth is open and ready to fuck, he slides his massive meat deep into Seth, easing it in at first and then building to a hard pounding. Seth moans out with each thrust from the horny stud behind him as Jay picks up the pace to drill him even harder. Jay fucks Seth's hole the way he wants to until he pulls out and blasts his creamy load all over the hairy bubble butt in front of him. The feeling of Jay's warm cum dripping down his ass makes Seth ready to blow, and with Jay licking his own cum from Seth's stretched hole, he blasts his jizz all over the muscle stud's ripped and panting body.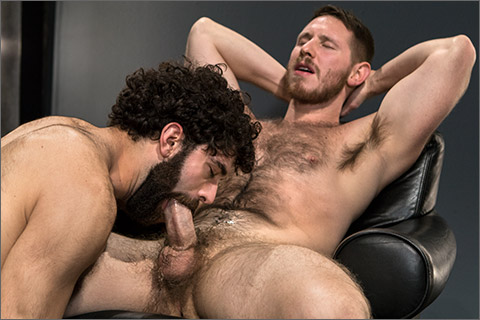 SCENE 3: Tegan Zayne blows Spencer Whitman
Tegan Zayne's hard cock is ready for action when he tells Spencer Whitman to "get down there". Spencer does as he's told and gets down in front of the hairy hunk with his mouth opened wide. Tegan grabs Spencer's head and fucks his face, commanding him to take it deeper and to suck his balls. "Faster!" Tegan yells out, making sure the horny stud sucks it just the way he likes it. Tegan is hard as a rock and needs to feel Spencer down his throat. Spencer is happy to oblige Tegan's needs and sits back to offer up his giant cock and big hairy balls. Tegan is so cock-hungry that he can hardly contain himself as he slobbers and chokes on Spencer's fully erect pole. Tegan is like a sucking machine, taking it deep down his throat as ropes of spit trail down Spencer's thick shaft and drip off his sack and onto the floor. Spencer's fuzzy crotch is a slobbery mess of Tegan's cock sucking expertise and using Tegan's mess as lube, he jacks his rod until he drops his load in Tegan's thick, bushy beard. Tegan has done his job well and when he gets a taste of the hung stud's jizz, he stands up and gives himself permission to let loose. Tegan sprays a geyser, shooting up into the air and slathering Spencer's face with a massive pent-up load that the two eat up with a kiss.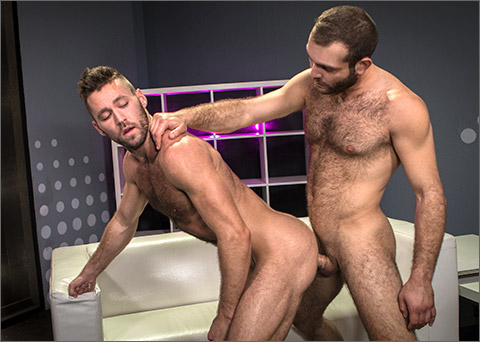 SCENE 4: Adam Thicke fucks Ziggy Banks
Adam Thicke is hungry for a hairy hole and bends Ziggy Banks over the couch to go in for some ass eating action. Adam savors every inch of Ziggy's fuzzy taint, getting the stud wet from the tip of his dick to the center of his hole. Ziggy is so worked up that he needs a taste of Adam's big uncut cock and gets on his knees to work the stud until Adam is ready to plug his ass. Adam gets behind the hairy stud and shoves his dick deep inside. He pounds hard, making Ziggy moan out with every thrust from his massive dick. "Fuck that hole!" Ziggy yells out as Adam stretches Ziggy to his absolute limits. Ziggy decides he's ready to do some of the work and hops on to ride Adam up and down as he jacks his own hairy cock. Ziggy knows what he's doing and squeezes his ass tight to give Adam the best pleasure he can give as Adam's cock hits just the right spot. That's all Ziggy needs, and he blows his load all over his own tight stomach as Adam continues to fuck the cum out of him. When his cock is done spurting cum, Ziggy realizes he's still hungry for more. He takes his place in front of Adam and doesn't have to wait long before Adam drains his balls all over Ziggy's begging face.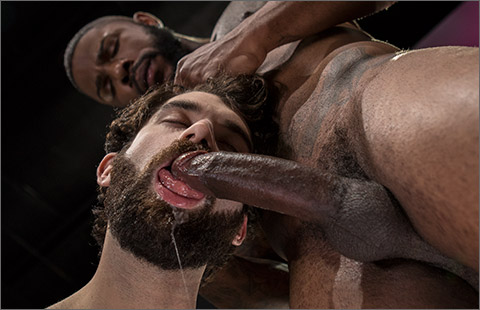 SCENE 5: Giovanni Valentino fucks Tegan Zayne
Tegan Zayne gets on his knees to take Giovanni Valentino's big monster cock down his throat. It's a tight fit but Tegan manages to get it all down as he chokes and gags and slobbers all over the girthy member. Giovanni doesn't relent and keeps a steady pace face fucking Tegan's open mouth until he's ready to try the young stud's fuzzy ass. Giovanni plants his face deep in Tegan's hairy hole and gets him to spread it wide. After a nice long rim session, Giovanni is ready to fill Tegan with dick. Giovanni slips his cock inside the hairy hunk and pumps away, going balls deep with his extra thick rod. Tegan wants to ride Giovanni's dick and hops on to bounce up and down as his cock and balls flop in all directions. Giovanni gives Tegan a few good slaps on the ass before he's ready to bust. Tegan senses a good mouthful in the works and hops off to take a load on his face. Giovanni lets loose and covers Tegan's beard with a massive wad of cum that clings to his beard and drips from his lips. With Giovanni's cum all over him, Tegan pounds his meat until his cock erupts and covers his hairy crotch with sticky, creamy jizz.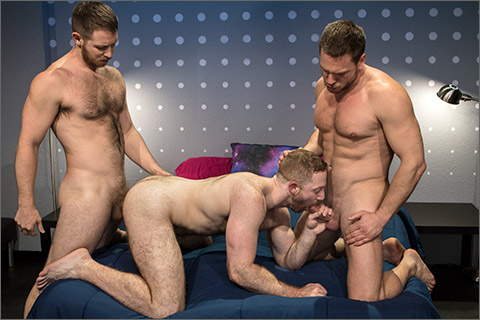 SCENE 6: Sean Knight & Hans Berlin get spit-roast with Spencer Whitman
Hans Berlin, Spencer Whitman, and Sean Knight are horned up and ready for all the cock and ass they can get. The three make out in a circle until Sean caves to his desires and gets on his knees to service both hung studs in front of him. He alternates dicks on his lips and tongue, being mindful to give each hunk equal time in his eager mouth. When all three are rock-hard, Hans decides to take charge and slams his cock deep into Sean's hole as Spencer shoves his cock in Sean's face. It's not long before Spencer wants to try Sean's warmed up ass so Hans and Spencer swap positions with Spencer taking it hard. Seeing Spencer fuck Sean works Hans into a frenzy, and he takes his turn on the bed with his legs in the air. With Spencer up his ass and Sean down his throat, Hans gets spit-roasted until Sean pulls out and announces that he's about to blow. The sight of Hans drinking Sean's cum makes Spencer ready to nut and he shoots his load all over Hans' hairy sack. With cum in his mouth and his crotch covered in jizz, Hans drops an extra thick load that oozes out of his cock and flows onto his heaving stomach. Spencer doesn't want all those loads to go to waste and cleans up Hans' mess with his tongue before sharing them all with the other studs.

WATCH THE SCENES AT:
RAGING STALLION'S MEMBERS SITE
Members at RAGING STALLION"S MEMBERS SITE can watch these scenes and download extensive Photo Content from this production and get discounted pricing on all DVD and Print purchases.