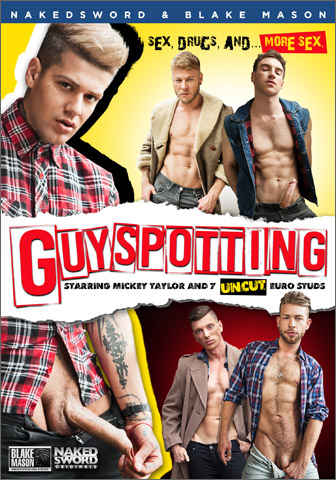 Studio: NakedSword Originals
Directed by: mr. Pam
Year of Production / Release: 2017
Country of Production: U.S.A.

CAST:
Matthew Anders
Kayden Gray
Leander
Koby Lewis
Gabriel Phoenix
Billy Rock
Mickey Taylor
Jack Taylor
INFORMATION FROM NAKEDSWORD:
"Choose Life. Choose freedom. Choose to live in the now. Choose your gender, clothes, your style and what makeup to wear. Choose to party through the night. Choose video games, drugs, that late night take out after a 12 hour drink session. You're the driver and you're at the wheel…" This is Guyspotting, a glimpse into the sex-crazed, alcohol and drug induced world of Manchester's gay counter-culture. This cast of uncut, horse-hung Brits give zero fucks, taking their youth, good looks and each other for granted until the phone rings and tragedy strikes. Will this be a wake up call or just another reason to hit Canal Street for some hardcore Guyspotting?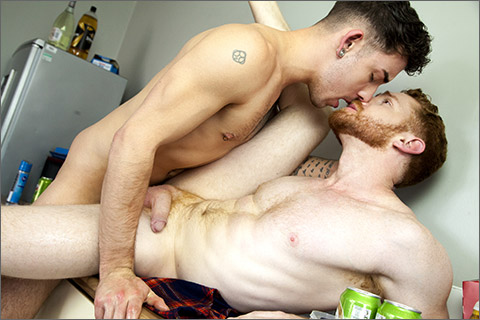 SCENE 1 – HUNG & HUNGOVER: Jack Hunter & Leander flip-fuck
Two is company, Three's a crowd. That's how horned up boyfriends Jack Taylor and Leander feel about Mickey Taylor. They love him but it's hard to find time to fuck when he's hanging around their flat. So when Mickey jumps in the shower to get ready for a wild night raising hell around Manchester they get their chance. Still hungover from the night before, Leander doesn't want to go out anyway, all he wants is Jack's huge uncut cock up his ass. He bends over and Jack fucks him on the kitchen counter then Leander leans back and Jack hops on his thick dick for a ride. These two hot fuckers put the MAN in Manchester.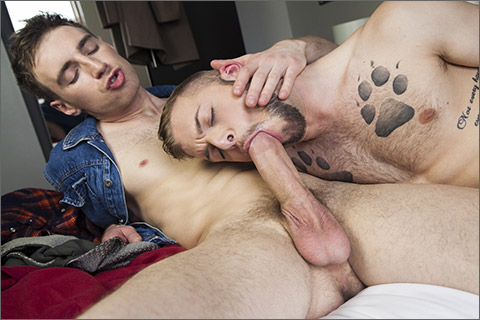 SCENE 2 – ARSEHOLE: Kayden Gray fucks Koby Lewis
If Grindr were a kingdom Kayden Gray would be King. With his chiseled good looks, defined swimmers build, and monstrous 10-inch cock he has his pick of all the subjects in the land – and today he has summoned hot bottom Twink Koby Lewis to do his bidding. The cock-hungry Koby knows his place and submits to Kayden's rigorous face-fucking and ass pounding. As they lay panting covered in sweat foolishly asks Kayden if they can see each other again. Kayden dismisses him with a sneer and tells Koby he's nothing more than fuck toy. "Arsehole!" Koby yells as prepares to leave but Kayden is already back on his phone searching for his next conquest.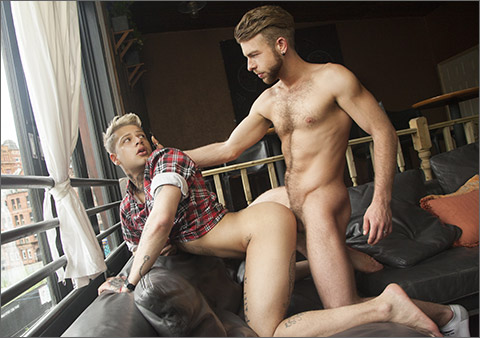 SCENE 3 – FUCK'D: Mickey Taylor & Gabriel Phoenix flip-fuck
Kayden Gray finally picks up his phone and Mickey Taylor is in a mood. They agree to meet for drinks on Canal Street and Kayden adds he is brining his totally fuckable friend Gabriel Phoenix. As soon as they hit the pub Kayden yells SHOTS! and it's the train goes off the tracks fast. Before you know it all three of them are Fuck'd up. Kayden pushes his friends' faces together and they go hard, barely noticing that Kayden slips away to hookup with a fuck buddy. Gabriel's defined, hairy body and trimmed beard are the perfect compliment to Mickey's smooth tattoos and boyish good looks. They suck and fuck in a private room upstairs at the bar but something happens afterwards. Rather than part ways they decide to grab a bite – this could me more than sex – it might be love. Now they're really fuck'd.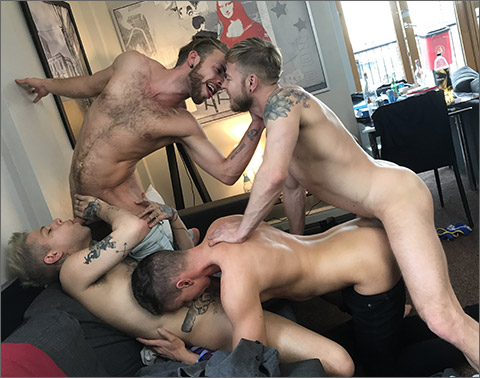 SCENE 4 – BUMP AND GRIND: Mickey Taylor, Matthew Anders, Billy Rock & Gabriel Phoenix
Mickey Taylor and Gabriel Phoenix are high on love but sometimes that's not enough. When they get to their mate's flat the party is already in full swing and everyone is getting high on everything they can find. Glasses of wine and poppers lead to bumps and before you know it everyone is naked and on the grind. Mickey is on his knees sucking all three cocks then has his cock up Billy's ass. Matthew Anders and Billy Rock take turns fucking Mickey and Gabriel and they switch places. At one point all four guys are lying in a giant fuck pile and loads are swallowed. It's good to be young, gay, and Guyspotting in Manchester.

WATCH THIS AND A HOST OF OTHER FILMS AT:
NAKEDSWORD
On-Line Presentation, exclusive to NAKEDSWORD
Members can watch this with a host of other films in the NakedSword Library.