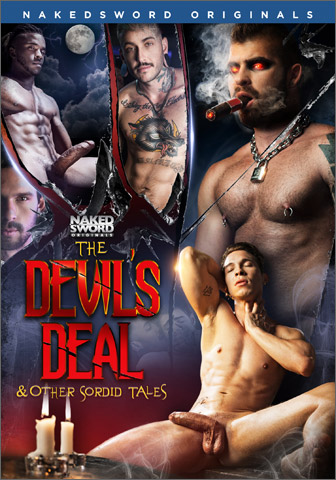 Studio: NakedSword Originals
Directed by: mr. Pam
Year of Production / Release: 2017
Country of Production: U.S.A.

CAST:
Gabriel Alanzo
Viktor Belmont
Justin Brody
Pheonix Fellington
Jonah Fontana
Casey Jacks
Leo Luckett
Ruckus
INFORMATION FROM NAKEDSWORD:
Have you ever come face to face with evil? A chill in the room makes your skin crawl and all you want to do is get away. But sometimes the face is so beautiful you get a very different feeling; a lust that makes your dick hard and all you want to do is surrender to the sins of the flesh. These four vignettes of chilling sexual encounters will do both. So grab your cock and hold on tight for haunting ghost fucks, shocking discoveries, and broken promises in The Devil's Deal & Other Sordid Tales.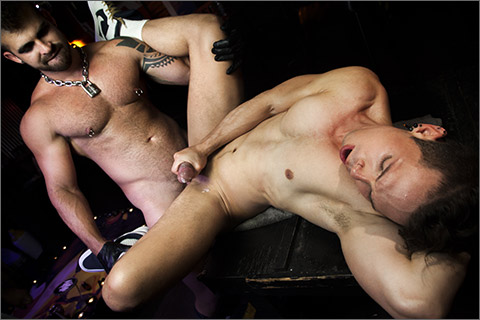 SCENE 1: Jonah Fontana fucks Gabriel Alanzo
A handsome youth-obsessed go-go dancer (Gabriel Alanzo) summons the Devil (Jonah Fontana) to make a deal. He'd like to offer his soul in exchange for eternal youth and beauty. The Devil accepts his offer – but first instructs the hot young stud to suck his cock. After a brutal ass fuck the young man think's he's paid the price… but there's always hell to pay when you're dealing with the Devil.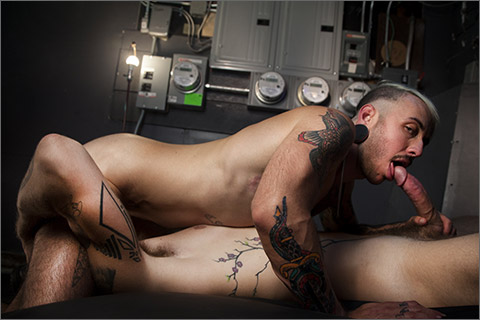 SCENE 2: Justin Brody fucks Viktor Belmont
A young man (Justin Brody) fond of mixing witchcraft with religious iconography visits a cemetery chapel for quiet contemplation. Unable to shake the feeling that he is being watched, he goes outside among the tombstones to call the four corners. Moving at inhuman speed a tattoo'd specter (Viktor Belmont) thrusts the sexy stud into another dimension. Unbridled lust leads to cock sucking as the specter reveals new sexual pleasures the man had never known before. Driven mad by the aggressive sexual two-spirit, he mercilessly fucks his hole then pulls out and shoots his load into his hot mouth. As quickly as he left, he returns to the cemetery only to wonder – was it all a dream?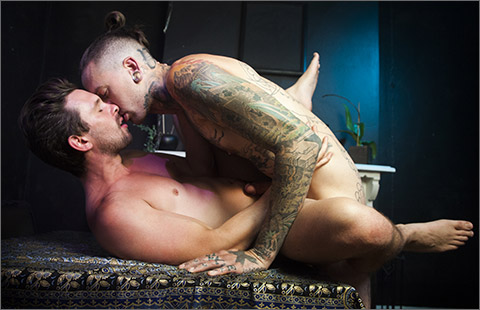 SCENE 3: Ruckus fucks Casey Jacks
Dinner is prepared, candles lit, wine poured, as our handsome hero (Casey Jacks) eagerly waits for his lover (Ruckus) to come home from work. Hours pass when a brisk breeze blows out the candles and announces the arrival of the late lover. He apologizes, explaining a terrible accident kept him, but that the tragedy also made him realize he can't wait any longer. He gets down on one knee and makes a romantic proposal which is immediately accepted. Giant cocks are sucked, perfect butt-holes fiercely pounded, and loads swapped as the newly engaged couple consummate their eternal love. Entwined and exhausted they retire to their bedroom but their dreams are soon interrupted by a phone call. Our hero finds himself alone in bed as the voice on the line breaks the news: it seems there has been a terrible accident…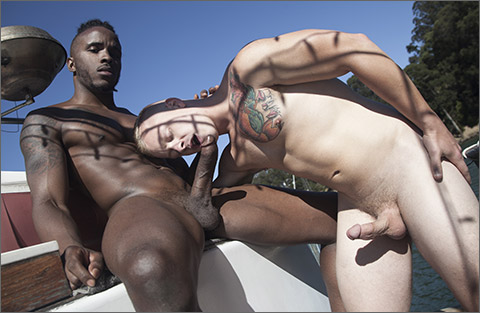 SCENE 4: Phoenix Fellington fucks Leo Luckett
Seduced by a blond haired, blue-eyed all-American boy (Leo Luckett), our chiseled adventure seeker (Phoenix Fellington) accepts an invitation for a day on his boat. Silted conversation and unanswered questions about the boy's ex leave a feeling of dread in the passenger's gut – there's something creepy about the cute young sailor – but all is overlooked for a chance to hit his juicy bubble-butt. The sex crazed new friends don't even bother to go below deck and begin sucking cock and eating ass in plain sight of the Bay Bridge. As both hot studs fuck and blow their loads the weather changes for the worse. Persistent questions are finally answered when the ship's captain takes his guest below deck, never to be seen again.

WATCH THIS AND A HOST OF OTHER FILMS AT:
NAKEDSWORD
On-Line Presentation, exclusive to NAKEDSWORD
Members can watch this with a host of other films in the NakedSword Library.