Studio: NakedSword Originals
Directed by: mr. Pam
Year of Production / Release: 2017
Country of Production: U.S.A.

CAST:
Gabriel Cross
Trenton Ducati
Theo Ford
Colton Grey
Dani Robles
Francois Sagat
Johnny V
Denis Vega
INFORMATION FROM NAKEDSWORD:
Innocent blue-eyed Colton Grey gets dumped by his dickhead porn star boyfriend Trenton Ducati, so he convinces his best friend Johnny V to leave San Francisco for a trip Gay Paree! The young Americans land with very little cash and even less command of the French language but a case of mistaken identity by Theo Ford leads them to a gorgeous penthouse and a series of misadventures involving two Spanish hit men, Dani Robles and Deni Vega, a grudge fuck with sexy Brit Gabriel Cross, and a steamy encounter with international superstar Francois Sagat. Debts are paid, everyone gets laid, and memories are made in Paris Perfect!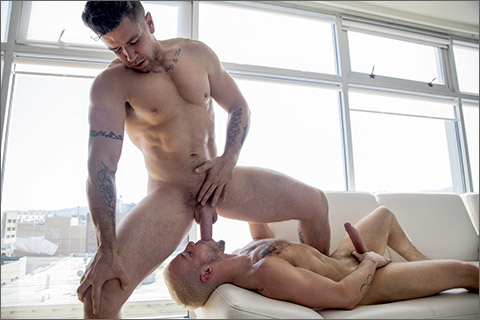 SCENE 1 – BLINDSIDED: Colton Grey & Trenton Ducati
Muscled porn star Trenton Ducati appears bored as he stares out the window of his San Francisco hi-rise, despite the fact that blue-eyed Colton Grey is giving him a world-class blow job. Without warning, Trenton pulls out and blows his load all over Colton's face. Before Colton even has a chance to wipe off the jizz Trenton dumps him and tells him he wants him gone – now! Blindsided and infuriated by the breakup, Colton packs his bags and leaves, helping himself to Trenton's frequent flyer card on his way out the door…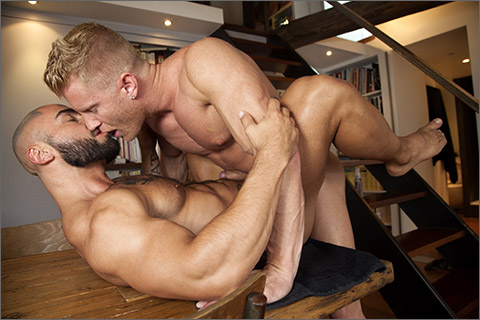 SCENE 2 – AN AMERICAN IN FRANCOIS: Johnny V. & Francois Sagat flip-fuck
Dumped and disillusioned with San Francisco, Colton Grey convinces his best friend Johnny V. to join him on an all-expense paid trip to Paris. Fourteen hours later the young Americans land only to discover that the card Colton swiped from his Ex can't be used to rent a hotel room. While Johnny cruises Grindr, Colton tries to figure out what to do next, and "voila" his problem is solved! A handsome Driver/Valet (Theo Ford) approaches Colton and addresses him as "Mr. Ferrand," explaining that his limo is waiting to take them to his Penthouse. Ready for anything, Colton plays along, promising to text Johnny the address so Johnny can go make his first French connection. Using his phone to navigate the twisted streets of Paris, Johnny finds his trick's apartment. The door opens and SCORE! The guy (Francois Sagat) is even hotter than his pic. In minutes they are naked, tongues exploring ripped abs and thick cocks. After a furious flip-flop-fuck Johnny returns to the foreign streets only to have a French thug race by and swipe his phone right out of his hands, leaving him lost and stranded. Merde!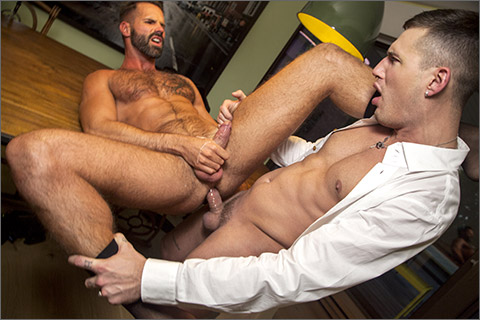 SCENE 3 – BUYING TIME: Theo Ford fucks Dani Robles
As if being forced to eat escargot, "Mr. Ferrand's Favorite" wasn't bad enough, Colton Grey's charade takes a turn for the worst when a Spanish hitman (Dani Robles) turns up at the Penthouse. His threatening demands for payment on a debt are appeased by Theo Ford who takes Dani into the next room to buy some time. The down payment includes heavy foot play, ass eating, cock sucking, and every inch of Theo's thick, uncut cock, shoved up Dani's tight ass. All of the aggressive fucking and noisy load eating creates such a ruckus, Colton is convinced that Theo is being worked over by the Spanish hitman. On his way out, the disheveled Valet Theo ominously warns that the debt must be repaid within 24 hours – or else! Unaware that his best friend's phone has been stolen, Colton frantically calls Johnny V. Where could he be? All is definitely NOT perfect in Paris!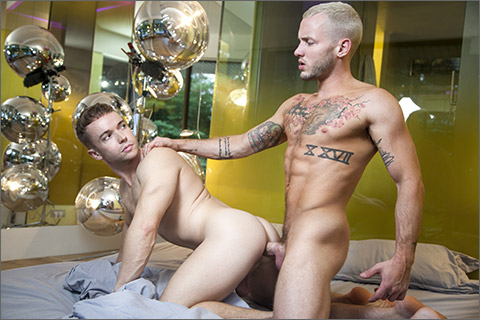 SCENE 4 – GRUDGE FUCK: Colton Grey & Gabriel Cross flip-fuck
Colton Grey falls into a troubled sleep. As his lovely dreams of Paris turn into a violent nightmare, Johnny V. is still lost and about to give up hope. As the sun sets on the Eiffel Tower Johnny meets a beautiful American tourist and borrows her phone. The call wakes Colton with a jolt but he's relieved to hear from his best friend. Colton gives Johnny the address to the Penthouse when he suddenly realizes someone is standing over him, watching. It's sexy Brit Gabriel Cross and he's seeking the ultimate revenge: he wants to fuck Colton in his ex-lover's bed. One look at Gabriel's fat bubble-butt and juicy cock is all it takes for Colton to happily comply. He eats Cross' perfect ass then fucks him long and hard before turning over and letting Gabriel pound his hungry hole. Colton kicks back and blows his load all over Gabriel's pretty face. Is this really happening or is it all a dream?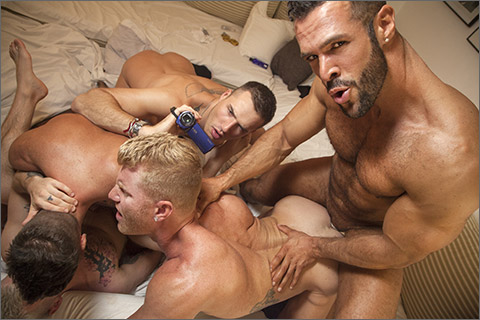 SCENE 5 – INTERNATIONAL GANG BANG: Colton Grey, Johnny V., Theo Ford, Dani Robles & Denis Vega
Johnny V. and Theo Ford return to the house and the case of the mistaken identity is solved but the 24-hour debt is due. Johnny and Colton Grey offer to pay up but Theo Ford explains it's not money the Spaniards are after. In order to settle the debt, Dani Robles and Denis Vega must fuck Mr. Ferrand's tight virgin hole – and it must be filmed. When Ferrand flatly refuses all eyes turns to his doppelgänger, Colton. Ready for anything Colton and Johnny are all in! Passionate tongues dive down hungry throats as clothes fly off revealing chiseled, muscular bodies, perfect round asses, and giant rock hard cocks. Americans Colton and Johnny take one for the team while the Spanish studs fuck their faces and asses leaving no hole unfilled. Loads fly and are greedily licked up as the International fuck-fest comes to an end. Everyone gets laid, debts are paid, and dreams are made. Paris really is Perfect! There's just one more mystery for Colton to solve… who is this "Boss?" You might be surprised!

WATCH THIS AND A HOST OF OTHER FILMS AT:
NAKEDSWORD
On-Line Presentation, exclusive to NAKEDSWORD
Members can watch this with a host of other films in the NakedSword Library.