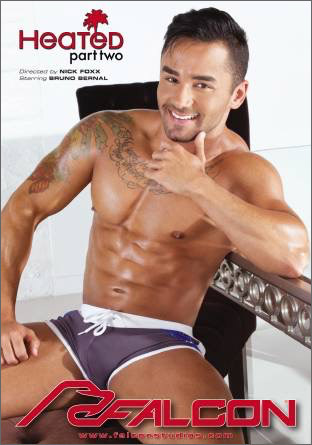 Studio: Falcon Studios
Directed by: Nick Foxx
Year of Production / Release: 2016
Country of Production: U.S.A.

CAST:
Bruno Bernal
Chris Bines
Gabriel Cross
Addison Graham
Jack Hunter
Sebastian Kross
Scott Riley
Sean Zevran


[jwplayer mediaid="85556″]

FROM FALCON STUDIOS:
Beams of sunlight beat down and sweat pours off these hot, horned up studs. They're 'HEATED' and there's only one way for them to escape their burning desires: uninhibited steamy sex. Director Nick Foxx and this selection of studs keep the juices flowing in 'HEATED, PART TWO'. Hot weather + hot bodies + hot passions equals more than the sum of their glistening parts. Not even a dip in the pool cools the hot passions brewing between Chris Bines and Scott Riley. The contrast of smooth/hairy, tatted/uninked and blond/brunet ends with a fantastic oral cumshot. Jack Hunter can't resist touching himself when Addison Graham shares the shower. Jack wants to suck and Addison wants to taste Jack's ass, so an oral showdown is the perfect path to a sticky ending. Sean Zevran and Gabriel Cross meet at the pool. The body language is unmistakable, and Sean knows the right combo of kissing, spanking, sucking, rimming and fucking to satisfy Gabriel. Jack Hunter sees Sebastian Kross cooling off in his tighty whities. Jack pounces, and Sebastian can't resist. Full-body contact, sucking and rimming precedes a multiple-position fuck with crossfire orgasms. Gabriel Cross and Bruno Bernal share a toast. The bubbly serves a dual purpose as beverage and lube, as they abandon drinking for erotic pursuits. Gym-pumped pecs and bubble butts set the stage for a robust fuck that ends with two loads popping. 'HEATED, PART TWO' is the steamy conclusion of this two-part Falcon feature that will have your temperature soaring.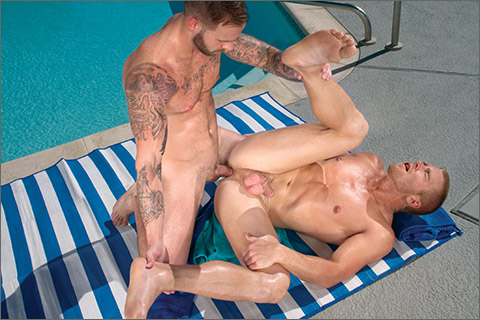 SCENE 1: Chris Bines fucks Scott Riley
A dip in the pool may be cooling for some, but it lights a fire in the loins of Chris Bines and Scott Riley. They jump out, towel off and get naked in a hurry. Chris is hungry for the taste of Scott's succulent hole, so he helps himself by kneading Scott's bubble-butt and corkscrewing his tongue into his smooth crack. Scott assists by spreading his legs and his cheeks for Chris' tongue to go deeper. Scott says thank you with a sopping wet blowjob as Chris tweaks his own nipples. Bracing himself against a pool chair, Scott prepares for a hole-stretching hard fuck. Spit provides the lube for Chris' cock to slide in deep. Hitting the deck, they continue to fuck, missionary style. Sunlight reflecting off their sweaty abs highlights every ridge and muscle. After filling Scott's ass with dick, Chris fills his mouth with hot cum. Scott licks it all up, then shoots his bursting load onto Chris' abs.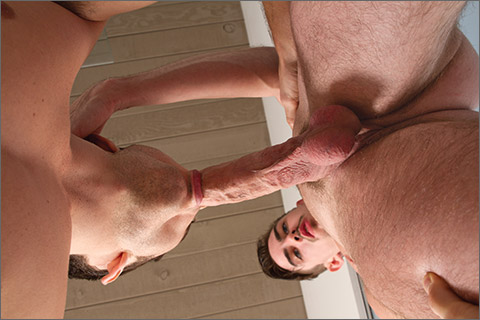 SCENE 2: Jack Hunter and Addison Graham (all oral)
Addison Graham and Jack Hunter are soaping up and making out in the shower. Their cocks are thick and heavy with the need to shoot a 'Heated' load. Ripped hunk Addison, grins as he massages Jack's firm ass while Jack strokes and squeezes both cocks with his hands. Jack has a goatee, hairy legs and a fat 8 inches. His wet hair falls over his dark eyes as he kneels to suck Addison's cock. They make intense eye contact, and Addison asks to get his balls licked. Then, Jack offers his smooth, tight pink hole. It's fresh and moist, and a perfect target for Addison's slithering tongue. Addison squeezes and stretches Jack's low-hanging balls while he drills his hole orally. Then he grabs Jack by the cock and directs the meat straight to his mouth. After sucking Jack, Addison stands and they clasp each other by the shoulders, panting and shuddering as they squirt thick loads that coat their nuts and thighs with spunk.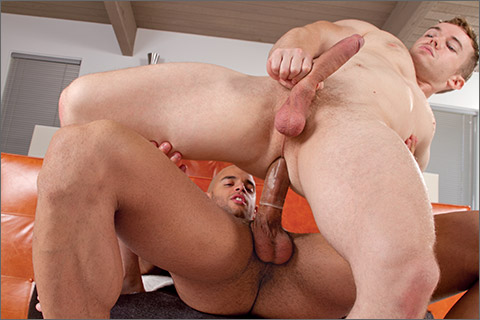 SCENE 3: Sean Zevran fucks Gabriel Cross
Gymnast-bodied stud Gabriel Cross is strutting in skimpy trunks as his throbbing hard on bulges out from the waist. It's not long before Sean Zevran's massive uncut cock is exposed. Gabriel wraps his hand around it, while Sean sucks on Gabriel's tongue. Sean's flawless physique glistens under the summer sun, and his massive, curved pole slides completely down Gabriel's experienced throat. Gabriel has a plump, inviting bubble butt and Sean grabs it, squeezing and slapping. But Gabriel's not ready to release Sean's cock and balls yet. Sean responds with a vigorous face-fuck, followed by a trip to the bedroom, where Gabriel assumes the position: on hands and knees. His tempting ass now belongs to Sean, who takes possession with mouth, fingers and cock. Gabriel's ass is pinned between the bed and Sean's crushing erection. They face each other and Gabriel jumps board, hanging suspended from Sean's thick neck and shoulders for a mid-air fuck. They switch positions, guaranteed to stimulate every square inch of excitable flesh until they erupt in massive loads.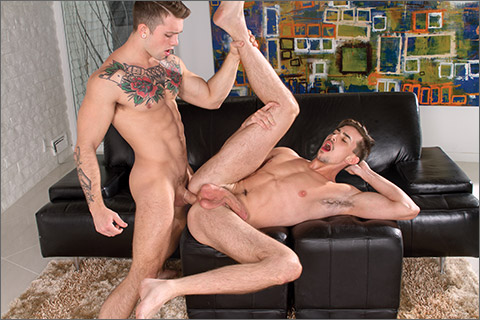 SCENE 4: Sebastian Kross fucks Jack Hunter
Sebastian Kross sprawls out on the couch in his tighty whities. Jack Hunter, slinks over to him, attracted by the chiseled pecs, ripped abs and colorful tatts. Jack stops when they are nose-to-nose and crotch-to-crotch. The pouch of Sebastian's briefs swell noticeably while they kiss, and Jack helps it to fully emerge with his hand. Sebastian's cock is thick, but it doesn't stop Jack from swallowing it whole. Both dudes have smooth torso, hairy legs, and a happy trail that leads from abs to nuts. Swiveling 180 degrees lets Jack plant his ass on Sebastian's face for a deep tongue job. Another quick shift and Jack is riding Sebastian cowboy style. Groans of pleasure fill the room. Spinning around again, Jack's reverse cowboy and his huge, hard dick is on full display. By leaning in different directions, Sebastian can stimulate every bit of Jack's prostate, teasing his g-spot. It's win-win for the sensations it produces in both their cocks. Sebastian pulls out with a shout and they douse each other with crossfire cum shots.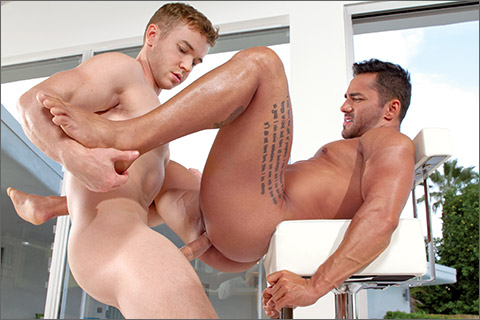 SCENE 5: Gabriel Cross fucks Bruno Bernal
Gabriel Cross greets Bruno Bernal with a passionate kiss and by popping a fresh bottle of champagne – a foreshadowing of the hot sex that's about to take place. Baring nothing but their muscles and bulging undies, they quickly lose the booze and lock lips. The bubbly is followed by a feverish make out session that leads to Bruno giving Gabriel a heated blowjob. Gabriel reciprocates the gagging blowjob with a spit-filled rim job, basting Bruno's bare hole with spit and champagne before eating it in hungry slurps. Cock follows tongue as Bruno takes control and grabs Gabriel's by the cock and pushes it into himself. Lube and sweat drip down the inside of Bruno's sexy thighs as they fuck. Ready to release, they hop onto the countertop, exchange intense hand jobs; then pop their corks, sealing it all with a kiss.

WATCH IT NOW AT:
FALCON STUDIOS
Falcon Members can watch scenes from this Release anytime online.
DVD Releases debut online prior to DVD Release.