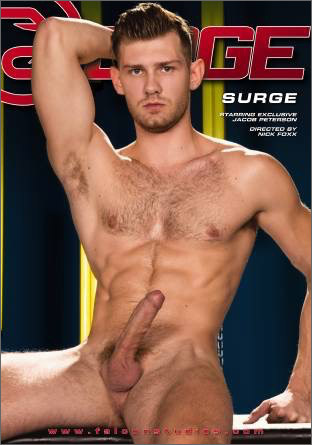 Studio: Falcon Edge
Directed by: Nick Foxx
Year of Production / Release: 2016
Country of Production: U.S.A.

CAST:
Derek Atlas
Micah Brandt
Kyle Kash
Sebastian Kross
Logan Moore
Jacob Peterson
Johnny V
Austin Wolf
FROM FALCON STUDIOS:
A 'SURGE' of sexual adrenaline shoots through their bodies. These eight hunky studs are brimming with sexual stamina that has them sucking rimming and fucking to shivering orgasm – a power 'SURGE' that ends in roaring climax and hefty loads. Director Nick Foxx is at the control panel, orchestrating every jolt and volt of erotic electricity in this high-energy fuck fest. Micah Brandt's body is beefed and his hole is hungry. Sebastian Kross puts Micah's awesome physique to work satisfying both of their needs. Johnny V and Austin Wolf savor every square inch of each other's bodies and merge in a multi-position fuck that ends with Johnny cumming in his own mouth. Jacob Peterson uses his athletic and flexible body to pleasure Derek Atlas, whose bodybuilder physique intensifies the heat between them. Logan Moore and Kyle Kash sport serious wood for each other and those hard-ons lead to an out-of-the-world flip-fuck. These studs and their powerful sex will send a 'Surge' of energy straight to your cock and produce a continual flow of hot cum. Press play, and get ready for the 'SURGE.'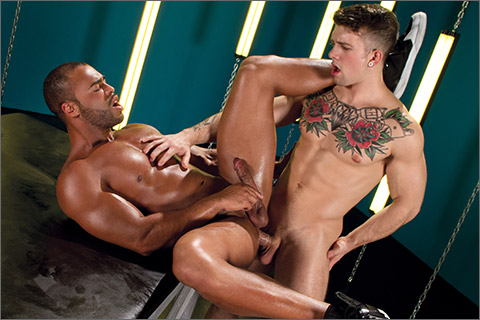 SCENE 1: Sebastian Kross fucks Micah Brandt
Micah Brandt is ripped with beefed muscle. He's making out with inked and super-defined Sebastian Kross, and the bulges in their Cellblock 13 briefs say they clearly like the taste of each other. Micah alternately sucks Sebastian's lips and nipples, while he strokes both of their rock-hard cocks. When Sebastian's cock is at max hardness, Micah sucks him with deep suction and a hand assist. Micah rolls Sebastian into a ball and drives his tongue into his hot hole. Sebastian unbends and does the same to Micah, who puts his hip flexor muscles into overdrive opening up for Sebastian's tongue. Micah soon begs for Sebastian to fuck his flawless ass. Sebastian's ripped torso rocks and pounds away as he delivers Micah's wish of a hard, deep fuck. The room is filled with the sounds and smells of rough, hard, man-on-man sex as they change positions again and again. Micah cums while riding Sebastian's cock, brushing his fingers through his spooge and sucking it off, then sucking Sebastian to an explosive orgasm.

SCENE 2: Austin Wolf fucks Johnny V
With cocks tip-to-tip, Johnny V and Austin Wolf lean forward to kiss. Johnny quickly busies his lips on Austin's chiseled anatomy: nipples, mouth, armpits, before he kneels to suck. Austin pinches the nipples on his massive chest and guides Johnny's mouth to his balls. Johnny slobbers and chokes on Austin's thick endowment. Giving his jaw a rest, Johnny squats over Austin's face as Austin maneuvers his tongue and works it deep, savoring the whole hole. He pulls Johnny's rump closer and inserts a finger as Johnny tips forward and resumes sucking Austin's fat dick. When Austin's cock is fully stiff, Johnny leaps aboard for a bucking sit-fuck. Exhausting his thighs, Johnny lies back for Austin to fuck him missionary style. Johnny's fully edging now, and to finish him off, Austin rolls him into a shoulder stand, drilling his freshly-fucked hole with a thumb while Johnny shoots a big, wet wad into his own mouth. Austin follows-up by giving Johnny a second load to swallow, and shares it with him.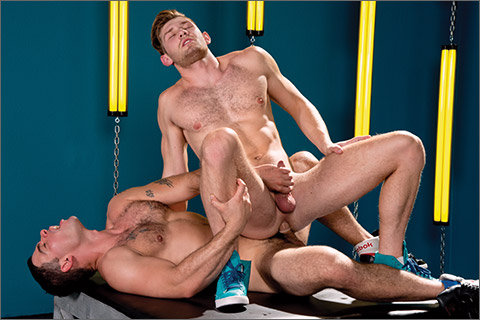 SCENE 3: Derek Atlas fucks Jacob Peterson
Retro jock straps with wide waist bands and narrow straps grip the buns of Derek Atlas and Jacob Peterson. They are standing abs to abs, exploring each other's lusting bodies with their hands. Both have toned and defined chests covered with dark hair. They mold their bodies together, kissing passionately and Jacob is eager to suck Derek's throbbing cock. As Derek's cock penetrates Jacob's throat, his fingers drill Jacob's ass. They swivel into a sixty-nine position. Derek sucks, spanks and rims all at once. Jacob uses the tip of his tongue to fuck Derek's dick-slit. Derek provides bulk and drive; his thrusts pound Jacob hard and deep as he holds him by the dick. They change position again and again, finding new ways for flesh to contact flesh, until Derek squirts a creamy puddle of spunk on Jacob's pale ass that drips to the floor as Jacob's load shoots across the table.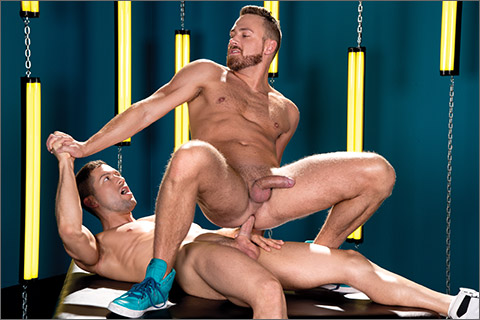 SCENE 4: Logan Moore & Kyle Kash flip-fuck
Logan Moore is all over Kyle Kash's smooth ass and Kyle can't keep his hands off the pouch of Logan's jock strap. Kyle's nipples are perfect for Logan to pinch and nibble on. Logan's thick dick provides a suitable oral challenge for Kyle, which he meets with lots of saliva and suction. When Logan stoops to return the blow job, he's met with Kyle's sizeable cock. Logan grabs Kyle around the hips and spins him into an airborne sixty-nine position. Then he lays him on a table to eat his scruffy bubble butt. Penetration of Kyle's tight ass is accomplished in a single smooth stroke. The mutual attraction is ferocious as the studs flip positions and fuck even more as Logan turns Kyle over, jumps on the table and comes down with Kyle's cock in his ass. They wrangle, cowboy and reverse cowboy, until they're slick with sweat, then separate to jerk out pulsating loads, side-by-side.

WATCH IT NOW AT:
FALCON STUDIOS
Falcon Members can watch scenes from this Release anytime online.
DVD Releases debut online prior to DVD Release.