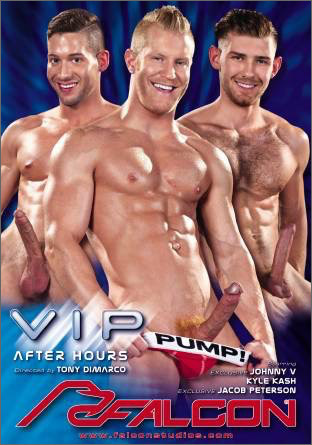 Studio: Falcon Studios
Directed by: Tony Dimarco
Year of Production / Release: 2015
Country of Production: U.S.A.

CAST:
Jimmy Durano
Addison Graham
Kyle Kash
Sebastian Kross
Alex Mecum
Jacob Peterson
Johnny V


[jwplayer mediaid="85547″]

FROM FALCON STUDIOS:
Money! Power! Sex! 'VIP – AFTER HOURS', is part two of the double-feature Falcon Fall Blockbuster that takes you behind the velvet ropes and into the world of a Las Vegas male strip club. Award-winning filmmaker Tony Dimarco directs an all-star cast, in a story filled with strippers' poles, hot assets and lap dances that will get anyone to rise to the occasion! VIP gives you the full monty of the inner workings of this sultry and seductive home to Vegas's sexiest and horniest club staff and strippers. In 'VIP — After Hours', petty jealousies and rivalries threaten business, but the VIP team knows how to work it and make it work. Jimmy Durano auditions new dancers, like furry and muscular Jacob Peterson; his protocol involves fucking them to see how they'd handle clients in the VIP lounge. Club owner Alex Mecum keeps an eye on the competition. It's all in a day's work to use sex to lure a sultry stripper like Kyle Kash into working for him. Sebastian Kross is a seasoned dancer with his own way of satisfying a randy customer: give him 60 seconds of torrid sex, then stop. If he wants more, he knows just what it takes to remain a VIP. Addison Graham is so horned up to get fucked, he flashes a stack of $100 bills and tells Sebastian not to stop. Push comes to shove when Alex argues with his club manager Johnny V. Who knew they secretly had the hots for each other, and all it takes to oil the waters is a frenzied fuck? Laser lights, driving music, pulsing bodies and unbridled lust collide in 'VIP – AFTER HOURS. Go behind the velvet rope and get the VIP treatment today.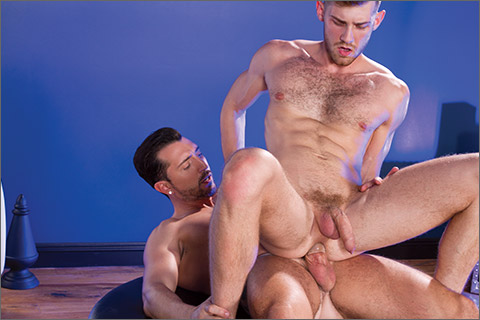 SCENE 1: Jimmy Durano fucks Jacob Peterson
When Jacob Peterson auditions for a job as a private dancer, Jimmy Durano tells him, "Your job is to make me cum." Jimmy likes the overall package, but Jacob needs coaching, so they trade roles. Jimmy strips to his jock strap and begins to demonstrate. His smooth muscles glint and ripple, And his body language is but a single word: seduction. Jacob squirms awkwardly, wanting what he sees, but unsure whether to touch. Jimmy makes the decision easier by displaying a massive, curving erection hard and ready. He grabs one of Jacob's furry pecs and nods for him to suck. Now Jimmy wants Jacob's tight, firm ass, starting with a deep, wet rim job that leaves Jacob panting, and his hole lubed and relaxed to take a big, fat cock. Jimmy jumps on top of him, forcing Jacob to the ground, skewering him all the way in and out. Now, Jacob sits on Jimmy's cock, leaning back and closing his eyes in some private cum fantasy, then dismounting to eat Jimmy's huge load. He's done his job, and they enjoy a hot make-out session.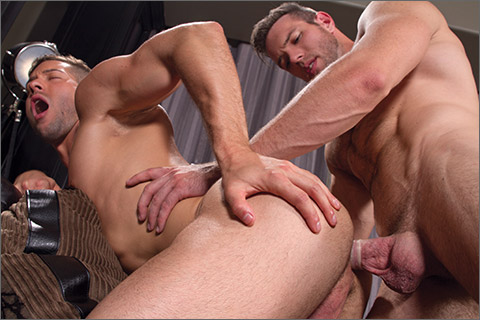 SCENE 2: Alex Mecum fucks Kyle Kash
Studly dance club owner Alex Mecum sees Kyle Kash dancing at a rival club and wants Kyle to come work for him. For a signing bonus, Kyle gets …Alex. Kyle is impressed by the size of Alex's thick cock, and happy to suck it, with the added flair or running his nose along its length. Alex has a deep, muscular chest with dark fur, and his abs clench and heave due to the tingling in his cock. He pulls Kyle to his feet and grasps his plump, round ass, squeezing his nuts and probing Kyle's hole with his thumb. Alex tells Kyle how beautiful his ass is, inspiring him to kiss it, play with it and rub his cock in the crack. The foreplay leaves Kyle in a state of "fuck me" delirium that intensifies once Alex begins fucking him. Alex grips Kyle's smooth body so tightly, their flesh almost melds. Kyle writhes, twists and changes position, driven to be penetrated as fully as possible. Bursting with hot spunk, his cum shot reaches his forehead and Alex's travels twice that distance.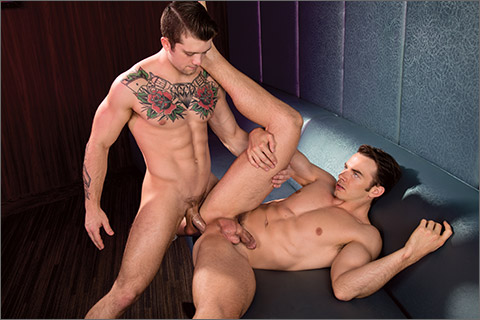 SCENE 3: Sebastian Kross fucks Addison Graham
Addison Graham wants to be the pole on the stage where Sebastian Kross is dancing. He slips $100 into Sebastian's briefs, which earns him the right to sniff Sebastian's nuts, then hook up after hours in the VIP lounge. That's fine with Addison, whose wad of crispy Benjamins earns him nonstop action. Sebastian tears off Addison's clothes while they make out, and Addison never lets go of Sebastian's fat cock. Except for Sebastian's sprawling colorful tattoos, their smooth, muscular bodies are well matched, and both have dark wavy hair. Still holding Sebastian by the cock, Addison pulls it into his mouth. Sebastian swivels and sways as if he were still on stage, turning so Addison can eat his ass, too. Fully horned up to fuck, Sebastian sucks Addison briefly then drives his cock into him, doggy style. More positions follow, with the pile of bills growing thinner and both men getting a sensuous body workout. Without warning, cum flows from Addison's cock. Sebastian sprays his load all over Addison's drenched torso as Addison grabs him by the dick one more time to lap up the final drops.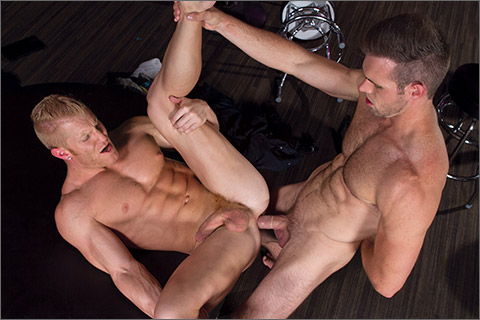 SCENE 4: Alex Mecum fucks Johnny V
Accusations fly between Johnny V and Alex Mecum about business problems, stolen boyfriends, and sexual power games at the club which quickly escalates to a brawl. Usually, the outcome would be sex, but Alex's unexpected declaration of love gives the connection a different vibe: this is something they've both wanted. The need for flesh to touch flesh competes with the need to get naked. Muscular torsos emerge as shirts are discarded — Johnny smooth and blond, Alex dark and furry. Alex grabs Johnny's cock and sucks it, gripping his balls in the opposite hand. Johnny reaches for Alex's cock, a fat, straight, 9-inch cut cylinder of meat. His mouth fits it like a glove, but Johnny's muscle-butt is more to Alex's liking. Alex's tongue worships his hole; his fingers pry the crack open wider and he drives his cock in. He leans forward to plant kisses all over Johnny's back while he fucks him, then tells Johnny to flip onto his back so he can watch him cum. Johnny's load is hefty, coating his chest and ridged abs. Alex cums in hard pursuit, spraying his load all the way across the room.

WATCH IT NOW AT:
FALCON STUDIOS
Falcon Members can watch scenes from this Release anytime online.
DVD Releases debut online prior to DVD Release.