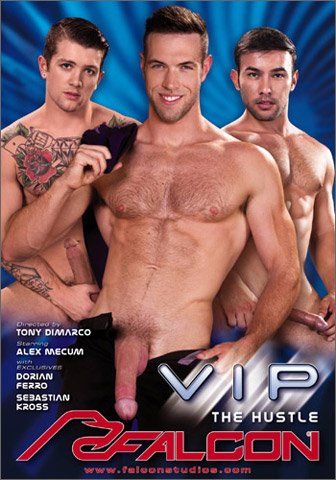 Studio: Falcon Studios
Directed by: Tony Dimarco
Year of Production / Release: 2015
Country of Production: U.S.A.

CAST:
Brian Bonds
Armando De Armas
Dorian Ferro
Killian James
Sebastian Kross
Jason Maddox
Alex Mecum
Scott Riley
Johnny V


FROM FALCON STUDIOS:
Money! Power! Sex! VIP – THE HUSTLE, part one of the two part Falcon Fall Blockbuster, takes you behind the velvet ropes and into the world of a Las Vegas male strip club. Award-winning filmmaker Tony DiMarco directs an all-star cast, in a story filled with strippers' poles, hot assets and lap dances that will get anyone to rise to the occasion! VIP give you the full monty of the inner workings of this sultry and seductive home to Vegas's sexiest and horniest club staff and strippers. Alex Mecum plans to pump up the profit at his strip club with a no-holes-barred VIP lounge for his most elite customers. His hot and hunky dancers know how to work a pole, whether it's on the dance floor or in a client's jeans. Alex wakes from sweaty dreams of blow jobs, excited that his muscle-stud boyfriend, Killian James, is beside him to take care of his aching boner. At the club, the patrons aren't the only ones getting in on the action. When Scott Riley comes looking for work, gogo manager Sebastian Kross shows him the more private points of lap dancing, teaching him by example how to ride a customer's cock with his tight hole. Dancer Jason Maddox lusts for stripper Dorian Ferro, whose furry body and glorious bubble ass trigger erotic desires that need to be satisfied: pronto. Armando De Armas accepts an offer he can't refuse from admirer Brian Bonds, who waits outside the club. For a wad of cash, Armando will fuck Brian hard and deep until Brian's balls — and Armando's cock — are drained. Johnny V is a dancer who finds creative ways to break the newly imposed "hands off" rule: just don't use your hands. New hire Scott Riley is too physically tempting, and a mutual blow job provides a perfect introduction. With the hottest studs on the Vegas strip fucking each other In VIP—THE HUSTLE, you're going to want to get your pass beyond the velvet rope and into this supercharged, sensual and seductive VIP area.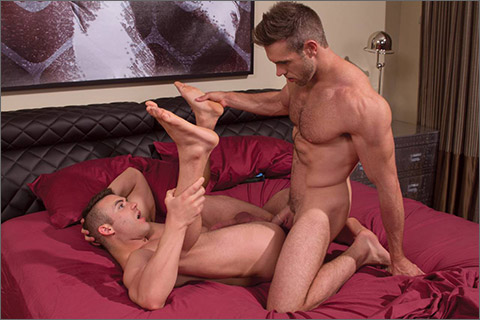 SCENE 1: Alex Mecum fucks Killian James
Super sexy strip club owner Alex Mecum is having hot and raunchy X-rated dreams. Hunky lads in sexy briefs are gyrating under colored strobe lights, flashing their defined and toned bubble butts and balls. They all want to suck his monstrous cock, but just as he's ready to cum, the phone rings. Fortunately, Alex has a bedmate just as hunky as the dancers from his wet dream, and his hole is prepared to relieve Alex's throbbing cock, the ultra-stunning Killian James. Alex rolls on top of Killian, wedging his cock in Killian's crack, and working his hips in circles, whispering, 'I'm suffering.' Killian eagerly leaps to the rescue with open mouth. Much as Alex loves Killian's mouth on his cock and balls, it's time to take this to the next level. Killian gets to kick back, spread his legs, and enjoy the feel of Alex's lips and tongue along his crack and on his hole. Once the hole is slick and wet, Alex grabs Killian's ankles and shoves his cock in. They switch to a slow and passionate sit-fuck that ends with juices flowing in all directions on Killian's smooth torso, as sweat drips down in rivulets, met by cum shooting up from his cock. Alex's load is a juicy wonder that goes on and on.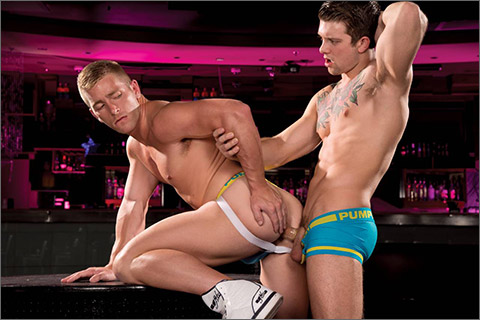 SCENE 2: Sebastian Kross fucks Scott Riley
Scott Riley, a clean-cut, blue-eyed blond, wants a job as a dancer at the popular nightclub where Sebastian Kross manages the gogo boys. Sebastian is interested in getting a closer look at this gymnast hunk and what he has to offer. Sebastian strips to his briefs, jumps on a platform, and demonstrates what he expects from a dancer. Scott peels down to a lycra jock strap, revealing a completely shaved body and lickable, thick thighs. Scott's moves aren't exactly up to the club's standards. So, Sebastian shows Scott what it takes to bring in the cash, including exactly how to give a private lap dance that hits the jackpot. Using himself as an example once more, Sebastian grinds on Scott's muscle thigh and caresses his rock-hard abs. When it's Scott's turn, Sebastian pops a boner, and Scott suddenly acquires the sensual moves Sebastian is seeking. Without hesitation, Scott is quickly surrendering his mouth and bubble ass to Sebastian's fat, hard cock. After plugging him doggy style, Sebastian tells him, 'ride my cock,' which Scott turns into a multi-position fuck. He scatters his load across Sebastian's legs then kneels for Sebastian to cum on his smooth chest.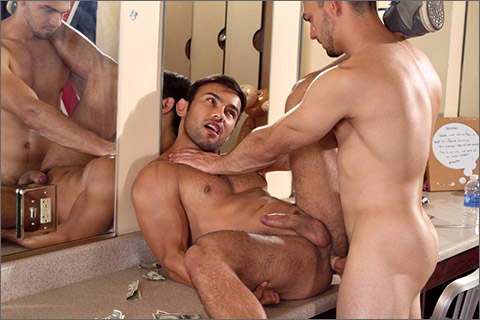 SCENE 3: Jason Maddox fucks Dorian Ferro
After his dance, sexy Jason Maddox hightails it to the dressing room. His eyes widen when he sees Dorian Ferro, a new dancer, here to 'give Vegas a try.' Jason says he'd like to give Dorian a try, but Dorian is called onstage. Dorian's ripped body, gyrating under the glittering disco ball fascinates Jason, but Jason is ready to test out Dorian when he finishes his number. They pick up with lots of kissing and feeling up their hard bodies. Dorian has a gymnast's body, olive skin, a deliciously furry chest, and one of the hottest asses on the planet. Jason is pale and smooth, with a hint of body hair and, right now, an erection that needs attention. Dorian lets Jason fuck his handsome face and smack it with his meaty cock. Jason reciprocates with a blow job, letting Dorian take manual control of his cock while Jason goes for the hot hole. He slams Dorian against the mirror, ratcheting up the intensity from slow and gentle to slam/bang. Then to a chair for a furious lap dance that works Dorian's splendid ass and prostate to the blasting point. Dorian splashes his abs with cum then swallows Jason's creamy load.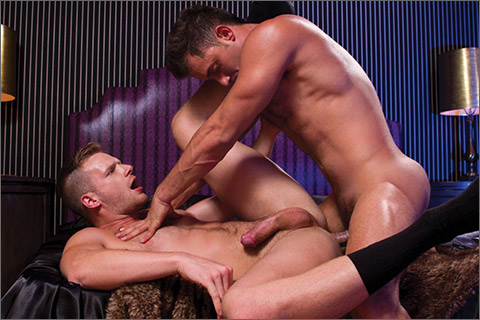 SCENE 4: Armando De Armas fucks Brian Bonds
Mischievous and sexy Brian Bonds parks outside the strip club, where he waits for dancers who will service his pole. When Armando De Armas comes out, Brian flashes a wad of bills and Armando jumps into the passenger seat. He is now Brian's for the evening. After they arrive at Brian's place, Armando strips to display a furry, tan and muscular body. Brian goes straight for his cock, inhaling the aroma and pinching the foreskin in his lips. Armando's cock glides smoothly down Brian's throat. Brian kisses him, so Armando can taste his own juices, then Brian tongue-bathes his way back to Armando's armpits and nipples. Armando stoops and flicks his tongue rapidly all around the head of Brian's cock. He gulps Brian's nuts while Brian pinches his own nipples. Brian spreads his legs to expose his hole, and Armando's tongue and fingers easily glide into the hungry abyss, following Armando slowly inserting his raring cock. He rams Brian on his knees and on his back, until the sweat runs down his torso. Brian commands, 'fuck me 'til I cum' and Armando continues pounding until fountains of cum spurt from Brian's cock. Brian swivels around to capture Armando's load in his mouth.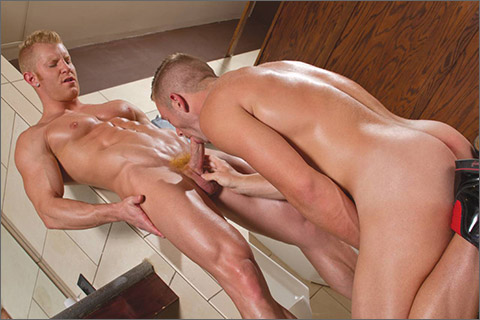 SCENE 5: Johnny V & Scott Riley (all oral)
Johnny V, a stripper and bartender, is turned on by the new dancer, Scott Riley. Warned to keep 'hands off,' Johnny jokes that he'll just use the rest of his body. He propositions Scott in the dressing room, grabbing him by the wrist and guiding Scott's hand onto his cock. They are both smooth and muscular, both blond, and both glistening with perspiration from the dance floor. Johnny yanks Scott's trunks off and sucks him in deep, hungry swallows, paying full attention to Scott's plum-sized balls. He pushes Scott backwards onto the counter and slams his tongue into Scott's twitching hole. Scott is breathless and temporarily immobilized with ecstasy. He kneels to suck Johnny's fat cock, alternately pumping it with his hand and face-fucking himself with it. Johnny shouts and whitewashes Scott's chest and chin with a warm wad. Scott licks Johnny's pulsating cock clean, then aims his own erection at Johnny's face and sprays his load.

WATCH IT NOW AT:
FALCON STUDIOS
Falcon Members can watch scenes from this Release anytime online.
DVD Releases debut online prior to DVD Release.