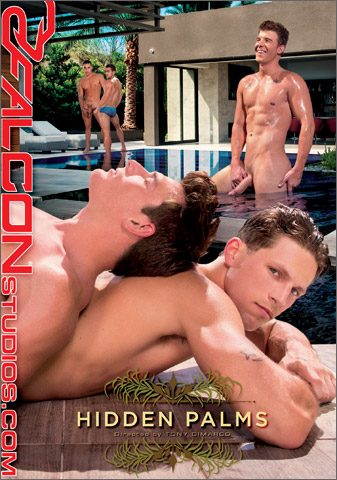 Studio: Falcon Studios
Directed by: Tony Dimarco
Year of Production / Release: 2017
Country of Production: U.S.A.

CAST:
Jake Ashford
Brent Corrigan
Dante Colle
Topher DiMaggio
Addison Graham
Casey Jacks
JJ Knight
Pierce Paris
Roman Todd
FROM FALCON STUDIOS:
Sit back and relax poolside with 10 horny studs who will inject your summer day with heat. 'HIDDEN PALMS' will make your day off a little livelier and a lot more satisfying with plenty of rock hard abs, big throbbing dicks, and lots of love to go around. Brent Corrigan is out for a dip in the pool when he spies Roman Todd in his swim suit. Brent approaches the muscle stud and soon the two hunks are taking turns stuffing each other deep. Casey Jacks is napping by the pool when he's awakened by a passionate kiss from Pierce Paris. After making Paris hard as a rock with a long and tender blowjob, Casey bends over to let Pierce fill him up with his big, thick tool. JJ Knight is floating in the water when hunky Jake Ashford walks past and gives him the eye. After a quick outdoor shower, Jake heads back to JJ to ride the stud's extra thick pole. When Topher DiMaggio gets horny in the sun, he walks inside to take care of himself. Luckily on the way, he meets Casey Jacks and the two hit it off with a nice long pounding that leaves Casey covered in cum. Jake Ashford is relaxing in the hot tub when hunky Pierce Paris joins him. The two meet in the middle and suck each other off until thick loads are filling mouths. Dante Cole is catching some rays in the pool when Addison Graham makes the hot day even hotter. Addison's ass feels so amazing that Dante blows two loads all over the young stud. The next time you head to the pool, you might just find a little oasis called 'HIDDEN PALMS' where you'll see young studs lounging in the water and basking in the sun just waiting for you to float on by.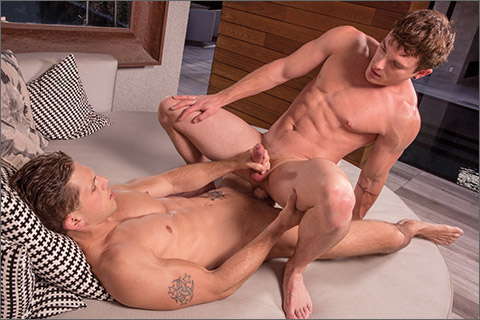 SCENE 1: Brent Corrigan & Roman Todd flip-fuck
Brent Corrigan takes a dip in the pool and spies Roman Todd lounging on the pool deck in his swim suit. Brent decides to take a closer look and with his muscles glistening and his body dripping wet, he hops out of the pool and walks over to Roman. No words are exchanged as they make extended eye contact. Brent knows what that means and without an invitation, peels off Roman's tight swimwear and gets to work sucking his thick rod. Savoring Roman's big pole makes Brent hard as a rock. It doesn't go unnoticed by Roman and soon he has every inch of Brent in his open, hungry mouth. When the two studs can't possibly get any harder, Brent leans Roman over to open him up with his tongue. Roman turns around giving Brent the go-ahead to slide his hard dick deep inside the moaning muscle hunk. Roman takes Brent from behind until Brent decides he wants to be filled with Roman's throbbing manhood. The horny studs switch positions and Roman takes control as he enters Brent's tight hole. The steady pounding feels amazing and they let loose to create a pool of creamy love all over Brent's cut and smooth abs.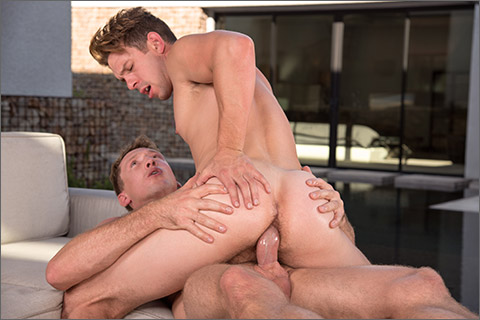 SCENE 2: Pierce Paris fucks Casey Jacks
Pierce Paris is enjoying some time in the pool and when he sees Casey Jacks napping on a couch, Pierce decides to wake him up with a kiss. Casey is thrilled and reaches back to feel what Pierce has lining the inside of his swimwear. Casey finds an extra large dick just waiting for his mouth to make it hard. Casey works his magic and when Pierce is throbbing hard, he decides to return the favor. Pierce loves the taste of what Casey has to offer and can't wait to get inside him. Pierce opens Casey's hairy hole with a nice long rimming session and when he can no longer take the anticipation, Pierce enters the stud from behind. Pierce moans as Casey's giant low-hangers dangle and flop with each thrust from the horny hunk. Casey begs for Pierce to go deeper and after hopping on to ride the massive dick, lies back to let Pierce finish up. Pierce takes total control over Casey and pumps his ass until Casey relieves himself of his frustrations. When Pierce gets an eye full of what Casey just left behind, he pulls out and gets his own relief as he blasts Casey's ripped body full of cum.

SCENE 3: JJ Knight fucks Jake Ashford
JJ Knight is floating in the pool when he sees hunky Jake Ashford walk by. Jake heads for the outdoor shower and knowing that JJ is watching, he flaunts his muscled up physique and flashes his amazing bubble butt. After leaving JJ in suspense, Jake heads over to the stud to offer up his services. Jake can't wait to get JJ's big hard dick in his mouth, and JJ feels the same about Jake's tight hole. JJ samples the goods with his finger as he gets head from the eager tatted hunk. JJ is hard and ready to go and needs a taste of Jake's ass before he slides in. JJ savors every bit of Jake's butt, getting his tongue as deep as he possibly can into the moaning and begging stud. Jake demands that JJ fucks him and JJ obliges with a slow and steady rhythm to start. Slowly building to a frenzy, JJ gets deeper inside Jake with every thrust from his engorged cock. The two studs switch it up and Jake takes a ride as he bounces on the massive dick that plunges his eager hole. With JJ deep inside of him, Jake lets go of whatever inhibitions he may have left and covers JJ with his load. With the feel of Jake's warm sperm hitting his heaving stomach, JJ pulls out to add to the mix and triples the amount of jizz on his body with a massive load that runs past Jake's tongue and covers his body for an extremely happy ending in the sun.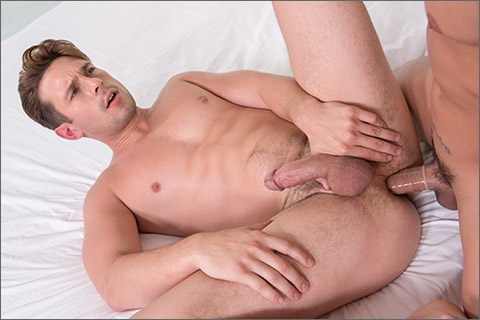 SCENE 4: Topher DiMaggio fucks Casey Jacks
Topher DiMaggio is getting horny laying out in the sun and decides to head inside to take care of business. Luckily for him, on the way inside, he passes hunky and nearly naked Casey Jacks in nothing but a swim suit. The two give a knowing nod to each other as Topher continues on his way to get naked on his bed. Casey follows him inside and plops on his knees in front of the hard and ready Topher. The cock-hungry Casey savors every inch of the smooth muscle stud with an eager blowjob that gets Topher ready to fuck. Before Topher goes all the way, he wants to sample Casey's hairy butt. Topher laps it up, getting it nice and opened up and ready for his giant pole that he's about to slip inside. Topher can no longer hold back and rolls Casey onto his back to slide his dick into the begging jock. Topher doesn't hold back and works up a frenzied pace right from the start. Casey moans out with every push from behind, demanding that Topher go deeper and harder. The studs switch up their positions and finally settle on Casey taking it hard from behind. As Topher drills Casey, he pulls out and covers Casey's muscled up butt cheeks with a nice warm load. With his back covered and sticky, Casey rolls over and gets his own release when he jacks his rod and covers his stomach with pure white satisfaction.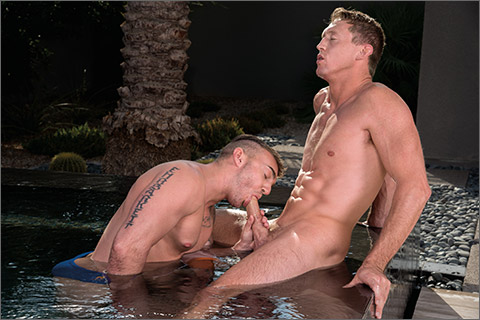 SCENE 5: Pierce Paris & Jake Ashford (all oral)
Jake Ashford is relaxing in the hot tub when Pierce Paris hops in to join. The two studs barely share a glance before they meet in the middle and start making out. To satisfy a bit of curiosity, their hands move down south to give each other an intense rub. Jake is the first to cave when he releases Pierce's monster into the bubbling water and gets to work sucking off the young stud. Jake is good at giving head and it shows when Pierce gives way to moans of ecstasy. Pierce enjoys every slurp from Jake, who's working very hard to get every inch of Pierce into his mouth. Pierce is ready to give Jake a taste and bends the hunky jock over to lick his perfect ass. After a satisfying rim job, Pierce decides to give Jake a sample of his own dick sucking skills. Jake moans out as Pierce gobbles the swollen member. Jake needs a dick in his mouth to finish the job and gets back down in front of Pierce, who promptly fills Jake's mouth with cum. After Pierce's big finale, he shows Jake his appreciation by opening wide to let Jake's sperm hit his face and then run down his chin.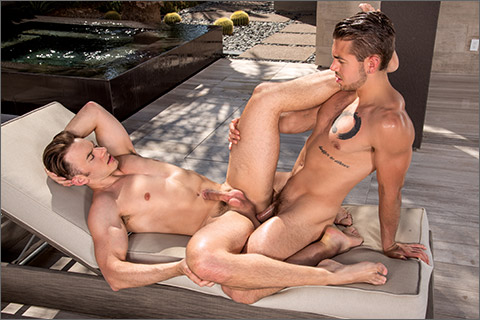 SCENE 6: Dante Cole fucks Addison Graham
Dante Cole is catching some rays on a hot summer day in the pool when Addison Graham dives in to cool off. Things get hotter when Addison swims over to Dante and gets the stud hard by taking his thick rod into his mouth. Addison works it up and down until Dante grows into his open throat. That's Dante's cue to bend Addison over to work his ass with his probing tongue and fingers. Dante loves the taste of Addison's smooth hole so much that he can hardly wait to get all the way inside the horny hunk. Dante is done with the foreplay and teases Addison's hole with the tip of his dick, making Addison open up even more. Dante needs the prize in front of him and slides into Addison, plowing away to feel every inch of his deep, tight hole. Dante flips the muscle hunk onto his back so he can look into his eyes and hits just the right spot for Addison to let go for a full release. It's an extra thick load that stays where it lands all over Addison's perfectly carved abs. The sight of Addison covered in his own load is all it takes for Dante to pull out and add to the mix. Dante covers Addison's dripping body with cum and then as an added bonus for the lucky young stud, Dante gives him a second surprise load in his gaping, begging mouth.

WATCH IT NOW AT:
FALCON STUDIOS
Falcon Members can watch scenes from this Release anytime online.
DVD Releases debut online prior to DVD Release.