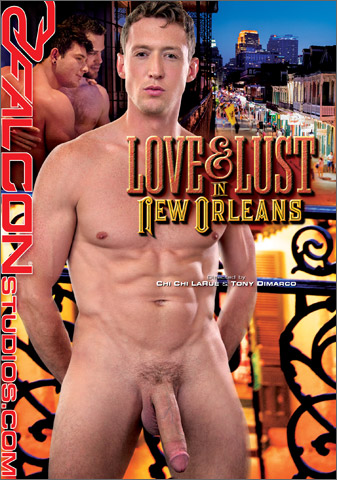 Studio: Falcon Studios
Directed by: Tony Dimarco & Chi Chi LaRue
Year of Production / Release: 2017
Country of Production: U.S.A.

CAST:
Brent Corrigan
Cooper Dang
Michael Del Ray
JJ Knight
Skyy Knox
Pierce Paris
Tyler Roberts
Kurtis Wolfe
Wesley Woods
Sean Zevran
FROM FALCON STUDIOS:
Welcome to New Orleans, where it's balls out and anything goes all day and all night long. The bars are packed, the tourists are out, and the jazz permeates through the humid air and fills up the entire French Quarter. Sit back and take in the sights, try the food, and hit the sheets with 10 hung studs who can't get enough sensory overload in this most amazing of Southern cities. When Wesley Woods catches Tyler Roberts having some pleasurable alone time in the bath, Wesley joins in the fun to offer up a helping hand. Tyler wants more than just a hand and soon has the stud bent over and ready for entry. After a quick dip in the pool, Cooper Dang gets on his knees to service hung and horny Sean Zevran. Sean mounts up and pumps a steady rhythm inside Cooper's tight ass that brings both studs to a creamy release. Soaking wet from the rain, Skyy Knox helps Michael Delray out of his clothes. When Skyy gets Michael hard as rock, he bends over to let Michael fuck him over the kitchen table. It's a hot day in the South when Wesley Woods and Kurtis Wolf decide to cool off in the pool. The studs get horny and after a nice long session of rimming and sucking, the two jocks exchange facials in the pool. Pierce Paris wakes up next to JJ Knight with a massive hard-on. Pierce helps to get JJ in the mood with a nice long blowjob before he bends over to take JJ's humongous dick deep inside his tight, hairy ass. It's another crazy night in New Orleans and everyone is ready for fun – including Brent Corrigan and Kurtis Wolfe. The two muscle jocks sample each other's dicks before Kurtis slides into Brent's bubble butt and pounds away to a happy finish. The next time you're in the French Quarter, you'll always find fun, but you might also find some 'LOVE AND LUST IN NEW ORLEANS'.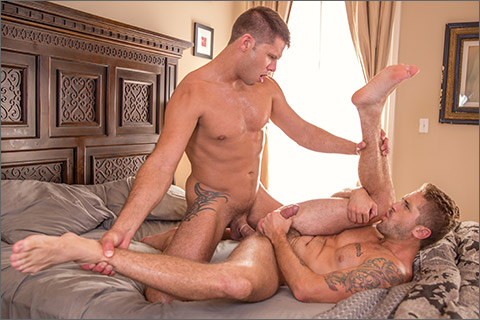 SCENE 1: Tyler Roberts fucks Wesley Woods
Tyler Roberts is soaking in the tub when his thick boner pops out of the suds. It's a hard thing to ignore and Tyler doesn't even try. He grabs it and wraps his fist around the shaft just as Wesley Woods walks into the bathroom to give him a helping hand. Tyler wants more than just a hand and hops out of the water to offer himself up for Tyler to savor with a nice long blowjob. After getting revved up, Tyler returns the favor to Wesley and gets the stud out of his tighty whities and hard as a rock with his warm and hungry mouth. The two horny studs take it to the next level and open each other up by taking turns rimming each other's tight hairy asses. When Tyler sees that Wesley is fully opened and ready to be entered, he stands up and slowly slides his massive dick deep inside the muscled-up jock bent over in front of him. Tyler grunts and drives every inch deep into Wesley's well-worked back door as Wesley screams out for more. With Tyler still deep inside of him, Wesley is the first to explode and shoots his seed up over his own head. Once Tyler sees Wesley's pleasure, he pulls out and finishes himself off in Wesley's wide-open mouth.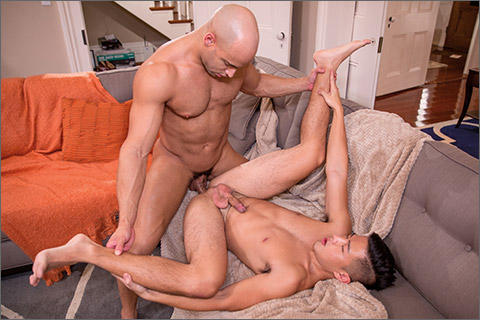 SCENE 2: Sean Zevran fucks Cooper Dang
Sean Zevran is taking some laps in his New Orleans pool when Cooper Dang offers up a glass of wine on the pool deck. Sean has more than a glass of wine on his mind, and before either of the guys can have a sip, Sean has Cooper on his knees servicing his massive uncut dick. Cooper is good with his tongue and gets Sean throbbing hard and ready for more action. After fucking Cooper's warm mouth with his massive member, Sean decides he needs a taste of the jock's smooth, tight hole. A few licks are all it takes for Cooper to start begging Sean to slip his dick inside of him. Cooper spreads his cheeks wide as the studs kiss passionately. Sean is ready to oblige Cooper all his needs and slips his dick deep inside the young stud to give him exactly what he wants. Sean is unrelenting and pumps a steady rhythm as Cooper moans out with every thrust that Sean doles out. Sean wants to feel Cooper from a deeper perspective and rolls him over onto his back. Sean is as far inside the jock has he can possibly get and hits all the right spots to make Cooper leak a creamy load all over his perfectly toned body. Sean can no longer hold off and pulls out of Cooper to give him his own creamy release that leaves the panting stud wet, sticky, and extremely satisfied.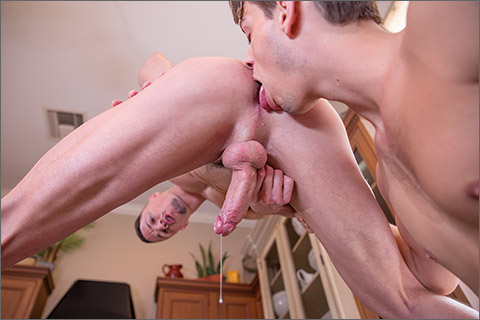 SCENE 3: Michael Delray fucks Skyy Knox
It's a rainy day in New Orleans and Michael Delray and Skyy Knox have been out enjoying the sights and having some lunch. By the time they make it back to the house, they're soaking wet and need to get out of their clothes. Skyy can see that Michael has a raging hard-on inside his undies and gets to work taking it all the way down his throat. It's a big dick, but Skyy can manage the whole thing and when Michael is at full mast, he decides to return the favor. Michael gets on his knees and services Skyy's extra-long foreskin and big tight balls. Both studs are raging hard now and Michael can't resist taking a taste of Skyy's smooth hole. He gets it nice and wet and opened up with every intention of filling Skyy up with his big stiff rod. Michael is ready to get down to business and bends Skyy over the kitchen table to plug him as deep as he can go. Skyy wants to look his stud in the eyes and flips around to get a view of Michael's face as he continues plowing away. The sight of the hot, young stud servicing his ass is all it takes for Skyy to let loose and cover himself with cum. Even after letting loose, Skyy isn't quite finished. As Michael pulls out of him, Skyy gets on his knees and opens his mouth once again to take every drop that Michael's throbbing dick has to offer.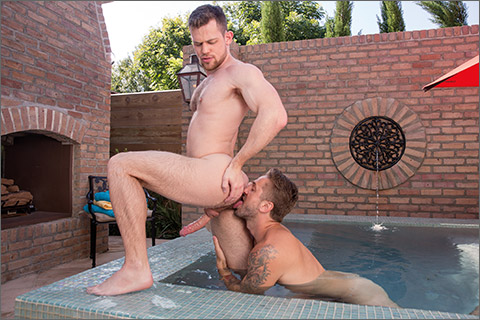 SCENE 4: Wesley Woods & Kurtis Wolf (all oral)
It's another hot day in the South and the weather isn't the only thing steaming up the place. Wesley Woods and Kurtis Wolf are cooling off in the pool and making out when Wesley senses that Kurtis is hungry for some dick. Wesley stands up and lets the stud have what he wants when he opens his mouth wide and accepts Wesley in his mouth. Kurtis works his magic and gets Wesley hard as a rock before he decides he wants Wesley's tongue deep inside of him. Kurtis bends over and offers up his tight hairy ass for Wesley to do with as he pleases. Wesley gets to work licking every bit of the stud's welcoming ass as Kurtis' eyes roll to the back of his head. Wesley is hungry for dick and flips Kurtis over to suck the hairy jock. Wesley's mouth feels amazing to Kurtis and he blows all over Wesley's beard and in his mouth. Kurtis is ready to taste what Wesley has to offer and gets back down between his legs. After working Wesley's dick one final time, the stud blasts his cream all over Kurtis' well-worked tongue.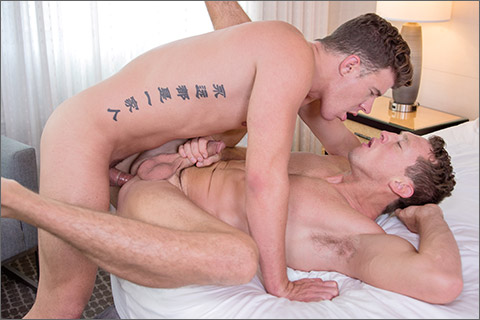 SCENE 5: JJ Knight fucks Pierce Paris
Last night, JJ Knight and Pierce Paris enjoyed taking in some of the historic sights of the French Quarter in New Orleans. After a good night's sleep, Pierce wakes up next to JJ with a raging hard-on. Pierce starts to take care of business and reaches over to wake JJ from his dreams. JJ is happy to have a helping hand from Pierce as Pierce takes care of both of their needs with a dick in each hand. Pierce isn't satisfied with just a hand job and surprises JJ with a blowjob. JJ wants a taste as well, and soon the studs are 69ing on the bed. JJ realizes that Pierce wants to get fucked and rolls the stud over to eat him out. He eagerly takes care of Pierce's tight, hairy hole and gets it nice and opened up. JJ is ready to enter Pierce and slides his massive dick deep into the muscle stud. He pounds away, making Pierce's back door gape. JJ's dick feels so good inside of him that Pierce shoots a geyser while JJ is pumping him deep. After giving Pierce all the pleasure he can, JJ pulls out and covers the jock with cum. Pierce is so turned on by JJ that he starts jacking again and cums a second time.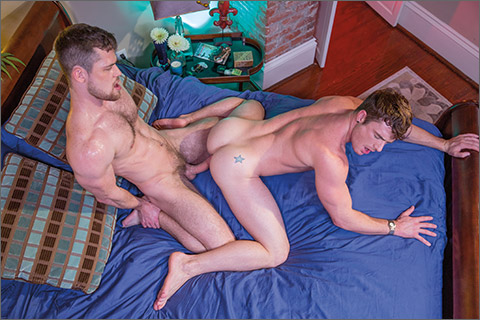 SCENE 6: Kurtis Wolfe fucks Brent Corrigan
It's another crazy night in New Orleans. The crowds are out, the bars are full, and everyone is ready for a good time – including Brent Corrigan and Kurtis Wolfe. The two studs don't waste any time getting back to their room and shedding all their clothes. Before Brent's underwear can hit the floor, Kurtis has his mouth wrapped around the jock's hard dick. After sampling what Brent has to offer, Kurtis spreads Brent's legs wide open and goes in to taste his smooth, tight hole. Kurtis has a love of servicing men and doesn't miss an inch of Brent's shaft, balls and ass. Brent doesn't want to be left out of the taste-testing action and gets Kurtis hard by offering up his warm, wet mouth. Kurtis is so turned on by the whole experience that he can barely contain himself. He gets Brent's butt lubed up and then slips his giant dick deep inside the moaning stud. Brent loves the feeling of being stretched and rides Kurtis, taking the hard dick as deep inside of him as it will possibly go. The two hung jocks switch up their positions, and after a sustained pounding, Brent announces his intent to blow and lets it rip. After seeing Brent shoot, Kurtis is ready to join the ranks and unleash on Brent. He gets the stud into position and releases all of his inhibitions over Brent's perfect bubble butt.

WATCH IT NOW AT:
FALCON STUDIOS
Falcon Members can watch scenes from this Release anytime online.
DVD Releases debut online prior to DVD Release.