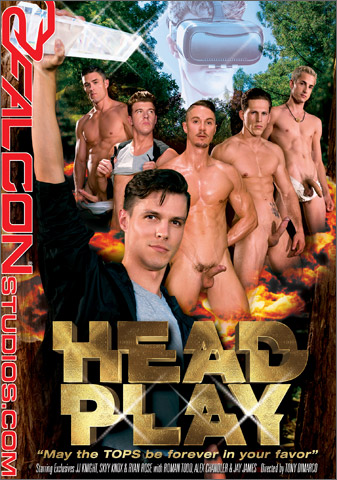 Studio: Falcon Studios
Directed by: Tony Dimarco
Year of Production / Release: 2017
Country of Production: U.S.A.

CAST:
Alex Chandler
Jay James
JJ Knight
Skyy Knox
Ryan Rose
Roman Todd
FROM FALCON STUDIOS:
These studs are in it to win it. In the virtual world of 'HEAD PLAY', six stunning opponents out-wit and literally fuck their way out of situations with one goal in sight: Winning. Award-winner Tony Dimarco directs this high-energy, fast-paced sexual and mental competition that pits beautiful, athletic men against each other in a quest for the prize. Ryan Rose finally finds the treasure he seeks in a virtual reality world when Skyy Knox swoops in with his new-found superpowers and ties Ryan to a tree in the blink of an eye. Before he takes the coveted item, Skyy decides to sample the stud in front of him and takes a pounding like none he's ever had. As the two hunks finish up, they find out the hard way that they've been played. Roman Todd has just acquired the mysterious object when Jay James appears out of thin air. Jay takes the talisman and puts it off to the side before Roman gives Jay's smooth, tight hole a workout with his larger than average manhood. Sex is the distraction that keeps men from keeping the lost artifact, and neither Roman nor Jay are an exception to this rule. When JJ Knight sits down to test a virtual reality game, he has no idea that Alex Chandler will be testing his boundaries. Alex unzips JJ's jeans and gives his massive uncut dick an amazing oral workout that neither stud will soon forget. Skyy steals the trophy from JJ before he realizes that this is anyone's game. Once JJ gets what he needs and takes back the treasure, he gets his own reward by claiming Skyy's open, hairy hole. Alex and JJ are in the final round of the game. JJ can't seem to get the upper hand and decides to play dirty with Alex. When he strips down and offers up his extra large manhood, Alex caves in and gets his back door serviced hard as JJ plows him as deep as he can possibly go. Keep your eyes on the prize or it might slip into the hands of one of your sexy opponents. Watch 'HEAD PLAY' to find out who wins and to revel in each sexual match up as the game unleashes the passions and desires of these handsome hunks.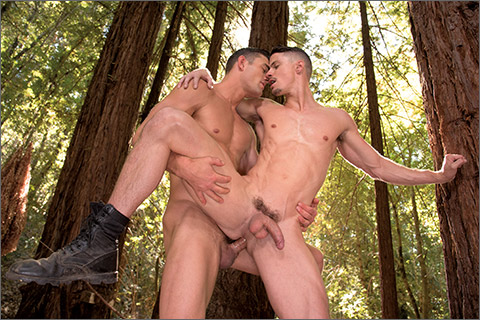 SCENE 1: Ryan Rose fucks Skyy Knox
Ryan Rose is an adventurer in a virtual world seeking treasure and when he finds what he's looking for and avoids a booby trap, he's cornered by a crafty hunk with virtual superpowers, Skyy Knox. In the blink of an eye, Ryan is tied to a tree and before Skyy takes the coveted treasure, he decides to take a taste of the hunky specimen in front of him. He gets Ryan out of his pants to find a bulging set of tighty whitey briefs just waiting to be explored. Skyy doesn't waste a second getting Ryan's beautiful cock into his wide-open mouth and gets on his knees to service the stud. After getting Ryan hard as a rock, Skyy offers up his back door for Ryan to enter. Ryan is still tied to the tree so Skyy does most of the work as he gets Ryan as deep inside of him as he can. As Skyy rides the big dick, Ryan works his way free and takes over as the dominant force to continue pumping Skyy. Ryan's sexual prowess is like nothing Skyy has ever experienced before. With Ryan still planted deep inside him, Skyy lets go and covers the ground with cum. Ryan sees the forest floor get drenched and decides to finish off on Skyy's face. He pulls out of Skyy and carefully aims into his hungry mouth. Skyy shares his reward with Ryan as the two kiss to swap Ryan's creamy love. Anything can happen in this world of intrigue and double-crossing, and when these two are vulnerable and naked in the woods, they learn their lesson the hard way.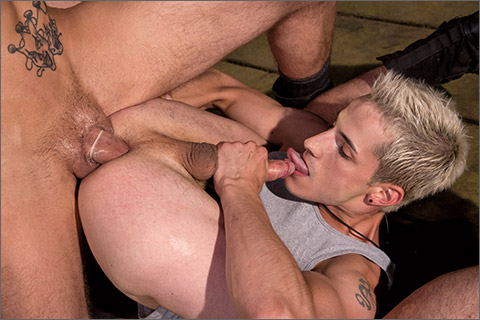 SCENE 2: Roman Todd fucks a self-suckin' Jay James
After Roman Todd steals a mystical object from Ryan Rose and Skyy Knox in a virtual world, he realizes the true power of his current possession. As the sky goes dark in broad daylight, Jay James appears out of thin air, takes the treasure from Roman's hands, and reaches out to feel what Roman is sporting beneath the fabric of his pants. Jay likes what he feels and pops Roman's cock out of the top of his tight-fitting underwear so that he can taste it in his mouth. Jay deepthroats Roman's thick manhood, giving Roman the ultimate oral pleasure. Roman needs more and slowly removes all of his clothing and helps Jay out of his pants. Roman goes to work licking Jay's tight and toned ass, getting it lubed and prepped for Roman's large member. When Roman senses that Jay is ready for what he can give, the hung stud gently slides his dick into the mystery man who just appeared before him. Roman pumps Jay hard as his ripped abs glisten in the ethereal dark night of day and continues his rhythmic pace until Jay spills his otherworldly seed all over his perfectly sculpted six pack abs. With his new lover satisfied, Roman pulls out and finishes himself off all over Jay's soaked and writhing body. As the two bask in the glory of their encounter, the talisman they both seek once again disappears into the hands of another mysterious hunk.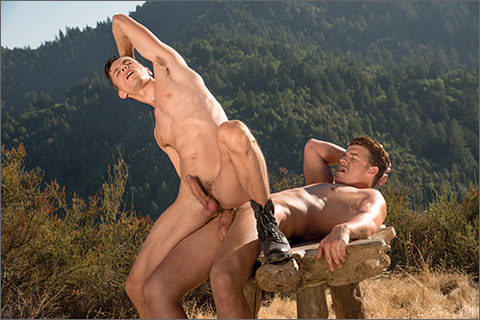 SCENE 3: JJ Knight fucks Alex Chandler
Alex Chandler is in charge of testing a virtual reality game where the player needs to capture an object. JJ Knight agrees to try it out and gets geared up with his headset and special gloves. As JJ enters the virtual world, Alex can't help but to test the boundaries of what JJ is willing to do when he reaches out to feel the stud's bulging crotch. Alex gingerly unzips JJ's jeans and peels his thick dick out of his underwear. Alex can't believe what he's found and starts sucking the big uncut trophy. Alex wants to make sure that JJ has the ultimate virtual experience and takes great care to get as much of JJ in his mouth as possible. Alex is unrelenting and uses his hands along with his eager mouth to pleasure JJ and his massive curved dick. It's so large that Alex can barely fit it in his mouth but that doesn't stop the overachiever from continuing onward. As JJ's moans get deeper, Alex peels JJ's jeans down even further. Finally, Alex can't take it any longer and pulls out his throbbing uncut erection. He takes some time for himself and jacks his own rod as he continues to pleasure JJ. Wanting JJ to finish off in his mouth, Alex's strokes get more frenzied and his slurping becomes more intense. His magic mouth does the trick and JJ explodes with ropes of extra thick and creamy cum. The taste lingers on Alex's over-worked tongue and he lets loose all over JJ's toned abs to mix the two studs' DNA in one tasty pool.

SCENE 4: JJ Knight fucks Skyy Knox
JJ Knight finally has the virtual reality trophy he needs to win the game when Skyy Knox comes from behind and scoops it up. Knowing that he can't win without seducing JJ, Skyy gets on his knees to suck the willing stud and his massive dick. As an acknowledgment of Skyy's abilities, JJ taps Skyy on the face with his throbbing member before he turns him around and licks his tasty hole. After getting him fully prepped, JJ stands up to slide his erection deep inside his adversary. Skyy is more than willing to take every inch of JJ and leans against a tree to get every inch. As JJ pounds away, Skyy gets harder and more willing to shoot his way to winning the game. With a few final thrusts and a "fuck yeah" from both horny dudes, Skyy hops on to ride his way to the finish. JJ's dick feels amazing in Skyy's throbbing ass and when JJ turns him around, it's all that Skyy can take. Skyy lets his inhibitions go and blasts his big white load all over his defined 8-pack. Once JJ sees the mess that Skyy has made, he pulls out of Skyy's tight ass and lets his massive balls relieve themselves as both hung studs are covered in cream.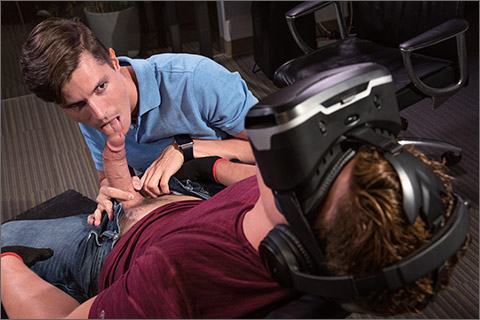 SCENE 5: JJ Knight fucks Alex Chandler
Alex Chandler has the object of desire and every time JJ Knight gets near him Alex uses his virtual powers to stop the muscle stud. JJ can't seem to get the upper hand and decides that to win the game, he's got to play dirty. When he corners Alex, JJ strips down and pulls out his massive dick. "This is what you wanted, right?" JJ says as he offers up his own body for the sake of recovering the object. Alex immediately gives into his temptations and starts kissing the hung stud under the bright blue sky. Alex needs JJ inside him at all costs and gets on his knees to take the massive hard-on down his throat. Alex moans out as JJ thrusts into his hungry mouth. JJ wants to feel the inside of Alex from behind and bends the hottie over to rim his ass. JJ takes his time to get Alex nice and opened up and when the time is right, JJ stands up and inserts his extra-large manhood deep into the thin jock's hairy retreat. After a long session of getting his back door serviced, Alex decides to take control and hops on to ride JJ to the finish. Alex is hard as a rock as JJ's big dick pokes in and out of his ass. JJ hits just the right spot and Alex is happy to finally let loose and spill his cum into the beautiful natural setting around them. Alex is still hungry for more and gets down to take every last drop that JJ has to offer all over his tongue. Alex laps up what didn't land in his mouth and as the two studs come down from their heightened sexual senses, only one will be able to grab the trophy and win the game once and for all.

WATCH IT NOW AT:
FALCON STUDIOS
Falcon Members can watch scenes from this Release anytime online.
DVD Releases debut online prior to DVD Release.