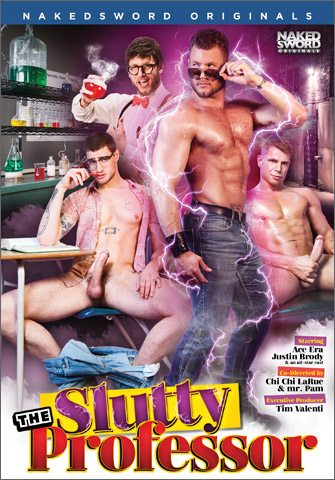 Studio: NakedSword Originals
Directed by: mr. Pam
Year of Production / Release: 2018
Country of Production: U.S.A.

CAST:
Bruce Beckham
Justin Brody
Ace Era
JJ Knight
Danny Montero
Tyler Roberts
Dave Slick
INFORMATION FROM NAKEDSWORD:
Nerdy Professor Kelp is at the end of his rope. His students dislike him, jocks torment him with sexual advances, a rival professor is moving in on his crush, and if he doesn't change his image on campus fast, he's going to lose his job. Searching for a solution, he goes into the lab to whip up a secret concoction that turns him into a smoking-hot stud! Now everybody wants a piece of the Slutty Professor, but when the potion wears off will his crush love him or leave him? Find out in this hilarious hardcore spoof from award-winning Directors mr. Pam & Chi Chi LaRue, exclusively for NakedSword!

SCENE 1: JJ Knight fucks Danny Montero
After an unsuccessful class field trip to his favorite tree, nerdy Professor Kelp (Ace Era) runs into jocks JJ Knight and Danny Montero in the locker room. They torment the nervous brainiac with sexual advances and tie him up, but he escapes, leaving the studs to finish what they started. JJ kicks back on the locker room bench with his giant baseball bat-size cock in the air. Danny goes down on him, swallowing his cock to the base, then gets on his knees with his ass in the air. JJ licks Danny's hole then fucks him in every position like a beast until he blows. JJ stands up and Danny milks a load out of him, drinking every last drop.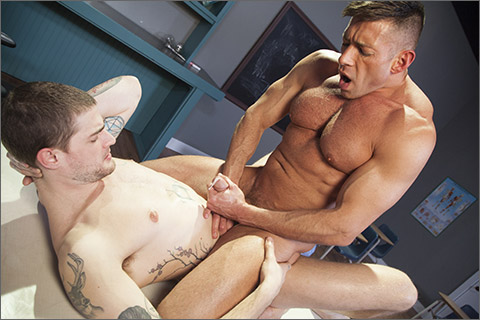 SCENE 2: Justin Brody fucks Bruce Beckham
Fumbling Professor Kelp (Ace Era) is becoming increasingly unpopular with his students, except for equally nerdy Justin Brody. As the sexual tension between them builds, Professor Studly (Bruce Beckham) bursts into the classroom and Kelp is called to the Dean's office. Studly informs Justin that Kelp is in danger of losing his job but promises to put in a good word for him, if Justin cooperates. Studly undresses Justin and goes down on him like he's earning a PhD in cock sucking. He edges Justin with his hot wet mouth, but that's not the hole he wants filled. The hot professor bends over the desk and Justin shoves his dick inside, fucking him deep all over the class room. The sucking and fucking continues until both men are hot, sweaty, and covered in cum.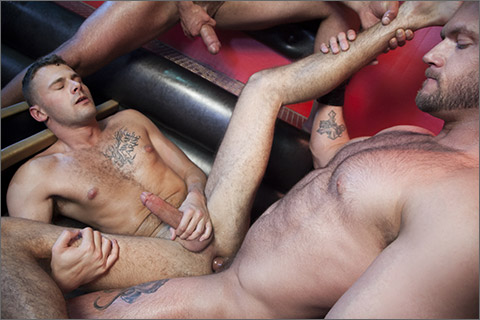 SCENE 3: Tyler Roberts & Ace Era spit-roast Dave Slick
Nerdy Professor Kelp (Ace Era) has until the end of the semester to make himself more relatable and modernize his appearance or he's out on his ass. When he returns to his classroom he catches Professor Studly (Bruce Beckham) and his crush, Justin Brody, finishing up their sweaty sex session and it pushes him over the edge. Kelp rushes to the lab and concocts a secret potion that turns him into a smoking hot, muscular stud named Buddy Fuck. Seething with raw sexual energy, Buddy's first stop is the local gay bar where he meets Ty Roberts and Dave Slick, two horny college dudes who can't wait to get a piece of the Slutty Professor. Up in the VIP Buddy calls the shots as they take turns sucking cock and fucking each other's holes. Ty and Buddy spit roast Dave, filling both his holes, until all three men bust their nuts in each other's mouths.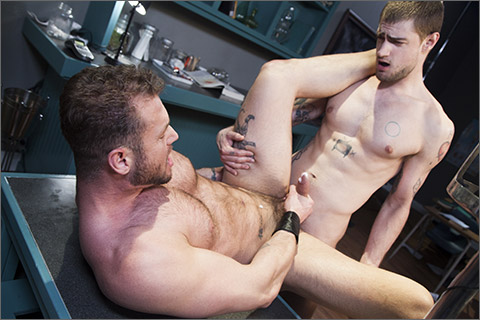 SCENE 4: Justin Brody fucks Ace Era
The new sexy Slutty Professor Buddy Fuck (Ace Era) has won over his students and finally has the confidence to make his move on Justin Brody. Buddy shoves his bulging crotch in the student's face, whips out his cock, and shoves it down his throat. Justin pulls out his huge dick and feeds it to the Slutty Professor before bending him over and eating his ass. Following the instructions of Buddy's "Fuck Me" tattoo, Justin shoves his cock deep in his hole. Ready to blow, Justin jerks off into Buddy's mouth who greedily eats every drop. Suddenly Buddy starts to convulse, the effects of his potion are wearing off! Buddy falls behind the lab counter and the old Nerdy Professor Kelp emerges, replacing Justin's lust with his true love.

WATCH THIS AND A HOST OF OTHER FILMS AT:
NAKEDSWORD
On-Line Presentation, exclusive to NAKEDSWORD
Members can watch this with a host of other films in the NakedSword Library.