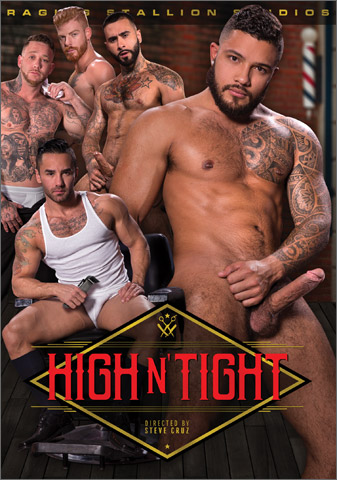 Studio: Raging Stallion
Directed by: Steve Cruz, Tony Dimarco
Year of Production / Release: 2017
Country of Production: U.S.A.

CAST:
Bennett Anthony
Bruno Bernal
Ryan Cruz
Ace Era
Jackson Grant
Mick Stallone
Gage Unkut
Rikk York
INFORMATION FROM RAGING STALLION:
At the 'HIGH N' TIGHT' barbershop, men come to get their hair cut, their beards trimmed, and all their sexual desires fulfilled. Steve Cruz directs a stable of hairy, bearded, tattooed barbers and their clients as they indulge in intimate body rituals that leave them with mouths full of cum, holes wet with spit, and their muscles glistening with sweat. Bruno Bernal comes in for a haircut, but is so captivated by sexy barber Ryan Cruz, all he wants to do is give up his hole to him. Mick Stallone comes in for a high and tight from leatherman barber Rikk York, and Rikk's assistant Jackson Grant instigates a three-way fuck session that leaves all three men with their balls drained. Mick Stallone passes the time in the waiting room by stuffing his cock down Ace Era's throat, then bending him over and delivering an intense pounding. Bennett Anthony doesn't have enough cash on hand to give Gage Unkut the tip he deserves, so he graciously sinks to his knees and worships Gage's hard cock before taking Gage's dick up the ass and getting a load to the face. Book your appointment for a 'HIGH N' TIGHT' now from these macho barbers and their shop full of smoking hot studs.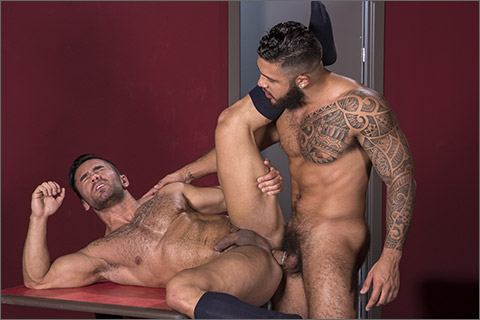 SCENE 1: Ryan Cruz fucks Bruno Bernal
As Ryan Cruz sweeps the floor, Bruno Bernal sits in the 'High n' Tight' barbershop's waiting area, fixated on Ryan's ass. When Ryan comes over to ask Bruno what he's looking for, it's clear that what Bruno really wants is Ryan. As they make out, Bruno unbuttons Ryan's jeans and grasps Ryan's thick cock. Pushing Bruno down on the couch, Ryan pulls down Bruno's pants and dives face first into his round, firm ass. As Ryan grinds his beard into Bruno's crack, Bruno helps by fingering his asshole with Ryan's spit. Getting down on his knees, Bruno wraps his lips around Ryan's uncut cock. Ryan puts his hands behind his head, showing off his furry pits, bulging biceps, and pierced nipples. Bruno coats Ryan's cock in a thick layer of spit, prepping to feel it inside him. When Ryan lies down on the ground, Bruno sits down on his cock. Bruno's muscular legs and six-pack abs flex as he grinds Ryan's cock deeper and deeper into his ass. Ramping up the intensity, Ryan fucks Bruno on a table that's at just the right height. Bruno tosses his left leg over Ryan's shoulder, and Ryan pummels Bruno with an intense onslaught of thrusting. Bruno jerks his cock until he busts his nut all over his torso. Leaning back, Bruno hangs his head off the edge of the table and opens his mouth to receive Ryan's load. With his cock just inches above Bruno's open mouth, Ryan strokes out a massive blast of cum: multiple giant ropes that drench Bruno's face and chest.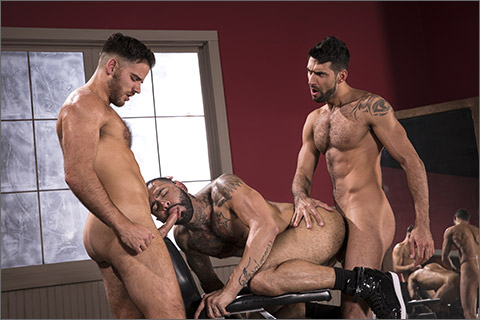 SCENE 2: Rikk York, Mick Stallone & Jackson Grant fuck
Leatherman barber Rikk York is working on a 'High n' Tight' cut for his client, Mick Stallone. They make conversation about where to go out and what the local guys are like. Rikk's assistant, Jackson Grant, overhears the conversation and shares a knowing glance with Mick through the mirror. Jackson pulls up his shirt and starts stroking his cock. "Again?" Rikk says. Pulling back the barber smock, reveals that Mick has already started stroking himself. Jackson comes over and goes down on Mick's hard cock. Joining in, Rikk thrusts his hard cock down Mick's throat. Jackson makes out with Rikk as Mick switches to sucking Jackson's cock. Jackson stands as Rikk and Mick both kneel and suck on his meat, lick his balls, and make out with each other. Rikk gets on the barber's chair so Mick can rim Rikk's hairy ass. It's time for the boss to get what he wants: Jackson fucks Rikk's face while Mick stands up and plows Rikk's hairy hole with his hard cock. Switching out the chair for a bench, Rikk lays down and has Jackson sit on his cock. Mick watches while feeding Rikk his cock. Straddling Rikk's face, Mick makes out with Jackson as Rikk continues thrusting his cock up into Jackson's tight hole. Rikk spreads Mick's asshole and shoves his tongue between Mick's cheeks. Jackson and Mick blow their loads at the same time, shooting their hot, white cum onto Rikk's hairy abs. Mick makes out with Rikk as Rikk strokes himself and lets loose with his own stream of sticky jizz.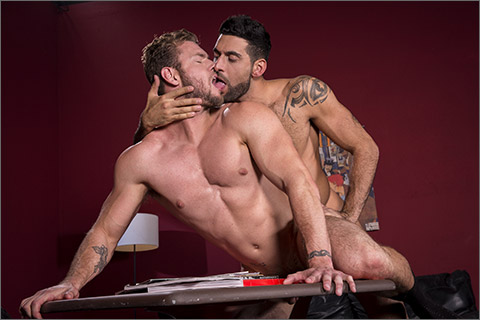 SCENE 3: Mick Stallone fucks Ace Era
As the clippers of the 'High n' Tight' barbershop buzz in the background, Mick Stallone and Ace Era cruise each other in the waiting room. Mick unbuttons his shirt, showing off his hairy chest and tight abs. He yanks out his hard cock, and Ace eagerly gets down on his knees to perform oral worship. Ace strips off his shirt, revealing his athletic physique. Mick guides Ace by grasping the dirty blond hair on the back of his head. Ace's waistband slips below his ass, revealing the tattoo on his butt cheeks: FUCK ME. Mick is eager to do just that. Spreading Ace's cheeks, Mick delivers a slippery rim job to lube up Ace's hole. Ace presses Mick's face deeper into his crack, driving his tongue down into the tight center. Mick uses the tip of his cock to tease Ace's hole, then drives his fuck stick deep inside. Ace bends over a table, and Mick fucks him while standing, delivering an intense, expert pounding. Flipping over, Ace puts his left leg over Mick's shoulder and strokes his cock, with Mick still inside of him. Ace returns to his knees and stuffs his face with Mick's meaty tool, bringing him to the point of no return: Mick spills his load across Ace's lips and onto his tongue, savoring the taste of Mick's semen. Jerking his cock, Ace shoots his load on the floor, adding a guttural moan to his orgasm. Standing up, Ace and Mick press their lips together, sharing in the taste of Mick's cum.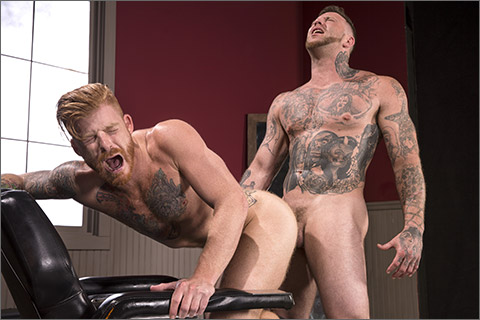 SCENE 4: Gage Unkut fucks Bennett Anthony
Bennett Anthony sits in the 'High n' Tight' barber's chair as Gage Unkut finishes his work. After touching up the back of Bennett's neck and running a comb through Bennett's bright red head of hair, Bennett stands up and fidgets uncomfortably with his slim wad of cash. He doesn't have enough for a tip, but he hopes he and Gage can "work something out." Bennett reaches for the bulge in Gage's pants: a good suggestion. As Bennett wraps his lips around Gage's uncut cock, Gage unbuttons his shirt, revealing his muscular torso completely covered in tattoos. Bennett whips out his cock and pushes down his pants. Kneeling on the barber's chair, he spreads his ass cheeks apart for Gage to dive in face first. As Gage pushes his tongue deep into Bennett's tight hole, Bennett encourages him with moans of erotic excitement. Standing up, Gage pushes his hard cock into Bennett's fuzzy ass and fucks him doggy style. Switching it up, Gage sits in the chair, and Bennett sits down on his cock. Using the powerful muscles in his thick legs, Bennett rises and sinks down on Gage's cock again and again. Bennett's meat bounces in the air as he rides Gage, and his six pack flexes. Gage stands up and positions himself over Bennett to fuck his face. With his hand gripping the back of Bennett's head, Gage thrusts his hard rod deep down Bennett's throat. He unleashes a massive load on Bennett's face that drips into Bennett's open mouth. Just after swallowing Gage's load, Bennett cums with a guttural roar, shooting his white load onto his thick ginger pubes.

WATCH THE SCENES AT:
RAGING STALLION'S MEMBERS SITE
Members at RAGING STALLION"S MEMBERS SITE can watch these scenes and download extensive Photo Content from this production and get discounted pricing on all DVD and Print purchases.