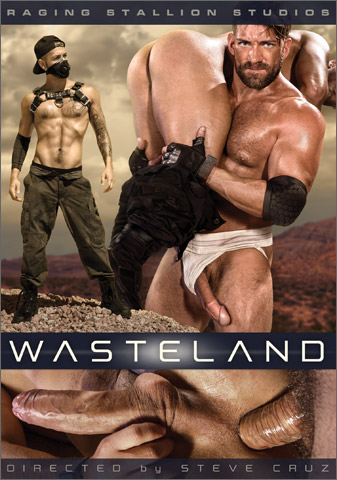 Studio: Raging Stallion
Directed by: Steve Cruz
Year of Production / Release: 2017
Country of Production: U.S.A.

CAST:
Bruce Beckham
Bruno Bernal
Ryan Cruz
Sean Duran
Myles Landon
Rafael Lords
Talon Reed
INFORMATION FROM RAGING STALLION:
Not too far in the future, things take a turn for the worse. The continent becomes a barren hellscape, a 'Wasteland', where the only valid currencies are food, water, shelter, and hardcore fucking. From the mind of director Steve Cruz, 'Wasteland' is the story of the rough, ruthless survivors who wield their big muscles and big dicks to stay on top of the food chain. Knowing that his only chance for survival lies in pleasing his captor, Bruno Bernal submits his holes to the brutal pummeling of muscle god Bruce Beckham. Talon Reed discovers some much-needed supplies, and when he brings them back to the compound, his reward is Myles Landon's massive cock. After days of wandering in the desert, Rafael stumbles into the compound, unaware of the danger he's just stepped into. Ryan Cruz offers Rafael his protection – for a price. After taking Ryan's cock, Rafael attempts to sneak out, but he's apprehended by tatted-hunk Sean Duran. In this 'Wasteland,' with no law and no order, it takes extreme measures to survive, and these rugged men are willing to do whatever it takes to stay on top.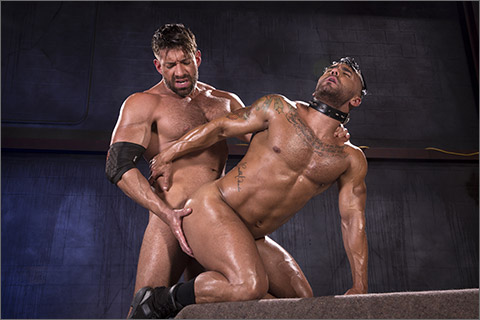 SCENE 1: Bruce Beckham fucks Bruno Bernal
Bruno Bernal is caged in captivity, subject to the whims of his ruthless guard, Bruce Beckham. After a thwarted escape attempt, Bruce uses his enormous cock to assert his authority over Bruno. Grabbing Bruno by his hair, Bruce forces his cock down Bruno's throat. Knowing that pleasing his master is his only chance for survival, Bruno opens his gullet and delivers a gasping, deep-throated blowjob to Bruce's gargantuan member. To prepare Bruno for his initial pounding, Bruce whips out a massive black dildo and pushes it into Bruno's ass. The girth of the dong stretches out Bruno's tight muscle ring, and Bruce takes advantage of Bruno's ass by seeing how far down his tongue will fit. With Bruno's ass lubed and stretched, Bruce slams his meat between Bruno's butt cheeks and pounds him with relentless intensity. Sweat drips off their bodies and Bruno's face twists into a distorted grimace as Bruce's anal assault reaches its peak. Sinking to his knees, Bruno takes Bruce's cum in the face, then obediently jerks out his own load before being caged up until the next time Bruce wants to have some fun.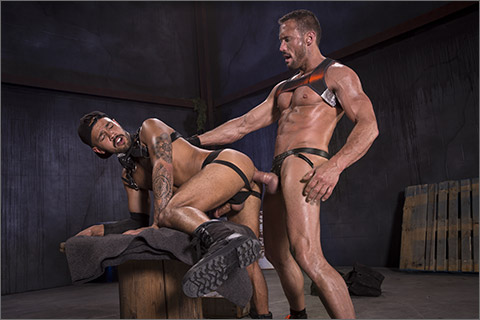 SCENE 2: Myles Landon fucks Talon Reed
Talon Reed is out on patrol in the post-apocalyptic 'Wasteland'. He stumbles across supplies – food rations and water – that must have been abandoned in a surprise attack. Talon brings the loot back to base and shows his find to Myles Landon. "You know what this means, right? It's reward time," says Myles as he removes his codpiece to reveal his fat, heavy cock. Grinning devilishly, Talon leans in and sucks Myles' rock hard cock until it's dripping with spit. Myles bends Talon over and rims his ass, parting the furry cheeks and pushing his saliva in with his tongue. With Talon's ass wet and willing, Myles stands up and fucks him doggy style. Grabbing Talon's harness, Myles pulls him backwards, which drives Myles' cock even deeper inside. Myles' six-pack abs ripple as he thrusts his hips, and Talon revels in every motion. Lying on his back, Myles invites Talon to go for a ride. Grinding up and down, Talon fucks himself on Myles' rod, picking up speed and intensity every second. Flipping into missionary position, Talon jerks out his load as Myles uses his throbbing cock to stretch Talon's ass. Pulling out, Myles strokes his cock and delivers a gushing stream of cum that drenches Talon's stomach.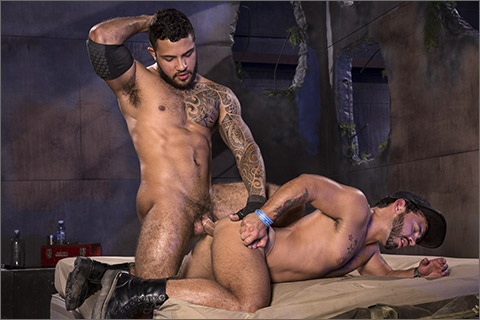 SCENE 3: Ryan Cruz fucks Rafael Lords
Lost in the desert Wasteland, Rafael Lords stumbles upon a mysterious compound. He thinks he's gotten lucky to find shelter, but out of nowhere, Ryan Cruz grabs him and warns him of the danger he's just stepped into. Ryan promises his protection – for a price. With one look at Ryan's ripped body and pierced nips, Rafael knows it's a price he's willing to pay. Dropping to his knees, Rafael stuffs Ryan's cock down his throat and sucks with desperate intensity. Ryan returns the favor, spitting on Rafael's cock and using his lips to stimulate the sensitive head. Saliva drips down Rafael's shaft as Ryan strokes himself. Moving to a bed, Rafael shows off his ass to Ryan, who dives in tongue first for a taste. Slicking up his cock, Ryan pushes himself into Rafael's eager ass. Rafael takes Ryan's cock doggy style, and his firm ass bounces with every impact of Ryan's powerful thrusting. Rolling over, Rafael raises his right leg into the air, allowing Ryan to pound his meat deep into Rafael's hole. Sweat accumulates on their bodies as their fucking reaches searing intensity. As Ryan stretches the walls of Rafael's hole, Rafael strokes his cock and shoots a massive, wet load all over his chest. Pulling out, Ryan busts his nut in a spectacular geyser, shooting multiple ropes of thick, ropey cum all the way across the room. After bending down for a kiss, Ryan and Rafael collapse back on the bed together, exhausted after their intense fuck session. When Ryan falls asleep, Rafael stealthily gets up, grabs his gear, and makes a break for it.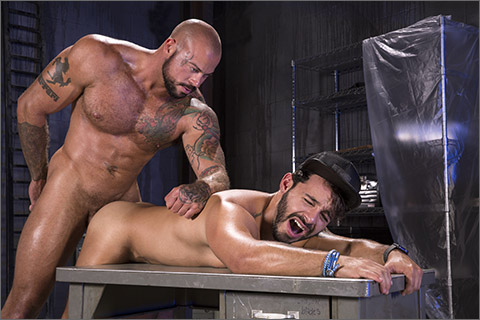 SCENE 4: Sean Duran fucks Rafael Lords
After stumbling into a post-apocalyptic dungeon full of dangerous men, Rafael Lords is trying to escape when Sean Duran stops him. "Why don't you turn around… Show me what I won today!" says Sean. "Pretty nice ass," he adds. "Think you can handle more dick in there?" Bending Rafael over a table, Sean spreads Rafael's cheeks open and shoves his tongue down Rafael's hole. Submitting to the will of his captor, Rafael gets down on his knees and services Sean's massive cock. Sean grabs his nipples to enhance his pleasure as Rafael continues to slobber on his thick rod. Ready to take his ultimate prize, Sean picks Rafael up, lays him flat on a desk, and thrusts himself inside. Feeling Sean's meat filling up his hole makes Rafael grab his own hard cock. Sweat covers their bodies as the action gets more and more intense. Rafael flips over to take Sean's cock doggy style, and he gasps and moans as Sean's pounding picks up speed. With Sean still inside him, Rafael loses control and shoots his load, which pisses Sean off. "Who the fuck said you could cum?" he bellows. Jerking his own cock, Sean blasts Rafael's hole with thick, white cum. "What am I going to do with you now?" questions Sean.

WATCH THE SCENES AT:
RAGING STALLION'S MEMBERS SITE
Members at RAGING STALLION"S MEMBERS SITE can watch these scenes and download extensive Photo Content from this production and get discounted pricing on all DVD and Print purchases.