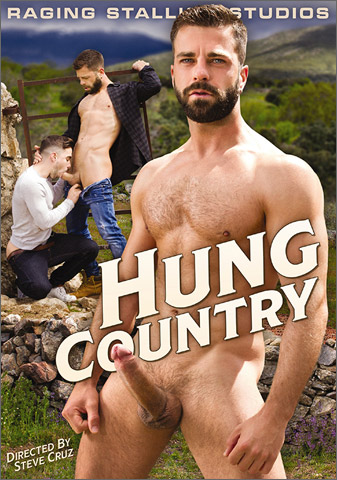 Studio: Raging Stallion
Directed by: Steve Cruz
Year of Production / Release: 2016
Country of Production: U.S.A.

CAST:
Abraham Al Malek
Emir Boscatto
Sergyo Caruso
Hector de Silva
Martin Mazza
Josh Milk
Antonio Miracle
Dani Robles
INFORMATION FROM RAGING STALLION:
Take a trip deep into the Spanish countryside and discover 'Hung Country,' where the men are all tall, dark, muscular, and packing huge dicks! Director Steve Cruz gathers eight of the hottest European hunks and gives you a thrilling, intimate look at the intense sex that happens when horny, European men can't keep their hands off each other. Abraham Al Malek and Hector De Silva trade head and flip fuck in a supercharged session of sexual intensity. When Emir Boscatto comes in from a cold rain, he warms up with Dani Robles by pounding the power bottom's perfect ass. Antonio Miracle and Martin Mazza work up their libidos with some erotic play fighting in a field, then head back to the country house for a blistering session that sees power top Antonio totally dominate Martin's willing ass. Emir Boscatto is dungeon master to Sergyo Caruso, receiving frothy head before taking advantage of Sergyo's tight hole with a deep dicking. Hector De Silva shows off his topping prowess when he thrusts his impressive meat deep inside Josh Milk, leading to blasts of hot, white cum. Explore 'Hung Country' with this stable of European studs and get an up-close-and-personal look at hardcore sex between some of the hottest, hairy and muscled men on the planet.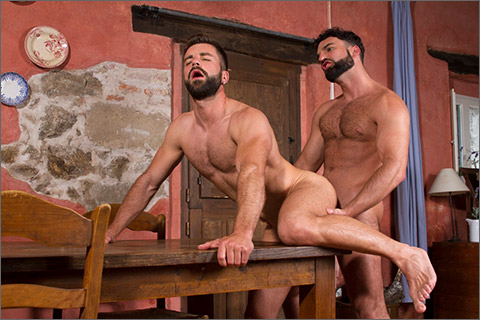 SCENE 1: Abraham Al Malek & Hector De Silva
On a trip into the Spanish countryside, lovers Abraham Al Malek and Hector De Silva can't keep their hands off each other. As they admire a rushing waterfall, they're struck by an overwhelming erotic urge. As they strip off their shirts and make out, rain starts to fall, but that doesn't keep Abraham from swallowing Hector's hard cock. When the weather gets too bad, they retreat to their warm, country cottage and really get down to business. Their cocks hang out of their white briefs, and Abraham goes down for round two of cocksucking. Hector loses the underwear and bends over a table, and Abraham eagerly shoves his tongue down Hector's perfect hole. Moaning, Hector urges Abraham to go all the way, an invitation which is gladly accepted. Slowly, Abraham pushes his enormous dick deep down into Hector's ass. With Hector's hole stretched out, Abraham picks up speed, ramming Hector with awesome intensity. Trading places, Abraham leans on the table and parts his furry ass cheeks for Hector's tongue. As Abraham jerks himself off, Hector thrust his huge dick inside Abraham and fucks him hard. Their six pack abs flex as the intense pounding brings them close to orgasm. When he cums, Hector shoots an enormous load that covers Abraham's torso. Rubbing the spunk into his skin, Abraham jerks himself off until his thick, white load erupts everywhere

SCENE 2: Emir Boscatto fucks Dani Robles
Emir Boscatto comes inside soaking wet; he's been out working in the cold rain, and Dani Robles helps him warm up. Dani strips off Emir's shirt, revealing smooth abs and a massive chest. The coveralls Emir was wearing fall to the ground, revealing his huge cock standing at attention. They kiss, and Dani lowers himself to service Emir's throbbing member. Using his tongue, he stimulates the sensitive tip of Emir's uncut cock, then swallows the entire shaft. To return the favor, Emir pulls down Dani's shorts and dives in his ass face first. The rim job gets Dani's hole ready to be used, and Emir eagerly uses his meat to stuff Dani's hole. With assertive movements, Emir pins Dani down on the table and unleashes full-throttle thrusting. Changing it up, Dani rolls over on the table and takes Emir's cock in missionary position, throwing a leg over Emir's shoulder to achieve maximum penetration. Jerking his stiff cock, Dani lets loose with a torrent of cum that spews across his hairy chest. Emir gets a few more pounding thrusts in for good measure before pulling out and spilling his load right on Dani's cock and balls.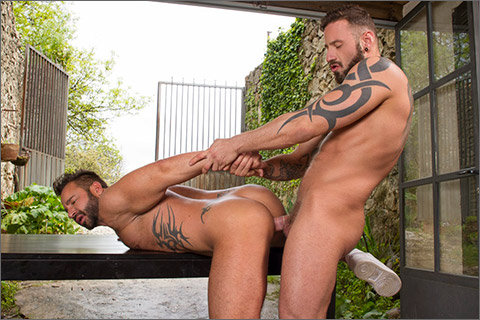 SCENE 3: Martin Mazza & Antonio Miracle
In a country field, Martin Mazza and Antonio Miracle are stripped to the waist, engaged in a spirited round of play fighting. Gaining the upper hand, Martin grabs the front of Antonio's tight shorts and pulls them down, revealing Antonio's throbbing cock. They kiss passionately and beat it back to a secluded nook to get more serious. Undoing Antonio's fly, Martin reaches in and grabs Antonio's cock. After playing with Antonio's foreskin, Martin goes down and gives an intense blowjob. As he sucks on Antonio's balls, the intense sensations make Antonio's nipples plump and erect. Back on his feet, Antonio facefucks Martin, slapping his cock across Martin's cheeks and thrusting deep down his throat. Putting Martin back up on the table, Antonio presses his tongue right in the center of Martin's cheeks and lubes it up. Turning Martin over, Antonio slides his thick meat in and starts pounding. Antonio is an unstoppable dynamo, topping Martin with beastly power. Bracing himself on the table, Martin closes his eyes and revels in the sensations of letting his ass get used. Jerking his cock, Martin pushes himself over the edge with Antonio still inside him. Pulling out, Antonio strokes his dick until he splatters thick white cum on Martin's dick and balls.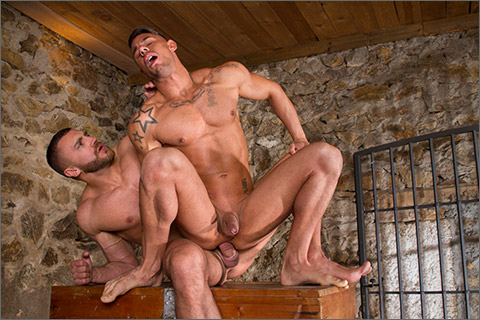 SCENE 4: Sergyo Caruso & Emir Boscatto
Big, beefy Emir Boscatto brings Sergyo Caruso down to the basement for some dirty action. The basement looks like a medieval dungeon, with stone walls and a metal gate, and Emir is the master of this dungeon. Sergyo falls to his knees and services Emir's gigantic cock. The intimidating top selfishly facefucks Sergyo, whose lean, ripped body flexes and writhes. Bending Sergyo over a crate, Emir dives in to eat Sergyo's tight ass. With Sergyo's hole lubed and ready, Emir slides in with his huge cock. He picks up speed, railing Sergyo's ass with intense, deep pounding. Climbing up on the crate, Emir sits down and invites Sergyo to sit on his dick. The willing power bottom eagerly climbs up and lowers himself down on Emir's throbbing tool. As Sergyo's cock swings through the air, Emir thrusts up from below. Repositioning Sergyo in missionary, Emir enters the home stretch, ramping up his fucking to a blistering pace. To complete their session, both muscled hunks stand and jerk their cocks, letting loose with huge loads one after the other.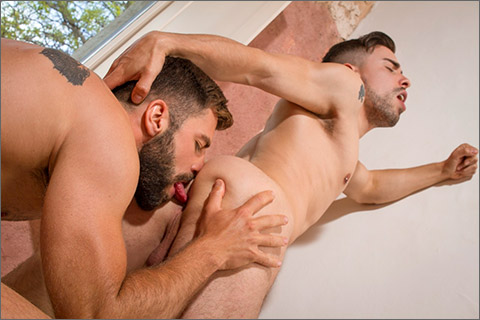 SCENE 5: Hector De Silva & Josh Milk
On a walk through the countryside, Hector De Silva hangs off Josh Milk and admires the view. But the grand vista in front of them can't compete with the gorgeous sexiness of each man. They kiss passionately as they undo each other's flies, reaching in to grab handfuls of hard, uncut cock. Without hesitation, Josh wraps his lips around Hector's cock and delivers a blowjob filled with thick spit and intense deep throating. Moving inside, Hector and Josh stand naked and make out. Their lean, muscular bodies show off every muscle, and Josh shows off the piercings in his tongue, nipples, and at the base of his cock. Pushing Josh against the wall, Hector swoops down and eagerly tongues Josh's hole. The rimming makes Josh moan and writhe with urgent erotic energy. With one motion, Hector pushes his cock deep into Josh's ass. The intensity of Hector's pounding gives Josh unbelievable anal pleasure. Moving to the bedroom, Josh spreads his legs and Hector resumes his pummeling ass assault. Wrapping his hand around his thick cock, Josh milks out his load with an intense orgasm. Pulling out of Josh's ass, Hector immediately spurts thick ropes of cum across Josh's six pack.

WATCH THE SCENES AT:
RAGING STALLION'S MEMBERS SITE
Members at RAGING STALLION"S MEMBERS SITE can watch these scenes and download extensive Photo Content from this production and get discounted pricing on all DVD and Print purchases.