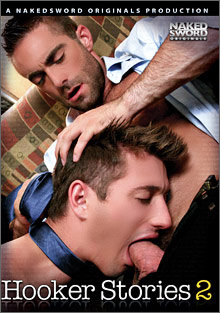 Studio: NakedSword Originals
Directed by: mr. Pam
Year of Production / Release: 2013
Country of Production: U.S.A.

CAST:
Doug Acre
Sean Duran
Jayden Ellis
Jake Genesis
Luke Milan
JD Phoenix
Kyle Quinn
Seth Roberts
Diesel Washington
ADDITIONAL COMMENTS:
On-Line Presentation, exclusive to NAKED SWORD.
Members can watch this with a host of other films in the NakedSword Library.
INFORMATION FROM NAKED SWORD: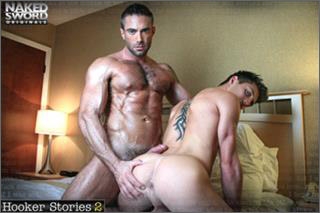 EPISODE 1 – HAPPY HOUR: Jake Genesis fucks JD Phoenix
The best businesses expenses stay off the books.
   With Hooker Stories 2, NakedSword Originals brings back incredible true stories of real-life escorts. In the debut episode, businessman Jake Genesis orders up escort JD Phoenix like a dirty martini, and throws him back just as quickly. Genesis is used to getting what he wants, and to him the green-eyed Phoenix is just another well-marbled steak — a gorgeous piece of meat ready to devour. And devour he does — sizing him up, eating him out, and pounding him across the room. Genesis knows the value of a dollar, and he gets his money's worth of JD. But with cash on hand and a smile on his face, JD may have just gotten the better end of the deal.

EPISODE 2 – HUGE PROBLEM: Seth Roberts, Sean Duran & Luke Milan flip-fuck
Who needs a time-share when you've got time to share? In the latest installment of NakedSword's Hooker Stories 2, escort boyfriends Sean Duran and Seth Roberts take a vacation to San Francisco. And when you love what you do, it's hard not to bring a little work along. So the boys case out the San Francisco clientele ó the abduction fantasies, the costume dramas, the unsafe and insane ó before finding a client they'd almost do for free. Young, muscled Luke Milan is desperate to get fucked, but as soon as anyone sees what's under those jeans, they want him to top. Unlucky Luke calls dynamic duo Sean and Seth to dick him down but good. A few hours later, at his hotel room, the couple happily complies: first feasting on that huge dick, then flipping him over for a sweaty, hole-stretching session that leaves little Luke aching (for more). So what if it's a working holiday? In the escorting world, the hookers that play together, stay together.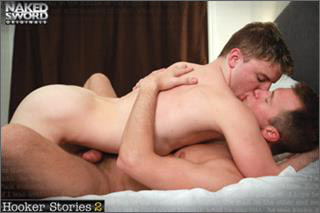 EPISODE 3 – YOU'VE BEEN SERVED: Doug Acre fucks Kyle Quinn
They say divorce leaves a hole. In Kyle Quinn's case, it's a hole aching to be filled.
   A cute bike messenger arrives to serve Quinn with divorce papers, and prompts the young broker to dial up another kind of delivery. In the latest installment of NakedSword's Hooker Stories, it's muscled bad-boy Doug Acre who arrives —but this messenger's ride is anything but gentle. Acre plows Quinn mercilessly in a real-life escort story that provides Quinn's divorce a very happy — and very messy — ending. So what if he gets screwed in the settlement? This is one billable hour he's happy to pay.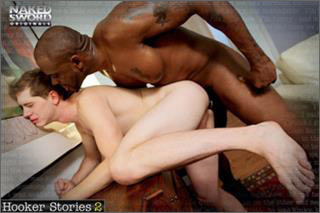 EPISODE 4 – ROUGH TRADE: Diesel Washington fucks Jayden Ellis
Just because you're paying doesn't mean you'll see any mercy.
   On the finale of Hooker Stories 2, legendary escort Diesel Washington shows the others how it's really done. When his brunch with Leo Forte is interrupted by a call from Jayden Ellis, Diesel quickly gets into character. Jayden's a spoiled brat in need of a little discipline and Diesel's just the man to do it — he wreaks havoc on the hungry bottom's hole while dicking him down across the upscale apartment. Diesel at his best is Diesel at his worst — tough, unflinching, and dangerously well-hung — and he's both here. This true-to-life story from a Hookie-award winning Diesel is an incredible end to one of NakedSword's most original series!

WATCH THIS AND A HOST OF OTHER FILMS AT:
NAKEDSWORD
On-Line Presentation, exclusive to NAKEDSWORD
Members can watch this with a host of other films in the NakedSword Library.