Studio: Naked Sword Originals
Directed by: mr. Pam
Year of Production / Release: 2013
Country of Production: U.S.A.

CAST:
Caleb Colton
Dale Cooper
Blake Daniels
Danimal
Leo Forte
JD Phoenix
Logan Stevens
Damien Stone
Logan Vaughn
Christian Wilde
ADDITIONAL COMMENTS:
On-Line Presentation, exclusive to NAKED SWORD.
Members can watch this with a host of other films in the NakedSword Library.
INFORMATION FROM NAKED SWORD:
mr. Pam made sure not to disappoint NakedSword fans when she shot the highly anticipated return of the hit series Golden Gate! The Cover Up is a sexually charged story based on true recent events surrounding the ban on nudity in San Francisco. In the first episode, Busted, we find one of the nudists, Logan Stevens, getting roughed up (in the best way) by police officer Caleb Colton. Your traffic is going to "bust" and your sales are going to burst with Busted!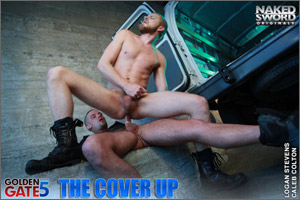 Episode 1: Logan Stevens & Caleb Colton – Dale Cooper, Christian Wilde, Cockyboys Exclusive – JD Phoenix
NakedSword Originals made national headlines by using its groundbreaking Golden Gate series to take on a controversial (and cute!) San Francisco politician. Now see what all the heat was about! In the season opener, Supervisor Scott Cox (Dale Cooper) wants to ban nudity in San Francisco, and not everyone's happy. During a speech in Castro's Harvey Milk Plaza, protestor Logan Stevens is arrested by SFPD's Caleb Colton. But when the police van door closes, Colton realizes he's got his hands full with his seductive, naked charge. And book him he does!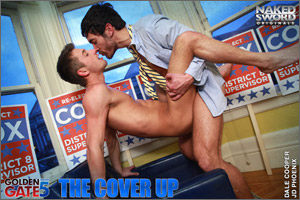 Episode 2: Dale Cooper, JD Phoenix
Dale Cooper and COCKYBOY JD Phoenix get a little "politically incorrect" in this week's episode of Golden Gate's The Cover Up! Phoenix sneaks up to a secret location where Supervisor Scott Cox (Dale Cooper) is laying low, but once Cooper gets a glimpse of Phoenix's irresistible ass, he can't help himself from plunging right in. The second episode of Golden Gate will have you voting YES, for more sex!
   Is anti-sex Supervisor Scott Cox in danger at the nudity protest? Porn star Conner Habib scripted this second episode of NakedSword's smash Golden Gate series — and it's a shocker!
   Cop Caleb Colton fears the angry nudists might get out of hand, so he secrets away the Supervisor (Dale Cooper) to a secure location. Except he's not alone. COCKYBOY JD Phoenix, a pro-nudity activist, has snuck in, and he confronts Cox directly. "Is this what you're afraid of?" he asks, waving his delicious cock in Cox's face. Turns out, it is. Cox can't resist the big lure and — only moments before his big speech in Harvey Milk Plaza, and only steps away from his boyfriend — he's having incredible sex with the free-spirited Phoenix. Will it rally him to their cause or force him deeper into the sexual closet? It's a scene you have to see to believe!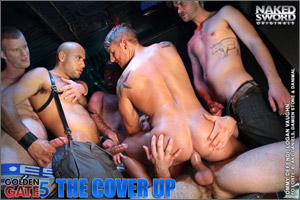 Episode 3: Tommy Defendi, Leo Forte, Blake Daniels, Damien Stone, Logan Vaughn, Danimal
What better way to fight an unfair ban on nudity? A sexy orgy party of course! Tommy Defendi joins Logan Vaughn, Leo Forte and a few other hot studs in this week's episode of Golden Gate, Jerking Around. Stand up for your rights – while getting plowed on your knees.
A nudity rally may be good for politics, but it's a terrible place to get laid. Why not ditch the rally and go to a place where nudity is legal…very legal. NakedSword's blockbuster Golden Gate series continues this week with a story straight from the sick mind of Leo Forte. After locking eyes with porn star Tommy Defendi in the Castro, protestor Logan Vaughn follows him to the Nob Hill for a hosted circle jerk. But when Logan shows up, the circle widens — and quickly explodes! Tommy fucks Logan as the gang — guest stars Leo Forte, Damien Stone, Blake Daniels, Danimal — go wild and cover him in cum. We don't think Supervisor Cox would approve — but we don't really care! This is San Francisco, after all!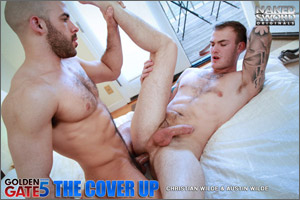 Episode 4: Christian Wilde, Austin Wilde, Dale Cooper
It's here! The wait is finally over – and its going to be a Wilde ride – literally! Christian Wilde's sexy tight virgin ass gets tapped by the gorgeous and very well endowed Austin Wilde. It is the finale of the year rapping up an awesome, beautifully collaborated Golden Gate series. Bottoms up Christian!
There are finales and then there are finales. The final episode of Golden Gate 5 is one of the latter, with blackmail, blockbusters — and an earth-shattering bottoming! Christian Wilde who, as the boyfriend of anti-sex Supervisor Scott Cox, is confronted by an old flame (Austin Wilde) who threatens to expose everything if he can't tap Christian's virgin ass. You won't believe the heart-stopping, prostate-pounding, unbelievable finish to the hottest series in all of gay porn! (Golden Gate 5: Episode 4 written by The Sword's Zach Sire)

WATCH THIS AND A HOST OF OTHER FILMS AT: NAKED SWORD