Studio: Falcon Studios
Directed by:
Year of Production / Release: 2011
Country of Production: U.S.A.

CAST:
Rafael Alencar
Landon Conrad
Roman Heart
John Magnum
Dylan McLovin / Dylan Roberts
Brad Star
Jake Steel
SCENE 1: Landon Conrad fucks Jake Steel
SCENE 2: Rafael Alencar fucks Roman Heart
SCENE 3: John Magnum fucks Dylan Roberts
SCENE 4: Brad Star fucks Landon Conrad
BONUS SOLO: Rafael Alencar
BONUS SOLO: Jake Steel
ADDITIONAL COMMENTS:
Falcon Members can watch scenes from this Release anytime online.
DVD Releases debut online prior to DVD Release.

THIS PREVIEW CONTAINS ADULT SEXUAL CONTENT


FROM THE FALCON WEB SITE:
Anxious to score a big sale after putting his Hot Property on the block, Roman Heart enlists hunky realtor Landon Conrad to help him out. Together the two men discover the lusty ups and downs, wheeling and dealing and sexual supply and demand aspect in promoting the prime real estate in an ever-growing, ever-changing market.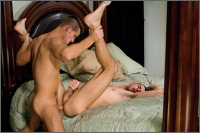 SCENE 1: Landon Conrad fucks Jake Steel
Landon Conrad hires photographer Jake Steel to shoot some pix of the hot property he's trying to unload. But after a few snapshots throughout the residence, the real estate agent and the shutterbug stop to develop a more intimate and erotic picture of their own. Finding themselves in the master bedroom the two men quickly get to work. Jake's lips and mouth travel hungrily up and down Landon's muscled torso, tasting his sweet flesh and nibbling his jujube tits. Then he lands onto Landon's erect cock and swallows it down in continuous gulps. Before long, they fall onto the bed and Landon gets freaky in the sheets as he sucks the photographer's hefty tripod before rimming the buried aperture between his asscheeks. Jake mounts Landon, slides down onto his pole and rides him hard. They twist into different positions as Landon continues fucking Jake, the excitement and thrill accelerating with every thrust until they both shoot their loads.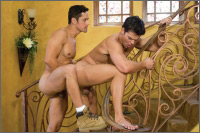 SCENE 2: Rafael Alencar fucks Roman Heart
Roman Heart opens the front door to find the movers have arrived. Studly Rafael Alencar gets started packing and getting the heavy boxes ready to be picked up. The work is strenuous so Roman suggests Rafael take a break. He offers the Latin stallion a massage to soothe his muscles but Rafael knows which muscle the horny homeowner means. The two men quickly melt in each other's embrace and start kissing. Roman is soon down on his knees sucking Rafael's swollen dick, swallowing every inch of uncut meat down his throat, almost gagging on its thickness and length. Rafael continues facefucking Roman hard, then gives the guy a break so he can return the gesture and suck his cock. Next he eats out Roman's hole, licking and slurping the puckered cleft. Ready for more, Rafael crashes through Roman's back door and delivers the goods, drilling him in a variety of positions before they lose their loads one after the other.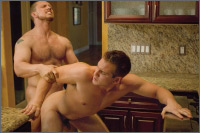 SCENE 3: John Magnum fucks Dylan Roberts
John Magnum takes prospective buyer Dylan Roberts through the house, showcasing its many features including the large kitchen with its top-notch appliances and marble countertops. Dylan likes the house but is showing more interest in the big-muscled realtor. All it takes is a mischievous grin to signal their unspoken desires and two men get busy cooking up some sexual mischief. They kiss and get naked and John soon has Dylan down on the counter so he can feast on his dick. They then switch roles so Dylan can begin fellating John's cock and rimming his ass. John follows up by plowing Dylan's manhole, sliding his dick in and out with furious thrusts. Dylan balances himself on the counters, his ass hanging in mid-air allowing John to continue fucking him harder and deeper. He whimpers and pleads for more as he jerks himself off and cums and John finally pulls out to add his own powerful load to the mix.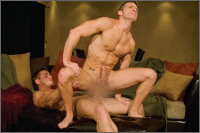 SCENE 4: Brad Star fucks Landon Conrad
Landon Conrad's scored big time as Brad Star eagerly snatches up the hot property. As is his custom, Landon suggests to the new homeowner that they break in the house with a celebratory suck-n-fuck. Brad welcomes the idea and they start to party hearty. Landon goes down on Brad's horsedick, making the big man swoon and coo. The randy realtor sucks cock and eats ass like the pro he is while Brad responds by fingering and playing with his ass. Brad gets his turn to nurse on Landon's dick and he savors every inch of manmeat as it slides through his clamped lips. Landon then straddles Brad, screws himself onto his stiff staff and begins to bounce up and down. His moans and groans grow louder and faster as Brad continues fucking him in different poses until both men reach their boiling point and erupt with two hefty loads.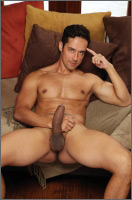 BONUS SOLO: Rafael Alencar
Rafael Alencar is the ideal Latin lover — seductive, tempting and irresistible. He's undeniably handsome and the proud owner of a smooth bubblebutt and a big uncut cock … what's not to like? Rafael slow-dances through this solo jack-off scene in measured movements as he touches and massages every inch of his flesh; his dick looms large and dangerous, almost like a club ready to smack someone. Every movement, every gesture is made to tease and tickle. Rafael's clenched fist slides up and down his swollen dick and he strokes it tighter and faster until he finally surrenders to the pleasure and cums.

BONUS SOLO: Jake Steel
Jake Steel is a tall drink of water with a sinewy, finely muscled body. He knows he's hot stuff and just can't keep his hands off himself. He digs deep inside his jeans and begins to play with his cock. He strokes and pulls on his big dick, feeling it get stronger and harder. Laying on his back with one hand still jerking his dick, he tickles and teases his asshole. The sensations grow more and more intense and he's practically moanin' for a bonin'. With no one around to relieve the tension, Jake grabs a big black dildo and shoves it up his butt. Working both his dick and his ass, the ambidextrous stud gets himself into such a frenzied state that he finally has to let go and cum.

WATCH IT OR GET IT NOW AT: FALCON STUDIOS