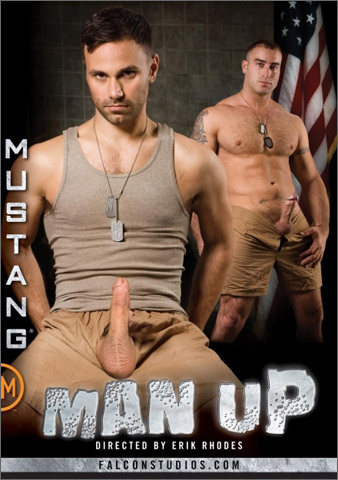 Studio: Falcon Studios / Mustang
Directed by: Erik Rhodes
Year of Production / Release: 2011
Country of Production: U.S.A.

CAST:
Alexsander Freitas
Shane Frost
Conner Habib
Heath Jordan
Trent Locke
Spencer Reed
Alessio Romero
Logan Scott
FROM FALCON STUDIOS:
This ain't no place for pussies, so if you wanna play, then Man Up! Eight real men size one another up to produce four of the most incredible cockfights you'll ever see.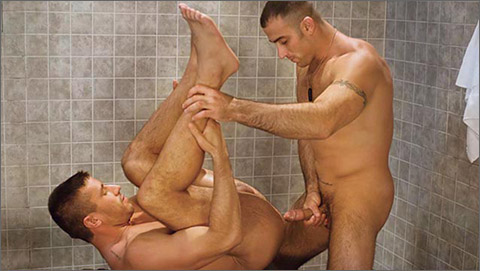 SCENE 1: Spencer Reed fucks Logan Scott
After completing the day's maneuvers Spencer Reed hits the showers and finds Logan Scott whining about how brutal the training's been. Spencer cajoles his fellow soldier to "man up" and reassures him that he'll always have his back … even his dick and whatever else needed to make things easier. The two men suck face before Spencer starts sucking Logan's cock, opening wide to swallow him whole. Then they switch places so Logan can taste his buddy's big dick sliding in and out of his mouth. Spencer is soon craving more action and attacks Logan's hairy ass, poking a finger and his tongue deep inside before he licks it up. He follows the slurpy tongue action with slamming his pole up his mate's hole and fucking him hard and fast until he blows his wad with Logan cumming right after just as copiously.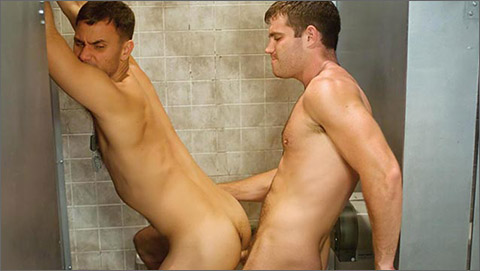 SCENE 2: Conner Habib & Trent Locke flip-fuck
Conner Habib thinks he's safe, hiding out in the latrine so he can get his rocks off, masturbating to a porn rag. But Trent Locke senses something nasty's going on behind that stall's closed door so he busts inside and catches Conner in action. Startled at first, Conner now recognizes he's got a hot stud to get down'n'dirty with and he quickly surrenders himself to Trent's charms. The horny cadet sucks his big buddy's hard cock, swallowing it down his throat. Trent gets his turn to hungrily suck Conner off before he rims his ass and then fucks him fast and furious. Trent next lowers himself onto Conner's stiff dick and rides him hard. Then they leave the confines of the stall and, braced against a urinal, Conner resumes fucking Trent's ass until he pulls out and cums all over and Trent follows by shooting his load.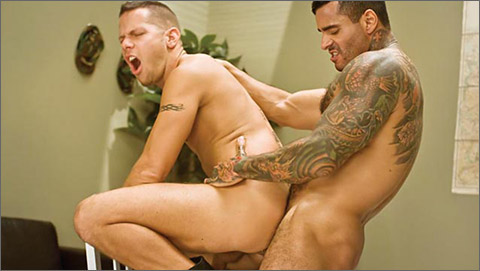 SCENE 3: Alexsander Freitas fucks Shane Frost
Shane Frost and Alexsander Freitas have been summoned to the commander's office to answer charges that they were caught sucking dick behind the latrines … charges which they deny. The two soldiers decide that if they're gonna get kicked out for such an infraction, they might as well make the accusations real. Shane gets down to suck his co-conspirator's stiff uncut cock and Alexsander gets so excited he begins to facefuck his slim friend hard. Then the hirsute bodybuilder lays Shane down with his buttcheeks spread wide, exposing his hole so he can rim him, prepping his ass for the fierce fucking he quickly delivers. They fuck non-stop and in different positions until Shane and then Alexsander let loose and shoot their cum all over.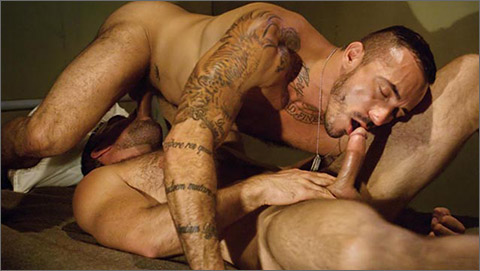 SCENE 4: Alessio Romero and Heath Jordan flip-fuck
Nighttime finds both Alessio Romero and Heath Jordan laying in their bunks, restless, unable to sleep and feeling so horny. Alessio decides to help his buddy out and begins to suck him off. Heath quickly makes it clear that he can't wait to work his oral skills on his fellow private's privates and he zeroes in on Alessio's crotch. Soon the two soldiers are 69ing, giving head as well as rimming ass with some fingerfucking thrown in for good measure. Ready for some anal sex, Alessio slides his cock up inside Heath's ass, fucking his hole hard and deep. The men exchange pole positions with Heath now filling Alessio's asshole with his thrusting cock. Both of them are ready to climax and they finish off laying side by side, stroking their cocks until they both shoot their loads.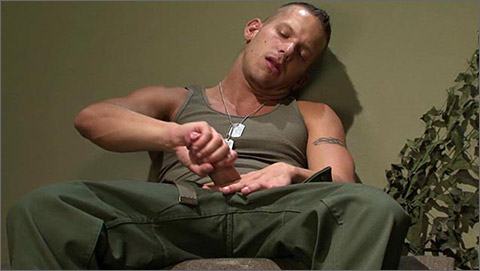 SCENE 5 – BONUS SOLO: Shane Frost
Shane Frost finally gets some downtime and he knows exactly how he's gonna spend it. Masturbation is the ticket for a wild ride to horndog heaven; it's fun and easy. Shane likes the way it feels, grabbing his dick and stroking it to its full length and hardness. He can't help but moan and sigh as he jacks himself off with repeated tugs. He has no one but himself to worry about as he works his cock back and forth. He knows what speed to go and how to intensify the sensations until he finally and excitedly shoots his wad.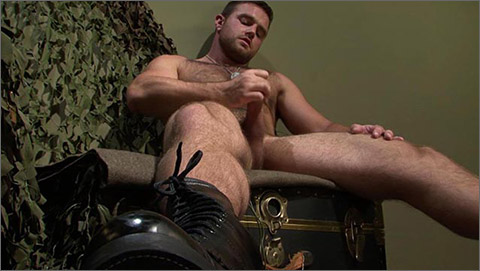 SCENE 6 – BONUS SOLO: Heath Jordan
Hunky Heath Jordan's already stripped down to his skivvies with his dick in hand. His fist bounces up and down in rapid motion, riding the entire length of the shaft with a chokehold that sends tingles throughout his crotch. Heath rubs his hairy chest and belly; he tickles his tits; he fingers his asshole — all additional boosts to enhance the pleasure he's feeling. How much longer can he hold on? His breathing becomes more labored; his gasps more audible … until with a steady series of rapid tugs, he blasts his fuzzy belly with a hearty discharge of cum.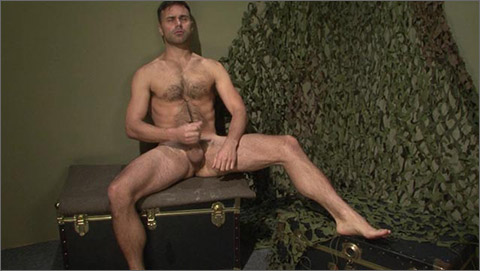 SCENE 7 – BONUS SOLO: Conner Habib
Conner Habib is ready for some personal R&R, tending to the big hard cock sprouting between his legs. He clutches it hard and strokes up and down the length. Every muscle in his body strains and grows tense as he works himself over. Conner can feel his heart beat faster; his brain is going into overload, but he can't abort the mission. Faster and faster he goes; his enthusiasm rages on; he can sense he's approaching the big climax and finally, with a gasp and a groan, he does, showering the floor with shots of his cum.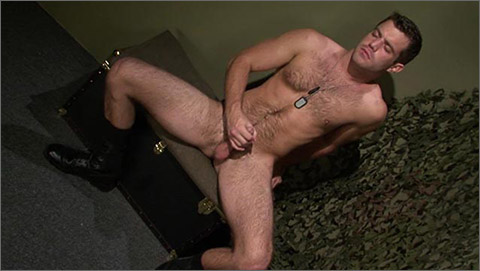 SCENE 8 – BONUS SOLO: Trent Locke
Trent Locke sits buck naked, armed and ready for action. With his right hand, he grasps his big fat dick which is already standing erect and looming large. He tugs and pulls on it, runs his fingers all around the knobby head, all the while marvelling with the sensations that are coursing throughout his body. He measures the tempo of each series of strokes, going fast, slowing down, speeding up again, faster and faster, this time with his other hand tweaking his tit, until he unloads a healthy shot of cum.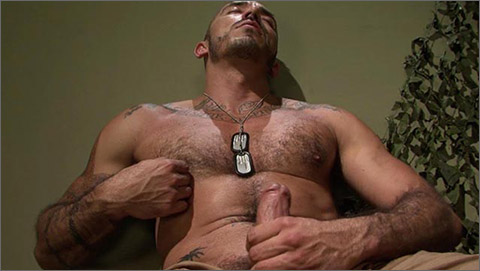 SCENE 9 – BONUS SOLO: Alessio Romero
With an array of tatts decorating his body, with his dark rugged looks, and with his bold machismo, Alessio Romero is undeniably one hot stud. There's no bullshit with this guy; he knows what he wants and that's some Relief. He's got an itch to get his rocks off, so he tackles his cock with wild abandon, lubing it with spit so his hands can glide smoother up and down its length and even wrapping the chain from his dog tags around his balls for added pleasure and pain. Alessio pants and then yelps as he finally lets go and soils the carpet with puddles of cum.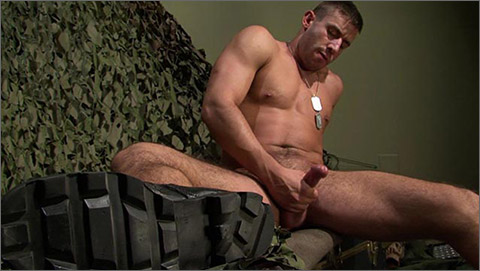 SCENE 10 – BONUS SOLO: Logan Scott
Logan Scott is a man on a mission. He's feeling hot and bothered and the only way to relieve the tension is to tackle it hands on. He reaches insides his pants, grabs his already stiffened cock and begins jacking off. It feels so good and Logan just can't stop playing with himself. He massages his dick with slow deliberate strokes; he pulls his asscheeks apart and tickles his asshole; he cups his balls and rubs every action, every touch serves its purpose until the big stud shoots his load.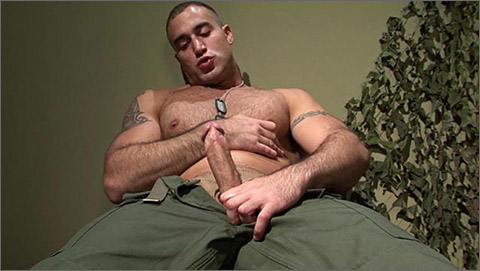 SCENE 11 – BONUS SOLO: Spencer Reed
There's something big and thick throbbing inside Spencer Reed's trousers and he's anxious and horny enough to address it. The big muscled stud unbuckles his belt and pulls out his cock… a pretty impressive piece of artillery that requires a lot of attention. With a stranglehold around the engorged shaft, Spencer strokes up and down. He works his hand non-stop, accelerating both the action and the tension churning deep within his loins. A pinch on the nipples, a tickle up his ass and the constant jerking off finally pays off with an explosion of cum all over.

WATCH THE SCENES NOW AT:
FALCON STUDIOS
Falcon Members can watch scenes from this Release anytime online.
DVD Releases debut online prior to DVD Release.

WATCH IT AT: AEBN / SMUTJUNKIES THEATER
BUY IT / WATCH IT AT: GAY HOT MOVIES