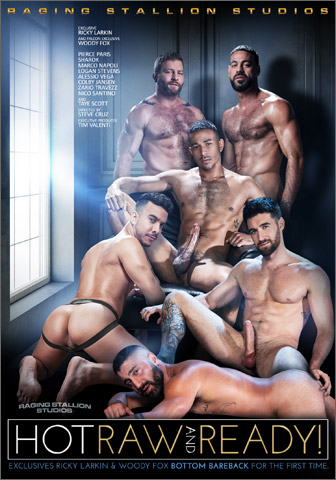 Studio: Raging Stallion
Directed by: Steve Cruz
Year of Production / Release: 2019
Country of Production: U.S.A.

CAST:
Woody Fox
Colby Jansen
Ricky Larkin
Marco Napoli
Pierce Paris
Nico Santino
Taye Scott
Sharok
Logan Stevens
Zario Travezz
Alessio Vega
INFORMATION FROM RAGING STALLION:
Fuck the story lines. Just get to the bareback fucking! Raging Stallion and award-winning director, Steve Cruz, bring you 11 hung studs who are 'HOT, RAW & READY!' for bare, all-sex action. When Pierce Paris drops his towel in front of horny hunk Woody Fox, Woody takes his cue, first getting face fucked, then rolls over to let Piece's monster cock stretch his ass bareback until both studs drop their loads all over Woody's hairy ripped abs. Marco Napoli and Sharok swap blowjobs until Sharok bends over to take Marco's thick raw cock and huge load up his ass leaving his hole filled with cum. Logan Stevens pulls out his dick for Alessio Vega to savor and suck on. When Logan is nice and hard, he bends Alessio over and plunges deep in his ass until he covers Alessio's tight hole with jizz. Ricky Larkin and Colby Jansen explore each other's muscle-laden bodies until Colby takes it to the next step. The two hairy studs swap head before Colby stretches Ricky's hole bareback with his extra thick cock. Zario Travezz can't stop eating Logan Stevens' delectable ass and keeps going until Logan wants a taste of his own. The studs suck each other off and 69 until Logan drops a load before Zario lets loose and gives Logan a mouth full of cum. Nico Santino, Taye Scott and Zario Travezz, flip fuck until Zario finishes off by alternating bare fucking both studs in front of him. In the end, Taye ends up with two holes full of jizz and crotch full of cum. These horny studs are always 'HOT, RAW & READY!' and eager to please.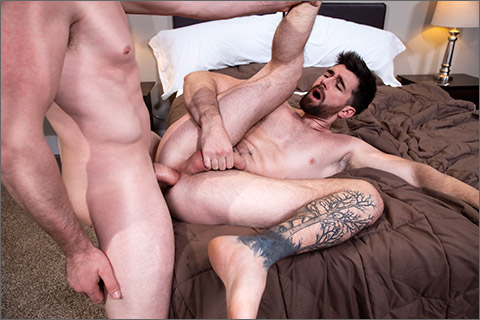 SCENE 1: Pierce Paris fucks Woody Fox
Woody Fox lucks out when Pierce Paris hops out of the shower and drops his towel by the edge of the bed. Woody is cock hungry and wastes no time getting Pierce's monster meat down his throat. Pierce barely fits his rod in Woody's strained jaw, but the Aussie stud is eager to please and takes every inch he can cram inside. Pierce wants a taste as well and bends over to 69 with Woody, getting his uncut dick down his hatch. The taste of Woody's pole gets Pierce in the mood to stretch his ass. After rimming out Woody's hole, Pierce lays back to let Woody hop on for his first bareback bottom scene and the ride of his life. Pierce's thick pole impales Woody and the stud moans out with each thrust from the massive cock in his ass. Pierce has the urge to go even deeper and gets Woody onto his hands and knees to shove his raw cock in and pump even faster. It's a race to the finish as Pierce rolls Woody onto his side and picks up the pace to go the final distance. Woody declares that he's ready to blow and as his hole clenches around Pierce's cock, Pierce gives in as well. Pierce pulls out and the two studs cum together, leaving Woody a drenched in jizz.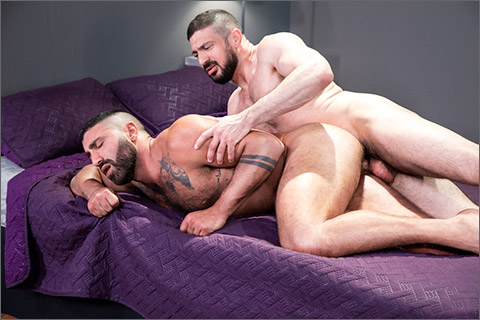 SCENE 2: Marco Napoli fucks Sharok
Sharok and Marco Napoli are already naked and ready for action when Sharok gets on his knees to service Marco's nice fat cock. He works it in and out of his hungry mouth, getting himself hard as a rock as his mouth does all the work. When Marco sees Sharok's massive hard-on, he drops to his knees to return the favor. Sharok loves the feel of Marco's lips wrapped around his shaft, and face fucks Marco until Sharok is ready to take it up the ass. Marco bends the stud over the bed and eats his hairy ass until Marco is sure that Sharok is open and ready for all the raw cock he's about to take. Marco slides his massive, bare meat into Sharok's tight hole and pumps away, going deep and hard as he picks up the pace to give Sharok the bareback stretching his hole begs for. Sharok wants to show off his riding skills and flips Marco on his back so he can hop on top to take it to the maximum depth. He rides the hard cock buried in his ass up and down until Marco wants one last go from behind. Marco shoves his cock inside doggie-style, and fucks Sharok until his cock is ready to explode. Marco pulls out and blasts his thick load all over Sharok's bubble butt before fucking the cum into his hole. With his ass fully loaded, Sharok rolls over and covers his stomach with creamy white jizz.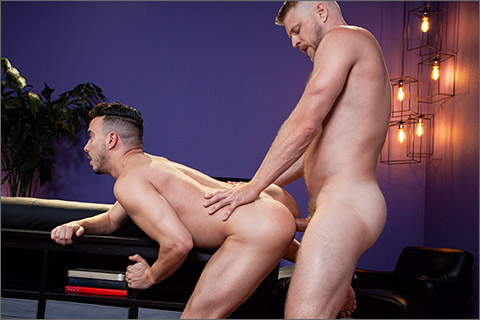 SCENE 3: Logan Stevens fucks Alessio Vega
Logan Stevens and Alessio Vega start by making out and when Alessio gets a look at Logan's giant cock, he slumps to his knees to take the cock down his throat. Alessio savors every inch of Logan's plump shaft and pays special attention to Logan's foreskin, getting the stud ready to fuck. Logan wants a turn with the cock sucking action and gets down between Alessio's legs to take the throbbing dick in his mouth. When Logan has had his fill, he bends Alessio over to eat his ass. Logan's tongue feels amazing rimming Alessio's hole and soon he's ready to get plunged raw. Logan stands up and shoves his bare cock deep into Alessio and pounds hard, making the stud moan out as he gets his ass reamed. When Logan wants to see the look on Alessio's face as he gets fucked, he rolls the stud over as he continues his relentless bareback reaming. Alessio's tight ass feels amazing surrounding Logan's dick and he can no longer hold off. He pulls out and blasts a load all over Alessio's hole and when he's done shooting, Logan scoops the mess up with his cock and shoves it deep into Alessio's spent ass. The sensation of all the warm cum oozing into his ass makes Alessio ready to blow and he shoots his load all over his tight body.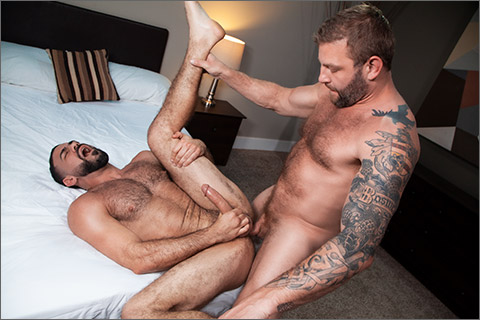 SCENE 4: Colby Jansen fucks Ricky Larkin
Ricky Larkin & Colby Jansen take their time exploring each other's bodies until Colby is ready to suck some dick. He works his way down Ricky's hard, hairy body until he gets Ricky's stiff cock in his mouth. He services the hung stud with ease until Ricky is ready for some cock of his own. The two switch it up and Ricky gets on the floor to taste the monster dangling between Colby's legs. Ricky's mouth is all Colby needs to take it to the next level. He bends Ricky over to open him up with his tongue before sliding his dick deep into Ricky's hole for his bareback bottoming debut. Colby pounds the new raw bottom hard, making Ricky grunt and groan with every plunge from his extra thick cock. Ricky wants to watch Colby fucking him and shifts onto his back as Colby keeps up the pounding. After a nice hard session, Ricky is ready to blow. With Colby still deep inside his hole, Ricky gives a final guttural moan and blasts a load onto his hairy and heaving abs. That gives Colby the permission he needs and he pulls out to slather Ricky's hairy balls and busted hole with a massive load of cream.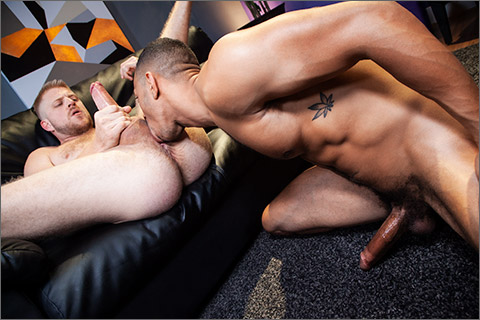 SCENE 5: Zario Travezz & Logan Stevens (all oral)
Zario Travezz is horny as hell and he can't stop eating Logan Stevens' insatiable ass. Logan loves the attention his ass is receiving and lies back on the couch with his dick in his hand to let Zario rim away. Zario gets in deep and opens the blond stud up until Logan decides to get a dick down his throat. Zario stands up to let Logan get what he wants as Zario slowly starts fucking Logan's face. Zario knows how much Logan can take and gives him every inch he can handle. As the blond stud sucks away on Zario's plump cock, Zario goes even deeper, feeding the stud between his legs his nice fat dick. Logan takes the big cock all the way to the base, choking and gagging on his favorite thing until Zario wants a taste of his own. Zario gets Logan's meat in his mouth and services him hard. Logan loves Zario's mouth wrapped around his shaft and can't wait to get a dick back down his throat. The studs roll onto the floor and 69 so each of them gets a taste. Zario plants his face deep into Logan's clenched ass and licks away until Logan blasts his load all over Zario's tight body. When Logan's load hits his skin, Zario follows along. With his face still planted firmly in Logan's hole, Zario unleashes a gusher and blows a massive load for Logan to lick clean.

SCENE 6: Zario Travezz, Nico Santino & Taye Scott fuck around
Nico Santino and Taye Scott take turns sucking on Zario Travezz' nice plump cock. Neither stud can get enough dick in their faces, and they don't stop until Zario is ready for more. Zario wants to eat ass and bends Nico over to get his fill. Nico is more than willing and takes Taye's massive meat down his throat as Zario continues rimming the ass in front of him. Nico is practically begging for a raw dick up his hole and Zario is happy to help the stud out. Zario stands up and slowly slides his dick deep into the eager stud, going balls deep and bareback until Nico has what he wants. Nico takes Zario in his ass as Taye continues fucking Nico's face from the front. Now Nico wants a turn fucking and rolls Taye onto his back for a good look at the stud he's about to destroy. Nico slams his dick into Taye's hole and pumps away as Zario hops on to shove his cock and ass in Taye's hungry face. Now it's Nico's turn for a final bit of action as he hops on top of Taye with his ass in the air. Zario brings up the rear and alternates slamming both studs with his massive raw cock until he blasts his load all over Taye's used up hole. When Nico sees Zario let loose, he dumps his load all over Taye's face. With both holes filled with jizz, Taye is the last to blast and oozes a massive load all over his cock. The three studs kiss and moan as they bask in the aftermath of an amazing jizz-filled threesome.

WATCH THE SCENES AT:
RAGING STALLION'S MEMBERS SITE
Members at RAGING STALLION'S MEMBERS SITE can watch these scenes and download extensive Photo Content from this production and get discounted pricing on all DVD and Print purchases.