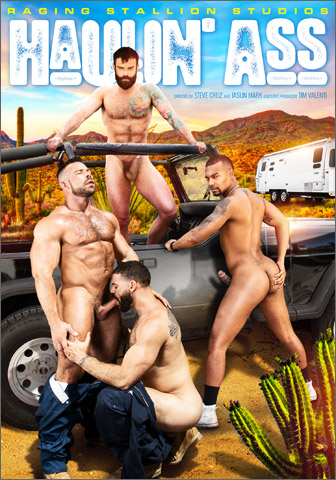 Studio: Raging Stallion
Directed by: Steve Cruz & Jasun Mark
Year of Production / Release: 2019
Country of Production: U.S.A.

CAST:
Liam Knox
Ricky Larkin
Drake Masters
Marco Napoli
Vic Rocco
Manuel Scalco
Ryan Stone
Jack Vidra
Jacen Zhu
INFORMATION FROM RAGING STALLION:
Blue-collar workers, hitchhikers, and joyriders make their own heat by 'HAULIN' ASS' in the desert when co-directors Steve Cruz and Jasun Mark help nine hard and hairy studs find everything they desire. After driving down a deserted stretch of desert highway, Marco Napoli arrives at his destination to find Manuel Scalco. The studs rev their engines in an intense flip-fuck. Manuel pounds the cum out of Marco's cock and Marco gets his dark bushy beard painted white. Mechanics Drake Masters and Manuel Scalco are servicing more than just cars when Jacen Zhu pulls up for a repair. The three studs work out a transaction that involves them getting all the dick they need until they drop their loads onto Manuel's ripped body. After meeting on a dirt road in the desert, Jack Vidra sucks Ryan Stones hard cock in the open air, followed by Ryan pounding Jack's tight hole until Jack is covered in jizz. Ricky Larkin catches Liam Knox slacking on the job, so he decides to teach him a lesson. The studs take turns sucking each other off until Ricky blasts his load on Liam's bubble-butt and Liam lets loose by erupting onto the parking lot. After hearing Vic Rocco pissing a thick stream through the door of the break room, Liam Knox sucks Vic's extra thick dick. Vic pounds Liam hard until both studs are covered in cum. Ricky Larkin picks up hitchhiker Drake Masters and fucks him in his camper before the two drive to a rest stop down the road. Ricky continues fucking the hairy stud until he cums in Drake's beard and Drake leaves his mark on the public restroom floor. Whether these studs are out on the open road or at their nine to fives, they'll find all the cock, ass, and cum they need to make the desert heat a bit more bearable by 'HAULIN' ASS'.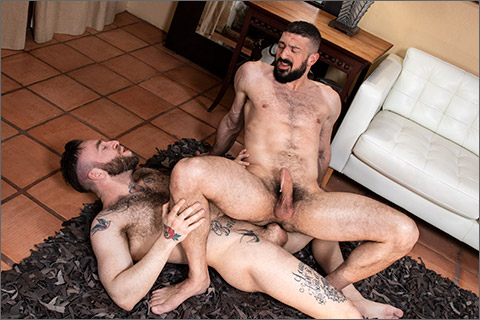 SCENE 1: Marco Napoli & Manuel Scalco flip-fuck
After driving down an isolated stretch of desert highway, Marco Napoli arrives at his destination to find Manuel Scalco in the yard eager and ready to suck his dick. Marco happily pulls out his hard, hairy cock to let Manuel take it down his throat and eagerly fucks the willing cocksucker's face. Manuel isn't going to stop at that and needs a taste of Marco's furry ass before they move the action into the house. Marco doesn't want to waste any more time with foreplay and quickly bends Manuel over to slam his giant cock balls deep into the stud's hole. Marco pounds away, opening Manuel up even further until Marco is ready to take some dick of his own. Manuel is happy to give the stud what he wants and lies back on the rug with his boner pointing straight up. That's Marco's cue to take a seat on Manuel's pole and ride it using it as his gearshift until Manuel takes over one last time. Marco takes the pounding until his swollen cock erupts with a geyser of jizz. When Manuel sees that Marco has unleashed, he pulls his dick out of the spent hole and stands above the stud to jack himself off. Marco can't wait to taste Manuel's cum and is soon rewarded with a massive load that covers Marco's lips and full, bushy beard.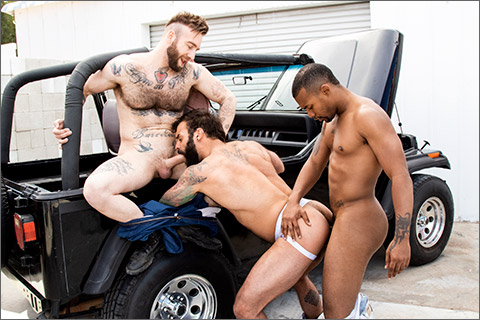 SCENE 2: Drake Masters, Jacen Zhu & Manuel Scalco fuck around
Fellow mechanics Drake Masters and Manuel Scalco are outside on a break as Manuel goes down on Drake's big cock. He continues sucking the monster until Jacen Zhu pulls up in his car for a repair. The mechanics quickly scramble to put their dicks away and zip up as they go to check out what fixes need to be done. Jacen has a debt from the last repair and offers to work it off as he reaches down to cop a feel of Drake's giant bulge. Drake and Manuel happily agree to the debt repayment plan and get Jacen naked next to his car. Both blue-collar studs get down on their knees to service their customer, and the three hung hunks switch it up until everyone gets their fill of all the dick they can swallow. Manuel and Drake do such a good job that soon Jacen is ready to stuff his dick into whatever hole is closest. Drake is busy sucking Manuel with his ass in the air and Jacen steps up to fill it with cock. He pounds Drake hard until Manuel wants a go, and the two studs change places with Jacen getting serviced from the front and Manuel fucking from behind. When Jacen sees how talented Manuel is with his dick, he wants a turn and hops on to ride Manuel in his car. As he bounces up and down, Drake lets loose and drains his balls all over the two studs fucking in front of him. Jacen traces right behind Drake and covers Manuel with jizz before Manuel pulls out of Jace's ass and slathers himself with a load of his own.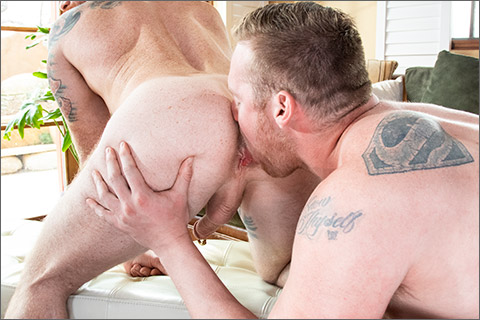 SCENE 3: Ryan Stone fucks Jack Vidra
Jack Vidra and Ryan Stone meet walking down a dirt road in a remote part of the desert. When the hunks meet, they briefly make out before Jack makes his move and reaches into Ryan's jeans to find the bulging meat he desires. Jack gets on his knees in the desert and takes every inch of Ryan down his throat as he gags and opens wide for the stud to go balls deep. It's clear that Ryan is ready to fuck so the guys walk to Ryan's car where they speed off to a secluded house for some more privacy. Once inside, the guys quickly pick up where they left off and Jack bends over to take Ryan's thick cock deep in his ass. Ryan fucks hard and long, until he's ready to taste every bit of Jack's open ass and fully erect cock. The stud bends Jack over and eats his hairy hole as he pays careful attention to Jack's tight balls and pierced cock. Ryan doesn't relent and keeps working Jack's ass and crotch with his mouth and tongue until he's worked up and ready to blow. Ryan stands up and blasts his creamy load all over jack's balls and taint as Jack keeps pounding a rhythm of his own. Using Ryan's jizz as lube, Jack finishes himself off with a big load that pops out of his throbbing cock and mixes with Ryan's mess to leave him covered in cum.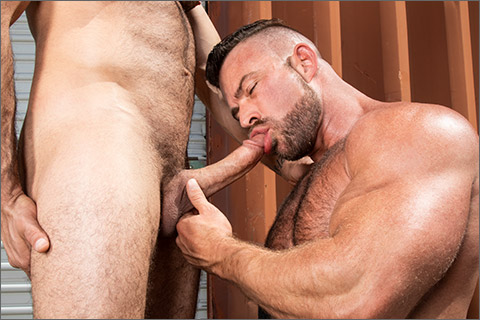 SCENE 4: Ricky Larkin & Liam Knox suck cock
Ricky Larkin catches Liam Knox slacking off on the job and decides to teach the lazy stud a lesson. After commenting on the size of Liam's ass from all the sitting he does, Ricky bends the thick stud over, pulls down his pants, and gets to work licking his sweaty hole. After a nice long rimming session, Ricky gets Liam worked up and ready to suck some dick. Liam turns around and takes Ricky's big cock in his mouth before he lets the stud fuck his face. Ricky's big balls bang against Liam's chin as he pounds the eager stud's mouth. Ricky enjoys the attention his cock is getting, but now needs a taste of Liam's dick. Ricky gets down in front of the stud and slurps on his rock-hard pole. The taste of Liam's cock sends Ricky over the edge when he stands up and demands to see Liam's ass. Liam does as he's told and bends over to let Ricky blast a load all over his nice big bubble-butt. With Ricky's jizz running down his legs, Liam stands up to huff on Ricky's ripe pits. Ricky's man-scent sends Liam into overdrive as he sniffs and jacks his rod, making his cock erupt and sending a thick river of cum down to his feet and onto the parking lot gravel. Liam isn't off the hook though. He still has work to do, and Ricky is going to make sure that it all gets done.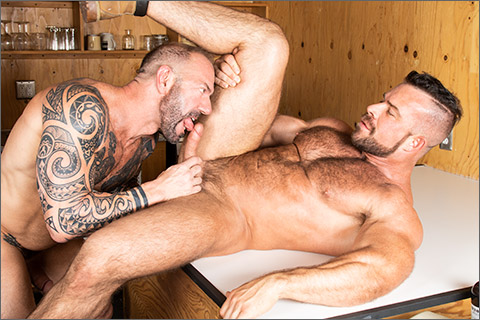 SCENE 5: Vic Rocco fucks Liam Knox
Liam Knox is eating a sandwich in the break room when Vic Rocco comes in to use the restroom. Liam can hear Vic pissing through the door and it's a massive, steady stream that gets Liam's attention right away. "It sounds like you really had to go. I wish I could've seen that," Liam says to Vic in passing. "You still can," the stud replies, and that's all it takes for Liam to get down and take Vic's extra thick dick in his mouth. Liam works it until Vic needs to taste Liam's ass and splays the muscled hunk out on the table to bury his face in his hairy hole. Vic works his way up to sample Liam's cock before he bends him over to finally get what he really wants. Vic slams his cock into Liam's eager hole and fucks him from behind over the table. Vic picks up the pace plunging in and out of Liam until he flips the stud over to see the look on his face as he gets his hole stretched. Watching Liam as he gets fucked is everything that Vic needs and he pulls out to blast his cum all over Liam's hairy body. That gives Liam the permission he needs to surrender to his own needs, and he stands up to cover Vic's chiseled chest with his load.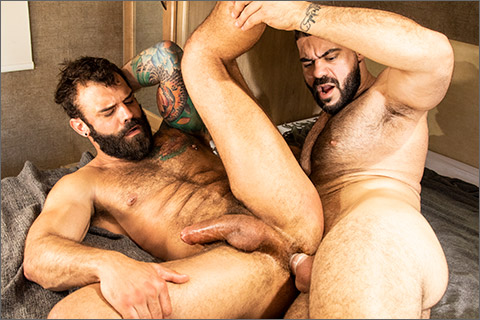 SCENE 6: Ricky Larkin fucks Drake Masters
Drake Masters is hitchhiking on a lonely stretch of desert highway when Ricky Larkin pulls over to pick him up. Ricky is towing a camper and before they go on their way, Ricky suggests they spend some time inside. Drake loves the idea, and the two head into the camper where Drake's eager mouth immediately wraps around Ricky's big, thick cock. Drake's talented mouth feels amazing wrapped around Ricky's meat and it gets Ricky ready for more. Savoring every inch of Drake's hairy hole, Ricky makes sure to open him up before he plunges his monster cock into the stud's tight ass. Ricky goes wild fucking Drake as hard as he can, but Ricky has more adventure planned, and the two studs pause the fucking to get back on the road. After a drive, the two pull into a rest stop where Ricky fucks Drake's throat by the urinals. When Ricky is good to go again, he bends Drake over and slams his cock deep into Drake's well-worn hole one last time. Ricky fucks hard and fast as his balls slap against Drake's taint making Drake moan out with each frenzied thrust from the stud. Drake's hole feels amazing and finally Ricky can't hold off any longer. He rips his cock out of Drake's ass and frantically blasts his load all over Drake's beard and into his mouth. Drake laps up every last drop before he dumps his jizz all over the public restroom floor.

WATCH THE SCENES AT:
RAGING STALLION'S MEMBERS SITE
Members at RAGING STALLION'S MEMBERS SITE can watch these scenes and download extensive Photo Content from this production and get discounted pricing on all DVD and Print purchases.