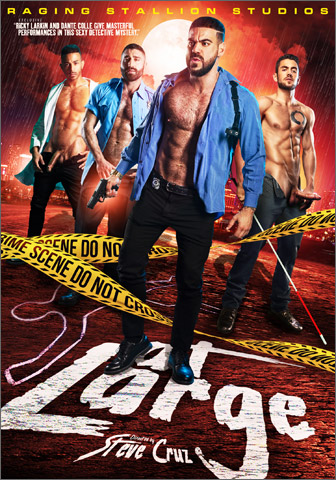 Studio: Raging Stallion
Directed by: Steve Cruz
Year of Production / Release: 2019
Country of Production: U.S.A.

CAST:
Dante Colle
Dillon Diaz
Liam Knox
Alexander Kristov
Ricky Larkin
Logan Moore
Marco Napoli
Sharok
Logan Stevens
Zario Travezz
INFORMATION FROM RAGING STALLION:
With a killer 'AT LARGE', how far would you go to catch him? What risks would you take? Hunky detective Ricky Larkin's is on the case and he's willing to go all the way. Watch as he navigates through a mysterious web of sex, intrigue and jaw dropping twists that will leave you scratching your head and jerking your cock again and again. Join award-winning director Steve Cruz and ten hung studs as they take you on an intricate journey of crime, passion, and hardcore sex in this exclusive new blockbuster, six scene feature written and scored by the director himself.
When Ricky takes a laptop as evidence from Alexander Kristov's murder scene to forensics expert, Zario Travezz, Zario gets more than a new case of diagnostics when Ricky makes his move. Zario hops on to ride Ricky's massive dick until both hard studs drop their loads all over Zario's cock. Ricky gets an anonymous call from Dante Colle, a blind, psychic witness, who has a vision of a man in black watching Marco Napoli visit Alexander Kristov's house for a hook-up. In the psychic retelling of Alexander's final sexual encounter Marco and Alexander flip-fuck and cover each other with cum. But who wanted Alexander dead and why? Ricky interrogates Dante Colle on his knowledge of the case before he sends him on his way. Dante and his boyfriend, Logan Stevens, share an intense shower and fuck session upon his return home. Logan receives a mysterious call and leaves Dante sleeping, but what is Logan up to? As the killer 'AT LARGE' moves in to silence Dante, officers Sharok and Liam Knox arrive to his distress call. After questioning Dante, they leave him alone in his bedroom and head downstairs to watch for intruders. To kill the time, they start flip-fucking on the couch until the mystery deepens. Liam wakes in a daze from a bashed head to discover a disturbing new turn of events. Ricky gets a call from the killer who is holding Officer Sharok and the witness hostage. The captor is having Sharok suck his dick and Ricky only has until the killer busts his nut to find them. Unfortunately, for everyone involved, Sharok is a really great cocksucker. Will Ricky find them in time or will Sharok's talented mouth put everyone's lives at risk? When Ricky faces death, he finds Dillon Diaz and Logan Moore on the other side. Ricky sticks it to both hot studs in a threesome as he faces the battle of his life. Will Ricky choose to cum on the other side or will he take Dillon's advice and wake up to face life where the killer could face justice? Ricky's fucked the case, not to mention every guy along the way. Will Ricky overcome his arrogance and even death itself to crack the case and find the killer 'AT LARGE'?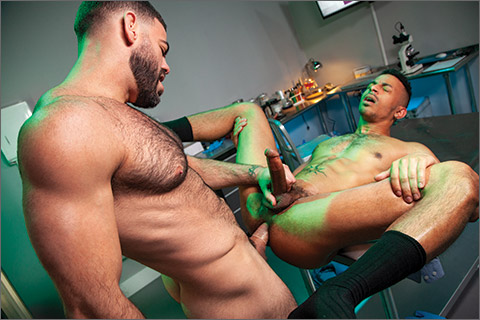 SCENE 1: Ricky Larkin fucks Zario Travezz
Lead sex crimes investigator, Ricky Larkin, takes a laptop as evidence from Alexander Kristov's murder scene to forensics expert, Zario Travezz. As the diagnostics run on the laptop, Zario caves to Ricky's inappropriate workplace advances and drops to his knees to take Ricky's rock-hard dick down his throat. After a sloppy, wet hummer, Ricky wants a taste of Zario's tight ass and bends the hunk over to lick his crack with his tongue. Ricky is good at what he does and soon Zario is ready to take the investigator's dick. Ricky lies back on the forensics lab floor as Zario takes a seat on his massive cock and starts riding. Both hung studs moan out as Zario continues bouncing on the thick pole wedged inside his tight ass. True to the detective's personality, Ricky wants control and takes over plunging Zario's hole. He picks up the pace, opening Zario up even more until Zario drapes himself on a lab table with his legs in the air. Ricky takes over once again and fucks the forensics expert hard and deep until he fucks the cum out of Zario's stiff cock. When Ricky sees the mess Zario made, he pulls out and adds his own pent-up load to the mix, leaving Zario covered in jizz. This case is just beginning. Will Ricky get the evidence he needs to find a suspect? The pressure's on and Ricky knows every second counts.

SCENE 2: Marco Napoli & Alexander Kristov flip-fuck
Detective Ricky Larkin gets an anonymous call from Dante Colle a blind, psychic witness, who describe his vision of the events of the Alexander Kristov's murder. Ricky reluctantly listens to the witness but soon realizes this caller could be legit. Is this the break in the case that Ricky needs to solve the murder? The caller's vision recounts a man in black lurking in the shadows watching a hook-up unfold as Marco Napoli pays a visit to Alexander. Marco enters Alexander's house and promptly gets on is knees to service the hung stud. After trading blowjobs, the guys mix it up by eating each other out until Marco offers up his ass for Alexander to crack open with his massive cock. Alexander can't wait to give Marco what he wants and slides his dick deep into the horny hunk. After fucking Marco in a couple of different positions, Alexander decides it's his turn to get pounded. He hops on Marco's cock and rides it hard as his hairy hole takes a beating. Now, it's Marco's turn to take control and he stands up to give it to Alexander from behind. This is exactly what both studs need to take it to the finish line. Marco pulls out and blasts his load all over Alexander's tight ass before getting down to take a nice big facial. Marco got what he came for, but what exactly did the anonymous caller see in his vision after the tryst? Will Ricky be able to track down Alexander's killer before more harm is done or the trail goes cold?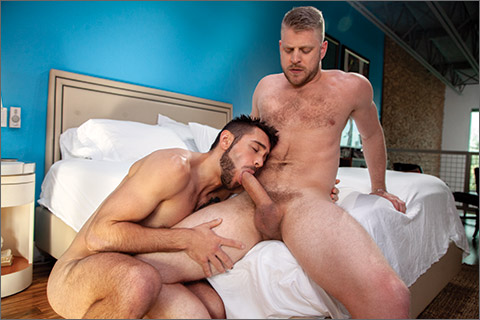 SCENE 3: Dante Colle fucks Logan Stevens
Ricky Larkin interrogates psychic witness Dante Colle after the retelling of his vision of the events. True to form, Ricky is smug and treats Dante more as a suspect than a legit lead in the case. Ricky sends Dante packing and lets him know that he'll be watching him closely. When Dante gets home to his boyfriend, Logan Stevens, Logan is upset with the way Dante was treated. Dante assures him that everything will be okay and the two studs hit the shower where they start making out and getting each other hard. Logan goes down on Dante, taking his big dick in his mouth until Logan is ready for more. After a quick taste of Dante's hole, the guys move it to the bedroom where Logan throws himself onto the bed to offer his hole up for the taking. Dante slides his dick into Logan's eager ass and pumps away, opening Logan up with each thrust from his raging hard-on. Logan wants to see Dante as he gets pumped and switches it up to ride his boyfriend. After bouncing on Dante's pole, Logan flips over one last time and takes it even deeper with his legs in the air. Dante hits just the right spot and makes Logan erupt with cum as his ass clenches around Dante's meat. After a few more thrusts, Dante can't hold back and pulls out to cover his boyfriend with his load. When Dante falls asleep, Logan gets a mysterious call and leaves to meet whoever is on the other end. What is Logan up to and is it somehow related to the murder?

SCENE 4: Sharok & Liam Knox flip-fuck
As the killer moves in to silence Dante, officers Sharok and Liam Knox arrive to his distress call. They question Dante, and then leave him alone in the bedroom to head downstairs to keep watch. There's nothing else to do as they protect the house, so Liam suggests that Sharok suck his dick to pass the time. Sharok happily unzips Liam's pants and gets to work taking Liam's thick dick down his throat. Sharok knows how to use his lips and tongue and Liam wants to return the favor. He gets Sharok rock-hard with his talented mouth until Sharok is ready to fuck. Liam bends over to take his fellow officer up his ass and get a pounding he won't soon forget. Liam loves every inch that Sharok pounds into him, but now it's his turn to rail his brother in blue. Liam splays Sharok out on the couch and gets his ass ready for cock with his tongue before shoving his massive boner deep into Sharok. The guys switch up their positions as Sharok takes all of what Liam has to offer. Liam can no longer hold off and pulls out to cover Sharok's hairy taint with a fresh load. When Sharok feels Liam's cum hit his skin, he lets loose and blows a load of his own. After their fuck-sesh, a hazy cloud descends on the house when a disoriented Liam wakes to a bashed head and a new disturbing turn of events.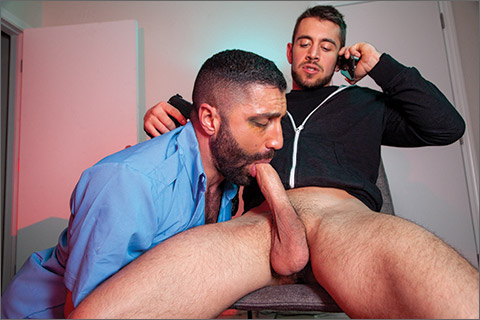 SCENE 5: Sharok sucks Dante Colle's cock
Detective Ricky Larkin gets a call from the killer who's holding the witness and Officer Sharok hostage. The clock is ticking for Ricky to find them before any more harm can be done. The witness is tied up while the killer has his way with Sharok. The officer doesn't want to upset his captor and does everything he's told, including sucking his dick. Ricky needs to find the killer before he cums in order to avoid disaster. Unfortunately for Ricky and the hostages, Sharok is an expert at sucking cock. Sharok works the killer's shaft with his mouth, sucking and slurping as the man in black edges to give Ricky a fighting chance at cracking the case. Sucking the big dick in front of him is making Sharok horny and when the killer notices his hard-on, he commands Sharok to cum. Sharok does as he's told and drops a giant load all over the floor. "That's so hot," the captor says as he stands up to cover Sharok's beard and face with jizz. Time's up when the killer nuts but will Ricky be able to find them before tragedy strikes? And will Ricky be able to save his own life in the race against time?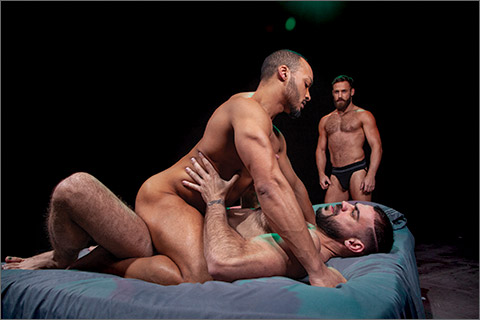 SCENE 6: Ricky Larkin fucks Logan Moore & Dillon Diaz
When Ricky Larkin faces death, he has a vision of an old friend, Dillon Diaz. Dillon isn't in the realm of the living anymore and now Ricky has a chance to fuck him one last time. "Get up!" Dillon keeps coaxing to the living Ricky, but ethereal Ricky wants Dillon to himself. Dillon knows that time is tight so he cuts to the chase and sucks Ricky's hard cock. Dillon can sense that Ricky is ready to fuck and hops on the detective's dick to ride it. As Dillon is getting fucked by Ricky, Logan Moore appears to Dillon and shoves him off Ricky to take his rightful place on Ricky's giant cock. There's a tension between Dillon and Logan but the studs work through it to get all the pleasure they can. Logan bends over to take Ricky's dick up his ass as he sucks Dillon's cock. Logan loves the feeling of all the dick he can get and rolls over onto his back to take Ricky even deeper. As Dillon tries to get Ricky to wake up to the land of the living, he relents and bends over to let Ricky fuck his tight hole one last time. With Ricky pounding his ass, Dillon lets loose and dumps his load. The sight of Dillon's jizz is all it takes for Logan to give himself permission to do the same. Ricky is the center of attention now! As he jacks his massive cock, he's torn between kissing Logan and Dillon. Will kissing Logan keep him from living? If he chooses Dillon is he choosing life? Just as he's ready to cum, Ricky faces a tough decision. Will he stay with Dillon and Logan for eternal bliss in death, or will he live and wrap up the case that could haunt him even on the other side of life?

WATCH THE SCENES AT:
RAGING STALLION'S MEMBERS SITE
Members at RAGING STALLION'S MEMBERS SITE can watch these scenes and download extensive Photo Content from this production and get discounted pricing on all DVD and Print purchases.