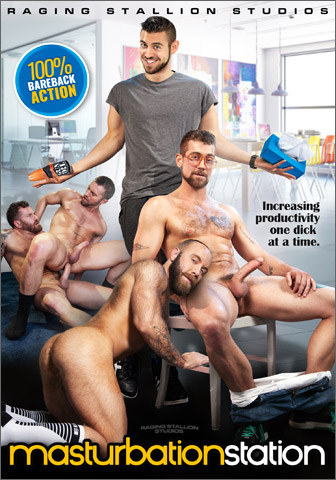 Studio: Raging Stallion
Directed by: Steve Cruz
Year of Production / Release: 2019
Country of Production: U.S.A.

CAST:
Jay Austin
Teddy Bear
Dante Colle
Tristan Jaxx
Trent King
Cris Knight
Ricky Larkin
Riley Mitchel
Ryan Stone
Colby Tucker
Kurtis Wolfe
INFORMATION FROM RAGING STALLION:
Horny, young tech CEO, Dante Colle cooks up a plan to boost morale at his mobile app company: a 'MASTURBATION STATION'. His idea of a prescribed wank area at the office is a huge win. Happy employees are supposed to be more productive and creative on the job, and his 'MASTURBATION STATION' quickly turns into a hardcore fucking station, but is any one actually getting any work done? Watch this hilarious, six-scene bareback gay porn from the comedic mind of Steve Cruz, who pokes fun at tech company perks while his 11 hung, hard and horny office studs poke each other in intense, raw fucking. Co-workers Colby Tucker and Riley Mitchel get nominated by their boss to break in the 'Masturbation Station'. Riley initiates the action and bends Colby over to pound him with a stiff raw dick, until Riley gives Colby his load and fucks it deep into his spent ass. CEO Dante Colle, Kurtis Wolfe, and Cris Knight celebrate corporate success with a cum-filled threesome. Cris drops to his knees to take both hung studs down his throat before bending over to let the guys spit-roast him until Cris' mouth and ass are filled with cum. While playing video games in the office, Ryan Stone pulls out his dick to distract Teddy Bear. The move works and Teddy ditches the game in favor of Ryan's raw cock up his ass. Ricky Larkin is at the office giving out massages when Colby Tucker pops a boner on the massage table. The masseuse quickly pulls out his cock and Colby goes to town sucking until Ricky dumps a sticky white load all over Colby's eager face. Tristan Jaxx and Kurtis Wolfe are taking advantage of the 'Masturbation Station' when Kurtis kicks it up a notch and sucks Tristan's dick. The boss comes on for a video conference just as the studs start flip-fucking and decides to stay and watch. HR geek Jay Austin sucks Ricky Larkin and Trent King at the same time before bending over to get tag-teamed, then Trent gets a turn at being fucked by Ricky. Jay spreads his legs and soon his ass is filled with his co-worker Trent's giant load. Every company should have a 'MASTURBATION STATION' where you, and your co-workers can take care of all your steamy office desires.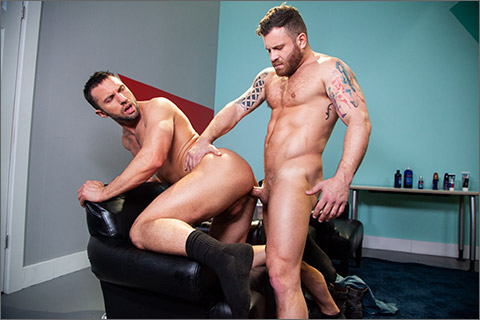 SCENE 1: Riley Mitchel fucks Colby Tucker
Co-workers Colby Tucker and Riley Mitchel get nominated by their boss as the first two guys to break in the new 'Masturbation Station' at work. The guys are offered a $300 bonus from their boss to whomever can cum first. Colby is shy at first so Riley takes the lead towards the bonus and whips out his cock and tells Colby to get on his knees and suck it. Colby gobbles it down his throat, eager to get every inch he can cram inside his mouth. Colby knows he wants Riley's raw cock deep in his ass and gets his co-worker throbbing hard, so he can bend over to let Riley have his way. Riley gives the stud what he needs and slides his swollen bare cock all the way in to the base. Colby moans out as Riley pumps away, picking up the pace as he continues drilling his ass bareback from behind. Colby wants Riley's pole deeper in his crack and hops on to ride it his way. Colby's eyes roll back as Riley's thick meat keeps sliding in and out of his ass. Switching it up one more time, Colby rolls onto his back to let Riley pound away on his ass. That's all it takes for Riley to bust his load all over Colby's balls and taint before his slams his cock back inside Colby's used-up hole. With cum dripping from his ass, Colby jacks his meat and blasts his own load all over himself. Who deserves the bonus money now?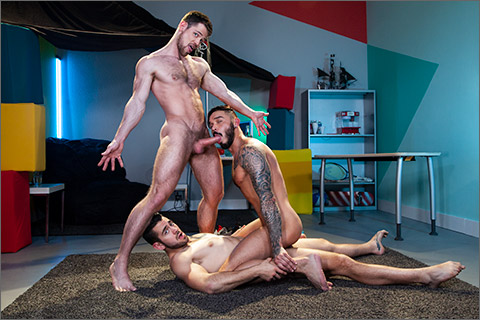 SCENE 2: Kurtis Wolfe & Dante Colle fuck Cris Knight
Company CEO, Dante Colle wants to celebrate the roll out of the new 'Masturbation Station' by getting down and dirty with his assistant, Kurtis Wolfe, and office intern Cris Knight. The three studs meet in the middle of the room and almost instantly, Cris is on his knees sucking Kurtis' thick cock. Dante jumps in and offers up his stiff, hairy cock for Cris to suck down. Eager to impress, Cris keeps sucking on his superiors' big dicks as he crams them both in his mouth at the same time. Now needing more than a dick in his mouth, Cris bends over to let his boss fuck him from behind as he continues giving Kurtis' a sopping wet hummer. Dante is so impressed by his intern's hole that he invites Kurtis over to give it a go. Kurtis slams his bare cock into Cris' backend and pounds away, stretching his hole to the limit. The studs switch it up into a few more positions with Cris taking turns getting slammed by both of his co-workers. In the end, Cris gets spit-roasted as Kurtis plugs his ass and Dante fucks his face. Seeing Cris getting each of his holes filled with dick sends Kurtis over the edge and he pulls out to cream on Cris' smooth taint. Kurtis fucks his seed into the intern before Dante loads up Cris' hungry mouth with another load of warm jizz.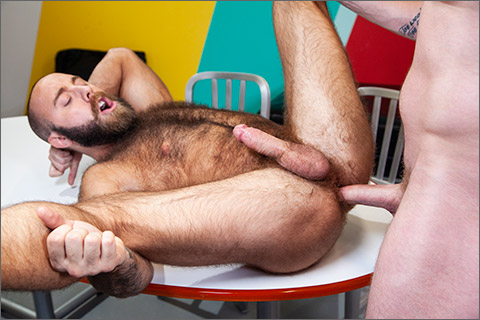 SCENE 3: Ryan Stone fucks Teddy Bear
Teddy Bear and Ryan Stone are playing video games in the office when Ryan pulls out his giant cock to distract Teddy from the game. The ballsy move works and Teddy ditches the game to get down on sucking Ryan's dick. Teddy gets office mate revved up and ready for more action and bends over to let the hung stud bury his face in deep in his hairy hole. Ryan can't get enough of Teddy's furry ass and opens it with his tongue before he stands up to ram his raw rod deep into Teddy's hole. After getting caught by the prude from Human Resources, the dirty pigs continue fucking and soon Ryan is bareback, balls deep inside Teddy's furry asshole. Ryan pounds away relentlessly, reaming Teddy's hole hard until he wants to see the look on Teddy's face as his unsheathed cock glides in and out of the panting stud. Ryan turns the hairy hunk around and continues his aggressive fucking until Teddy begs to be bred. Ryan gives Teddy what he wants and blasts his load all over Teddy's fuzzy hole. Ryan scoops up his own cum and finger fucks it deep into Teddy's ass as Teddy blows his own cream all over his hairy body.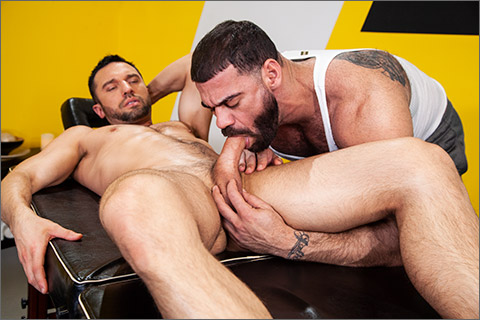 SCENE 4: Ricky Larkin & Colby Tucker suck cock
It's 'open massage Wednesday' at the office and Ricky Larkin is the masseuse on hand. Colby Tucker visits Ricky to get rid of some tension in his back when he pops a boner on the massage table. Colby is embarrassed and tries to leave but Ricky takes it to the next level and offers up his muscle-riddled body. Colby cuts right to the chase and bends the hunky masseur over to crack his ass open for a taste. Colby savors it, getting Ricky hard as a rock as his tongue works his hole. Colby can't hold off any longer and needs Ricky's dick down his throat. Ricky happily obliges the needs of his massage client and lets Colby lick every inch of his big cock. Working Ricky's meat in and out, Colby takes the big dick all the way down his throat. Colby gets deeper with his oral fixation and Ricky can no longer hold off. The stud pushes Colby off his dick and pulls back to spray Colby's face with thick ropes to his face. It's a creamy, sticky mess that coats Colby's face until he rubs one out himself and covers his own body with a load of cum.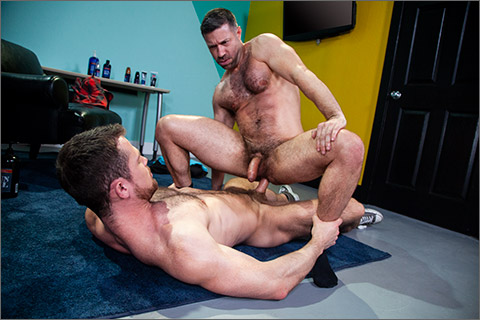 SCENE 5: Tristan Jaxx & Kurtis Wolfe flip-fuck
Tristan Jaxx and Kurtis Wolfe are jerking off at the 'Masturbation Station' to relieve some stress when Kurtis makes a move on Tristan. Kurtis' co-worker happily accepts the offer and soon his dick is getting serviced by Kurtis. Tristan wants a taste of Kurtis' meat too and returns the favor by sucking Kurtis' big fat cock. That's all it takes for Tristan to get rock hard so he can bend Kurtis over to fuck him up the ass. Tristan slides his bare cock into Kurtis' asshole and pounds away from behind, making Kurtis moan out with each thrust from his massive dick. In the middle of it all, the boss, Dante Colle, tunes in for a video conference and decides to watch the bareback fun unfold with his dick in his hand instead. Despite the distraction of prying eyes from their boss, it's time for Tristan to have some cock now, and he hops on Kurtis to take a ride. Tristan doesn't stop riding until he's done the job of making Kurtis cum. In this intense, raw flip-fuck Kurtis pulls out and blasts his jizz everywhere before he fucks it back inside Tristan's plowed hole. By now, Tristan is ready to blow his own load and hops off Kurtis to take a seat at the station and blast all over himself while the boss rubs one out watching.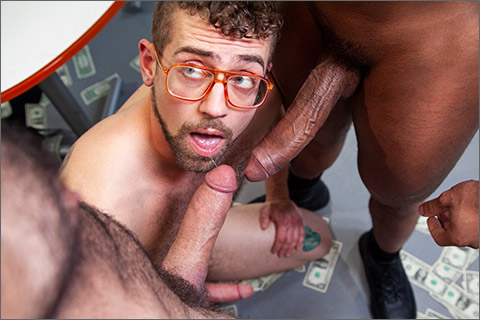 SCENE 6: Ricky Larkin, Trent King & Jay Austin fuck around
Trent King and Jay Austin are having a strategy meeting to discuss business when Ricky Larkin crashes the meeting with a dick shaped birthday cake for Trent. Ricky knows what Trent wants for his birthday, so he pulls out his dick and puts it in Trent and Jay's faces. Jay can't resist a nice dick or two when he sees them and sinks to his knees to suck Ricky and Trent at the same time. Jay is in cock sucking heaven, and soon he's bent over the table with Trent's raw cock planted firmly in his ass. Ricky comes around the front to feed Jay his cake-covered dick in his mouth. Jay's hole is nice and tight and the guys can't help but take turns passing him back and forth as they each pound his ass. Barely a second goes by when Jay doesn't have a raw cock in each end until Trent wants a go with Ricky. Trent lies back on the table and lets Ricky pound his fuckable hole. Jay takes his place sitting on Trent's face as Ricky fucks him bareback from behind. Trent's ass feels so good that it makes Ricky blast his load all over Trent's big dick. Jay wants one more stretching and spreads his legs to take Trent deep inside one last time. Trent pounds away on Jay's hairy hole until he fucks the cum out of Jay's hairy cock. When Trent sees Jay covered in cum, he pulls out and slathers Jay's hole with thick white jizz before shoving it back inside with his raw cock.

WATCH THE SCENES AT:
RAGING STALLION'S MEMBERS SITE
Members at RAGING STALLION"S MEMBERS SITE can watch these scenes and download extensive Photo Content from this production and get discounted pricing on all DVD and Print purchases.