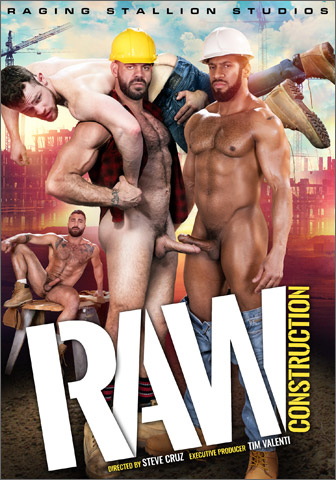 Studio: Raging Stallion
Directed by: Steve Cruz
Year of Production / Release: 2019
Country of Production: U.S.A.

CAST:
Derek Bolt
Trent King
Jay Landford
Ricky Larkin
Adam Ramzi
Grant Ryan
Sharok
Jaxx Thanatos
Kurtis Wolfe
INFORMATION FROM RAGING STALLION:
Rugged men in hard hats with throbbing cocks getting sweaty and fucked bareback on the job is what 'RAW CONSTRUCTION' is all about. Join award-winning director, Steve Cruz, and his nine horny hard workers of construction as they suck and fuck raw, leaving asses filled with thick loads. Ricky Larkin and Jaxx Thanatos are on the job with new guy, Kurtis Wolfe. Ricky and Jaxx form a fuck chain and tag-team Kurtis until Kurtis' used-up hole is filled with jizz. Kurtis Wolfe and Trent King take their lunch break and Kurtis gets a hefty amount of meat between his buns. The two flip-fuck until each is loaded with cum. Adam Ramzi and Sharok sneak onto a closed construction site to get some raw action in. Adam plunges Sharok's hairy hole with his thick, bare cock until Sharok is used up and filled with Adam's load. When Ricky Larkin discovers Grant Ryan hanging drywall all wrong, his temper flares. Grant subdues Ricky with a sopping-wet blowjob that ends with Grant riding Ricky's fat dick until his ass is loaded with cum. Derek Bolt is giving Jay Landford a tour of his new home that's still under construction. As the tour continues, Jay's distraction by Derek's perfect ass becomes evident. The two studs get naked and Jay slides his uncut and bare monster cock deep into Derek's hole, pounding away until Derek's ass is fill with jizz. On this job site, the 'RAW CONSTRUCTION' is all raw, and all construction.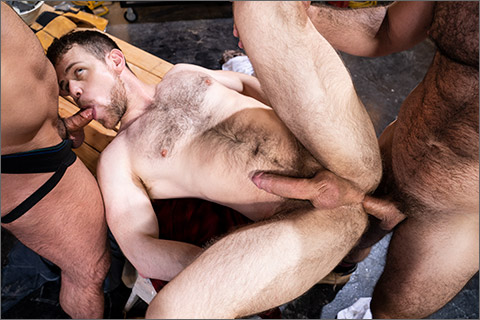 SCENE 1: Ricky Larkin, Kurtis Wolfe and Jaxx Thanatos fuck around
Ricky Larkin and Jaxx Thanatos are out on a construction site with new hunk, Kurtis Wolfe. Ricky and Jaxx like what they see and surround Kurtis to properly welcome him to the work site. Jaxx gets Kurtis down on the workbench as Ricky pulls down his pants and shoves his hard cock into Kurtis' face. Kurtis is hesitant at first, but soon warms up and realizes he loves getting his body used by his two hunky co-workers. Jaxx wants in on the action and peels off his clothes to get behind Kurtis. Jaxx opens Kurtis' cheeks and plants his tongue as Kurtis keeps sucking Ricky's hard cock. After Jaxx gets Kurtis opened up, Ricky decides to take the next step and shove his raw dick into Kurtis' hairy ass. Jaxx and Ricky switch sides with Jaxx up front as the studs spit-roast Kurtis. Seeing Kurtis getting plowed from behind makes Jaxx eager for cock himself and bends over to let Kurtis fuck his hole. Kurtis isn't done getting fucked yet, though. He still wants Ricky inside of him and the three form a fuck-chain with Kurtis in the middle. Kurtis can't get enough dick and lies back on the bench to let his new co-workers take turns tag-teaming his hole. Kurtis loves the feeling of the studs plowing in and out of his ass and cums hard as Ricky blows his load in deep Kurtis' ass. The sight of Ricky's jizz leaking out of Kurtis makes Jaxx ready to blow and he sticks his dick into the gooey mess to finish himself off leaving Kurtis filled with two massive loads of cum.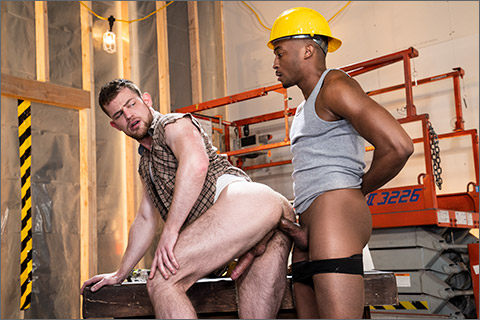 SCENE 2: Kurtis Wolfe & Trent King flip-fuck
Kurtis Wolfe and Trent King take their lunch break and when Kurtis bites into his burger, he's disappointed with the amount of meat between his buns. Lunch will be saved, though, because Kurtis has a solution to bring more meat to the table. Kurtis eyes Trent's bulging crotch and goes in for a taste of what's underneath Trent's jeans. Kurtis takes the entire monster cock down his throat and gags as he goes all the way to the base. It's almost too much for Kurtis to swallow so he bends over to give it a shot with his other hole. Trent shoves his raw cock inside Kurtis from behind and plugs away on the hungry stud. Trent keeps up the pace until he turns Kurtis around to get a look at his face. Without missing a beat, Trent continues fucking the construction stud lying on the table in front of him with his legs spread wide. Kurtis takes the bareback pounding until Trent asks to get fucked raw too. Kurtis happily helps the horny hunk out and slides his dick deep into Trent's ass. Kurtis fucks him hard until his cock erupts on Trent's well-worn ass. As a bonus to Trent, Kurtis fucks his own cum back into the panting stud. "My turn," Trent declares as he mounts back up on Kurtis and finishes off by shoving his jizz deep into Kurtis' fuzzy hole.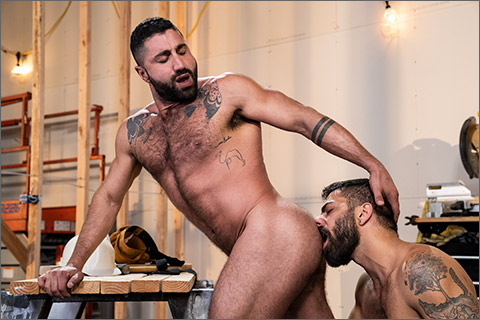 SCENE 3: Adam Ramzi fucks Sharok
Adam Ramzi and Sharok sneak onto a construction site at night when no one is around to get have some uninhibited fun. Adam is hungry for dick and doesn't waste a second getting on his knees in front of a naked, Sharok. Adam takes the hairy meat down his throat and grabs Sharok's phone to record the fun. After getting his fill of dick and opening Sharok's ass with his tongue, Adam is ready to plant his rod deep inside Sharok. Adam stands up and slides his raw cock into Sharok's crack and picks up the pace to fuck the stud fast and deep. Sharok takes the phone and keeps recording the action as Adam continues the ass ramming. Switching it up, Adam flips Sharok over to watch as he fucks the hairy stud on his back with his legs in the air. Adam pumps in and out of Sharok's hairy hole until his cock bursts and sprays cum all over Sharok's ass. Adam pounds his load inside and continues until Sharok blasts his own load all over his own hairy crotch.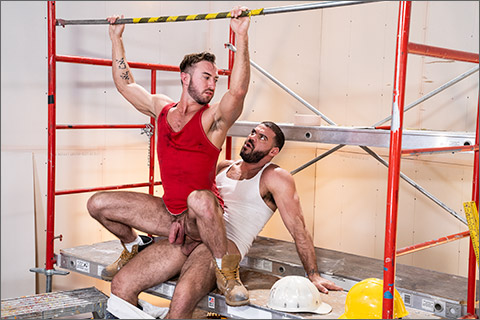 SCENE 4: Ricky Larkin fucks Grant Ryan
Grant Ryan is hanging drywall when Ricky Larkin comes in to check up on his work. Grant's work is all wrong and it sends Ricky into a rage. The only way Grant can prove his worth and convince Ricky not to fire him is to render his services on Ricky's big dick. Grant eagerly drops to his knees as Ricky drops his pants to the floor. Grant's wraps his warm mouth around Ricky's cock and makes sure Ricky is fully erect, so Grant can sit back to let Ricky slide into him balls deep. Grant hops on top of Ricky's fat, raw dick and bounces up and down, keeping Ricky on the edge and ready to burst. Ricky isn't done just yet though and throws Grant onto his back with his legs splayed. Ricky shoves his bare cock inside once again and continues the relentless pounding until he dumps his load all over Grant's hairy crotch. Ricky scoops up the cum with his dick and shove it all back inside Grant's throbbing hole. The feeling of Ricky's dick sliding around in his cum-filled ass is all it takes for Grant to let loose and blow his own load all over his own hairy body.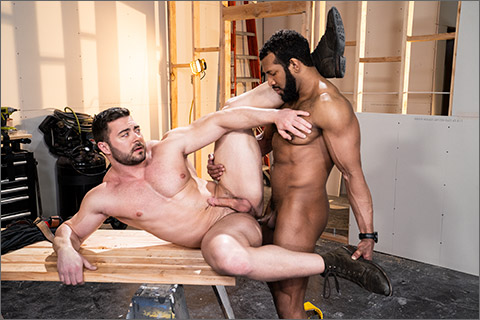 SCENE 5: Jay Landford fucks Derek Bolt
Derek Bolt is giving Jay Landford a tour of his new home that's still under construction. When Derek mentions that Jay will be able to "fit all his junk" in the master closet, Jay gets distracted and can only think of Derek's big ass. Derek is open to Jay's advances and soon both studs are getting undressed in the middle of the construction zone. Derek is the first to cave to his desires and drops down to suck on Jay's monster uncut cock. Derek can't get enough of the thick meat and would be content to suck it all day long if his ass didn't need a raw dick so bad. Derek urgently bends over the work bench and arches his back to give Jay full access to his hole. Jay slips his bare dick in and pounds hard as Derek moans out with each thrust from Jay's swollen cock. The studs switch it up a few times before settling back on Jay mounting up from behind one last time. With a few final thrusts of his giant dick, Jay cums all over Derek's bubble butt and shoves the jizz inside to continue fucking the construction worker all the way to the end. With his ass full of cum, Derek is ready to blow and turns around to shoot his load all over the floor.

WATCH THE SCENES AT:
RAGING STALLION'S MEMBERS SITE
Members at RAGING STALLION"S MEMBERS SITE can watch these scenes and download extensive Photo Content from this production and get discounted pricing on all DVD and Print purchases.