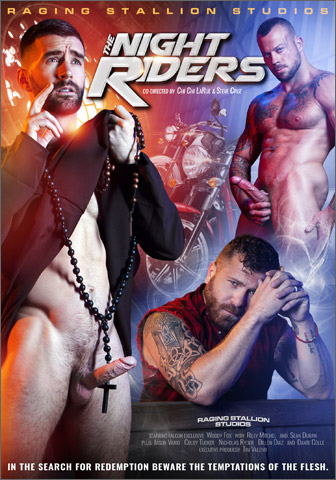 Studio: Raging Stallion
Directed by: Steve Cruz & Chi Chi LaRue
Year of Production / Release: 2019
Country of Production: U.S.A.

CAST:
Dante Colle
Dillon Diaz
Sean Duran
Woody Fox
Riley Mitchel
Nicholas Ryder
Colby Tucker
Jason Vario
INFORMATION FROM RAGING STALLION:
'THE NIGHT RIDERS' are coming and they're here to seek your soul – in the search for redemption, beware the temptations of the flesh. In this horror-thriller gay porn brought to you by award-winning co-directors Steve Cruz and Chi Chi LaRue, eight hard studs are looking to suck more than just your cock. Tatted mechanic Riley Mitchel gets held at gunpoint by Colby Tucker and Jason Vario, and the robbers quickly learn Riley is getting off on the thrill. The three hung studs take turns swapping all the dick and ass they can get before leaving the mechanic shop slathered with jizz. After being fucked silly, Riley tries to comprehend what he sees in his hazy stupor. He's confused about his run-in with the thugs and turns to his priest, Father Woody Fox, for guidance. Woody offers up his advice in the form of a throbbing hard uncut cock that Riley happily takes up his perfect ass. The unlikely pair fuck hard in the church until Riley's face and body are covered with holy cum. Dillon Diaz's bike has broken down and needs a repair. When Dillon enters the shop, mechanic Nicolas Ryder refuses to help but offers different services instead. Nicolas and Dillon take turns plugging each other's holes until they drain their balls all over each other. Things take a sinister turn and Dillon puts his ass on the line. Later on, Sean Duran enters and finds Dillon on the floor with Riley chained up nearby. Sean and Dillon take turns sucking cock until Sean unloads inside Dillon's warm mouth. Sean makes a revelation that will alter the course of Dillon and Riley's lives forever in a dark ritual orgy featuring Woody, Sean, Dante and Riley. The four studs join together in a jaw-dropping group fuck fest of dick meeting ass until Sean is covered with cum and 'THE NIGHT RIDERS' darkest secrets are revealed. When 'THE NIGHT RIDERS' come for you, weigh your options carefully. Is an eternity with hard and horny muscle studs worth the price of your soul?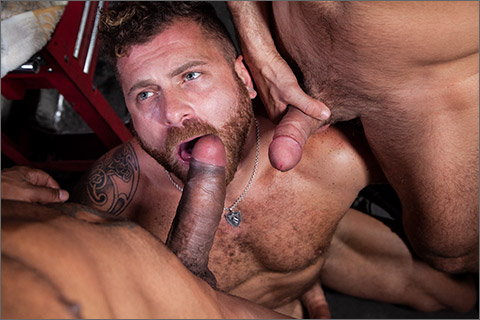 SCENE 1: Jason Vario & Colby Tucker fuck Riley Mitchel
Ripped and tatted mechanic, Riley Mitchel, gets held up at gunpoint by robbers, Jason Vario and Colby Tucker. When Riley reveals there's no money in the shop, Colby pulls down Riley's pants and discovers that Riley really likes the thrill of being robbed. Colby's mouth begins to water, and he quickly gets on his knees to service Riley's thick curved cock as Jason pulls down his pants to get in on the action. Colby takes his cue and services both hung studs, choking and gagging as he takes both big members down his throat. When Riley can no longer take the anticipation of tasting what the burglars have to offer, he takes his turn on the floor sucking all the cock he can fit in his mouth. Riley wants more from the thugs and offers up his succulent hole for Colby to stuff with his big, raging hard-on. Colby pumps Riley from behind as Riley continues to satisfy his cravings for cock by slurping Jason's uncut meat down all the way to his full sack. After pounding Riley's ass, Colby wants to feel Riley's thick meat deep in him and lies on the floor with his legs spread wide. Riley pumps hard, getting himself to the brink before Jason steps up to take his turn. Riley wants his hole stretched by Jason's big cock too, so he lies back to take it. Jason fucks the cum out of Riley before he pulls out and finishes off at the same time as Colby shoots all over Riley's hungry face. Did Riley successfully avert a robbery or did he just create a whole new set of problems?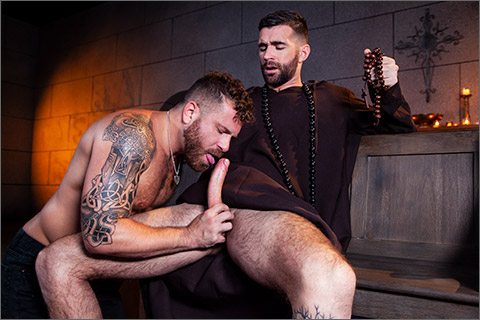 SCENE 2: Woody Fox fucks Riley Mitchel
Riley Mitchel has survived his run-in with two armed robbers and has questions about the ordeal. In his moment of need, Riley turns to The Church and Father Woody Fox for spiritual guidance. Riley gets what he came for and more when Woody throws back his cassock to reveal a massive uncut dick. Riley takes one look at the giant cock and opens his mouth wide to worship The Fathers holy member. Woody can't control the temptations of the flesh and takes his turn in front of Riley, getting his face fucked deep until he's ready to get his dick wet again. Riley knows what the priest seeks and offers up his ass to be sacrificed for forgiveness. Woody can't clean Riley of sin fast enough and plunges his cock in to start pumping. Riley moans with each thrust of the long cock but needs to feel it even deeper. The priest sits back in the church pew to let Riley ride it down to the base. Riley sits on Woody's big pole and rides it up and down as his ready-to-burst cock flops against his stomach. Riley's tight ass feels amazing surrounding Woody's dick and he can no longer hold off. Riley gets down between Woody's legs to let the priest unload his holy cum on his face. With a fresh load in his beard, Riley lets loose and pumps his cock until it spews cum all over his own heaving, sweaty body.

SCENE 3: Nicolas Ryder & Dillon Diaz flip-fuck
Nicolas Ryder is fixing bikes in the shop when Dillon Diaz comes in looking for a repair. Nicolas isn't up for helping and instead decides to pull down his pants and drop to his knees to start sucking the hung stud in need. When Nicolas has had his fill of dick in his mouth, he sits back and lets Dillon take over. Dillon works Nicolas' huge cock and giant balls with his mouth until he's ready for more. Dillon gets Nicolas on the floor and bends the mechanic's legs over his head to eat his hairy ass. He makes it nice and sloppy wet before he gets down to business and slams his cock deep inside Nicolas' tight hole. Dillon relentlessly pounds away until he's ready to get his hole drilled. Nicolas is happy to let Dillon hop on his cock and lies back on the floor to let Dillon take a ride. Dillon keeps riding as Nicolas hits just the right spot with his stiff cock. With Nicolas still pounding his hole, Dillon's cock explodes all over Nicolas' ripped, hairy body. Dillon's warm load is still dripping from his abs when Nicolas stands up and feeds his load to the broke-down customer. Something's not right in this motorcycle shop and this customer just put his ass on the line. Is Dillon in danger or is this mechanic just one more bizarre notch in the oil pan?

SCENE 4: Sean Duran & Dillon Diaz suck cock
Sean Duran finds Dillon Diaz on the floor of the shop with Riley Mitchel chained up nearby. As Riley looks on, Sean gets to work sucking on Dillon's ass. All the tongue action on his hole gets Dillon revved up and soon he's no longer able to resist the temptation of Sean's massive cock. Dillon gets it all down his throat and pays special attention to Sean's full sack, getting Sean in the mood to taste some dick. Sean gets Dillon up on the work bench and satisfies his cravings by slurping on the throbbing pole between Dillon's legs. The cock-hungry stud can't get enough dick down his throat and keeps up his sloppy sucking as Dillon moans out from all the pleasure. Sean is still horny and stands up to jack their thick rods together. The suck off session gets both studs ready to blow, and after one last taste of Dillon's sweet ass, Sean dumps a load right into Dillon's open mouth. That's all it takes for Dillon to let go and he jacks his meat until he covers the floor with a thick, creamy load. Riley is still looking on when Sean gives him a terrifying surprise and life-altering choice that will affect both Riley and Dillon's fates forever.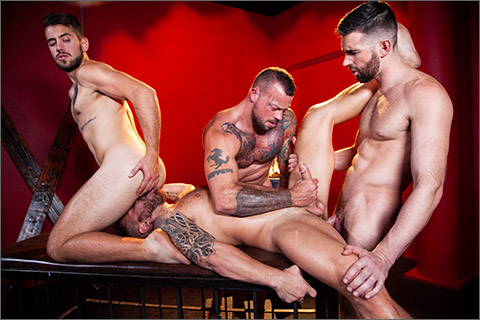 SCENE 5: Woody Fox, Dean Duran, Dante Colle & Riley Mitchel fuck around
Sean Duran makes a revelation that will alter the course of Riley Mitchel's life forever in a dark, intense orgy featuring Riley, Sean, Dante Colle, and Riley's priest, Woody Fox. After a mysterious ritual, Riley bends over to accept his fate. Dante slips his cock inside the horny stud as Riley takes Woody in his mouth. Dante can't get enough of Riley's tight hole and keeps plugging away until the priest wants in. Woody takes over stretching Riley's ass as Dante moves on to let Sean suck his cock. All that dick in his mouth makes Sean ready to get fucked and he lies back to let Woody plug his hole. Woody pounds away on Sean's hole that leaves him begging for all the cock he can get in each one of his holes. Every stud is hard and ready to blow and the sight of Sean getting stuffed with dick is enough to push them all over the edge. With Woody still pumping in and out of Sean, Dante is the first to succumb. He dumps his creamy white load all over Sean's sweaty, muscled-up body. As he's finishing up, Woody fucks to the point of no return and pulls out to spray Sean's tight sack with his load. Sean needs fresh cream in his mouth and opens wide for Riley to deliver it right from the tap. Riley spills into Sean's mouth completing the circle, which gives Sean permission to blast onto his own ripped abs. The ritual is complete, and the outcome of 'The Night Riders' is revealed in this stunning conclusion.

WATCH THE SCENES AT:
RAGING STALLION'S MEMBERS SITE
Members at RAGING STALLION"S MEMBERS SITE can watch these scenes and download extensive Photo Content from this production and get discounted pricing on all DVD and Print purchases.