Studio: CockyBoys
Directed by: Jake Jaxson
Year of Production / Release: 2013 / 2014
Country of Production: U.S.A.

CAST:
Jake Bass
Duncan Black
Max Carter
Bravo Delta
Chris Harder
Levi Karter
Dean Monroe
Jasper Robinson
Ricky Roman
Dillon Rossi
Max Ryder
Frankie V.
Diesel Washington
Saxton West


INFORMATION FROM COCKY BOYS:
Director's Note from Jake Jaxson:
Today I'm proud to release The Banker, part one of the five part miniseries Answered Prayers. Part one stars the stand-out CockyBoys exclusive performers Jake Bass and Ricky Roman, with a delicious cameo by Max Carter– don't worry, you'll be seeing a lot more of Max in the upcoming films!
   I was recently asked what Answered Prayers is about. My answer was simple: Fear… Fear's destructive power and what it takes to beat it.
   It's a highly personal project for me. Earlier this year, when I was experiencing my own feeling of success and triumph, I still had these little voices inside my head whispering and trying to seduce me into actions based on fear, upset, and anger.
   At night, sometimes I'd lull myself to sleep devising more and more intricate ways to "get even" or exact revenge on someone that's wronged me– come on, we've all done it! You know: those devilish daydreams involving a co-worker, an over-zealous dance mom, your parent or sibling. Have you ever wondered where those little voice in your head come from? The ones that have the power keep us OUT of trouble and so often get us INTO trouble? Oh, these voices– how they dance around inside our heads and whisper sweet nothings in our ear. They encourage and justify our every move, playing on our best hopes and fears like a harp from hell.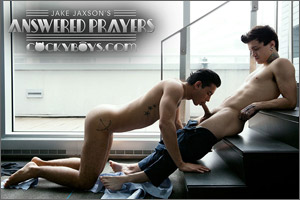 SCENE 1 – THE BANKER: Jake Bass & Ricky Roman
From sea to sea, the earth is plagued with brilliant natural disasters, Acts of God, economic collapse, and bumbling political drones — all broadcast on various forms of media at all hours of the day for the hungry and panic-stricken public eye.
   But an Orwellian post-apocalyptic future this is not. It's the tail end of 2013, and drug-addled banker (Ricky Roman) finds himself at the center of a financial meltdown. Haunted by thoughts of suicide, a mysterious and unusual entity named Jinks (Jake Bass) appears to him with a pair of scissors, a mirror, a series of questions, and the hottest sexual encounter he's ever had.
   Jinks carefully inspects the banker… dissecting, inspecting, studying… we wonder– was Jinks satisfied or dissatisfied with what he saw? Jinks then starts shearing off the banker's suit– meticulously, but at some moments brutally. The banker is left there to stand naked with nothing but his vulnerability… and fear. Jinks forces the banker to hold a mirror, to discover and analyze himself, as Jinks begins to discover the banker– with his mouth.
   What follows is an intensely sexual journey for Jinks and the Banker– a transcendent experience for both characters.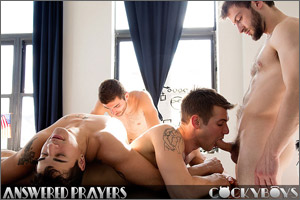 SCENE 2 – THE BULLY: Bravo Delta, Chris Harder, Dillon Rossi & Levi Karter
It's that moment when the lie comes out of his or her mouth, and EVERYONE else knows the truth except the poor sad sap on camera.
   Lest we forget Ted Haggard, the wealthy televangelist caught booty-bumping meth with a male escort. Or Larry Craig, the right-wing senator who plead guilty to cruising in an airport bathroom. Or George Alan Rekers, the southern baptist minister who hired a rentboy to help him "carry his luggage."
   The list goes on and on, but what these men have in common is that they actively preached and worked particularly against gay rights and advancement — the classic case of "do as I say not as I do." This is why their falls were so swift and yes… delicious to watch.
   I admit — I have a very dark place in my mind that holds the keys to my ideas of the perfect revenge? And yes, I have cooked them up time and again in my mind like a chef with his secret recipes.
   When I see these guys up on the stage, on TV — with their holier-than-thou smug faces, moralizing for profit and ambition — my mind races and wanders and I daydream, wishing that a sex tape depicting exactly what they are preaching against would fall out of the sky and magically broadcast itself uncensored on Fox News? Sadly, that never happens. But time and time again, these "moralizers for profit" face disgrace — for it is always the hubris of a hypocrite that will do them in.
   Yet before you think I'm now some demoralizing asshole doing the same, know this — I am also a hypocrite. I am a liar. I am selfish. I moralize. I live in fear. I am jealous. I am impatient. I am all of this and more.
   Many believe the characters portrayed in ANSWERED PRAYERS are based on people I dislike, and in fact they are. They are based on the worst parts of me — struggling every day to become better, more loving, stronger, and most importantly, at peace with myself.
   This project — like the mirrors seen throughout the story — are a constant reminder to myself: Look. See. And be.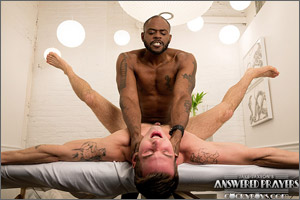 SCENE 3 – THE HEALER: Diesel Washington & Chris Harder
After transforming The Banker (played by Ricky Roman), the ever-mysterious entity known as Jinks (Jake Bass) faces an even bigger challenge: his bitter rival and brother Moloch (Max Carter). While Jinks lives and thrives on possibility and hope for mankind, Moloch gorges on the fear of man, growing more powerful in the process. Weary from his task, Jinks asks his three sons, Luck, Puck, and Abel (Levi Karter, Dillon Rossi, and Bravo Delta) to help him in his quest to save another soul from Moloch's powerful grip!
   Once again, the inner workings of the human mind is the battlefield for our warring demigods, as we see a brief but powerful interaction between The Healer (Diesel Washington) and an over-zealous manipulative political pundit (Chris Harder). The Pundit is a man who finds no shame in abusing the generosity of his personal masseur and spiritual healer. But something has pushed The Healer past his limits, and we see the inner workings of his mind as he deals with a struggle within himself.
   But it's not until Jinks summons his offspring, "The Sons of Chaos", does The Healer, hearing their siren song, begin to take a stand. With Luck, Puck, and Abel now coming together for greater purpose, an extreme power shift occurs and the healer full-on hatefucks The Pundit (literally) into oblivion.
   When The Healer finally decides to give The Pundit the fuck of his life nothing could have prepared The Pundit for what he was about to experience. This is pure raw aggression that turns into an electrifying fuck between two men who hold nothing back. After about an hour of some of the most impressive deep-throating ever caught on camera it was time for The Healer to show The Pundit's hole what "eating ass" is all about. The Healer made The Pundit spread his legs wide open and dived into his hole with full force as if he had been waiting to do that his whole life. The Pundit was finally starting to get it – he had no control over his body and there was no doubt that The Healer was in charge now. The moment The Pundit realized that he had no other choice but to take The Healer's big dick in his holes any way that he decided to give it to him was the moment The Pundit got owned! Having accepted that fact, The Pundit was ready to experience the fuck of his life. And that's just what The Healer was waiting for! Throwing him from one position into another, The Healer showed The Pundit NO mercy whatsoever! And as is fucking him endlessly in every imaginable position wasn't enough, The Healer had to mark his property by covering The Pundit's entire face with his cum! They say it's a time for miracles and the fact that The Pundit survived (and actually enjoyed) what The Healer put him through is nothing short of a miracle indeed! Merry Christmas, everybody!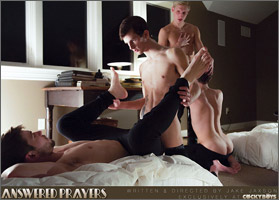 SCENE 4 – THE ASCENSION OF THE LAMB: Duncan Black, Frankie V., Jasper Robinson, Max Carter & Max Ryder
Jake Jaxson's groundbreaking erotic morality play ANSWERED PRAYERS continues with THE ASCENSION OF THE LAMB, the first part of a stylishly twisted two-part story centered on a mysterious orphan boy known only as the Lamb. Like the past central archetypes of ANSWERED PRAYERS, THE LAMB is haunted by fear. Taken in as the ward to a benevolent yet strict guardian, his fear is only made worse by classmates Cain, Pain, and Vain teasing and threatening him until he reaches his breaking point.
   So the Lamb tries to escape. Yet no matter how hard he tries, all roads lead him back to the care of his guardian. He's forced into a dark, quiet attic as punishment where he's confronted with his biggest fear of all — isolation. But without darkness, there can be no light and the Lamb must find balance.
   Featuring knockout performances from Max Ryder, Max Carter, Jasper Robinson, Frankie Valentine, and Duncan Black, with cameos from Jake Bass and the legendary Dean Monroe, THE ASCENSION OF THE LAMB is a study of consequences and responsibility that ultimately lead the Lamb to his true fate.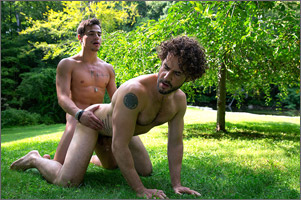 SCENE 5 – THE REDEEMER: Levi Karter & Dean Monroe
Jake Jaxson's erotic fantasy epic ANSWERED PRAYERS continues with the fifth installment of the series, The Redeemer. Picking up from where the titillating two-part The Lamb left off, The Redeemer is centered around a once-mortal boy experiencing life in between two deaths. We've seen Puck (Levi Karter) before as one of the Sons of Chaos, but now he has been summoned to inherit an ancient legacy he's unprepared to accept.
   Puck embarks on a journey of self-discovery, not knowing, and ultimately possibility. Equipped with both independence and responsibility, Puck learns he has been chosen to replace his father Jinks (Jake Bass) as a guardian to the tree of knowledge. All the while the Lamb, having banished Seth and Moloch and killed Jinks, is still more powerful than ever. Puck must find the ability to confront him, but until then, he develops a special bond with Seth. Where Seth failed with the Lamb, Puck succeeds. They explore the bond they share, and discover that redemption can only be achieved through balanced reciprocity, the possibility in the unknown, and love without shared expectations.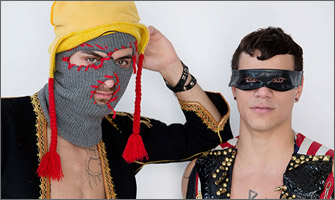 SCENE 6 – AN ODE TO PUCK: Levi Karter (Puck) & Dillon Rossi (Luck)
In this exclusive ANSWERED PRAYERS bonus scene, the background story and origination of Puck (Levi Karter) and Luck (Dillon Rossi) is unveiled. In THE REDEEMER, Puck has been summoned to inherit the ancient legacy of his father, but before he learned of this responsibility, he was merely one third of the quirky and elusive Sons of Chaos. He shared a special relationship with his brother Luck — exploring and discovering him — revealing the bonds of their shared power. Included in this featurette is an interview with star Levi Karter where he explains his character more in depth, as well as working with director Jake Jaxson.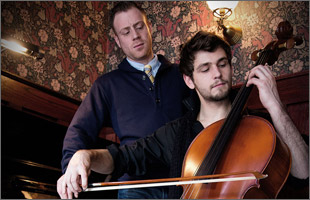 SCENE 7 – THE MUSIC TEACHER: Duncan Black (Cain) & Saxon West (Music Teacher)
In this exclusive Answered Prayers bonus scene, Duncan Black's character, Cain, is fleshed out with a tense and erotic back story involving a Music Teacher played by Saxon West. Haunted by jealousy, Cain uses his seductive powers to steal the musical talents of a stern yet vulnerable cello instructor. He studies his movements, his teaching methods, and ultimately his sexuality until he receives what he wants in the end. This featurette also includes behind the scenes interviews with Duncan Black and director Jake Jaxson.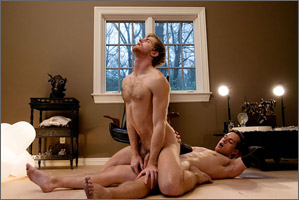 SCENE 8 – THE ACTOR: Tayte Hanson (The Actor) & Levi Michaels (Puck)
Jake Jaxson's wildly erotic morality play ANSWERED PRAYERS comes to its grand conclusion in this final installment, The Actor. Equal parts mysterious, sexy, thought-provoking, and satisfying, the series introduces us to one final human archetype after the Banker, the Healer, the Bully, the Lamb, and the Redeemer for one thrilling finale.
   The Actor (Tayte Hanson) is a struggling thespian dealing with the ups and downs of becoming a working actor when he inexplicably gets caught in the throes of an ancient family battle made worse by The Lamb (Levi Michaels), a once gifted orphan boy who saw the demise of both Jinks and Moloch. Now equipped with their otherworldly powers, he has escaped his first death and become and made flesh. However, The Lamb is aging rapidly with his powers limited to that of his aging body. While powerful, his mind is still provoked by fear and madness, and he finds his strength and comfort by provoking and consuming the fears of man. The Bully (Chris Harder) returns as one of his victims, himself filled with fear and shame as he faces continued upset for his hypocritical double life, and The Actor is set to be next. But not before Puck (Levi Karter), the son of Jinks, has a chance to stop him.
   Using slick and subtle powers of his own, Puck connects to the better nature of The Actor while The Lamb seeks to harvest him for the all-consuming fear that lay beneath. However, The Lamb's confounding ways are unexpectedly tried and tested, and as a result, the balance of the light and the dark brings both an end and a new beginning.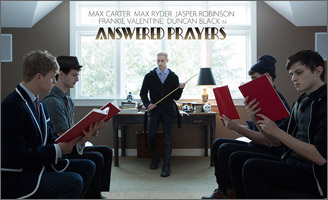 WATCH IT NOW AT: COCKY BOYS
On-Line Only Presentation, Members Can Download.
Extensive Galleries and Screen Captures for most Presentations.
Highest Quality film productions.
SPCIAL EDITION DVD AVAILABLE ONLY FROM:
TLA VIDEO
Hot or Not? Let us know.
[Total:

0

Average:

0

]