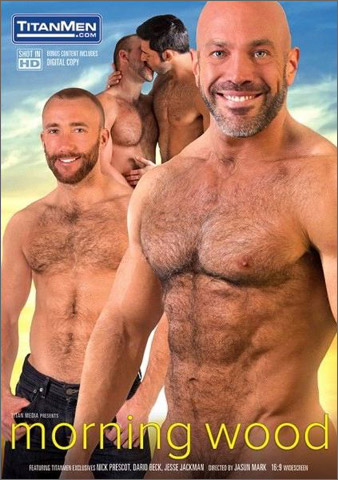 Studio: Titan Media
Directed by: Jasun Mark
Year of Production / Release: 2014
Country of Production: U.S.A.

CAST:
Dario Beck
Tyler Edwards
Jesse Jackman
Nick Prescott
Josh West
Tom Wolfe
FROM TITAN MEDIA WEB SITE:
The sun isn't the only thing rising. Arms wrapped around each other, hands roaming, eyes opening with a smile…TitanMen exclusives Dario Beck, Jesse Jackman and Nick Prescott each have a partner that makes Morning Wood relief an instant away.
   With their hairy muscle bods lying next to each other, Jesse Jackman and Josh West wake up in each other's arms—Josh's massive meat soon buried inside the bottom's holes.
   A kiss on the couch heats up as Dario Beck and Tom Wolfe exchange sucks, Tom then taking charge of the dark-haired hottie in a romantic fuck.
   The bed boners of Nick Prescott and Tyler Edwards quickly disappear in each other's mouth, Nick staying stiff as he gets fucked by the beefy top.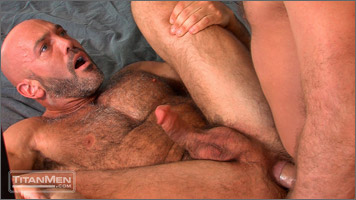 SCENE 1: Josh West fucks Jesse Jackman
As the sun rises on the city skyline, Josh West is asleep in bed with his arms around Jesse Jackman, their bodies and heads touching in a romantic embrace. Jesse's thumb starts to rub Josh's quad, Josh soon rubbing his lover's hairy chest. Their lips meet, Jesse's boner throbbing on its own as Josh soon finds it and strokes him—as Josh's cock grazes Jesse's forearm. Up to their knees, they continue to kiss as a wide-eyed Jesse stares at the stud, kneeling down to engulf Josh's monster cock. Josh starts slow then delivers a faster face fuck, Jesse moaning and gasping for breath as he gulps. Josh smiles, soon sucking the giant jock back—gripping Jesse's dick as he teases the underside of his mushroom head, causing Jesse's eyes to roll up. Josh feasts on his bud's hole, his beard scraping against it. He fucks Jesse from behind, turning him over for more and leaning down for a kiss before they come.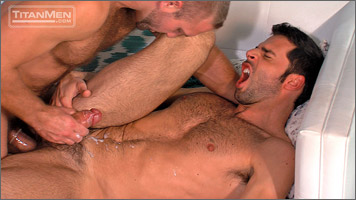 SCENE 2: Tom Wolfe fucks Dario Beck
Sitting on the couch with their 5 o'clock shadows grazing, Tom Wolfe and Dario Beck have their arms around each other. Their hands wander, Tom settling on Dario's bulge and rubbing his toned chest. Tom's tongue darts out for attention, the two kissing again. Tom's chest is soon exposed, Dario running his hand through the furry muscle. Tom's cock is released and quickly disappears in Dario's tight lips, the shaft getting slicker with each slurp. Dario rubs Tom's bod as he sucks, inching up for a kiss. Tom sucks Dario back, spitting down on the thick cock before nibbling the foreskin, his tongue sliding underneath the sheath and teasing the head. Tom eats Dario's hairy hole before fucking him, the top wrapping his arms around him from behind. Dario sits on the top—all the way down to his hairy sac—then gets on his back. Tom strokes Dario as he fucks him, the bottom gripping Tom's ass and back as their faces get closer. Tom drives harder and faster, jacking Dario off as he fucks him—the two dumping their loads.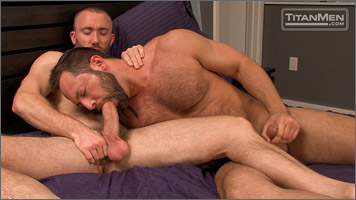 SCENE 3: Tyler Edwards fucks Nick Prescott
Waking from his slumber, Nick Prescott stares at Tyler Edwards, their heads resting against each other. He rubs Tyler's arm, the stud waking up and smiling. They kiss, the sheets removed to reveal their boners. "Good morning!" smiles Tyler, whose cock disappears in Nick's warm mouth. He goes balls deep, his nose planted in Tyler's pubes. Nick's massive balls twitch as he sucks, Tyler soon sucking him back. He grips Nick's sac and pulls it down as he slurps, Nick moaning as his heavy eyelids show off his pleasure-filled face. Nick offers his ass, yelling "Spit on my hole!" as Tyler munches. Nick arches back for a kiss, his own boner at attention. He sits down on Tyler, spreading his cheeks to ride deep as he pounds his fists on the top's pecs. Nick stays rock hard as he gets it doggie style, his dick bouncing up and slamming his own stomach with each thrust. On his back, Nick gets stroked and fucked by Tyler—the bottom soon coated in cum.

MORE INFO, PREVIEW OR WATCH RIGHT NOW:
TITAN MEDIA
Scenes Premier online prior to DVD release and are available to view anytime in the Member's Area.
Members can watch scenes from almost all Titan Media releases anytime online.
TO PURCHASE THIS, GO TO: TITAN MEDIA STORE
Hot or Not? Let us know.
[Total:

1

Average:

5

]