Studio: Hot House Entertainment
Directed by: Steven Scarborough
Year of Production / Release: 2007
Country of Production: U.S.A.

CAST:
Rafael Alencar
Alex Collack
Vinnie D'Angelo
Francesco D'Macho
C.J. Knight
Ty LeBeouf
Tyler Riggz
Mike Roberts
Tyler Saint
Max Schutler
INFORMATION FROM HOT HOUSE:
Director Steven Scarborough invites you to strip down to your strap in 5 throbbing Jockstrap fantasies bulging with action. Join 10 jockstrap-wearing hunks, including Hot House Exclusive Vinnie D'Angelo and Superstar Tyler Riggz, two formidable top-men who give it up on video for the first time – to each other! An afternoon workout at the gym turns into an athletic double-penetration for Hot House Exclusive C.J. Knight. Then Exclusives Francesco D'Macho and Ty LeBeouf get out of their jocks and into trouble in a dark alley. This jock-themed hit features jocks crammed with fat cocks, sweaty nutsacks and bubble-butts, so strip down to your strap and jack to Jockstrap!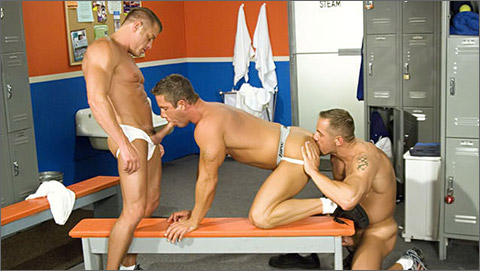 SCENE 1: Alex Collack & Tyler Saint fuck / DP C.J. Knight; Tyler Saint fucks Alex Collack
An afternoon workout at the gym takes place in the locker room when Lifetime Exclusive Alex Collack and well-hung Tyler Saint find muscled boy-next-door C.J. Knight standing at his locker. The men strip down to their jocks, revealing rock-hard asses and giant bulging crotches. Saint wastes no time biting and massaging the pouches before him. He chews on Collack's foreskin and sucks his cock, then pulls out his own 10+ inch cock to be serviced by Knight. Before long Collack turns his attention to Knight's bubble-butt. Collack pounds Knight's ass while Knight primes Saint's giant cock with his hot spit. Next Saint lies down on the bench and Knight jumps on his cock for a ride. Collack works his way in between Saint's legs and shoves his fat cock up inside, pressing Knight's hole to open and take both huge tools at the same time. Both men pull out and throw Knight on the floor. Collack fucks Knight deep then gets on all fours and opens his hole for Saint. Knight and Saint shoot on Collack's back then Collack leans back and blows his load.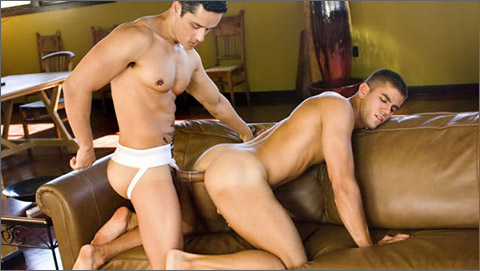 SCENE 2: Rafael Alencar fucks Max Schutler
A good workout at the gym makes Rafael Alencar and Max Schutler so horny they can hardly wait to get home. The hot men start by pulling their gym shorts off and rubbing their jock-covered crotches together. Schutler pulls back Alencar's jock to reveal his 11+ inch ramrod and baseball-sized balls. Schutler does his best to take it all the way to the base. Alencar pushes Schutler back onto the coffee table and eats his ass, getting it nice and wet for his big fat cock. Amazingly, Schutler's tight hole expands to accommodate Alencar, who slowly shoves his cock in to the base, pulls out entirely, and shoves it in again. The two men move over the the couch where the fucking becomes an athletic event. Schutler assumes an upside-down position, allowing Alencar to thrust his mammoth tool deep inside his hole. Finally Alencar pulls out and shoots loads of hot white cum all over Schutler's ass and back. Schutler sits up and blows his load all over his dirty jock.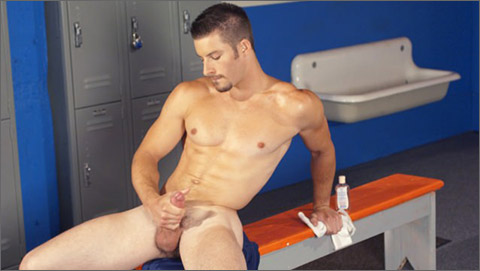 SCENE 3: Mike Roberts solo
Hot House Exclusive Ty LeBeouf heads out to the showers, leaving his jock crumpled on a bench. Gorgeous Hot House favorite Mike Roberts finds it and shoves it up into his face, getting a good whiff of the man smells. Making sure that he is alone, Roberts removes his own jock and works his perfect uncut cock into it's full 8+ inches. Roberts kicks back on the bench and massages his fat cock and full nutsack with LeBeouf's jock. Finally he moves onto the locker room floor and jacks off until he shoots his load all over his chiseled 6-pack and chest. He uses LeBeouf's jock as a cum rag then puts it on, keeping it as a prize for his phenomenal private performance.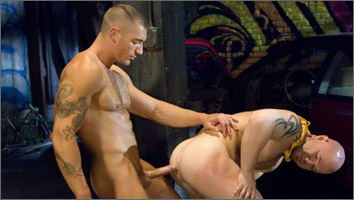 SCENE 4: Francesco D'Macho & Ty LeBeouf flip-fuck
Hot House Exclusives Francesco D'Macho and Ty LeBeouf find each other cruising in a deserted alley. D'Macho stands against a wall, massaging his fat cock through his jeans while LeBeouf works his own tool in the front seat of his car. They come together, strip down to their jocks and pull out their cocks. D'Macho pushes LeBeouf down onto his enormous uncut meat. After a good face-fucking, LeBeouf stands up and shoves his hard cock down D'Macho's eager throat. Next he moves over to D'Macho's ass and fucks him hard. Then it's D'Macho's turn to fuck LeBeouf's hole. The chiseled hunks move over to an abandon car seat and jack off until they both blow their loads all over the filthy alley.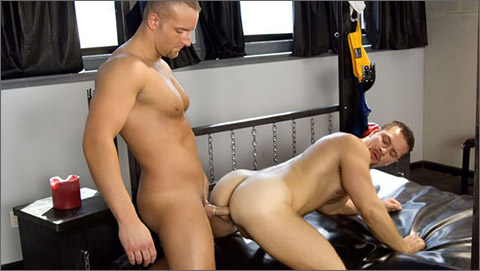 SCENE 5: Tyler Riggz fucks Vinnie D'Angelo
Two notorious tops, Hot House Exclusive Vinnie D'Angelo and Superstar Tyler Riggz, tease each other by trying on leather and latex jocks at Mr. S. Leather. The two hunks move into a more private location and begin by worshiping each other's bodies and cocks. D'Angelo gets down to deep throat Riggz's giant meat and eat his round ass. In a history making move, D'Angelo stands up and shoves his cock inside Riggz's ass. The top in Riggz takes over when he throws D'Angelo on the bed and fucks his ass – making this topman flip-flop fuck the first time either men have taken it up the ass on video! D'Angelo takes over again, throwing Riggz down for one more deep, ass-pumping fuck before both men blow their loads and pass out in a sweaty, cum-drenched heap.

WATCH IT NOW / MORE INFO AT:
HOT HOUSE & HOT HOUSE BACKROOM
Hot House Backroom Members can see this film anytime online.
With extensive additional photography from every scene.