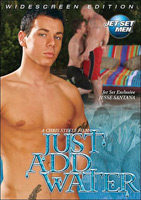 Studio: Jet Set
Directed by: Chris Steele
Year of Production / Release: 2007
Country of Production: U.S.A.

CAST:
Andy Kirra
Nickolay Petrov
Tyler Saint
Jesse Santana
Travis Scott
Jordan Vaughn
Erik West
Jason White
Mason Wyler
TJ Young
SCENE 1: Jordan Vaughn tops TJ Young
SCENE 2: Jesse Santana, Jason White, Nickolay Petrov
   • Nickolay Petrov tops Jesse Santana
   • Nickolay Petrov tops Jesse Santana while topping Jason White (train)
   • Jason White flip-fucks with Jesse Santana
SCENE 3: Travis Scott and Erik West top Andy Kirra
SCENE 4: Tyler Saint tops Mason Wyler
ADDITIONAL COMMENTS:
SCENE 2's pairing off of Jesse Santana and Jason White lead to some pretty damn find flip-fucking. SCENE 4 was near perfect, with Power-Top Tyler Saint devouring Power-Bottom Mason Wyler… if only the final cum-shot was more than the lay back and jack-off variety, but still a winner scene.
INFORMATION FROM JET SET:
Jesse Santana leads an all-star cast directed by award-winner Chris Steele. See ten hung collegiate muscle studs in four scenes – including two unbelievable threeways. Just Add Water will get you wet!
   T.J. Young and Jordan Vaughn come walking down a wooded path and end up alone at poolside. They start to fool around with each other, but opt instead to jump in the inviting pool. They swim and teasingly splash around, but really just want to have sex. Back in a shaded area, Jordan's trunks come off and T.J. goes down on him. Jordan has a thick dick, erect and ready for a blow job. Jesse Santana peers out of the living room windows and eyes the duo as T.J. continues to suck. Jesse gets hard and jacks off his thick dick while watching them.
   T.J. goes to rimming Jordan's muscular jock ass, turning Jesse on all the more. He obviously is ready for some action of his own. Out on the patio, T.J. buries his face in Jordan's ass. Then suddenly T.J. is on his back as Jordan now fucks him. T.J. lays back to really enjoy Jordan's energetic pounding of his butt, with Jordan's off-limits pink pucker hole exposed invitingly for the camera. T.J. kneels to take the continued fucking doggie style. When they both can't take it anymore, they jack off, Jordan standing over his friend, and cum.
   The camera moves indoors to catch lanky Jason White, casual in Hawaiian pants and a shell necklace, coming on to Jesse. Jason's pants fall to the floor as Jesse goes to work on him. Both men have wonderfully large, thick dicks. They move to a nearby ottoman to 69 with each other, with Jason just getting bigger and bigger. Jason licks and tongues Jesse's ass from beneath as Jesse sucks on Jason's huge meat from the top. Jesse has one fuckable ass, and Jason has just the dick to service it. At this point Nickolay Petrov happens by and immediately joins them. Jesse alternates between Nickolay's huge dick and Jason's, sucking hungrily on them both, back and forth. Nickolay now gets behind Jesse's raised ass to fuck him as Jason and Jesse continue to 69. There is so much hot dick and ass at play that Nickolay is like a kid at a candy counter. Nickolay moves to fuck Jason now at the same time Jason is fucking Jesse spread eagle on his back. Jason then switches and sits on Jesse to take him up his ass. (The lean and handsome Travis Scott wanders into the room and watches from afar, but no one seems to notice.) Now Jason fucks the cum out of Jesse as he shoots on himself followed by Nickolay spewing his own generous load across Jesse as well.
   Travis wanders off down the hall to a library guest room and catches blond, muscled Erik West doing Andy Kirra. Travis wants to fit in somewhere and joining these two blond studs might just be it. Erik climbs up on Andy's chest to face fuck him as Andy sucks on his balls and dick. The two welcome Travis and his beautiful ten-incher to join the party. Travis drops to kneel on the floor and work on Andy as Andy continues to service Erik. There's a great shot of the two dicks getting sucked on at the same time. Now Travis and Erik both work on Andy, who licks Erik's pink hole as Erik and Travis kiss and continue to work on Andy. Travis is now the center of attention as Erik and Andy alternate kissing and sucking on their new friend.
   Travis fucks Andy's ass with his big dick as Erik continues to suck on Andy's. Travis's throbbing dick looks huge. Erik then shoves his dick up Andy's ass and manages to service Travis with his mouth at the same time. All holes are in play. Andy is on his back again and cums while Erik is fucking him. Travis then shoots a load he must have been storing up for a week, followed by Erik cumming over Andy's now spunk-filled torso.
   Mason Wyler is already hard in his shorts. He follows Tyler Saint into the kitchen. By then, Tyler is already naked and sitting on the counter just waiting for him. Mason immediately goes down on Tyler's large dick. The two of them are hot and primed like an orgasm waiting to happen. Tyler is really huge by now, but Mason is able to go down on it, taking it totally. He doesn't gag or choke as it goes all the way in. Sucking on Tyler's smooth muscled pecs and nipples and then going back down to sucking his dick, turns Tyler on even more.
   Mason jacks off on his own sizable dick down below. They kiss and Mason climbs up to allow Tyler to access his dick. Mason loves sex, and he lets it be known by every moan, twist and turn. They are now interwoven with each other, munching on each other's asses for mutual excitement. Spit and an eager tongue go a long way. Neither one is in any kind of a hurry to finish. Kneeling on the top of the counter, Tyler pushes into Mason and fucks him doggie style. Tyler looks bigger than ever going in and out. Mason takes Tyler's every lunge in the spirit it was intended. "Uh… uh… Oh yeah!" as Tyler goes on pounding. Mason flips over on his back to get some more. It sounds close to painful as he takes it, but they never for a second back off from the intensity. Mason climbs atop his stud to ride his big dick even more. Finally Tyler shoots, and Mason lies down to cum.
   The final shot of the movie features the whole cast playing in the pool. It does make one wonder: Just where is this party, and how does one get invited to the next one?"

AVAILABLE FROM: TLA VIDEO
WATCH IT NOW AT: MalePPV / AEBN
WATCH IT NOW AT: MALEFLIXXX
GO TO: JET SET

MANNET 100 BEST FILMS OF 2007
FILM REVIEW: MANNET