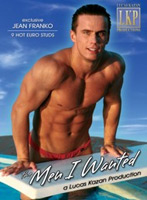 Studio: Lucas Kazan
Directed by: Lucas Kazan
Country of Production: Italy / U.S.A.
Year of Production / Release: 2007

CAST:
Lucas Andrades
Ethan Clarke
Samuel Dolce
Mark Federico
Jean Franko
Roberto Giorgio
Pietro
Glenn Santoro
Alexy Tyler
OPENING CREDITS / INTRO: solos: Samuel Dolce, Pietro, Mark Federico
SCENE 1 – THE SWIMMER: Alexy Tyler (bottom), Jean Franko (top)
SCENE 2 – THE HONEYMOONERS: Ethan Clarke (top), Roberto Giorgio (bottom)
SCENE 3 – THE WAITER: Lucas Andrades (bottom), Glenn Santoro (top)
SCENE 4 – THE HITCHHIKER: Samuel Dolce (top), Mark Federico (bottom)
FROM LUCAS KAZAN:
4 sun-drenched vignettes, 9 gorgeous men and the beauty of the Tuscan countryside.
Samuel Dolce reminisces about his Summer on the farm and the men he longed for. Lost in his daydreams, he fantasizes about muscular Mark and boyish Pietro stroking their dicks (flashback I).

WATCH IT / DOWNLOAD IT AT:
LUCAS KAZAN PRODUCTIONS
On-Line Presentations are downloadable and DRM free presentation.