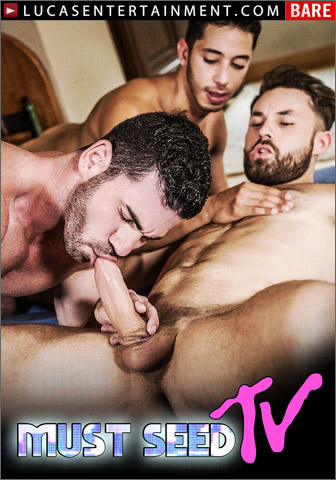 Studio: Lucas Entertainment
Directed by: Michael Lucas
Year of Production / Release: 2017
Country of Production: U.S.A.

CAST:
Drae Axtell
Tomas Brand
James Castle
Devin Franco
Bogdan Gromov
Damon Heart
Rico Marlon
Dakota Payne
Billy Santoro
INFORMATION FROM LUCAS ENTERTAINMENT:
Don't miss any of the "Must Seed TV" this upcoming season on Lucas Entertainment! The parody "Hole & Face" stars Shawn Reeve and Rico Marlon double-teaming Billy Santoro. Tomas Brand and Dakota Payne star in "Fill More Guys" for some hot stepdad/stepson bareback sex. Billy Santoro and James Castle service Drae Axtell's cock in "Dine Ass-ty." And Damon Heart and Devin France probe Bogdan Gromov's extraterrestrial life in the "XXX-Files." Don't miss this season's "Must Seed TV"!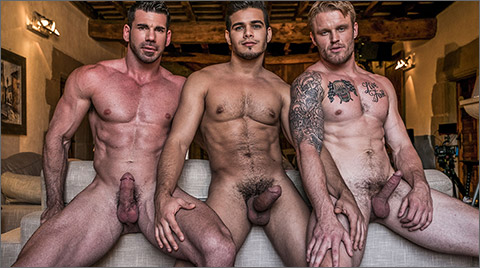 SCENE 1: HOLE & FACE | Rico Marlon, Shawn Reeve, Rico Marlon
It's a parody, it's a reboot — it's a reboot-parody! It's Must Seed TV! Your favorite gay BFFs are back on primetime, but their G-rated antics don't compare to the horny hijinx of Will Truvadaman (Billy Santoro) and Ace Gradler (Shawn Reeve)! When Jack (guest star Ken Summers) and Walker (guest star Devin Franco) drop off personal trainer Rosario (Rico Marlon), things go from whacky to wild! You don't need the will or the grace if you've got a Hole & Face!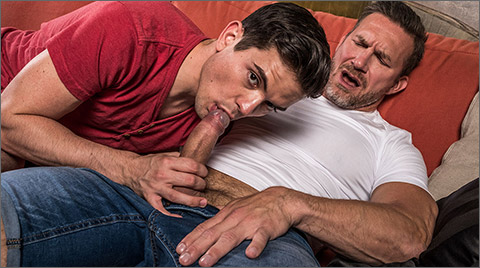 SCENE 2: FILL MORE GUYS | Tomas Brand, Dakota Payne
It's a parody, it's a reboot — it's a reboot-parody! It's Must Seed TV! Lawrence Fillmore (Tomas Brand) is making it work the best he can, but with a talkative twink like Corey (Dakota Payne) under his wing, sometimes the only way to get some peace and quiet is when his mouth is full. But when they come as horny as Corey, you have to fill more than just his mouth — and luckily Lawrence loves to fuck! Corey might not be his son, but Lawrence is definitely a daddy, and this daddy is always ready to Fill More Guys.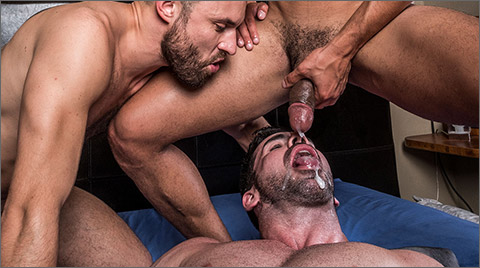 SCENE 3: DINE ASS-TY | Drae Axtell, James Castle, Billy Santoro
It's a parody, it's a reboot — it's a reboot-parody! It's Must Seed TV! Lubricant tycoon Drake Barrrington (Billy Santoro) has it all: a life of luxury, decadence, and debauchery. It's a life he's ready to share with his soon-to-be husband, Kristoffer Jennings (Drae Axtell) — but just when life seems to be a wet dream come true — ENTER ALEX! Alex Barrington (James Castle), Drake's hot-tempered first husband, returns to makes things as sticky and slippery as the lube magnate could imagine. These three are ready to dine on drama, and on ass.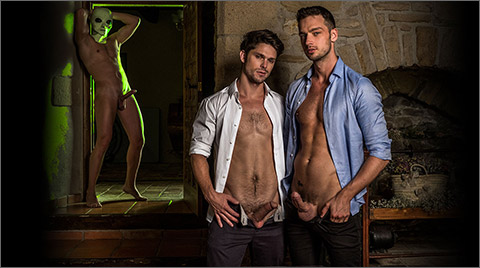 SCENE 4: THE XXX FILES | Devin Franco, Damon Heart, Bogdan Gromov
It's a parody, it's a reboot — it's a reboot-parody! It's Must Seed TV! Special Agent Cox Smulder (Devin Franco) wants to prove he was abducted by an alien, but with a skeptic of a partner like Agent Sully (Damon Heart) it's easy to get pulled back to earth. With one unsolved mystery after another, Sully and Smulder find themselves closer to the truth, until they come face to face — and face to cock… and ass to mouth — with a close encounter of the probing kind.

SEE THIS NOW / MORE INFO:
LUCAS ENTERTAINMENT
Scenes Premier online prior to DVD release and are available to view anytime in the Members Area.
Members can watch scenes from all Lucas Entertainment releases anytime online.

VIDEO ON-DEMAND: Lucas Entertainment @ AEBN SMUTJUNKIES THEATER
DVDs & ON-DEMAND: Lucas Entertainment @ TLA VIDEO