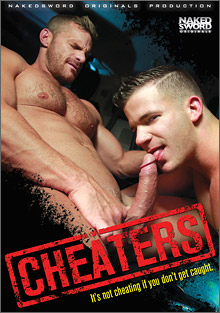 Studio: NakedSword Originals
Directed by: mr. Pam
Year of Production / Release: 2014
Country of Production: U.S.A.

CAST:
Landon Conrad
Vance Crawford
Donnie Dean
Ray Diaz
Andrew Fitch
Angel Rock
Tyson Tyler
Ashton Webber
INFORMATION FROM NAKEDSWORD: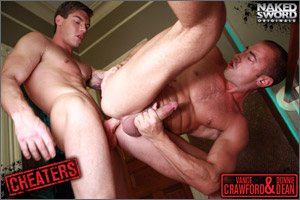 EPISODE 1 – REVENGE SEX: Vance Crawford fucks Donnie Dean
There are some things you can't get at home. And in NakedSword's Cheaters, that's when you get in trouble. Handsome Vance Crawford has a beautiful wife and a loving family, but "I do" doesn't mean "I won't." Vance's boy on the side is Donnie Dean, but when he drops by for a little workout, he finds the bed taken — by Donnie's passed out party boy boyfriend (Ashton Webber). But that doesn't stop Vance, who gets creative and and fucks Donnie in the hallway. And in the mouth. And in the ass. The sex is so hot, so raw and so fucking good that Donnie can't help but brag. Though Ashton's still passed out, Donnie finds a way to throw the affair in his face. But will it be a wake-up call or a call to action?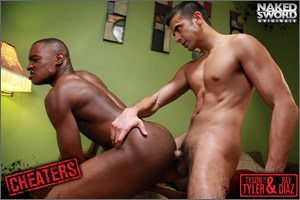 EPISODE 2 – OLD HABITS DIE HARD: Tyson Tyler & Ray Diaz flip-fuck
Even the perfect boyfriend can't pass up the perfect excuse. In NakedSword's Cheaters, Tyson Tyler and boyfriend Landon Conrad are happy, loving… and boring. So when Landon has to duck out for a work dinner, Tyson places an order for part-time fuck buddy Ray Diaz. Ray sneaks in and the two of them take turns working out their frustrations in a furious flip flop fuck that's as dirty as it is quick. Well, maybe not quick enough. As the sweaty session is wrapping up, Landon hears them from the front door… and fears the relationship is finished as well.

EPISODE 3 – LIES & ALIBIS: Andrew Fitch fucks Ashton Webber
When the party's over it's time to find another party. Party boy Ashton Webber wakes up with a wicked hangover and covered in used condoms. Unfortunately, they belong to his boyfriend (Donnie Dean) — and his boyfriend's trick (Vance Crawford). Ashton dulls the pain with a swig from the bottle, then hits the streets. It's not long before he comes across the Nob Hill Theater where he ducks into the notorious downstairs sex arcade. Inside, he finds Andrew Fitch, and Andrew's fat, hungry dick. Why should his boyfriend have all the fun? Ashton wants a little retribution, and Andrew's got the rock-hard cock to give it. Andrew slams Ashton in a public fuck so hot that even the building swells. And when Andrew blows his load, Ashton swallows it down like a shot glass full of his favorite whiskey. That's one cure for a hangover!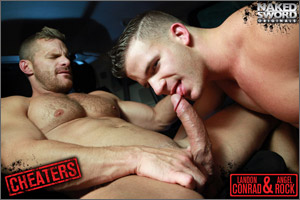 EPISODE 4 – PAYBACK'S A BITCH: Angel Rock fucks Landon Conrad
On the highway of love, we can all use an occasional ride. Furious with his lying, cheating dirtbag of a boyfriend Tyson Tyler, Landon Conrad hits the road. And what luck! The car service he calls sends a Cuban charmer (Angel Rock) to pick him up. Angel lends an ear, and offers a little counsel for the broken-hearted hottie. A level playing field mends a broken heart, he tells Landon, and turnabout is fair play. So what if Angel is speaking less from his heart than his balls? He knows what ails Landon, and he's happy to deliver. He jumps over the partition, and — in position after position — pumps Landon back to life. When the dicks are this big and the boys this gorgeous, who cares if the meter's still running?

WATCH THIS AND A HOST OF OTHER FILMS AT:
NAKEDSWORD
On-Line Presentation, exclusive to NAKEDSWORD
Members can watch this with a host of other films in the NakedSword Library.