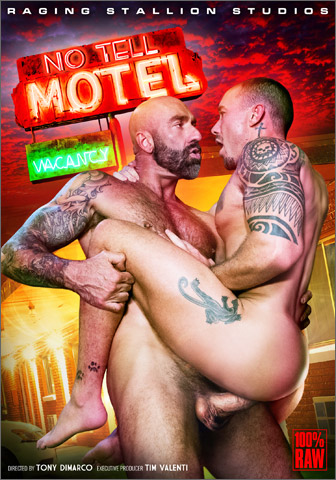 Studio: Raging Stallion
Directed by: Tony Dimarco
Year of Production / Release: 2020
Country of Production: U.S.A.

CAST:
August Alexander
Brian Bonds
Kirk Cummings
Chris Damned
Dillon Diaz
Drew Sebastian
Devin Trez
INFORMATION FROM RAGING STALLION:
A small unassuming motel sits just off the interstate from Los Angeles to Vegas, the 'No Tell Motel'. Twenty miles from a town in either direction, this quiet roadside motel is frequented by weary travelers and by hot guys who want to hook-up where nobody will know their business: a place where no one is watching. But little do they know…someone IS watching! Join award-winning director Tony Dimarco and his cast of horny bareback fuckers just looking to get their balls drained, where nobody will know their business. After being on the road all day, Devin Trez links up with Brian Bonds to breed his hole. In an unexpected mix up, Dillon Diaz and Chris Damned end up in the same room, but both want to get off first before they find out why. August Alexander is stroking and cruising the apps when Brian Bonds bites and heads to the room for an epic flip-fucking that leaves them both spent. Mystery man Chris Damned sneaks into one of the guest's rooms and jerks off on the bed while sniffing a pair of worn underwear. Kirk Cummings links up with old friend Drew Sebastian while someone secretly watches from the other side of the wall. At the 'No Tell Motel', not everything is as secret as it seems. Check in, get off and get out!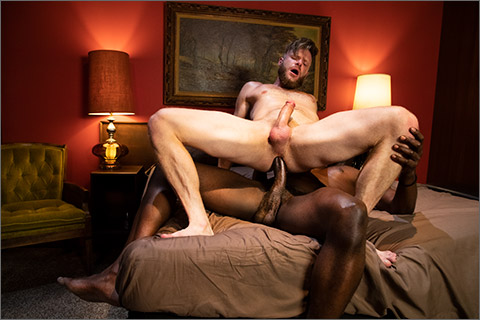 SCENE 1: Devin Trez fucks Brian Bonds
When Devin Trez and Brian Bonds get to their room, the clothes start coming off as soon as they step thru the door. Devin pulls his pants down to reveal his uncut monster cock, and Brian falls instantly to his knees to deepthroat the girthy member. Devin shows Brian's throat no mercy as he face fucks the bearded stud. After getting throated, Devin spins Brian around and buries his face deep into Brian's tight hole. Brian takes one last gulp of Devin's cock before hopping on top and impaling himself on Devin's massive rod. Brian's cock stands tall, rock hard as Devin fucks the full-length of his cock deep into Brian's hole. Once Brian has taken Devin's pole in multiple positions, Brian lays back and lets Devin fuck a load out of him while Devin shoots a thick load on Brian's abs.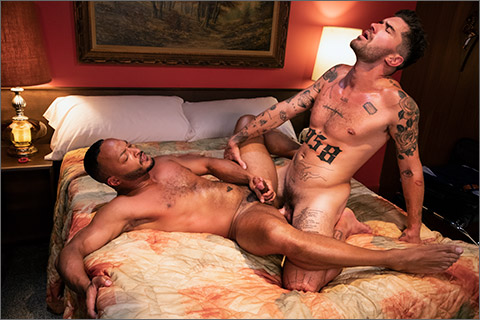 SCENE 2: Chris Damned fucks Dillon Diaz
Businessman Dillon Diaz checks in and starts taking off his work clothes and hops in the shower. The motel makes a mistake and gives Chris Damned the same room as Dillon's. When Dillon comes out of the shower, he's shocked to find Chris naked on the bed. Figuring they might as well make the best of the situation, Dillon gets between Chris' legs and deepthroats his uncut cock. Chris returns the favor, throwing Dillon on the bed and giving him a sopping wet hummer. Chris moves from Dillon's cock down to his hole to tongue-fuck it before sliding his raw meat into Dillon's ass. Dillon takes Chris' bare cock on his back, flipped over, up on top and then back in missionary while he strokes out his load all over his stomach. After destroying Dillon's hole bareback, Chris pulls out and coats Dillon's hole with his seed before shoving it back inside his new motel buddy.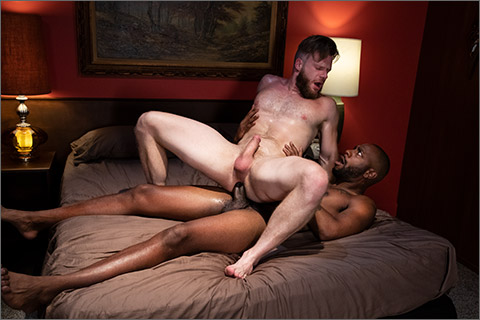 SCENE 3: Brian Bonds & August Alexander flip-fuck
August Alexander is alone in his room stroking his cock and chatting with guys on the hookup apps. When Brian Bonds takes the bait, August greets Brian with a hard dick that Brian gets straight to sucking. Brian takes his time servicing his new motel buddy, making sure to work his mouth from August's cock, down to his hole. August wants more so he bends over the bed to let Brian shove his bare cock deep into his ass. Brian relentlessly pounds August, fucking him bareback and balls deep. Vers guys have more fun, right? After drilling August, Brian climbs up and rides August's lengthy cock. Brian wants August to take him all the way, so August keeps pumping in and out until Brian oozes thick ropes on his cock. When it's time for August to cum, he flips Brian over and lays a thick load on Brian's hole and shoves his cock back in.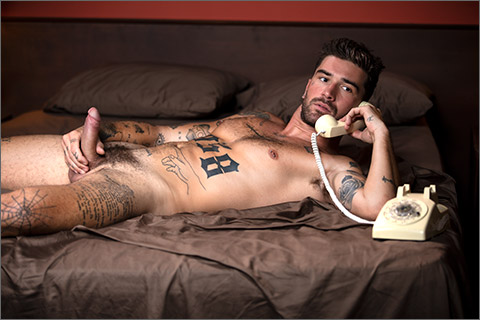 SCENE 4: Chris Damned solo
Chris Damned sneaks into an occupied room and finds a suitcase full of clothes. He finds a pair of worn underwear and locks onto them, huffing them deeply while he strokes his thick uncut dick. Chris rubs the undies all over his tattooed body as he works his cock over. Clenching onto the underwear, Chris lays back and strokes out a hot load that hits him in the face. When he's done, he uses the mystery underwear to clean himself up, put them back in the suitcase, and slips out unnoticed.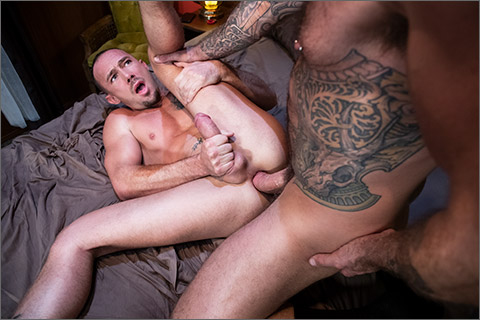 SCENE 5: Drew Sebastian fucks Kirk Cummings
In his room, Kirk Cummings is restless, working out and pacing the floor. A knock at the door saves him from boredom when Drew Sebastian walks in with a hard cock. Looking like he came straight from the office, Drew unzips his slacks and Kirk is met with a thick, rock-hard cock that he instantly wraps his lips around. After getting his throat reamed, Kirk bends over the bed in a jock to let Drew worship his hairless hole. Kirk can't wait to get the daddy's pole deep and bareback in his hole, so Drew gives Kirk what he's begging for and eases his cock into his friend's ass. Kirk takes the passionate pounding like a champ, pushing back, pulling Drew in and working up a sweat. They end up on the floor and Kirk is riding Drew. Hiding in the shadows, Chris Damned jerks off secretly as Kirk gets his hole stretched and filled. Back on the bed, Drew is fucking Kirk missionary that ends with Drew's seed all over Kirk's hole. When Kirk is ready to blow, Drew feeds him the cock that was just inside him until Kirk erupts all over his abs. Watching them both cum from the shadows sends Chris over the edge and his load blasts all over the place.

WATCH THE SCENES AT:
RAGING STALLION'S MEMBERS SITE
Members at RAGING STALLION'S MEMBERS SITE can watch these scenes and download extensive Photo Content from this production and get discounted pricing on all DVD and Print purchases.