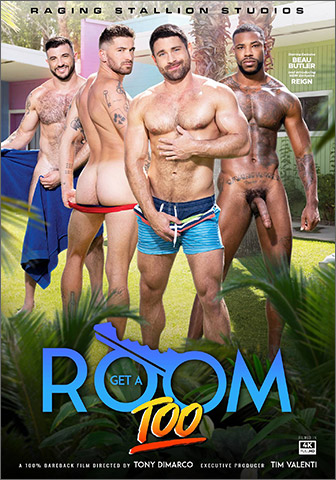 Studio: Raging Stallion
Directed by: Tony Dimarco
Year of Production / Release: 2021
Country of Production: U.S.A.

CAST:
Rodrigo Amor
Beau Butler
Chris Damned
Chad Hammer
Ian Holms
Reign
Alpha Wolfe
Isaac X
INFORMATION FROM RAGING STALLION:
'Get A Room Too' takes you back to the clothing optional Cathedral City Boys' Club (CCBC), where hot guests let it all hang out and bareback fuck wherever they choose. If you're cruising a sexy dad-dy on the grounds, why go in your room when you can fuck his hairy hole right then and there? Filmed and directed by the award-winning Tony Dimarco, 'Get A Room Too' showcases eight built hunks who arrive at CCBC ready to cruise, fuck, and suck anywhere and everywhere they possibly can. After going for a dip in the resort pool, a rock-hard Isaac X signals to stranger Alpha Wolfe to follow him so they can get even wetter with a steamy 69 and bareback session. Having just arrived at the clothing-optional CCBC resort, Beau Butler is greeted by a horny and hung Rodrigo Amor who will soon leave him and his hairy body covered in a sea of hot cum. Nude sunbather Reign needs help rubbing oil all over his body and Ian Holms is more than happy to assist his fellow vacationer, but the oil session quickly heats up as Reign uses his hung cock to dick down the helpful stranger with random bystanders sitting only feet away. After cruising the various resort suites, Chad Ham-mer comes across Alpha Wolfe's room and steps inside for an anonymous raw hookup that's filled with rough play, intense slapping, and extreme dirty talk. While on a walk around CCBC, Beau But-ler and Alpha Wolfe come across Isaac X servicing Chris Damned's giant slab of meat in an open courtyard. Beau Butler's hairy hole quickly becomes the favorite of the group and gets blasted by the studs who end the public hookup by shooting their creamy ropes all over the bottom's face, junk, and torso. With all these insatiable men looking to bang you out in the open where everyone can see, you'll truly never need to 'Get A Room Too'.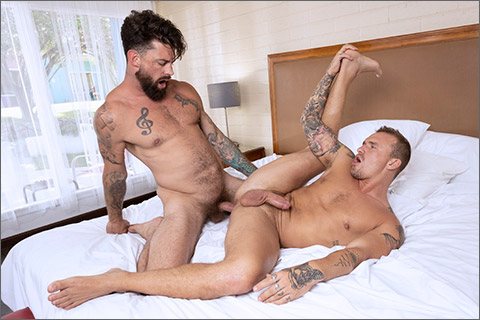 GET A ROOM TOO / SCENE 1: Isaac X & Alpha Wolfe flip-fuck
Isaac X loves going to the CCBC resort pool when there's plenty of nearby lounging muscle hunks that he can cruise. After trading a few looks with Alpha Wolfe, Isaac and his massive hard-on lead the bearded daddy back to a private room so the two can 69 and flip-fuck each other's raw holes. With Isaac on all fours, Alpha barebacks the stranger's hole with his bushy dick before Isaac uses his own girthy monster to destroy Alpha's hairy ass. Isaac's loose balls bounce up and down as he thrusts into his hookup's hole while spitting on him, choking him, and shooting him some degrad-ing dirty talk. Once both men have blown their loads all over Alpha's used and naked body, Isaac makes sure not a single drop of cum is wasted and scoops up all of the loose liquid seed so he can feed it directly to Alpha.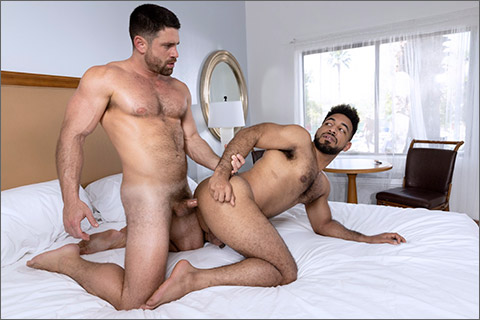 GET A ROOM TOO / SCENE 2: Rodrigo Amor & Beau Butler flip-fuck
https://members.ragingstallion.com/en/video/ragingstallion/Get-A-Room-Too/193520
Muscle daddy Beau Butler just arrived at his resort and is already being cruised by hunk Rodrigo Amor. After exchanging a few words, a confident Rodrigo walks straight into Beau's room, makes out with the thick stud, and pulls down his swimwear to reveal his massive dick. With his face bur-ied deep in Rodrigo's massive ass, Beau preps the stranger for his raw, hairy dick. Once Rodrigo's overeager hole is satisfied, Rodrigo turns the hookup into a bareback flip-fuck by using his own long cock to top Beau's giant bubble butt. Laying on his back with Rodrigo's XXL member sliding in and out of his backdoor, Beau's moans get louder and louder until he cums all over his own furry chest and thick patch of pubes. Rodrigo adds a second coat of seed to Beau's naked body by blasting an outrageously enormous amount of jizz all over the satisfied vacationer.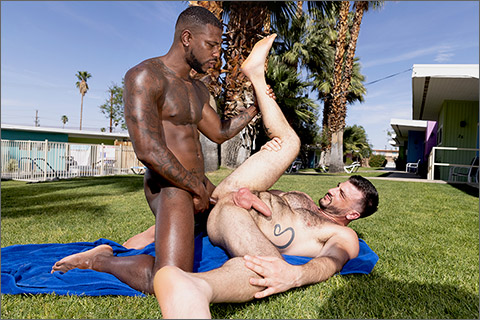 GET A ROOM TOO / SCENE 3: Reign fucks Ian Holms
Reign likes sunbathing in the nude, but he needs some assistance rubbing oil all over his body. Helpful stranger Ian Holms obliges Reign with a quick rubdown of his back, but when he gets to the front, Ian notices that the nude hunk has been playing with himself. Impressed by Reign's massive meat, Ian climbs onto his chair and immediately starts sucking him dry even though they're in pub-lic with a group of bystanders sitting just feet away. Reign buries his face in Ian's furry cheeks be-fore using his hung cock to bust him open. Focused on dominating his partner's hole, Reign doesn't give Ian a break as he slams himself into his ass and spits out some intense dirty talk. Now off the lounge chair and onto the ground, Reign continues bareback fucking the stranger's hole until Ian's uncut cock shoots out a thick, white wad of seed and Reign pulls out to cover Ian's hairy body with his own warm ropes.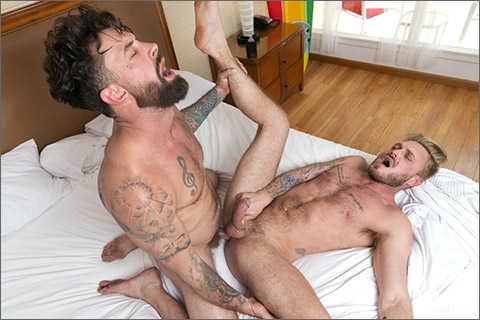 GET A ROOM TOO / SCENE 4: Chad Hammer & Alpha Wolfe flip-fuck
A horny Chad Hammer is doing some window shopping on his vacation at an all-male resort by peeking into all of the rooms until he finds something he can fuck. After strolling past Alpha Wolfe's room, he finally spots something he likes. The bearded daddy invites Chad in and opens his hole for the cruiser's raw cock. With his dick balls deep in the hairy hunk's ass, Chad slaps Alpha around and Alpha rides Chad so hard that the squeaky bed frame starts screaming. Once his hole is stretched out to his satisfaction, an aggressive Alpha turns his attention to busting open Chad. The furry man grunts loudly and Chad moans in a mixture of pain and pleasure as the forceful top uses his bushy cock to bareback Chad's hole. Covered in sweat and his own musk, Alpha watches as his bottom squirts his messy load all over the bed before churning out his own thick batch of hot spunk onto Chad's naked body.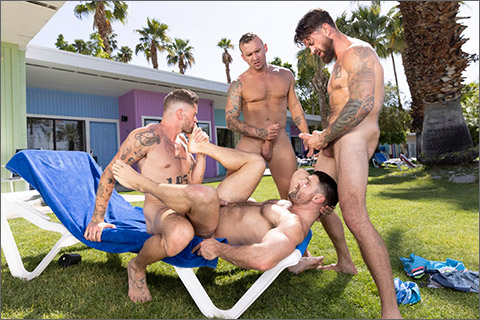 GET A ROOM TOO / SCENE 5: Chris Damned, Isaac X, Beau Butler, Alpha Wolfe fuckfest
While on a walk around the CCBC resort, Beau Butler comes across Chris Damned's giant dick get-ting swallowed by Isaac X's open throat in a middle of an open courtyard. The beefy stud decides to join in on the public play, and it's not long before Beau's ass is getting drilled bareback by Chris' extra large pole while Isaac's anal cavity is getting stuffed by passerby Alpha Wolfe. With his hands wrapped tight around his bottom's neck, Chris pounds his cock into Beau's thick muscle butt before Isaac's meaty member gets a turn to pump itself in and out of Beau. After swapping partners and working out their cocks, it's everyone's turn to bust a fat nut onto Beau's hairy junk, stomach, and open mouth. Now covered in three stranger's loads, Beau strokes himself to completion and blasts one final burst of raw cum all over himself.

WATCH THE SCENES AT:
RAGING STALLION'S MEMBERS SITE
Members at RAGING STALLION'S MEMBERS SITE can watch these scenes and download extensive Photo Content from this production and get discounted pricing on all DVD and Print purchases.