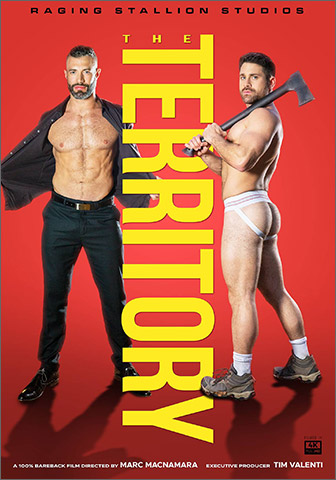 Studio: Raging Stallion
Directed by: Marc MacNamara
Year of Production / Release: 2021
Country of Production: U.S.A.

CAST:
Beau Butler
Cole Connor
Romeo Davis
Andre Donovan
Devin Franco
Killian Knox
Grant Ryan
INFORMATION FROM RAGING STALLION:
A group of sexy and wealthy investors threaten to take over 'The Territory', an untouched piece of land far away from to the modern world. The city slickers want to build new developments on the property, but the rugged men who inhabit it won't go quietly. Award-winning director Marc MacNamara goes off the grid with three suits from the city, three hunky mountain men and a local cop to deliver a tale of two worlds aggressively colliding and the resulting intense bareback sex. After a hard day chopping firewood in the wilderness, Romeo Davis stuffs Beau Butler with his wood. Beau's brother, the slick Cole Connor steals the deed to the property, then he and Devin Franco celebrate with a victory fuck all over the house. Rugged stud Grant Ryan sets a trap for investor Andre Donovan to get his hole fucked and bred. When the authorities get involved, Officer Killian Knox shows up and flip-fucks with Cole Connor. Beau Butler gets caught spying by Andre Donovan, who takes him into the woods to teach his hole a lesson. Would you put your ass on the line to protect 'The Territory'? Watch these studs do whatever it takes to get what they want.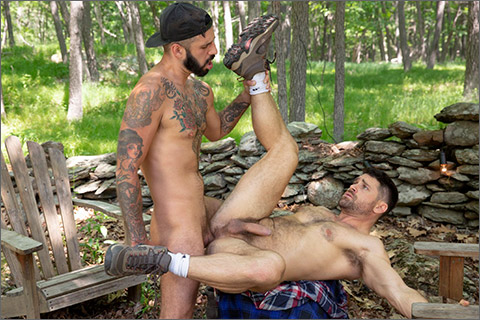 THE TERRITORY / SCENE 1: Romeo Davis fucks Beau Butler
After a hard day of cutting firewood, the humble and rugged inhabitants of 'The Territory', Beau Butler and Romeo Davis, take a break on a pile of rocks where Romeo unzips his pants to let Beau deepthroat his uncut cock. Now that Romeo's meat is fully stiff, he lays back so Beau can stand over him while he eats Beau's hole. Romeo makes sure to lick every inch of Beau's hairy hole before spinning him around, so Beau can sit on his throbbing dick. The mountain men take a break from fucking bareback to 69 on the bench before Beau bends over and gets stuffed with some more of Romeo's massive trunk. Switching positions one last time, Beau holds his leg up while Romeo stretches his ass so wide it makes Beau shoot a creamy load that Romeo rushes to lick up. Beau drops to his knees one last time to catch Romeo's load that shoots from his cock and into Beau's mouth. Has this attraction distraction allowed for some unwanted visitors to invade 'The Territory'?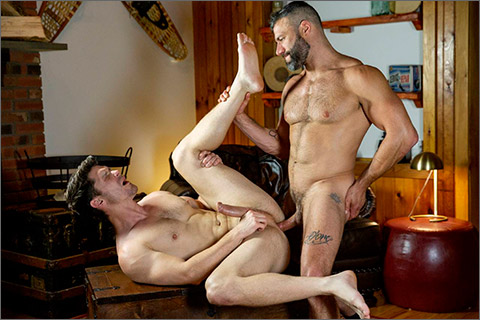 THE TERRITORY / SCENE 2: Cole Connor fucks Devin Franco
After breaking into his family home and stealing the deed for 'The Territory', Cole Connor celebrates with his investor buddy Devin Franco. They share a sloppy wet blowjob on the kitchen table, which continues until Devin takes position on all fours to get tongue-fucked by Cole. Deep licks and curious fingers probe Devin's ass until Cole gets on the table so Devin can ride him bareback. Devin hops off and they move to the living room to 69 and fill each other's hungry mouths. Still insatiable as when they started, Devin lowers his ass down on Cole's meat again. Devin rides feverishly until his legs give out, and he ends up on his back getting stuffed deep with Cole's cock until he shoots all over himself. With Devin covered in his own load, Cole jerks his pole until he blasts a thick load on Devin's face. Will these seedy developers make off with the deed and steal the land?

THE TERRITORY / SCENE 3: Andre Donovan fucks Grant Ryan
After overhearing about the investors plan, Grant Ryan sets a trap for developer Andre Donovan to pick him off. The trap? Grant waits on all fours in a jock hoping Andre will take the bait. Without a doubt, Andre falls for it and can't believe what he's seeing before diving in face first to rim Grant's hole. Andre teases with a couple fingers before noticing Grant wants more and slides his giant bare cock in Grant's hole. With Grant's hole clenching his cock, Andre pulls out and face fucks Grant, ass-to-mouth, before lying beside him and fucking his hole some more. They take a quick break so Andre can slurp on Grant's dick before climbing on top of Andre and riding him down to the base. Before Grant is done, Andre has Grant get on his knees and take his load to the face while Grant cums on the forest floor. Faster than Andre can put his clothes on, Grant delivers a sneak attack and ties Andre up. Has Grant's plan to thwart the developers work?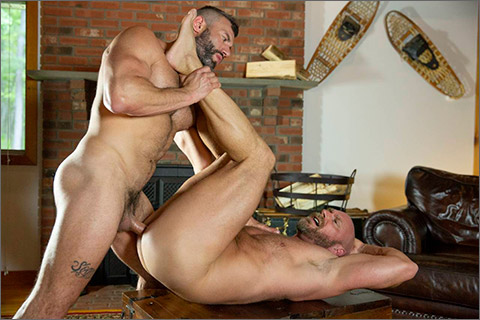 THE TERRITORY / SCENE 4: Cole Connor fucks Killian Knox
When Cole Connor's friend goes missing, he calls the local police. But the men of the woods anticipated the call and interfered, sending their own officer. When Officer Killian Knox arrives on the scene, Cole is immediately distracted by the officer's hard cock. Officer Knox smirks and unzips his pants where Cole eagerly wraps his lips around the thick rod. The officer is relentless with his oral pounding, but Cole still wants more, so he gets on top to 69, giving Killian a taste of his hole while Cole sucks the cop's cock. After riding Killian's face, Cole turns around and rides his dick bareback. Cole takes a break from riding to taste each other's pre-cum, soaked dicks before flipping the roles and turning the cop over and sliding his cock in Officer Knox's hole. While Cole is in charge, Killian gets flipped and fucked on both sides by Cole's girthy meat. As Cole pumps Killian's hole, the cop shoots off multiple thick ropes of jizz that fly onto his stomach, causing Cole to pull out and drops his load in Killian's mouth. Now that their sexual appetites are satiated, will Killian find Cole's friend? And who's been watching his plan play out the whole time?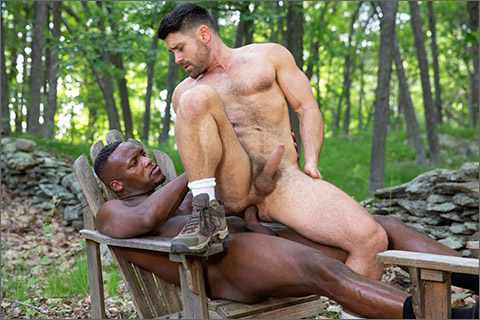 THE TERRITORY / SCENE 5: Andre Donovan fucks Beau Butler
Andre Donovan was literally tied up, but he has escaped and catches Beau Butler peering into the house and spying on his investor friends. Andre grabs Beau and leads him to the woods to teach him a lesson. First things first, Andre puts Beau on his knees to feed him his dick. After reaming his mouth, Andre gets on his knees and dives tongue first into Beau's scruffy ass. When Beau wants it all, Andre stands up and slides his dick deep into Beau's ass. The brunt of Andre's thrusts are too intense for Beau so Andre sits back and lets Beau ride his cock all the way up and down. When Beau's hole needs a break, he gets on his knees and sucks the fresh cock that was just up his ass. While sucking Andre's cock, Beau gets carried away and sucks and jerks Andre's dick until he shoots his load. To make sure he gets Beau off, Andre slides his cock back into Beau one more time to fuck his hole until Beau can't help but to erupt with a thick load. Now that the suits and the lumberjacks have exhausted their bodies, will the brothers, Beau and Cole, fight for 'The Territory' to the bitter end?

WATCH THE SCENES AT:
RAGING STALLION'S MEMBERS SITE
Members at RAGING STALLION'S MEMBERS SITE can watch these scenes and download extensive Photo Content from this production and get discounted pricing on all DVD and Print purchases.