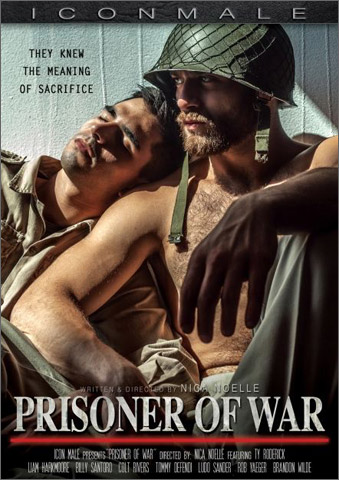 Studio: IconMale
Directed by: Nica Noelle
Year of Production / Release: 2014
Country of Production: U.S.A.

CAST:
Tommy Defendi
Liam Harkmoore
Colt Rivers
Ty Roderick
Ludo Sander
Billy Santoro
Brandon Wilde
Rob Yaeger
INFORMATION FROM ICONMALE:
The year is 1942, and hot, young American soldiers are risking life and limb to fight against the threat of Nazi invasion. But when a sadistic German officer Rob Yaeger captures hot, angry private Ty Roderick, a different kind of power struggle begins. Watch gorgeous but deranged POW Tommy Defendi turn on his own young comrade Ludo Sander while cute blonde Private Wilde is forced to give up classified information – or else.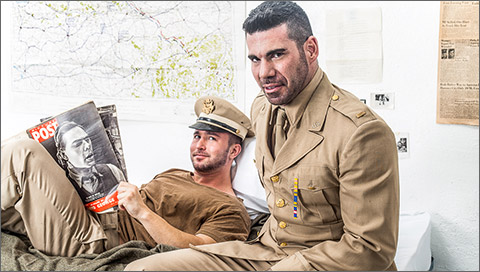 SCENE 1: Billy Santoro, Colt Rivers
Captain Billy Santoro is disciplining Private Colt Rivers for faking sick to get out of training. He orders Colt Rivers to disrobe so that he can see exactly how healthy Private Rivers is. He checks his subordinate's underwear and it's clean, but to thoroughly check he has to examine everywhere. Private Rivers is commanded to bend over and spread his cheeks, exposing his perky ass. Captain Santoro tells the private that if he's going to act like a little bitch, he's going to get treated like one, and slides his dick into his open hole. Santoro pins Rivers down on the army cot and fucks him hard as punishment for his laziness. Santoro can't get enough of Rivers' ass, pounding it and licking it until both soldiers are ready to burst. Rivers finishes on himself and feeds Santoro his cum from his mouth, and Santoro finishes on his own dick to have Rivers lick it clean.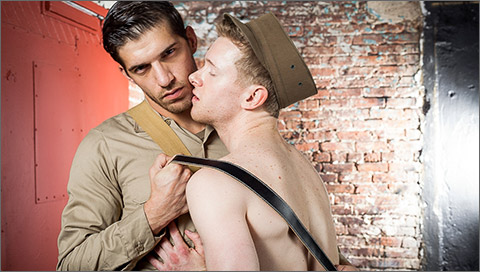 SCENE 2: Ty Roderick, Liam Harkmoore
American Private Ty Roderick is being tied up and tortured by the Germans. He's taunted by German soldier Liam Harkmoore, but distracts his captor while untying the ropes that bind him to a chair. He gets free, and to get revenge on Harkmoore, makes the young soldier suck his dick. He shoves his big American cock into his throat until it gets hard. Roderick takes Harkmoore over a barrel and shoves his dick in the German's sweet spot, who stops resisting and starts thoroughly enjoying the payback. Roderick tosses Harkmoore on a nearby cot, and pound him until they're both dripping with sweat. The German grabs both of his feet to hold his legs open, and the American uses his ankles to drive himself further inside. Private Roderick's dog tags bounce against his chest as he thrusts, until Harkmoore blasts his load into his own face, and Roderick finishes on his stomach.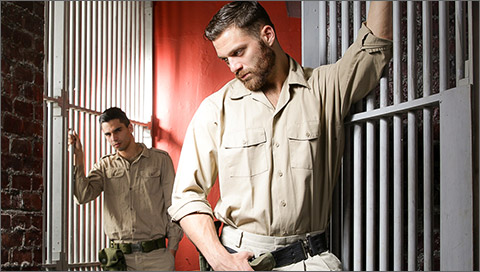 SCENE 3: Tommy Defendi, Ludo Sander
Two American soldiers, Private Tommy Defendi and Private Ludo Sander, find themselves as prisoners of war in a German infantry camp. Defendi has already been held captive for a long time and is starting to lose his senses, but Sander wants to reassure him that they're all on the same side. Defendi throws sander on the cot and jumps on top of him, telling him that he needs to get off right then and there. Sander, unable to move, lets the bigger solder rip off his pants and thrust his already-hard dick inside his ass. Defendi pounds him harder and harder into the cot until both are screaming out in pain and pleasure. Defendi then takes his own discarded shirt and uses it to tie up Sander's hands behind his back, pinning him and fucking him more. He then commands the other Private to turn over so that he can have his way with him in other positions. Sander finishes by shooting onto his stomach and Defendi does the same with an even bigger load, and lights a satisfied cigarette.

SCENE 4: Rob Yaeger fucks Brandon Wilde
In a German P.O.W camp, Rob Yaeger is questioning Brandon Wilde on some information he may know. Captain Yaeger tells Private Wilde that he knows alternative methods of questioning that will make him sing like a bird. He orders Wilde to remove his pants and turn around, and the small soldier complies. Yaeger slowly removes his underwear and sticks a finger in his ass, asking him again for information. When Wilde refuses to speak, Yaeger whips out his erect cock and sticks it in Wilde's ass. He throws the American down on his prison cot and takes off their clothes. 'Take your time, I'm enjoying this.' he says as he makes Wilde suck his dick. Yaeger spins him around and licks his ass, getting him ready for another pounding. Yaeger drives into Wilde over and over until he can't take the sweet torture anymore and they both blast their weapons all over Wilde's chest.
Read Less

WATCH IT / DOWNLOAD IT NOW AT:
ICONMALE
On-Line Only Presentation, Members can Download the presentation for later for "off-line" viewing.
Members have access to a vast array of photos from each scene.
WATCH IT NOW AT: AEBN / SMUTJUNKIES THEATER