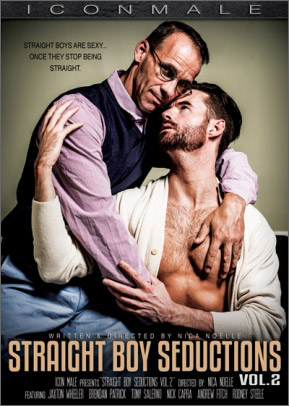 Studio: IconMale
Directed by: Nica Noelle
Year of Production / Release: 2015
Country of Production: U.S.A.

CAST:
Nick Capra
Andrew Fitch
Brendan Patrick
Tony Salerno
Rodney Steele
Jaxton Wheeler
INFORMATION FROM ICONMALE:
In this emotional and passionate volume of Straight Boy Seductions, muscle hunk Nick Capra secretly meets up with longtime friend Tony Salerno to explore their sexual attraction. Meanwhile, sensitive Brendan Patrick is slyly seduced by the tough yet gorgeous Jaxton Wheeler. Nick Capra returns to seduce sexy handyman Andrew Fitch, and Brendan returns for a session with cunning psychotherapist Rodney Steele. Written and directed by Nica Noelle.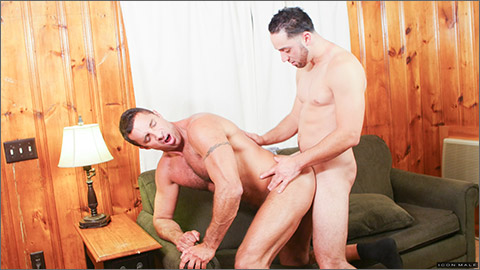 SCENE 1: Andrew Fitch fucks Nick Capra
Nick Capra types away at his novel, but his writer's block is getting the best of him. Distracted, he calls down to the concierge for assistance with his fireplace. Hot young jock Andrew Fitch comes to give him a hand. It isn't more than a minute before the problem is found. Flipping the switch to the gas, the flames spring to life. Having solved the problem, the young man leaves. But, it isn't long though before boredom creeps in, his mind wandering to the hot young man who came by to help him out.
   Hatching a plan to have him come by again, Nick hides his phone charger and calls back down for assistance. He convinces the young man to come by, have a drink and read some of his work. Andrew is surprised, but he really enjoys his writing, having mis-judged him by his fit muscular body.
   Conversation turns to life, love, marriage and missed opportunities. Nick reaches over and rubs the young man's shoulders, his hand stroking up and down his neck. Leaning in for a kiss, their eyes both close they make out, their hands both exploring the bulges in their pants. Their shirts come off in the breaks between passionate kissing and Andrew's lustful eyes yearn for more of the writer's hulking body and soft lips. Nick strips the younger married man of his pants, releasing his long hard rod from it's material cage. Nick takes the member into his mouth, playing with his balls before standing to receive the same treatment from him. Andrew lays the studly man down on the couch, and sucks his big thick cock. Andrew doesn't waste any time, and explores the space between the writer's muscular half globes.
   Teasing Nick with his dick, he pushes into his ass, slowly, loosening him up with his thick hard cock. Nick loves every inch, asking for more and more as he gets pounded by Andrew's thick cock. They explore position after position before Andrew fucks Nick on his back, rubbing his hairy chest and fucking him deep and hard. Nick climbs up on Andrew, bouncing up and down on his stiff cock. Nick cums first, shooting thick cum out onto his stomach. His hot load spraying up sends Andrew into an uncontrollable body orgasm, his load splashing up on his chest and stomach.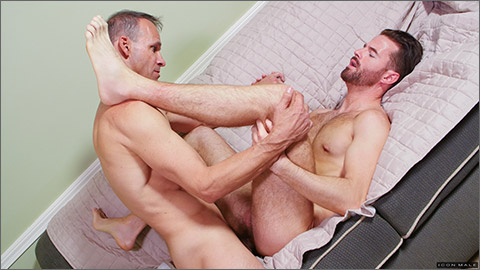 SCENE 2: Rodney Steele fucks Brendan Patrick
After his wife catches him jerking off to gay porn, Brendan Patrick visits his therapist Rodney Steele. Brendan is ashamed and afraid his life is over. Deciding to help him get to the root of his troubles, Rodney asks him a series of questions. Their discussion leads to no definitive answer, and the question still remains; Why does Brendan prefer to watch two men have sex? Rodney puts forward the suggestion to conduct an unorthodox experiment to separate theory from practice.
   Standing, he instructs his patient to what closely what he's doing. Brendan keeps his eyes fixed on his Doctor as Rodney strokes the front of his pants. Confused at first, Brendan can't help but look away, but increasingly he's drawn to the action in front of him. Massaging the front of his pants, Rodney's bulge builds in length and clearly creates a tent. Dropping his trousers, he pushes his underwear to mid-thigh. Brendan gazes down at the long hard dick in front of him. Inching closer to the stiff rod in front of him, he's pulled into it by his Doctor. T
   Feeling an incredible amount of excitement, he sucks the member up and down. Taking a moment to look at the massive dick before him, he strokes it furiously between moments of intense sucking. It glistens in the pale light of the psychiatrist's office.
   Stroking his patient's hair, he pulls his patient onto his dick, working it's way to the back of Brendan's throat. Excitement clouds Rodney's judgment and he moves in for a powerful kiss. Experiencing the soft lips and chiseled features of his patient first hand, he reaches into his pants. Stroking it for a moment, he bends forward to suck on his dick.
   Switching places, with lust in their eyes, Brendan grinds his ass onto Rodney's hard cock. Rodney teases Brendan's hole, pushing it in only part way at first, before building in intensity, his hips push his full length into his patient's waiting hole. Brendan's finally reached the healthy vulnerability they were looking to achiever and yet is the most supported he's ever felt at his Doctor's.
   Brendan receives tender loving from his doctor, whose hard cock probes Brendan's virgin insides. Reaching around, the good doctor jerks his patient's. Helping him reach orgasm is the best part of his treatment, with the realization his true self. Cumming on Brandon's chest, Rodney finishes in a flurry of sweat and sweet satisfaction.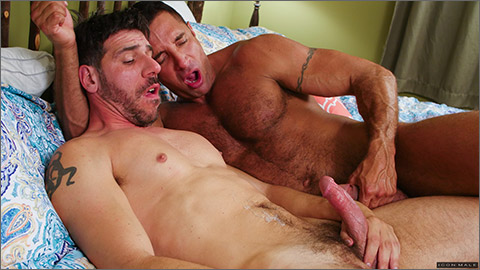 SCENE 3: Nick Capra fucks Tony Salerno
Nick Capra invites Tony Salerno up to his cabin to make their meeting more private. Tony feels bad about keeping this a secret from his wife. Agreeing to keep their encounter between them, Tony starts to wonder if Nick is only doing this for the fantasy of doing a straight guy, or if it means something more. To reassure him, Nick sits closer to him and admits that he doesn't want to get his heart broken as well, considering how Tony could go back to his wife and never look back.
   Nick then places his hand behind Tony's head and leans in for a kiss. Forgetting about their uncertainties, they start to make out passionately. Nick lays on top of Tony to hold him down while he feels Tony's body. They slowly start taking their clothes off, piece by piece, until only their skin touch. Nick gets on his knees and brings his big cock near Tony's face. Tony is sucking on Nick's uncut dick, getting it all wet. Then Nick decides it's time to pleasure the straight guy by turning him over and spreading his ass cheeks to rim Tony's hole. After loosening up his hole with his tongue, Nick enters his hard thick cock inside of Tony, fucking him while looking deeply into his eyes. Both guys finish by jerking off and shooting their cum all over their hairy bodies.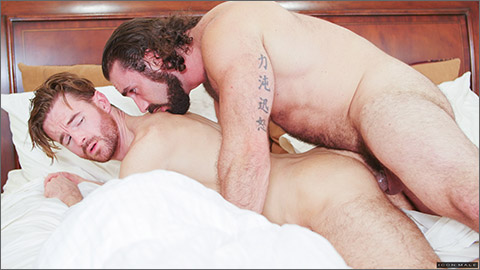 SCENE 4: Jaxton Wheeler fucks Brendan Patrick
After going through a rough breakup, poor depressed Brendan Patrick decides to have a drink at a bar. Sitting on the stool next to him, Jaxton Wheeler, throws a casual glance at Brendan. Seeing how unhappy Brendan is, he takes that opportunity to invite him over to his place to watch the game. Brendan respectfully rejects his offer and tells Jaxton that he doesn't follow sports. Refusing to give up, he introduces himself to Brendan and wonders why he's never seen him at this bar before. The dejected bar patron next to him tells him about the breakup and how difficult it has been on him. To take his mind off of his bad situation, Jaxton challenges him to a game of pool.
   After defeating his challenger at this friendly game of pool, Brendan decides to call it a night. He tells Jaxton that he needs to find a place to stay for the night, because his friends can't accommodate him anymore. Jaxton offers to let him crash at his place, and would definitely appreciate the company. Brendan is wary of the idea of staying at a stranger's house, but knows he could use the help. He decides to take Jaxton's offer, and they both leave the bar together.
   At the house, Brendan is getting ready to go to bed. Alone in his room, he takes off his clothes, leaving nothing on but his underwear, and gets under the bed sheets. Seconds later, Jaxton walks in and starts to undo the buttons on his shirt. Confused to why he is undressing himself there in front of him, Brendan asks if this was the room he was meant to sleep in. The hulking muscular host gets under the bed sheets next to Brendan, stating there's more than enough space for both of them there.
   Trying to overlook this, Brendan turns over on his side of the bed and closes his eyes, but a hand placed on his body keeps him awake. Then, he feels a pair of lips kissing him on the neck. Brendan doesn't know if he should say anything. He is unsure whether he likes it or not. The hand starts to move further down Brendan's body, reaching for his cock. Giving in to the temptation, Brendan turns around to look at Jaxton, but before he could say anything, Jaxton places his lips on Brendan's, and they begin to make out. Placing his hand over Brendan's crotch, he feels this straight boy's hard cock. They both remove their underwear and Brendan decides to take it further. Going down on this stranger's hot dick, he puts it in his mouth, sucking it, unsure. Then grabbing Brendan using his big muscles, he throws him on his back. Now it's his turn to please Brendan by sucking on his cock.
   After his discovery, seeing how this straight guy enjoys getting a blowjob by another man, Jaxton makes out with him some more as his cock slowly penetrates Brendan's virgin hole. Once inside of him, nothing stops the powerful seducer from giving this straight boy a good pounding, one which no doubt will leave him begging for more! Brendan's moaning is only getting Jaxton more excited and motivates him to keep fucking him in as many ways as possible. When the boys are ready to ejaculate, Brendan lays down next to Jaxton. Both are jerking off until they cum all over Jaxton's hairy body. Tonight will finally mark the first night of restful sleep since his breakup.

WATCH IT / DOWNLOAD IT NOW AT:
ICONMALE
On-Line Only Presentation, Members can Download the presentation for later for "off-line" viewing.
Members have access to a vast array of photos from each scene.
WATCH IT NOW AT: AEBN / SMUTJUNKIES THEATER